Saving money is an essential part of financial stability. Reducing your spending helps you work towards achieving your short and long-term goals.
However, you might think that you can't lower your monthly bills or amass significant savings. Fortunately, it's possible to do both of these things if you track your spending, set a goal, and adjust your mindset.
If you want to save money, here are ten simple ways to save $500 a month.
Ways to Save $500 per Month
Saving $500 per month might seem difficult. The good news is that it is simple to save money each month when you have the right attitude.
It's important to view every dollar as a tool to accomplish your goals.
Here are ten proven ways to boost savings every month. If you follow all of them, you could net $656.76 a month.
1. Cut the Cord on Cable
Getting rid of cable is the easiest way to save a lot of money. The average cable bill is $200 per month, and there are many options to cut the cord on cable without losing your favorite shows.
If you need to watch shows as they air, you will want a live TV streaming service like Sling TV.
Otherwise, if you don't need live content, an on-demand service like Paramount+ or Hulu will suit your needs.
The best part is that you can get rid of cable and not miss your favorite shows or live sports.
Even if you pick a more expensive plan, it's possible to ditch cable and save at least $100 per month.
In fact, we recently helped a friend who was spending $350 a month on cable and streaming services. After following our tips, they've been able to slash over $200 a month off of their monthly expenses.
If you don't know what service is best for you, take our free quiz to receive a customized recommendation in 30 seconds.
Monthly Savings: $100+
2. Switch Cell Phone Carriers
Another simple way to save money every month is to change your cell phone carrier. This is similar to cord-cutting.
Legacy carriers like to charge you for loads of data even if you don't need it. The average monthly cell phone bill is nearly $130 a month.
If you use Wi-Fi a lot, there's no need to pay that much money.
Mobile Virtual Network Operators (MVNOs) are an excellent alternative. MVNOs rent time on the towers of legacy carriers like Verizon or AT&T and pass the savings on to you.
Tello is one example worth considering. We break down its plans below, which start at $10 a month and include unlimited talk and text.
| Plan | Monthly Cost | Data | High-Speed Data | Hotspot Data |
| --- | --- | --- | --- | --- |
| Economy | $10 | 1GB | 1GB | 1GB |
| Value | $14 | 2GB | 2GB | 2GB |
| Smart | $19 | 5GB | 5GB | 5GB |
| Unlimited | $29 | Unlimited | 25GB | 25GB |
You can find similar cheap cell phone plans for other money-saving opportunities. All you need is an unlocked phone, and you can switch carriers whenever you want.
Benefits
Logo
Tello - no contract phone service
Cost: $10 to $29 per month

Coverage on a 4G LTE/5G nationwide network.



Monthly Savings: $100+
3. Compare Auto Insurance Rates
When you are trying to reduce your spending, you want to compare prices on everything. This includes your car insurance.
If your driving habits have changed, you could be overlooking an easy way to save more money each month.
You should compare rates at least once a year since most policies last six or 12 months. First, call your current provider and ask what options they have available.
Then, contact two or three other insurers to see if they can beat the price. It's as simple as that and should only take a few minutes of your time.
The Zebra is a good alternative to use if you want to streamline the process. This website lets you compare rates from several dozen providers and receive multiple quotes.
On average, people save $36.66 a month through Zebra. You can put this money directly into your savings account.
Monthly Savings: $36.66+
4. Automate Your Saving
One of the best ways to save money is to automate your saving. The idea is to pay yourself first each time you receive a paycheck.
It's simple to accomplish this, and it can be done in one of two ways. The first option is to ask your employer to transfer a certain dollar amount to your savings account every pay period.
Most employers offer this for free. However, if they can't do it, the other option is to do it at your bank.
Ask them to transfer a dollar amount from your checking to your savings account every pay period.
If you don't have an emergency fund, automation is a terrific way to grow your financial safety net. But, if you do have one, it's a great way to reach any other goal you may have.
Try to start with $25 per pay period, if possible. Choose a higher amount if you can afford more.
You can house the funds at your bank, but it's often best to choose a different bank so that you're not tempted to spend the money.
CIT Bank is our favorite choice, and it only has a minimum balance requirement of $100 to open an account.
Betterment Cash Reserve is a good alternative if you want to use the savings to grow your investments.
Benefits
Logo
CIT Bank - start your emergency fund
$100 minimum deposit requirement

Open a high yield savings account or money market with $100!

Monthly Savings: $50+
5. Reduce Eating Out
Who doesn't enjoy dining out? Unfortunately, it is expensive.
The Bureau of Labor Statistics reported that the average American household spent almost $2,400 a year eating food outside the home in 2020.
You don't need to eliminate eating out entirely, but cutting it in half can help you save money quickly. If you're the average household, that puts $100 back in your budget each month.
Like other spending tricks, you don't need to eradicate this expense altogether. Just modify it to help you reach your goals.
Monthly Savings: $100+
6. Monitor Your Energy Usage
Utilities are a big expenditure for many families. Paying for heating and cooling adds hundreds of dollars to a monthly budget.
Purchasing a programmable thermostat is a simple way to reduce this expense. According to ENERGY STAR, programmable thermostats can lower heating costs by eight percent and cooling costs by ten percent.
Nest is one product that claims you can save more with their device, estimating savings of at least $145 annually. Additionally, Ecobee says that you can reduce costs by at least 25 percent a year using their products.
Similarly, LED light bulbs drive further energy usage savings. Reports indicate that you can save up to $600 a year by switching all of the light bulbs in your home to LED.
Your savings alone will recoup the initial cost in less than six months.
Monthly Savings: $62.08+
7. Increase 401(k) Contributions by One Percent
Saving for retirement is an essential part of your monthly savings. If you're using your employer-sponsored 401(k) plan to invest, simply increase what you're saving by one percent.
Not only does this allow you to save more for retirement, but it also gives your money more time to grow.
For example, let's assume you earn $50,000 annually. This is $2,083.33 per paycheck if you have 24 pay periods each year.
Putting four percent of your paycheck towards your 401(k) is $83.33 each paycheck.
Increasing your contribution to five percent is $104.17 towards your 401(k) every month. That roughly $20 can make a big difference in helping you reach your retirement goals.
Read our guide on the best places to open a Roth IRA if you want to supplement your 401(k)
Monthly Savings: $41.67+
8. Avoid Bank Fees
Banks love to charge fees. Whether it's an account maintenance fee or an ATM fee, it's easy cash for many banks.
If you want to increase your savings and don't use a fee-free bank, you need to move to one now. Bankrate found that the average maintenance fee for an interest-bearing checking account is $16.35 as of 2021.
For accounts that are non-interest bearing, the average cost is $5.08 a month. Plus, ATM fees only make the situation worse.
Ultimately, there's no need to pay a bank, or any institution, to house your money.
If you're paying fees, Chime is one potential alternative to consider. This fee-free money management app lets you earn 2.00 percent APY as of November 17th, 2022.
It also doesn't charge you ATM fees and has numerous other tools to help you manage your money effectively. Read our Chime review to learn more.
Monthly Savings: $16.35+
9. Drop Your Gym Membership
How much do you pay for the ability to exercise? More importantly, how often do you go to the gym? The average gym membership is $50 a month.
That doesn't include activation or other membership fees. According to LiveStrong, only 50 percent of people with gym memberships visit at least twice a week.
This means that half of the people with a gym membership don't regularly use it. Sadly, this takes an unnecessary bite out of your monthly income since it's literally money going to waste.
If you have a gym membership and don't use it, get rid of it. There are many ways to exercise for free at home. Use some of the available tools and pad your savings account while sweating away calories.
Monthly Savings: $50+
10. Get A Side Hustle
While it's not necessarily a traditional savings idea, one of the most overlooked ways to save $500 a month is a side hustle.
Cutting expenses will only take you so far. Rather than be forced to reduce your budget, look for ways to amplify it with a side gig. Then, put your earnings into your savings account.
There are countless ways to make money on the side. Read our guide on the top 101 ways to make money on the side to earn extra cash.
Find one that works with your schedule and put the earnings towards your savings goal.
Our favorite side job is working for a delivery app like DoorDash. You can work on your own schedule, and Dasher compensation varies.
Even if you only work for ten hours a month, you can have the funds you need to supplement your savings. Or, you could work a weekend or two every month and earn $100 total for your time.
Benefits
Logo
DoorDash
Earn cash and create your own schedule!

Deliver food with just a car or scooter. Get started today!


Monthly Savings: $100+
Is $500 a Month a Good Amount to Save?
We all face different circumstances, but it is good to save as much as possible. Following a few simple tips can help you save $500 or more each month.
But don't just stop at the savings. Put the money to good use by either paying off debt, growing your emergency fund, or reaching another goal.
If possible, you want to invest as much of your savings as you can. The more time you give it to grow, the better. You can even work to double your money.
This is especially important if working towards a major goal, such as homeownership. Read our guide on how to budget for buying your first home to learn where to start.
It doesn't take as much effort as you might think. Here's how long it will take to double your money, assuming different average annual returns.
| Average Annual Return | Years Needed |
| --- | --- |
| 7% | 10 |
| 8% | 9 |
| 9% | 8 |
| 10% | 7 |
If your goal is to become wealthy, using your savings to create a diversified portfolio is the best strategy.
How Can I Save $500 in 30 Days?
It is possible to save $500 within one month, but it does take some effort. The above list is a good place to start.
Here are a few additional tricks to save money quickly:
Use a tool like Personal Capital to manage your monthly budget
Avoid using your credit card so that you don't incur debt
Resist online shopping, with the exception of necessities
Get cash back on your grocery shopping to help defray costs
Only buy what you need when it comes to food and entertainment
Get extra work or pursue side jobs that pay the same day
Set a weekly goal to look at your finances
Don't just focus on reaching your goal of amassing $500 in 30 days. Use this time to get real with your financial picture.
*Related: Do you like to use your phone to save money shopping? Read our guide on the top apps to make money from receipts to reduce food costs.*
While stressful, this can be an excellent time to create the momentum you need to pursue and achieve financial stability.
Bottom Line
Having a savings goal is a fantastic way to improve your finances. Saving $500 each month may seem difficult, but it is doable.
To get and stay motivated, just think about what saving that much money can do for your life. It can help you avoid debt, buy things and experiences you want, and achieve financial freedom.
Those are all benefits that are well worth the effort.
What's one area you struggle to save money on regularly?
*Earning more on certain types of orders (ex. alcohol): Earn more per order as compared to restaurant orders. Actual earnings may differ and depend on factors like number of deliveries you accept and complete, time of day, location, and any costs. Hourly pay is calculated using average Dasher payouts while on a delivery (from the time you accept an order until the time you drop it off) over a 90 day period and includes compensation from tips, peak pay, and other incentives.
*Get paid instantly (DasherDirect): Subject to approval
*Cash out daily (Fast Pay): Fees apply
*Start Dashing today: Subject to background check and availability
*Dash anytime: Subject to availability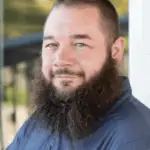 I'm John Schmoll, a former stockbroker, MBA-grad, published finance writer, and founder of Frugal Rules.
As a veteran of the financial services industry, I've worked as a mutual fund administrator, banker, and stockbroker and was Series 7 and 63-licensed, but I left all that behind in 2012 to help people learn how to manage their money.
My goal is to help you gain the knowledge you need to become financially independent with personally-tested financial tools and money-saving solutions.