Would you rather have $1 million today or a penny doubled for 30 days?
It seems like a trick question. Who would turn down $1 million? My children often dream about what our family could do if we received that kind of cash in a lump sum.
However, they also understand the power of compound interest. They know that one penny doubled every day leads to exponential growth. Here's why they are correct.
How Much Is One Penny a Day Doubled for 30 Days?
Compound growth is a strategy many people use when investing. Having one million dollars today is nice, but it doesn't compare to the money you could receive with a penny that doubles in value daily.
Here is what happens to a penny that doubles every day for 30 days.
| Day | Value |
| --- | --- |
| 1 | $0.01 |
| 2 | $0.02 |
| 3 | $0.04 |
| 4 | $0.08 |
| 5 | $0.16 |
| 6 | $0.32 |
| 7 | $0.64 |
| 8 | $1.28 |
| 9 | $2.56 |
| 10 | $5.12 |
| 11 | $10.24 |
| 12 | $20.48 |
| 13 | $40.96 |
| 14 | $81.92 |
| 15 | $163.84 |
| 16 | $327.68 |
| 17 | $655.36 |
| 18 | $1,310.72 |
| 19 | $2,621.44 |
| 20 | $5,242.88 |
| 21 | $10,485.76 |
| 22 | $20,971.52 |
| 23 | $41,943.04 |
| 24 | $83,886.08 |
| 25 | $167,772.16 |
| 26 | $335,544.32 |
| 27 | $671,088.64 |
| 28 | $1,342,177.28 |
| 29 | $2,684,354,56 |
| 30 | $5,368,709.12 |
The increase is relatively modest for most of the month. Then, near the end of the 30 days, your doubled penny experiences serious growth.
As you can see, when you double a penny for 30 days, you will end up with $5,368,709.12.
Although the time value of money typically dictates that you take the cash today instead of tomorrow, you also need to monitor the role of compound interest.
What Happens If You Double a Penny Every Day for 31 Days?
What if you could have one penny doubled every day for 31 days? This would result in a whopping $10,737,418.24.
Finding something that will double your money is difficult, at best. Nevertheless, it's impossible to overlook the power of compound growth.
The Power of Compound Interest
It seems impossible that a penny doubled every day for 30 days will result in over $5 million. Fortunately, thanks to compound interest, it's a possibility.
Albert Einstein was famously quoted about the power of compound growth, saying, "Compound interest is the eighth wonder of the world. He who understands it earns it…he who doesn't pays it."
This personal finance axiom reveals that when you invest, even small amounts, your money makes more.
When interest is compounded, it builds like a snowball. When a snowball goes downhill, it gets bigger and picks up speed. That momentum is difficult to stop.
Obviously, you'll be hard-pressed to find an investment that doubles every 30 days, let alone every day. A substantial rate of interest is necessary to do that.
However, investing early and putting your money to work can do powerful things.
What Does This Lesson Tell Us?
This simple exercise shows us that you need to put your cash to work. It's vital to pay yourself first and actively seek ways to improve your net worth.
If you're trying to pay off debt, this idea also holds true. Throwing money at your debt regularly erodes the principal of the debt. It leaves less principal to earn interest, so you can pay it off sooner.
Here are some other things we discover when considering the importance of compound interest.
It Literally Pays to Start
Beginning as soon as possible is essential when growing your wealth. Start investing early, regardless of the initial investment amount.
If you don't have what you feel is enough to start, consider opening a high-yield savings account that pays a competitive interest rate.
CIT Bank is our favorite option. It pays 4.65 percent in its Saving Connect account if you commit to electronically deposit $200 monthly.
You can use this online savings account to grow your money until you feel comfortable putting funds into the stock market. But remember, most online brokerages let you start investing with virtually any amount of money.
Starting as soon as possible will allow your money to do the heavy lifting for you to attract more money.
Time Is of the Essence
Giving your cash more time to grow is one of the most important tenets of personal finance.
The reason is clear. If you start saving for retirement or any other savings goal at a younger age, you need to save substantially less than if you were to begin a decade or two later. This is true even if you set aside more in the latter scenario.
Even if you feel like what you have to start with won't make a difference, it will.
Yes, it will take time to reach the million dollar mark with your investments. However, you shouldn't use that as an excuse not to start investing. Even a savings account with a substantial annual interest rate will take too long to build real wealth.
Read our guide on how to become rich to identify opportunities to ramp up annual growth, even with small amounts of money.
Losses Will Happen
It can be frustrating to put your hard-earned money into the stock market only to see your investments go down. However, it's inevitable. What goes up will go down. The opposite is also true.
This doesn't mean you should avoid investing. It means you should continue to invest. If you follow the philosophy of Warren Buffett, you may want to buy more when the stock market is down.
The average annual return of the stock market, as measured by the S&P 500, is roughly ten percent over the span of numerous decades.
While it's difficult to experience losses in the short term, you will realize gains in the long run. Keeping a strong will is essential to ride out pains in the present.
Add Multiple Streams, If Possible
The stock market is an excellent choice to increase your wealth. However, it's only one option.
You have multiple ways to grow your wealth. Thanks to crowdfunding, investing in real estate and business start-ups is easier than ever.
Those are only two choices among many options. Adding multiple streams of wealth creation is a powerful way to take advantage of the potential of compound interest.
This also helps protect you if one investment is down, as the other may be up. The idea is to create a rope with multiple strands. Having more strands makes your rope stronger.
The same is true of wealth creation. Read our guide on top passive income ideas to discover other ways to grow wealth.
Bottom Line
While you might not be able to have a penny doubled every day for 30 days, the premise is simple. You want to start investing early and make it a regular practice.
Investing and wealth creation isn't a one-and-done activity. It's a marathon. Even with a modest rate of return, starting today will do wonders over several decades.
Waiting, on the other hand, will hold you back.
What are you actively doing to grow your wealth?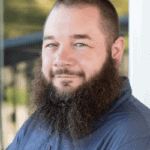 I'm John Schmoll, a former stockbroker, MBA-grad, published finance writer, and founder of Frugal Rules.
As a veteran of the financial services industry, I've worked as a mutual fund administrator, banker, and stockbroker and was Series 7 and 63-licensed, but I left all that behind in 2012 to help people learn how to manage their money.
My goal is to help you gain the knowledge you need to become financially independent with personally-tested financial tools and money-saving solutions.