I remember sitting in the credit counselor's office like it was yesterday. I had $50,000 in debt and no idea where my money was going every month.
Her suggestion was like a foreign language to me, but she said it was the only solution to reach financial success. She told me to make a budget.
Years later, I know budgeting was foundational in my financial journey. If you're struggling and need to develop a plan for your money, this guide can help you get started.
How to Make a Monthly Budget
Budgeting is often viewed as restrictive. However, it allows you to control your finances and freely spend money in accordance with your financial goals.
Before you start, you will need to collect a few pieces of information. This includes:
Bank statements
Pay stubs
Credit card statements
List of your monthly bills
If possible, have at least three months of the above pieces of information. This will help you have a better idea of what you spend and earn each month.
*Deal of the day: Earn 4.65 percent (11x the current national average) on your cash with CIT Bank's Savings Connect account. Start with $100, and electronically deposit at least $200 a month to earn this rate! All deposits are FDIC insured up to the $250,000 per depositor maximum.
With those in hand, it's time to create a budget.
Calculate Your Income
The first step to starting a monthly budget is determining how much money you make each month. This is not your gross income. Instead, it is your net income.
Your income will include the take-home pay from your day job plus any money you earn through a side hustle.
Don't overlook other streams of income. If you earn funds from sources like disability, Social Security, or even alimony and child support, include those as well.
The idea here is to identify your total monthly income. If your income varies each month, average the amounts to get a better idea of what you earn.
Having this information is essential as it lets you know what you have to work with. Furthermore, if your expenses exceed your income, you need to reduce your spending.
Track Your Spending
After calculating your after-tax income, you must determine how much you spend each month. This includes everything you spend money on, from your rent to the occasional coffee you purchase on the way to work.
It's best to list all of these expenses so that you don't overlook anything. This should include both known and variable expenses.
Fixed expenses can include the following:
Rent/mortgage
Utilities (gas and electric)
Internet bill
Cell phone bill
Cable or other cable alternatives
Debt payments
Insurance
You will then want to include the variable expenses that you have each month, such as:
Groceries
Gas
Charitable giving
Entertainment
Pets
Your variable expenses may look different, so this is meant to give you an idea of some things you could classify as variable.
It's best to average your variable spending over the course of several months to get an idea of what you truly spend.
You can use budgeting apps like Personal Capital to monitor your spending. Our favorite platform is Tiller. It connects to your bank account and puts all of your expenses in an easy-to-use spreadsheet.
Alternately, you can manually write down your monthly expenses. However, many find that using budgeting apps is a simpler way to manage your personal budget.
Regardless of your choice, tracking your expenses is essential if you're on a fixed income. Read our guide on how to save money on a tight budget to identify actionable ways to cut costs.
Benefits
Logo
Tiller - manage your finances easily
Cost: $79/year

Enjoy a 30-day free trial when you sign up with Tiller. Automatically get your daily transactions synched into a Google Sheet.


Determine What's Left
Now that you have your monthly income and expenses, you want to subtract the two to identify where you stand. The goal is to have money left over.
Having extra money at the end of each month lets you save money in your emergency fund, grow your retirement fund, or reach other goals.
However, if you're falling short, it's time to revisit your spending habits and spend less each month. This can be an overwhelming feeling, but it's doable.
Instead of looking at the gulf as a whole, identify simple changes you can make to quickly reduce the shortfall. This will build the confidence you need to lower your monthly bills across the board.
Read our guide on how to save money every month to identify potential ways to spend less.
You can use our printable budget worksheet below to start a basic plan. Input your monthly income in the "Salary 1" field.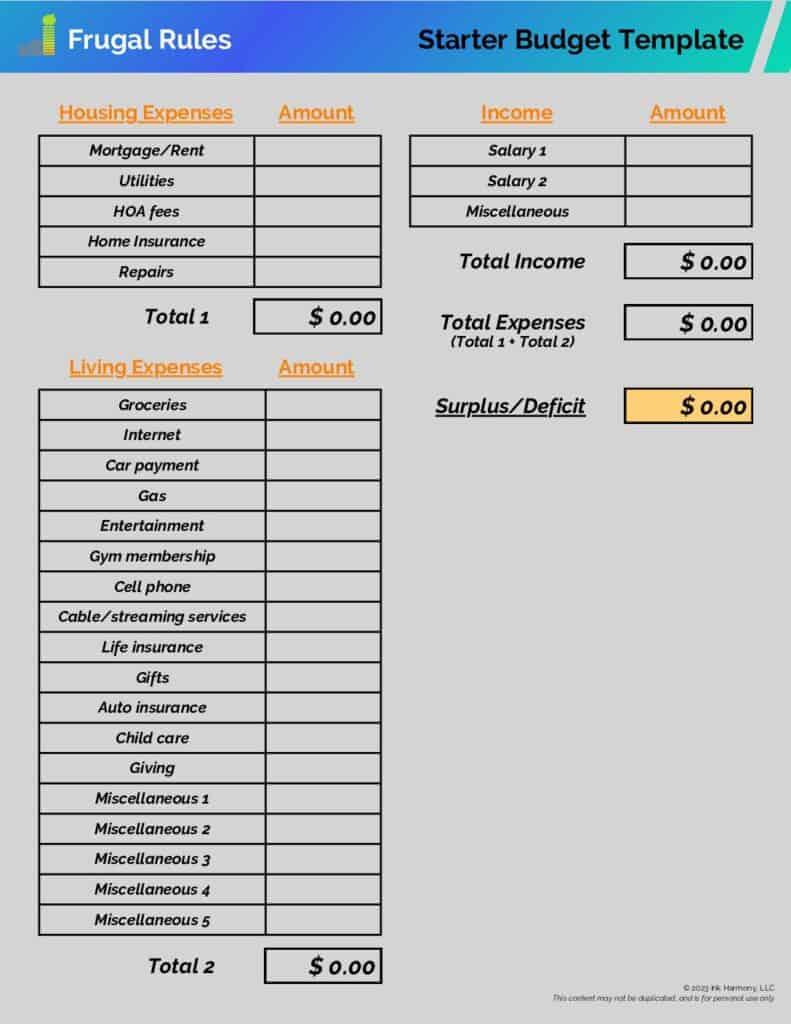 If you have a partner, put their salary information in the "Salary 2" field. Any income you earn on the side should go in the "Miscellaneous" section.
Then, fill out the expense fields with the costs that apply to you. After you supply all of the information, you should see a surplus or deficit line on the bottom right of the spreadsheet.
Download Our Free Starter Budget Template Now
What to Do With the Remaining Money
Spending less than you make is a terrific position to be in. It provides the ability to reach savings goals and pursue financial freedom.
Managing what you have remaining is just as personal as a budget. You want to use these funds to work towards achieving what matters most to you.
Examples include:
Saving for a house down payment
Debt repayment
Saving for a family
Investing for retirement
Saving for a large expense
Living by a budget is an excellent resource to use to help you achieve those goals. Before you work towards them, make sure you're growing your emergency savings to handle any unexpected expenses.
It's best to automate your saving to work towards your goals. Most banks allow you to do this for free, and it is simple to set up. It also ensures you won't forget to save.
*Related: Read our guide on how to budget for buying a house when you're in the market for your first home.
CIT Bank is our favorite online bank to use for savings accounts. They pay super competitive rates and have the same FDIC insurance you get at your local bank.
Read our CIT Bank review to learn more. Starting to save early is essential.
Read our guide on a penny doubled for 30 days to learn the importance of beginning early and the power of compound interest.
Benefits
Logo
CIT Bank - start your emergency fund
$100 minimum deposit requirement

Open a high yield savings account or money market with $100!

Rinse and Repeat
Living on a budget is not a set-it-and-forget-it situation. Your spending patterns may change, or you might earn additional income you weren't planning on in your initial budget.
It's best to reassess your budget at least semi-annually. If you're working to build your first monthly budget, you want to analyze it weekly. Once you're comfortable, you can revisit it monthly or quarterly.
This lets you optimize your spending and ensures that you're giving every dollar a purpose. Don't let this overwhelm you. It's not a difficult process.
Using a budgeting app is an easy way to streamline it and requires only minutes of your time each month.
Furthermore, this helps you avoid merely making ends meet. Read our guide on how to stop living paycheck to paycheck to identify ways to create surplus in your budget.
Choose a Budgeting Method
It can be challenging to choose between the available budget systems and methods. There isn't an approach that's superior to others, but there might be one that is a better fit for you.
What matters most is that you start and manage your money in a way that helps you reach your goals. Here are three popular budgeting styles.
Zero-Based Budgeting
Zero-based budgeting is a good choice if you want to give every dollar a purpose. You allocate all of your money to expenses, monthly savings, repaying debt, and other goals.
If you don't currently watch your spending, this is a good approach to use. Think of it as an ongoing movie of all your spending.
However, a zero-based budget can take quite a bit of time to manage. Furthermore, if you have recurring expenses that regularly change, it may not be the best choice.
You Need A Budget (YNAB) is a fantastic budgeting app to use if you choose this approach.
Read our Mint vs. YNAB guide to learn more about how the two services compare.
Cash Envelope Budgeting
Cash envelope budgeting is a traditional method of managing your cash. My wife and I used this strategy when we were first married, and it helped us reach various goals.
With this method, you pull out cash every time you're paid and assign it to a spending category. You can read our article on budget percentages by category to understand what these should look like.
Using this method helps you avoid overspending. It also helps you avoid overdraft fees.
However, you may not want to carry cash around or find it too burdensome to manage.
Qube is a helpful app to use if you choose this approach.
*Related: New to writing checks? Check out our guide on how to write a check for step-by-step directions.*
50/30/20 Budget
A percentage-based budget is a good choice if you want to simplify things and only deal with a few spending categories. The 50/30/20 method is the most popular choice.
Here's how it works:
You allocate 50 percent of your income to needs like housing and food
You allocate 30 percent to wants like travel and entertainment
The remaining 20 percent goes towards savings and debt repayment
The beauty of this approach is that it lets you have a framework to work with that's flexible. It also puts a devoted focus on saving and repaying debt.
Read our guide on how to pay off debt quickly if you need to eliminate indebtedness.
However, it may encourage overspending if you're a high-earner. Additionally, low-income people may need to spend over 50 percent of their income on their needs.
Mint is a good app to use if you want to use this approach. Read our guide of the best Mint.com alternatives to learn more about it and other potential choices.
How to Stick to a Budget
You'll notice one key thing as you learn how to budget money. It's likely you'll find that it can be difficult to live within your means at times.
That's ok and is something many people experience. A budget should give you freedom and not countless hours stressing over your finances.
The best way to stick to a budget is to regularly check it and reduce expenses where possible. As you're starting out, look at your budget weekly. You'll soon learn you can move that to monitoring it monthly.
If you find that you're not getting value out of an expense, look for ways to reduce the cost. Then you can reallocate the savings to a different goal, expense, or your emergency fund.
The goal is to spend your money in line with your values and allow you to live the life you want. Don't hesitate to give yourself small rewards for reaching important goals.
Bottom Line
Living on a budget is an important step to take to manage your finances wisely. It allows you to see where your money is going and ensures that it's in line with your goals.
Done sensibly, a budget gives you the freedom to live as you want. Just ensure you personalize it to accomplish what you need.
How often do you check in on your finances? Save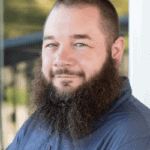 I'm John Schmoll, a former stockbroker, MBA-grad, published finance writer, and founder of Frugal Rules.
As a veteran of the financial services industry, I've worked as a mutual fund administrator, banker, and stockbroker and was Series 7 and 63-licensed, but I left all that behind in 2012 to help people learn how to manage their money.
My goal is to help you gain the knowledge you need to become financially independent with personally-tested financial tools and money-saving solutions.