Having little cash in your bank account at the end of the month feels nauseating for many people. When I was paying off debt, I often had next to nothing in my account at month end. That feeling brings dread and evokes the sense that you will never have relief.
Thankfully, it is possible to stop living paycheck to paycheck. With some effort you can do far more than make ends meet. In fact, you can turn things around and find success. This guide shares how.
How Do You Break the Cycle of Living Paycheck to Paycheck?
Financial hardship is a lonely feeling, but it is possible to break free and become financially stable. Unfortunately, many Americans live on the wrong edge of financial wellness.
Over 60 percent of Americans live paycheck to paycheck, according to LendingClub. Earning more doesn't solve the issue either as over 50 percent of six-figure income homes report not being able to make ends meet.
Here's how to stop living paycheck to paycheck and achieve your long-term goals.
1. Create a Budget
Getting on a budget is vital to creating a monthly positive net cash flow. This allows you to create a plan for your money, as well as see where all of your cash goes.
Furthermore, a budget helps you identify where you can cut costs to provide some relief.
Thankfully, it's not that difficult to start. You want to begin by writing down all of your monthly expenses. Then, write down your income, including everything from your day job and side hustle.
You can download our sample budget template below to start a basic plan. Input your monthly income in the "Salary 1" field.
If you have a partner, put their salary information in the "Salary 2" field. Any income you earn on the side should go in the "Miscellaneous" section.
Then, fill out the expense fields with the costs that apply to you. After you supply all of the information, you should see a surplus or deficit line on the bottom right of the spreadsheet.
Download Our Free Starter Budget Template Now
If you're new to money management, budgeting apps are a terrific way to simplify the process. Read our guide on the top Mint.com alternatives to identify the best choices.
Don't overthink it when you start your budget. It's personal finance, so customize it to your situation.
Read our guide on how to create a budget to learn the steps you need to take to optimize it.
2. Reduce Your Spending
Budgeting is fantastic in one key area – it reveals to you where every dollar goes each month. Get real with yourself and look for areas where you are overspending.
You want to ask yourself what value you receive from needless spending. Additionally, be real with what your life will look like if you cut back on those areas.
Ultimately, you only need four things:
Food
Shelter
Transportation
Utilities
Everything else can be open to cutting. Some examples include:
Unused subscriptions: If you haven't used the service or subscription in the last six months, cancel it for instant savings.
Cable: This is an easy expense to cut if need to break the paycheck to paycheck cycle. The top alternatives to cable can help you slash costs. Here is a breakdown of the top live TV choices.
| Service | Cost | Channels | Streams | DVR | Rating | Trial |
| --- | --- | --- | --- | --- | --- | --- |
| Hulu Live | $76.99+ | 85+ | 2 | Unlimited | 4.1/5 | Try |
| fuboTV | $74.99+ | 140+ | 10 | 1,000 hrs. | 4.2/5 | Try |
| DIRECTV STREAM | $74.99+ | 65+ | 20 | Unlimited | 3.7/5 | Try |
| Philo | $25 | 70+ | 3 | Unlimited | 4.3/5 | Try |
| Sling TV | $40+ | 30-50+ | 1-4 | 50 hrs. | 4.2/5 | Try |
| Vidgo | $69.99+ | 110+ | 3 | N/A | 4/5 | Try |
| YouTube TV | $72.99+ | 100+ | 3 | Unlimited | 4.2/5 | Try |
Dining out: This is another fantastic way to increase savings. If cutting it out completely feels impossible, cut it in half to save some money.
None of these reductions have to be permanent unless you find you can live without them. However, they provide easy ways to lower your monthly spending to help create breathing room in your budget.
3. Start an Emergency Fund
Life is full of the unexpected. Your car breaks down, or you need to replace an item in your home and you need to pay to fix or replace it.
An emergency fund is the best way to prepare for these events. This account is the best protection you can have to ensure against accruing needless credit card debt. It's also not meant to pay for unexpected expenses, but legitimate emergencies.
A fully-funded emergency fund has three to six months of living expenses. Don't let this amount of money scare you from starting to save as you won't achieve it overnight.
Instead, establish a short-term goal of saving $500, then $1,000. Use that amount as a springboard to reach one month of living expenses.
You can even use a banking app, like Spruce Money, to help you establish and pursue this goal. It's free of charge and has lots of helpful features.
Automating your savings is the best way to build your savings. Most banks and employers let you establish a connection for free.
A high-yield savings account at online bank is often best as they have little to no fees and offer competitive rates. CIT Bank is our favorite choice and offers some of the top rates available.
Read our guide on how to grow an emergency fund to learn more.
4. Increase Your Income
Cutting back on spending isn't the only way to stop living paycheck to paycheck. It's also likely you need to increase your income.
You can only cut so much, so it may be necessary to make extra money. The additional funds can help increase debt repayment, build up your budget, save for retirement, and more.
Start with your current day job to learn if there are any opportunities to increase your income. Next, you may need to start a side hustle to add another source of income.
Flexible side gigs are going to be your best choice to work around your full-time job. You can even pursue under the table jobs that pay in cash.
Our top choice is to deliver or drive with Uber. You can deliver meals from local restaurants or drive riders to a particular destination.
Think outside the box to come up with side hustle ideas to increase your income and the additional funds wisely. Putting money toward what is going to help you the quickest is the best way to manage the extra cash.
Read our guide on how to make money on the side to identify the best choices to increase your income.
5. Attack Debt
High-interest debt is a common cause of living paycheck-to-paycheck. The interest can be suffocating and make it difficult to pay off debt and achieve financial stability.
This is particularly true in a climate of rising interest rates, which only increase the burden. If you're in debt, do the following:
Stop creating more debt
List out all of your debt
Create a plan to pay it off
The debt snowball approach is a popular way to kill debt. Here is how it works.
| Step | Action |
| --- | --- |
| 1 | List your debts by balance size |
| 2 | Make extra payments on the smallest balance |
| 3 | Pay off the smallest balance |
| 4 | Apply extra payments to the next smallest balance |
| 5 | Repeat the process until you become debt-free |
Alternatively, you can use the debt avalanche methodology. This is how the avalanche philosophy works.
| Step | Action |
| --- | --- |
| 1 | List your debts by balance size |
| 2 | Make extra payments on the higher interest rate debt |
| 3 | Pay the minimum on all other debts |
| 4 | Repeat the process until you become debt-free |
Either method works. Select the one you believe will work best for you and attack the debt with a vengeance.
If you have high interest credit card debt, you may find rates to be too suffocating. Debt consolidation is one potential choice that allows you to lower interest rates and intensify your repayments as more goes towards the principal.
It works similar to student loan debt consolidation. You combine the debt into one amount, allowing you to only make one monthly payment.
This may provide some relief if you're paying more than 20 percent in interest on your credit cards. Do your due diligence before choosing a lender to consolidate your indebtedness.
Read our guide on the best places to get an unsecured personal loan to identify one that fits your needs.
SoFi is our top choice that offers competitive rates and may help you pay off debt faster.
6. Grow Your Savings
An emergency fund is essential to stop living paycheck to paycheck. It's part of a philosophy that actively looks for ways to save money.
However, don't just stop with your emergency savings. It's best to actively look for opportunities to cut back and apply those savings towards other needs.
Potential areas include:
Retirement planning
Saving for buying a house
Vacation planning
Saving for your children's college fund
Planning for other large expenses
Having no savings will make all of those goals more difficult to achieve.
*Related: Have a check you need to cash? Here's our guide on the best places to cash a check near me to get money now.*
CIT Bank is a fantastic choice to grow your savings and has a minimum opening account balance of $100. Start an account and automate transfers to it every pay period.
Read our guide on ways to save money every month to identify other money-saving opportunities.
7. Monitor Your Spending
Living paycheck to paycheck can easily become a way of life. If you're not on top of your finances, it's easy to backslide to old spending habits.
A helpful way to avoid this is to regularly monitor your spending. Look for areas where lifestyle inflation is occurring and curtail it.
Having additional resources feels good, especially when it's the result of cutting spending. However, don't get too comfortable and start spending those resources on things that bring little value.
Tiller is a helpful budgeting app that can help you avoid overspending. It puts all the activity from your checking account into a Google or Excel sheet.
You can use this information to monitor your spending and monthly payments. This helps you make informed decisions to improve your finances.
What to Avoid
It's understandable to want a quick fix when you're dealing with financial stress. It takes a lot of work, but it is possible to stop living paycheck to paycheck.
However, here are some things to avoid when you're in a financial bind.
Payday loans: Payday loans market themselves as a way to alleviate your budgetary pain. That is a lie. Payday lenders often charge exorbitant interest rates and create a cycle of debt. Read our guide on payday loan alternatives that will serve you better.
Paycheck advance apps: Cash advance apps are a popular tool to gain access to your paycheck before you receive it. Unfortunately, they're only a temporary solution and can establish a dangerous cycle, which can potentially impact your credit score. Read our guide on apps like Dave to learn more.
Credit Cards: Credit cards can be an effective tool to manage your finances. They can also be a horrible way to inflate your spending. Worse yet, using them unwisely can cause you to incur debt. If you're struggling with your cost of living, consider a side hustle over a credit card. Delivery jobs like DoorDash are a good choice to make more. Use your earnings to cover your needs instead of misusing a credit card.
The above resources pitch themselves as a solution to make ends meet. They're a mirage, at best, and provide little relief. It's best to look for ways to spend less and earn more to break free from your situation.
Bottom Line
We all crave freedom. Living paycheck-to-paycheck is not freedom. It's overly burdensome. Breaking the cycle takes work and persistence.
Achieving freedom requires knowing your why. Why do you want to live a better financial life? That is personal to you, but it provides the motivation necessary to continue the fight and reach the destination you desire.
How often do you review your monthly budget?
*Personal Loan Disclaimer: Fixed rates from 8.99% APR to 25.81% APR reflect the 0.25% autopay interest rate discount and a 0.25% direct deposit interest rate discount. SoFi rate ranges are current as of 05/19/23 and are subject to change without notice. Not all applicants qualify for the lowest rate. See Personal Loan eligibility details. Lowest rates reserved for the most creditworthy borrowers. Your actual rate will be within the range of rates listed and will depend on the term you select, evaluation of your creditworthiness, income, and a variety of other factors. See APR examples and terms.
Loan amounts range from $5,000– $100,000. The APR is the cost of credit as a yearly rate and reflects both your interest rate and an origination fee of 0%-6%, which will be deducted from any loan proceeds you receive.
Autopay: The SoFi 0.25% autopay interest rate reduction requires you to agree to make monthly principal and interest payments by an automatic monthly deduction from a savings or checking account. The benefit will discontinue and be lost for periods in which you do not pay by automatic deduction from a savings or checking account. Autopay is not required to receive a loan from SoFi.
Direct Deposit Discount: To be eligible to potentially receive an additional (0.25%) interest rate reduction for setting up direct deposit with a SoFi Checking and Savings account offered by SoFi Bank, N.A. or eligible cash management account offered by SoFi Securities, LLC ("Direct Deposit Account"), you must have an open Direct Deposit Account within 30 days of the funding of your Loan. Once eligible, you will receive this discount during periods in which you have enabled payroll direct deposits of at least $1,000/month to a Direct Deposit Account in accordance with SoFi's reasonable procedures and requirements to be determined at SoFi's sole discretion. This discount will be lost during periods in which SoFi determines you have turned off direct deposits to your Direct Deposit Account. You are not required to enroll in direct deposits to receive a Loan.
The following payment example depicts the APR, monthly payment and total payments made during the life of a personal loan with a single disbursement. All loan rates below are shown with the autopay discount (0.25%) and direct deposit discount (0.25%). The monthly payment for a $30,000 loan with a 60-month term and a fixed annual percentage rate (APR) between 12.95% – 25.03% would be $681.82 – $881.07 in monthly payments, with total payments between $40,909.47 – $52,864.05. Your actual interest rate may be different than the loan interest rates in these examples and will be based on term of loan, your financial history, and other factors, including your cosigner's (if any) financial history. Lowest rates reserved for the most creditworthy borrowers. See SoFi.com/eligibility for details.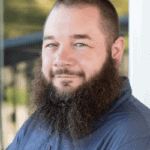 I'm John Schmoll, a former stockbroker, MBA-grad, published finance writer, and founder of Frugal Rules.
As a veteran of the financial services industry, I've worked as a mutual fund administrator, banker, and stockbroker and was Series 7 and 63-licensed, but I left all that behind in 2012 to help people learn how to manage their money.
My goal is to help you gain the knowledge you need to become financially independent with personally-tested financial tools and money-saving solutions.