How to Break the Paycheck-to-Paycheck Cycle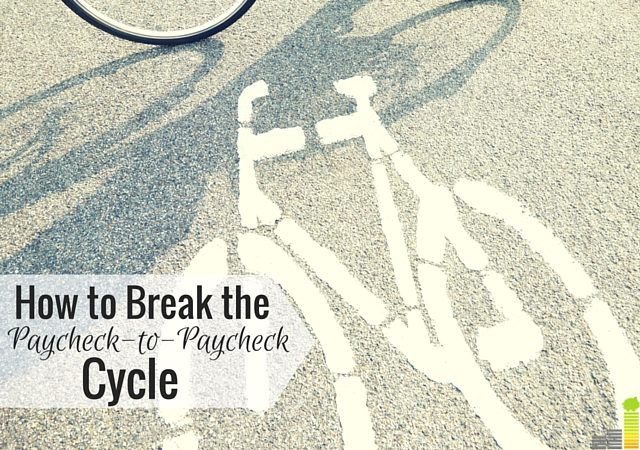 Before I began paying off my debt, I was stuck in a cycle of pain. As soon as a little breathing room appeared, it would quickly vanish into thin air. Payday came and went, and I had no money to my name. I thought I couldn't break the paycheck-to-paycheck cycle and that debt was a normal part of life.
Living in debt was part of my life growing up. I thought everyone was saddled with it. My parents always joked that if they had $50 left at the end of the month they worried what bill they forgot to pay.
Now that I'm over a decade removed from killing my debt, I know it's possible to stop living paycheck-to-paycheck. It's not easy, but it is possible. If you want the cycle to end, you have the power to break it!
How to Break the Paycheck-to-Paycheck Cycle
Living paycheck-to-paycheck means you're always one bill away from losing something that matters, such as:
Electricity
Food
Gas money
Mortgage or rent payment
I don't share this to scare you, but to point out the danger of living paycheck-to-paycheck. I personally went without all of the above at one point or another, and know others do too.
It does take work to break free, but it is possible. If you want to gain financial freedom, here is how to break the paycheck-to-paycheck cycle.
1. reduce Your Big Expenses
The best way to stop living paycheck-to-paycheck is to look at your spending. If you want financial freedom, it's vital to cut spending. I'll cover lifestyle spending later, but first you need to look at your big expenses and how they fit in with recommended monthly budget percentages.
The two big expenses you need to examine are:
Your House
Look at your housing first. You don't want to spend more than 28 percent of your take home pay on your house payment. Many don't abide by this recommendation. The Motley Fool reports the average household spends 35 percent on their housing. This equates to an extra $6,000 spent per year vs. what was spent in 1950, on average.
Look at how much of your paycheck goes to housing. There are ways to lower your house or rent payment. If you have a mortgage, consider refinancing it to a lower rate. Even a reduction of .50 percent can provide breathing room.
LendingTree is the best option to refinance mortgage rates. They let you compare rates at up to five lenders to find the best option. After completing paperwork, your rate is reduced and you have a lower monthly payment.
Compare rates at LendingTree to see how much you can save. If you rent, consider getting a roommate to help with rent. You can do the same thing if you own as they can help with your mortgage payment.
Your Car
The next biggest expense is your car payment. The average car payment is over $500 per month. If you're living paycheck-to-paycheck and have a similar car payment this is the first thing you need to look at cutting.
A car is a depreciating asset. There is no sense to be car poor if you want to stop living paycheck-to-paycheck. Like housing, you have several options with a big car payment, such as:
Refinance your car loan – LendingClub auto refinance is an excellent choice for this
Sell your car and buy a more reasonable one
Sell your car and take public transportation
A big car payment is not worth it, especially if you have no money left at the end of each month.
2. Look at Your Lifestyle
Lifestyle is a close second to big expenses when trying to stop living paycheck-to-paycheck. Lifestyle includes different things, such as:
Cable TV
Cell phone
Eating out
Memberships and subscriptions
Figure out what to cut by tracking your spending on these items. This may sound difficult, but it isn't. You can use a pen and paper like I did, but there are tools you can use to automate it.
Tiller is our favorite tool to track spending. Tiller is a Google Sheets-based tool that pulls in all your bank information so you can monitor your expenses in one spot. This will reveal opportunities to cut back.
Tiller is free for the first 30 days, and $7 per month after that. If you prefer a free tool, Personal Capital offers similar tools, plus it lets you track your net worth.
You can use either tool for a month to see what you're spending money on. You may be surprised at what you find.
After a month, you'll be able to see what is bringing you little value and cut it.
Opportunities to Cut Back
Want to cut your lifestyle spending, but don't know where to start? Here are some helpful services we use to keep our spending in check:
Hulu with Live TV – $64.99 per month for 65 channels, saving $70 on the average cable bill
Ting – You get unlimited talk and text for $10 per month. Data is only $5 per GB. Frugal Rulers readers receive a $50 credit when signing up, essentially offering several months of free service.
$5 Meal Plan – Offers a free 14-day trial to help you get a meal plan, along with sample grocery lists to help you save on food
If you don't want to bother with looking for a cheap cell phone plan, or cutting cable, you can negotiate pricing to save money.
Trim is a free tool that does that work for you. The Trim app even cancels subscriptions or memberships you don't use to free up additional money.
Take no prisoners when analyzing your spending. If you can live without an item, cutting it is the best way to stop living paycheck-to-paycheck.
3. Start Building
Building is the most commonly overlooked area when trying to break the cycle of living paycheck-to-paycheck. Cutting is great, but will only solve half the problem. You need to start building wealth to break free of the debt cycle.
Building wealth comes in two forms:
Starting an emergency fund
Finding ways to make extra money
You may think it's impossible to start an emergency fund and save money. It isn't. It doesn't matter if you only save $10 per month, you simply need to start saving. An emergency fund is the best way to avoid sliding back into debt, and making the situation worse.
*Related: Have a check you need to cash? Here's our guide on the best places to cash a check near me to get money now.*
There are even banks that let you start with no minimum balance and pay a decent interest rate. You can open an account with nothing and start saving.
Don't want to start a savings account? Radius Bank is a terrific choice to earn interest on your checking account. You earn one percent cash back with online purchases, and one percent interest on balances over $2,500.
You need only $100 to open an account with no minimum balance requirement after that.
Make Extra Money
You can make extra money in two ways, at your day job or a side hustle. Your day job has limited returns, but don't overlook it. A side hustle is often the best way to start making extra money.
There are many ways to make extra money, even with no skill. Below are our favorite ways to make extra money:
Deliver meals: Regardless if you have a bike, car, or scooter you can deliver meals. DoorDash is an excellent option to deliver meals, and you can set your own schedule.
The platform is just one option. Check out our review of delivery jobs like DoorDash for other on-demand delivery gigs to make money.
Drive for Postmates: Postmates is a terrific alternative to DoorDash. You deliver meals with Postmates, but also can deliver groceries, clothing, and alcohol through the on-demand app.
Do you have spare time during the evenings, or weekend? The platforms lets you set your own schedule and you get to keep all your tips.
Grocery shopping: Yes, you can make money grocery shopping. You can either pick out groceries for people, or deliver them to their home.
Instacart Shopper pays up to $20 per hour for shoppers. This can be a great way to make money if you have a flexible schedule.
Don't overlook monetizing your free time. Do you watch TV at night, or have other dead time? You can use that time to take paid surveys for cash.
Here are our favorite survey sites:
Survey Junkie – Survey Junkie is our favorite survey site as they pay you cash straight to PayPal, or let you redeem rewards for Amazon gift cards.
Pinecone Research: They pay $3 per survey and they pay by Amazon Gift Card or a virtual Mastercard. However, if you've joined Pinecone in the last 30 days, your first redemption must be by bank transfer to verify your rewards account. They also pay to do product testing.
Opinion Outpost: One of the top survey sites in the space and they have quarterly $10,000 prize drawings.
InboxDollars: Earn money for taking surveys, watching TV or making purchases online. Get $5 just for signing up.
You won't get rich taking surveys, but it's one of the best ways to get money now to pad your budget.
4. Kill Debt
Debt is often the top reason why people live paycheck-to-paycheck. I know it was in my case. If you want to break the paycheck-to-paycheck cycle, it's vital to get serious about debt. That involves two things:
Stop foolish spending
Start working to kill your debt
Stopping spending often comes as a result of tracking your spending. It's best to pair this with knowing your spending triggers, and how to avoid those situations.
If credit cards are a problem, shop only with cash. If credit cards aren't a problem, still shop with cash and carry one credit card for absolute emergencies. Don't shop for fun. Instead, find a cheap or free form of entertainment.
Make Extra Money by Taking Short Surveys
Taking short surveys in your free time can be an awesome way to earn extra money fast! The instant you finish a survey,
Survey Junkie pays you in cash via PayPal
. 6 Million users and an 8.9/10 Trust Pilot rating prove you can trust them.
The next step is to reduce the interest rate on your consumer debt. You can do this by consolidating the debt into a lower rate personal loan. This ensures more of each payment goes towards the debt and not interest.
Our top choice is Fiona by Even Financial as they let you compare 17 lenders in under two minutes. After completing a brief application, they provide you with quotes for the best matching lenders.
If you have student loans to consolidate, Credible is a great option. They offer rates as low as 2.25 percent, with auto pay. Not only can they reduce your rates, having one payment is much simpler than multiple payments.
Check your rate at Credible to see how much you can save.
If you want to learn more about Credible, read our review to see why it's one of the best places to refinance student loans.
You Need to Get Real with Yourself to Break the Cycle
In order to break the paycheck-to-paycheck cycle, you need to recognize it's a problem. You need to be real with yourself. You need to realize you're your own worst financial enemy.
I know that sounds harsh. We have friends who complain of living paycheck-to-paycheck only to admit they foolishly waste money each month.
I was guilty of the same problem. I failed to see the connection between crazy spending and having no money left at the end of the month.
Debt does not have to be a normal part of life. You can stop living paycheck-to-paycheck, but it takes a realistic look at spending to begin to change. The below statistics show it's a problem many face:
25 percent of Americans earning $100,000 live paycheck-to-paycheck and 33 percent of those making at least $75,000 are in the same predicament, according to CNBC
7 million Americans are three months behind on their car payments
62 percent of Americans have no savings at all, according to Marketwatch
Each of the above statistics can be reversed, it just takes simple steps to gain traction.
Freedom is the End Game
We all crave freedom. Living in a paycheck-to-paycheck cycle is not freedom. It's enslavement. We finance our futures at the expense of living an imbalanced present and then don't understand why there's no money at the end of the month.
We start the next month hoping this one will be different, only to find ourselves in the same spot. That is the definition of insanity and a place I used to call home.
It does not have to be that way. You can break the paycheck-to-paycheck cycle and have financial freedom. It won't happen overnight, but you can do it if you start taking steps today.
What did you do to break the paycheck-to-paycheck cycle? What's one other area you think should be cut if you have little left over at the end of each month? Why do you think so many live paycheck-to-paycheck?
The following two tabs change content below.
John is the founder of Frugal Rules, a dad, husband and veteran of the financial services industry whose writing has been featured in Forbes, CNBC, Yahoo Finance and more.
Passionate about helping people learn from his mistakes, John shares financial tools and tips to help you enjoy the freedom that comes from living frugally. One of his favorite tools is Personal Capital , which he used to plan for retirement and keep track of his finances in less than 15 minutes each month.
Another one of John's passions is helping people save $80 per month by axing their expensive cable subscriptions and replacing them with more affordable ones, like Hulu with Live TV.
Latest posts by John Schmoll (see all)