How to Break the Paycheck-to-Paycheck Cycle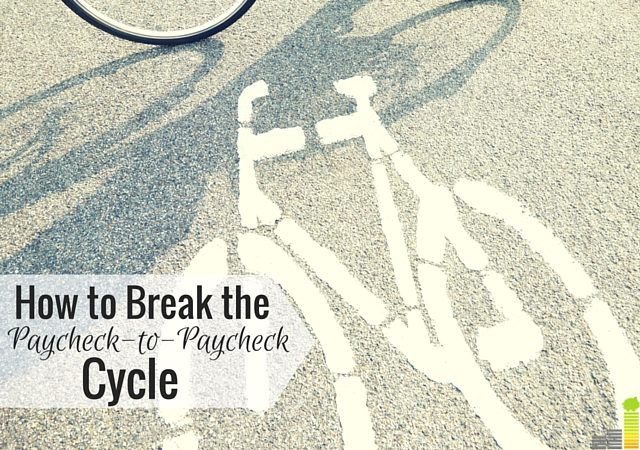 Before I began paying off my debt, I was constantly reminded of the same problem – I was stuck in a cycle. No sooner did breathing room appear than it would quickly vanish into thin air. Payday came and went, with everything spoken for. I thought I couldn't break the paycheck-to-paycheck cycle and that debt was a normal part of life.
I saw it growing up in my home and thought everyone did it. While that's not exactly the case, the truth isn't far off. Consider the bleak picture these numbers paint:
76 percent of Americans live paycheck-to-paycheck, according to CNN
52 percent of Americans would need to sell something to cover an emergency of $400, according to the Federal Reserve
62 percent of Americans have no savings at all, according to Marketwatch
25 percent of Americans making at least $100,000 live paycheck-to-paycheck and 33 percent of those making at least $75,000 are in the same predicament, according to CNBC
These numbers show us two things. First, far too many people are stuck in this cycle. Second, a "good" salary has no bearing on whether or not someone has breathing room in their financial life.
I realize in some instances individuals may not be able to break the paycheck-to-paycheck cycle. However, most of the time it is possible to break the cycle and have the kind of life you want – free from the dread of not having money in your bank account at the end of each month.
You Need to Get Real with Yourself to Break the Paycheck-to-Paycheck Cycle
In order to break the paycheck-to-paycheck cycle, you need to recognize it's a problem. For that to happen, you need to be real with yourself. You need to realize you're your own worst financial enemy.
I know that sounds harsh. We have friends who complain of living paycheck-to-paycheck only to admit they foolishly waste money each month. I was guilty of the same problem. I failed to see the connection between crazy spending and not having money left at the end of the month.
I, like our friends, thought this was a normal part of life. The cycle became so normal that it almost felt comfortable. I failed to realize I could stop the insanity and move my life financially forward.
The first step in doing that is getting real with yourself and realizing you need to change; otherwise, you'll continue the paycheck-to-paycheck cycle for years to come or until a major emergency puts you in a worse spot.
Look at Your Big Expenses
You might think that the best way to break the paycheck-to-paycheck cycle is to look at your budget and cut your spending. That is absolutely necessary, but it's not the best place to start.
If you're living paycheck-to-paycheck, you first need to look at your big expenses and see how they fit it with suggested monthly budget percentages. Most often, the two biggest culprits come in two forms:
Let's tackle the housing first. Most experts say your mortgage payments should not be more than 28 percent of your take home pay. Many don't abide by this recommendation.
The Motley Fool reports that the average household spends 35 percent on their housing. This equates to an extra $6,000 spent per year vs. what was spent in 1950, on average.
Why do we spend more? It's because we're buying bigger houses. The American Enterprise Institute reports the average house size has grown by over 1,000 square feet in the past 40 years. More money is spent on larger homes, leaving less money leftover for other areas of need.
We see similar issues with our cars. Cars are a major expense, and must often be financed. Cars.com reports 85 percent of individuals take out a loan to buy a car. Most experts suggest your car payment should be no more than 15 percent of your pre-tax income.
So, if you make an annual salary of $40,000 your payment can be as much as $500 per month. Think about that number for a second – $500 per month for a depreciating asset! It's no wonder there's such a term as "car poor" used in our society.
The above examples point out a harsh reality – an overinflated lifestyle is a key driver behind having no money leftover at the end of the month. You must change that if you want to break the paycheck-to-paycheck lifestyle.
I know that's easier said than done with such big-ticket items. But, it is possible. You can sell your house and downgrade to a smaller one. You can rent out a room. You can refinance your mortgage to a lower rate to save money on interest.
Compare rates at LendingTree to find the best possible rate.
You can sell your car and use that to buy a more reasonable one. You can, gasp, even become a one-car family. Don't pigeonhole yourself into thinking you have no options, because you very much do.
Look at Your Lifestyle
If the big costs are a key part of living paycheck-to-paycheck, your lifestyle is a close second. The first thing you need to do is analyze your spending. I know that sounds difficult, impossible or restrictive.
It isn't. It will be revealing. It may be shocking. However, change starts with information. How can you plan your attack if you don't know what you're fighting against? You need to make informed decisions. Analyzing your spending will accomplish that.
There is no set timeframe to do this though I recommend you start with a month. This can be done simply through a tool like Tiller.
Tiller is a Google Sheets based tool that pulls in all your bank information so you can monitor your expenses from one location and help you identify where to save money.
Look where all your money is going. It doesn't matter how much; you just want to take an inventory of know where it's going. Then, you need to ask yourself what value you get out of that expense.
Let's take a look at some of the possibilities, such as:
Cable TV. The average cable bill is over $100 per month.
Cell phone bill. The average cell phone bill, for the four major carriers, is between $120-$150 per month.
Food waste. The average person wastes $520 in food each year.
Children's sports. The average family spends up to 10 percent of their gross income on children's sports.
These are all lifestyle choices that can be cut. You can cut cable and instantly save at least half that amount if you go with some of the available cord cutting options. Heck, we cut the cord and are $2,400 richer after two years.
If you can't live without cable, consider a streaming service like Hulu with Live TV as a replacement option. Their plan is $39.99 per month for 60+ channels, after a 7-day free trial, and you get many of the same channels as you do on your $100 per month cable subscription – all without a contract!
You can find a cheaper cell phone plan, such as Republic Wireless and save over $75 per month.
You can start meal planning and cut down on food waste, which will help you save money on groceries.
If you don't clip coupons, the Ibotta app is a great way to save money on groceries. Simply scan your receipt when doing shopping and they match it against the lowest available price and send the difference to your PayPal or Venmo account.
You can look for community sponsored sporting events for your children, or simply cut back. Do they really need to be in 3-4 sports? If it keeps you in a paycheck-to-paycheck cycle, I'd argue no.
Don't stop with these common cuts, but look at everything. This is not to say you need or should live the life of a miser, but to deflate your lifestyle some, so you have breathing room. Analyzing your spending will accomplish that goal and put you on the towards financial stability.
You Need to Stop Spending Money
This is a bit of a given, but if you live paycheck-to-paycheck, you need to stop spending money. That can be easier said than done and requires knowing yourself and your spending triggers.
If credit cards are a problem, shop only with cash. If credit cards aren't a problem, still shop with cash and carry one credit card for absolute emergencies. If you shop for fun, find a cheap or free form of entertainment.
Simply put, until you analyze your expenses and associated lifestyle you should not be spending money as each dollar going out will only keep you stuck in a never-ending cycle.
You will also want to look at any debt you may have. Ask yourself how you can save money on debt repayment – which will allow you to kill it quicker. Often times that can be done through consolidating your debt.
Popular options like Lending Club or Avant allow you to potentially shave off at least 10 percent off your current interest rate.
If either of those options don't work you can compare up to 17 lenders with Even Financial. It takes about one minute to fill out on application with Even Financial and they provide you with quotes for the best matching lenders to help you lower rates.
Simply by lowering your rates you instantly make more of each payment work for you and help you pay off debt faster and save money.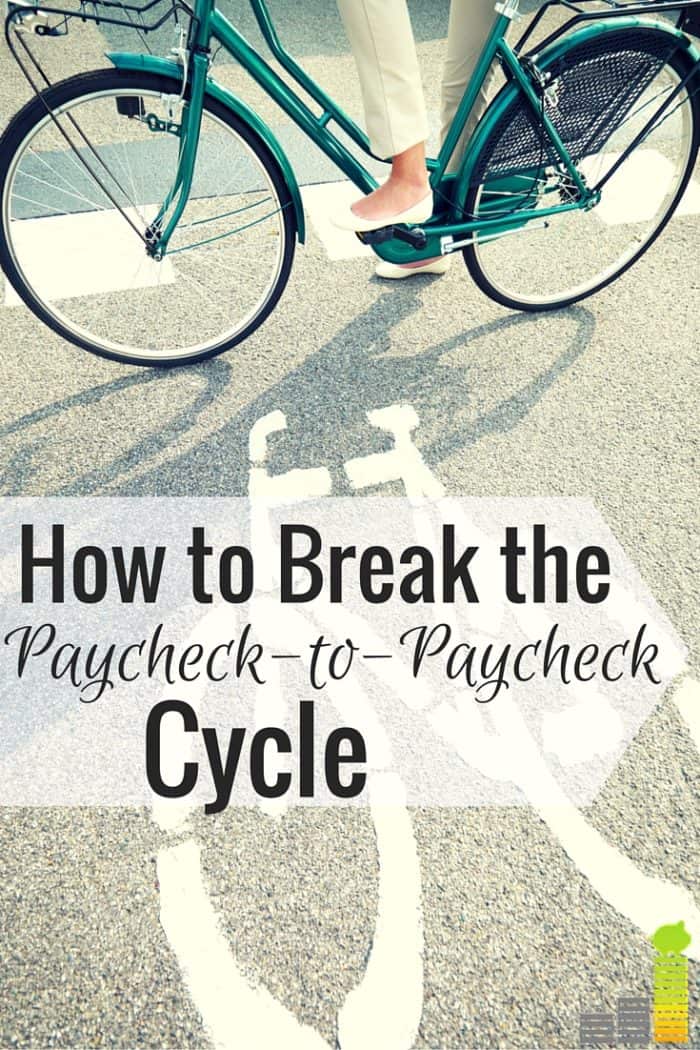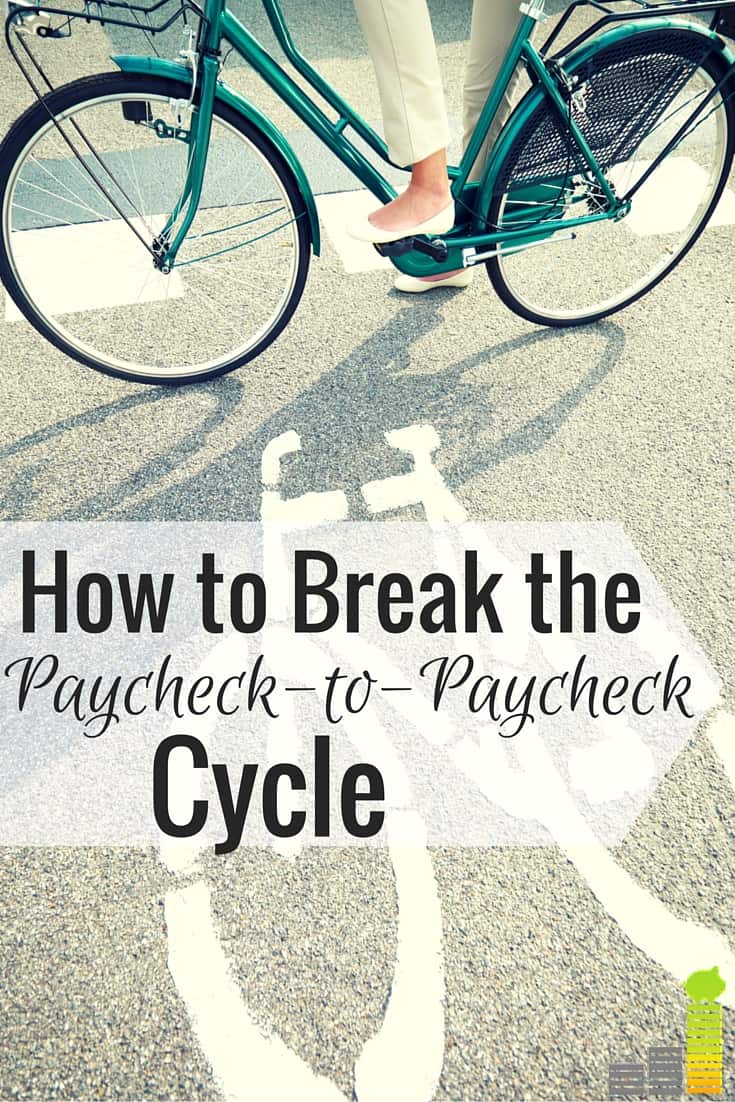 Start Building
Building is one of the common areas overlooked when trying to break the paycheck-to-paycheck cycle. Cutting is great, but will only solve half the problem. Building will get you all the way home.
Building should come in two forms – starting an emergency fund and earning extra money. It will seem impossible to build an emergency fund if you're on a paycheck-to-paycheck cycle. It isn't. Too often people look at the 3-6 month expense figure and give up because they're overwhelmed.
That doesn't mean you shouldn't build an emergency fund; it means you need to start small and build up. Put away $50 per month. If you can't do that, put away $10 or $20 per month. Work until you hit $250 in your emergency fund and use that as a springboard to hit $500 and so forth.
Just make sure to pick a bank that has no minimum balance requirements and will pay you something on the cash.
Banks such as Barclays pay 2.20 percent on your cash (22x the national average) and have no minimum balance requirements. Pick one and throw some money in it and commit to saving money each month.
When your car breaks down or air conditioner goes on the fritz, you'll be thankful for your emergency fund and not have to finance it on a credit card.
The second part to building is bringing in extra money. There are two real ways to go about this – either through your day job or by starting a side hustle. With regards to the former, it's likely the best way to go about making extra money right now.
You can either work overtime or ask to be given new tasks – either of which can help you make more and potentially grow into something bigger in the future. If you're willing to step out of your comfort zone, then you can make money through a side hustle.
I know what you're thinking. "I don't have the skills or time to make extra money." Don't give into either myth! There are many ways to make extra money; in many cases with little to no skill.
Can you drive a car? You can drive for Lyft and set your own schedule – they also offer a $250 sign-on bonus.
Do you have free time during the day, or when you watch TV at night? You can monetize that down time and bring in some extra cash by taking surveys.  Here are some of our favorite survey sites:
Survey Junkie – Survey Junkie is our favorite survey site as they pay you cash straight to PayPal, or let you redeem rewards for Amazon gift cards
Pinecone Research: They pay $3 per survey and they pay cash directly to your PayPal account, or you can choose Amazon or restaurant gift cards. They also pay to do product testing
Opinion Outpost: One of the top survey sites in the space and they have quarterly $10,000 prize drawings
Inbox Dollars: Earn money for taking surveys, watching TV or making purchases online. Get $5 just for signing up
You won't get rich taking surveys, but it's one of the best ways to get money now to pad your budget.
There are many other ways to make extra money; you just need to be creative – especially if there's no real opportunity to earn extra in your day job.
Security and Freedom are the End Game
We all crave security. Everyone wants freedom. Living in a paycheck-to-paycheck cycle is neither. We finance our futures at the expense of living an imbalanced present and then don't understand why we have no money at the end of the month.
We start the next month hoping this one will be different, only to find ourselves in the same spot. That, my friends, is the definition of insanity and a place I used to call home.
It does not have to be that way. You can break the paycheck-to-paycheck cycle and have financial freedom. It won't be accomplished overnight, but it can be done if you start taking steps today.
Additional resource: If you're looking for a simple way to stay on top of all your finances , then check out my favorite tool – Personal Capital. Completely free, it allows you to track your spending, monitor your bank accounts, set payment reminders and watch your net worth grow plus many other tools. We use it in our home to stay on top of our budget.
Open a free Personal Capital account today!
What did you do to break the paycheck-to-paycheck cycle? What's one other area you think should be cut if you have little left over at the end of each month? Why do you think so many live paycheck-to-paycheck?
The following two tabs change content below.
John is the founder of Frugal Rules, a dad, husband and veteran of the financial services industry whose writing has been featured in Forbes, CNBC, Yahoo Finance and more.
Passionate about helping people learn from his mistakes, John shares financial tools and tips to help you enjoy the freedom that comes from living frugally. One of his favorite tools is Personal Capital , which he used to plan for retirement and keep track of his finances in less than 15 minutes each month.
Another one of John's passions is helping people save $80 per month by axing their expensive cable subscriptions and replacing them with more affordable ones, like Hulu with Live TV.
Latest posts by John Schmoll (see all)