Best Unsecured Loans to Consolidate Debt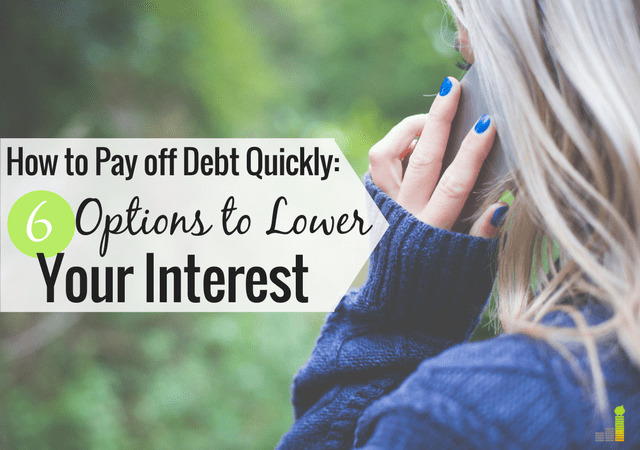 While the best unsecured personal loans vary, they all help you do one thing – pay off debt faster. You can use a personal loan for a range of things the top unsecured personal loans will help you become debt free quicker and save money in the process. Which, ultimately, is what we want to do, as it helps us achieve financial freedom and live the kind of life we want.
You may not know where to go to find an unsecured personal loan. There are many options to consider. That being said, this post will help you determine what the best unsecured loans are – based on your specific circumstance.
What Is An Unsecured Loan?
In basic terms, an unsecured personal loan is issued largely based on your creditworthiness. You do not put up any collateral. There is nothing securing the debt like with a mortgage or car payment. Thus, in most cases, the creditor can't come after you if payments aren't made – just as is the case with most unsecured credit cards.
This begs the question of whether or not you need to have good credit to get a personal loan. In most cases, you will need to have a relatively decent credit score to get the best possible rates.
Besides the benefit of potentially saving money and paying off debt quicker, the main draw to most unsecured loans is the ability to have a fixed payment each month. In the case of credit card debt, there is likely a variable interest rate which means you don't know what you'll be paying each month.
The key to recognize is that an unsecured personal loan should not be used to make frivolous purchases. Sure, you could do that but it would be incredibly foolish. Rather, they should be used as a weapon to attack debt and become debt free quicker.
One final note about the top unsecured personal loans, there are many options to consider. If you're trying to get the best personal loan for bad credit, you might be better served to stick with your local bank or credit union if you already have an established relationship. If that's not an option for you there are many options online to consider.
The Best Unsecured Loans
It used to be that the best unsecured personal loans were available solely through brick and mortar banks. Everything banking related was handled through physical locations, even if they didn't provide good options. The Internet has dramatically changed that.
By giving birth to a wide variety of different financial institutions, the Internet has leveled the playing field for consumers to find what works best in our given situations. This is not to say that in every instance an online institution is always going to be the best option available, as there are a lot of crappy options to wade through to find something decent. That fact must be kept in mind when looking for personal loans.
With that in mind, there are several options to consider if you're looking to consolidate debt and get an unsecured loan. Some of those options are:
Best unsecured loans – Prosper
Best unsecured loans for excellent credit – LightStream
Best unsecured loans for good credit – Payoff
Best unsecured loans for average credit – Avant
Best unsecured loans for student loan debt – Credible
Each of these companies will be covered in detail later in the post. If you have bad credit, understand that it may be more difficult to get a loan, though not necessarily impossible. As with anything financial in nature, make sure to do your due diligence and find a firm that meets your needs.
Best Unsecured Loan Option Available: Prosper
The best unsecured loan provider, overall, is Prosper – one of the two large peer-to-peer lenders. Generally speaking, Prosper is a little more liberal in their extension of loans and requires a credit score of at least 640. As they do what's called a soft pull of your credit you won't see any negative impact on your credit score.
Prosper looks at many different factors, so your rate isn't based entirely off your score and thus still offers the potential to get a good overall rate.
Prosper offers a wide range of unsecured loan options – anywhere from $2,000 on up to $40,000. Prosper offers loans in 48 states (sorry Maine and Iowa) and offers competitive rates as low as 6.95 percent up to 35.99 percent. However, as with other peer-to-peer lenders you could be waiting up to a week or two to receive your funds.
Prosper Pros:
Extremely competitive rates
Available in 48 states
Those with average credit can still get a loan
Relatively easy to apply
Drawbacks to Prosper:
Have to wait to get funds
Can only get three or five-year loans
Origination fee of 2.4 percent up to five percent
Top Runner-Up: Lending Club
Following Prosper, Lending Club is the next best provider for unsecured personal loans. Lending Club is the other major player in the peer-to-peer lending space. This brings about some similarities; though they're different enough to warrant taking a serious look.
Lending Club is available in 49 states (sorry Iowa) and offers rates from 5.99 – 32.99 percent. Lending Club does look a little more seriously at DTI, so it could make them a little more difficult to get a loan from. The Lending Club website has a cleaner and easier feel to it than does Prosper if that is important to you.
Lending Club Pros:
Lowest rates available
Easy to use website
No prepayment penalty
You can borrow up to $40,000 – $5,000 more than at Prosper
Quick application process
Drawbacks to Lending Club:
Origination fee of 1-6 percent as well as a potential check-processing fee
Have to wait to get funds, just as with Prosper
Best Unsecured Loan for Excellent Credit: LightStream
If you have excellent credit and need an unsecured loan, LightStream is a good option to consider. LightStream, which is a division of SunTrust Bank, offers loans as low as 2.19 percent though it's somewhat difficult to secure such a rate.
In most cases, you'll be able to get a personal loan between 5.99 and 9.99 percent, though the highest rate can be as high as 14.49 percent with AutoPay.
LightStream does not look for a specific credit score but is largely looking for those with good to excellent credit. What LightStream is looking for specifically is someone who has set a pattern of financial health – having no delinquencies, an established credit history of at least five years, stable employment and investments.
The best part of LightStream is they do not charge any origination fees.
LightStream Pros:
Very competitive interest rates
No fees
Higher loan amounts – up to $100,000
Same day fund availability
Flexible repayment schedules between 2-7 years
Drawbacks to LightStream:
Minimum available loan is $5,000
May not be able to qualify
Funds have to be used for the specific loan purpose
Next Best Option for Excellent Credit: Earnest
A solid backup for an unsecured loan with excellent credit is Earnest. Earnest is a newer company and is only available in 23 states, though it is growing. Earnest is different in two main ways. First, they work to match the amount you can pay back each month without tying you to a generic repayment schedule.
Secondly, Earnest makes a merit-based loan decision, meaning they look at things like employment and overall financial healthiness. Earnest is honestly geared more towards younger borrowers looking to consolidate debt and offers loans up to 30 years with a competitive rate of 4.25-9.25 percent.
Earnest Pros:
Ability to set your own payment
Very competitive rates
Funds available within two days
Merit-based decision model
Drawbacks to Earnest:
Only available in 23 States and Washington D.C.
Hard inquiry on credit report
More stringent application process
Best Unsecured Loan for Good Credit: Payoff
The best unsecured loan for good credit is a newer player in the space – Payoff. While Payoff has been around since 2009, they went through a rebrand in 2014 and now offers loans in 30 States. The main goal at Payoff is to help people refinance their credit cards in order to achieve debt freedom.
Although Payoff is not a true P2P lender like Prosper or Lending Club, they have private funding to meet your loan needs of anywhere between $5,000 and $35,000. In most cases with Payoff, you'll be able to get a rate between 6% (8% APR) 19.65% (22% APR).
Payoff requires a FICO score of at least 660, a DTI of less than 50 percent and at least three years of credit history.
Payoff is different in two main ways. First, there are no prepayment fees, no loan origination fees, etc. though there is a Payoff Platform fee that ranges from 2-5 percent based on the length of the loan. Payoff offers installment loans that range anywhere from 2-5 years.
The second difference is that after your loan is approved, Payoff assigns a member advocate to you. This advocate is your personal resource whenever you have needs, questions or concerns. With Payoff, your member advocate helps you achieve success.
Payoff Pros:
Only does a soft pull on credit report
Payoff helps customers refinance and pay off balances of $5,000 to $35,000
Relatively low rates
Can get loan with a FICO score as low as 660
Unique 24, 36, 48 and 60 month loan options let you customize your payoff plan
Personal member advocate assigned after loan approval
Drawbacks to Payoff:
Takes 5-7 business days to receive funds in bank account
Only available in 30 States
Best Unsecured Loan for Average Credit scores: Avant
The award for the best unsecured loan for average credit goes to Avant. Like Earnest, Avant is a newer player in the unsecured personal loan space though they stand above the rest. Avant is a bit more forgiving on the credit score requirement, extending loans to those having scores as low as 580. They also offer loan amounts up to $35,000.
Though they're younger, Avant is available in 46 states (sorry Iowa, Maine, North Dakota and West Virginia). Where Avant really sets themselves apart is by giving funds as quick as the same day and offering loans for as short as one year up to five.
The rates are a little on the higher end, starting at 9.95 percent on up to 36 percent, though with lower credit scores you're much more likely to see that.
Avant Pros:
No loan origination fees
Flexible repayment schedule
Same day fund availability
Wide availability
Soft pull on credit
No prepayment penalties
Drawbacks to Avant:
Newer lender
Potentially higher rates with lower credit score
Next Best Option for Average Credit Scores: Peerform
The runner-up for the best unsecured loan with average credit is Peerform. Peerform, like Avant Credit, allows you to get an unsecured personal loan with a credit score as low as 600 for up to $25,000.
The rate at Peerform is somewhat better than that found at Avant with rates starting as low as 7.12 percent on up to 28.09 percent. However, where Peerform falls short is with fees – charging both a loan origination fee as well as a collection fee.
LendingPoint is another alternative to Avant that you might want to consider if you have average to bad credit. If you have a credit score of at least 600 and make at least $20,000 a year, you might be able to get a loan through LendingPoint.
Peerform Pros:
Lower rates than Avant
Can get a loan with a 600 credit score
Can borrow up to $25,000
Drawbacks to Peerform:
Only available in 23 States
Can take up to two weeks at times to receive money
Charge too many fees
Student Loan Option: credible
The final unsecured loan provider to look at is Credible. My favorite feature of Credible is fixed rates start as low as 3.74 percent and variable rates start as low as 2.54% – if you sign up for auto pay. You can also compare rates from up to seven lenders with one application.
Considering the rate on an Unsubsidized Federal loan is 6.8% that can result in a significant savings. Federal loans aren't the only loans you can consolidate with Credible – private student loans can be rolled in as well.
While Credible requires an "good" credit score, they don't have any specific qualifications as they operate as a comparison platform. The specific lenders you might go through with Credible may have a specific requirement, but Credible does not. It's important to note that if you don't have the best credit or a stable job you can qualify with a cosigner.
Credible also offers personal loans, if you don't need to refinance student loans. Rates are as low as 4.99 percent and you can compare up to five lenders with one application.
Who Needs Unsecured personal Loans?
As was touched on earlier, there should be one purpose behind getting an unsecured personal loan – achieving financial freedom. It can be very easy to justify taking out a loan because the funds are available and using them on something frivolous that will only further the cycle of debt.
If that's the case for you, look the other way and save for said expense. You can do so with a bank like Barclays as they pay 2.05 percent on savings accounts, with no minimum balance.
However, unsecured loans can be good to consider in some instances – such as:
People wanting lower interest rates
Those wanting to consolidate debt into one simple payment
People not having luck with a traditional bank
A common question is whether or not you need good credit to get the best unsecured loans. While a higher credit score will generally get you a better rate there are options to consider for those needing a personal loan with bad credit – you just need to shop around to find those options.
As one who dealt with paying off debt personally and spent some time looking at unsecured loans as an option, doing your due diligence is vital.
How to Find the Best Unsecured Loans
Unfortunately, there are a lot of scams out there in the unsecured loan space. Please don't fall for them. This is not something you want to make a rash decision about, as there are many things to consider when getting a personal loan.
The only real way to find the best unsecured loans is to shop around. Take your time looking at various lenders, at both online (peer-to-peer) and brick and mortar financial institutions. You may find that the best loan rates are available through the former option, but it still pays to do your homework.
There are tools available, like Even Financial. Even Financial lets you compare up to 17 lenders to find the best personal loan for your needs. It takes less than a minute to fill out the application, and within a few minutes they provide possible matches.
If you'd rather not go the loan route, and you have credit card debt, you can also consider a balance transfer card to get relief and pay off the debt quicker.
Here are some of the best balance transfer cards to look at to save money while paying off debt.
What to Watch Out for With Unsecured Loans
As mentioned above there are a lot of things to consider when taking out an unsecured loan. This is largely due to the scammy nature in the industry, not to mention taking on a loan. If you're considering an unsecured personal loan, following are some of the things to be on the look out for:
Low rates – the last thing you want is to pay an overly high rate. That will only extend the life of your loan.
Little to no fees – origination fees can be hard to avoid, but it is possible. There are other fees to keep in mind, be aware of them as the only bring added cost.
Transparency – the site should be very clear about what the loan process is like. Their rates should be clear and communicate the process simply. This should also be the case when you call their customer service area as well as in mailings.
Flexibility – not everyone has the same need. You want to pick a loan provider that's going to provide flexibility. If they don't offer it, look elsewhere.
Loan limits – this really only applies if you need to consolidate a sizable amount of debt. You want to be able to stay with one lender for sake of ease.
Watch out for scams – never agree to pay anything upfront or fall for some sort of guarantee. Verify all the information they provide and run the other way if they aren't willing to explain everything clearly.
When researching for the best unsecured loans, the top ones were Avant, LightStream, Prosper, Lending Club and SoFi. By no means are they the only ones you should look at – in fact you should look at all the options available to you, even physical financial institutions.
If you're dealing with debt I understand the desire to knock down your rate and get started paying it down as soon as possible. That makes complete sense. Just make sure not to allow your desire to backfire thanks to not doing your due diligence to find the best loan provider possible.
Disclaimer: For example, a three-year $10,000 loan with a Prosper Rating of AA would have an interest rate of 5.31% and a 2.41% origination fee for an annual percentage rate (APR) of 6.95% APR. You would receive $9,759 and make 36 scheduled monthly payments of $301.10. A five-year $10,000 loan with a Prosper Rating of A would have an interest rate of 8.39% and a 5.00% origination fee with a 10.59% APR. You would receive $9,500 and make 60 scheduled monthly payments of $204.64. Origination fees vary between 2.41%-5%. APRs through Prosper range from 6.95% (AA) to 35.99% (HR) for first-time borrowers, with the lowest rates for the most creditworthy borrowers. Eligibility for loans up to $40,000 depends on the information provided by the applicant in the application form. Eligibility is not guaranteed, and requires that a sufficient number of investors commit funds to your account and that you meet credit and other conditions. Refer to Borrower Registration Agreement for details and all terms and conditions. All loans made by WebBank, member FDIC.
The following two tabs change content below.
John is the founder of Frugal Rules, a dad, husband and veteran of the financial services industry whose writing has been featured in Forbes, CNBC, Yahoo Finance and more.
Passionate about helping people learn from his mistakes, John shares financial tools and tips to help you enjoy the freedom that comes from living frugally. One of his favorite tools is Personal Capital , which he used to plan for retirement and keep track of his finances in less than 15 minutes each month.
Another one of John's passions is helping people save $80 per month by axing their expensive cable subscriptions and replacing them with more affordable ones, like Hulu with Live TV.
Latest posts by John Schmoll (see all)