Having a full-time job is terrific, but it does not always help you make ends meet. Sometimes you need to earn extra money to reach your financial goals.
Under-the-table jobs that pay cash are a fantastic way to reach any goals you have and even put extra money in your pocket. Cash-paying jobs often pay weekly, if not immediately, giving you access to the funds you need.
What Jobs Are Usually Under the Table?
While you might think under-the-table jobs can be an effective way to avoid paying taxes on your income, that is not the case. They are often side hustles that allow you to work a flexible schedule and earn quick cash.
Here are the best cash jobs that allow you to supplement your income.
1. Delivery Driver
Delivering meals or groceries is one of the best side hustle ideas to pursue in the current gig economy. This opportunity is convenient for users, and independent contractors can work in their spare time to make extra cash.
Many delivery companies charge costly fees for their services. By doing a little research, you might be able to determine what they charge in your area. You can use that information to charge less and create your own side job.
Consider advertising your services on social media accounts to gain clients. If you don't want to use this approach, you can sign up to drive with services like DoorDash or Uber Eats.
Pay for delivery drivers varies based on things like tips and the times you deliver. Read our guide on the best delivery app jobs to work for to make good money.
2. Pet Sitter
Being a dog walker is a fun way to make cash, especially if you have free time during the day or on weekends. Pet owners aren't always able to get their dogs out for exercise, and you can make good money fulfilling this need.
Dog walkers earn cash by taking four-legged friends out for exercise. However, that's not the only way to make extra income with pets. You can offer additional services, including:
Pet grooming
Boarding pets overnight
House sitting
Drop-ins
It's possible to increase dog walking earnings by exercising multiple dogs at once. The average pay for a dog walker is $14 an hour, according to ZipRecruiter.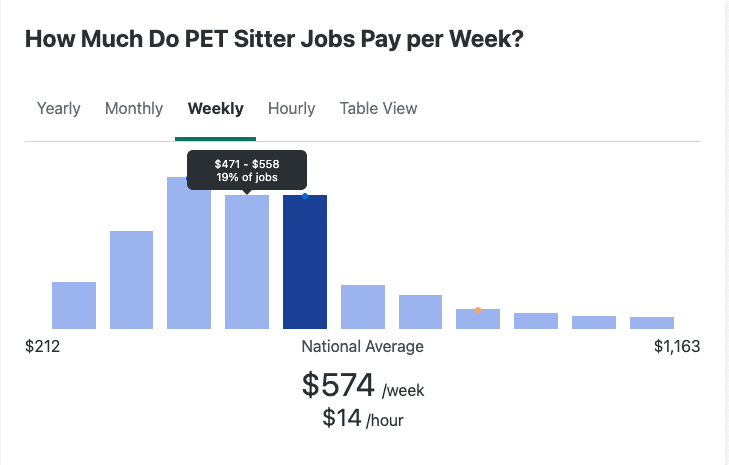 You can advertise your pet-sitting services on your local Facebook group or other social media accounts to attract clients. The Rover app is another helpful resource that allows you to find customers.
Read our post on the top dog walking jobs to learn more.
Benefits
Logo
Rover - earn up to $1,000/mo. walking dogs!

Rover offers $1,000,000 in protection, 24/7 support, and vet assistance.



3. House Cleaner
If you don't mind getting a little dirty, house cleaning is a great way to make money on the side. Most people hate cleaning their own homes, so there's ample opportunity to be a house cleaner.
While you might have to clean someone else's dirt and grime, you don't need many resources to start this gig. You can provide your own mop, broom, vacuum, and dusting materials, but many clients may already have most of those for you to use.
The average hourly rate for a house cleaner is $16 nationally, according to ZipRecruiter. However, we know people in the Omaha area earning at least $25 an hour cleaning homes.
This is good money, and you get to work your own schedule.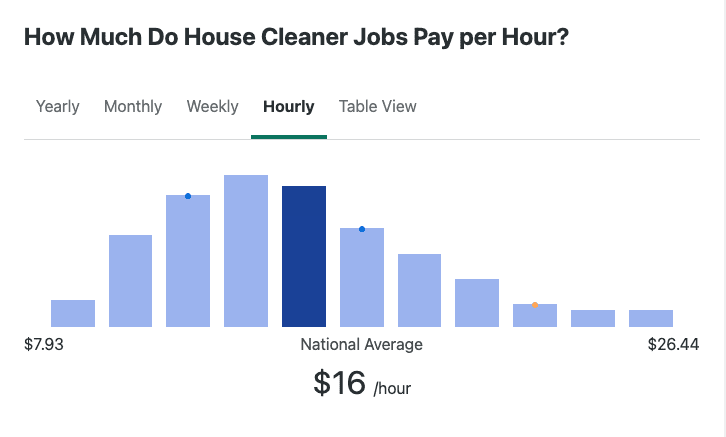 Care.com is a fantastic resource for finding clients if you want to be a house cleaner. You can also advertise your services on Facebook Marketplace and other social media platforms to get clients.
*Related: Are you looking for other ways to earn money on the side? Read our guide on how to make $1,000 fast to find something that works for you.
4. Babysitting
Babysitting is a classic under-the-table job to make money fast. If you love spending time with children and get good word-of-mouth advertising, this can be a worthwhile side gig.
As a parent to growing children, we were always happy to pay a babysitter good money if they were reliable.
Additionally, especially busy parents of young children tend to share the names of babysitters. This opens you up to referral customers, allowing you to earn even more.
The current average hourly rate for a babysitter is $17, according to ZipRecruiter. If you watch multiple children simultaneously, you could earn more.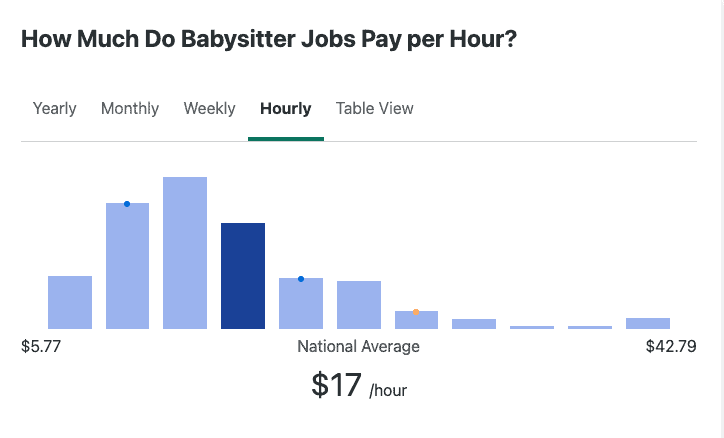 Like house cleaners, using Care.com is a good resource to find under-the-table jobs in your area.
5. House Sitting
One of my favorite ways to earn extra money is to stack side hustles. This is possible with a gig like house sitting. You stay in a client's home when they are traveling, and you can combine it with other side hustle ideas to increase your earnings.
Additional money-making opportunities you can pursue while house sitting can range from work-from-home jobs to taking online surveys in your spare time.
Watching a house is typically not physically exhaustive. You are merely there to make it look like someone is at home. Possible tasks include checking the mail, watering flowers, or taking out the trash.
The average rate for a house sitter is $36 nationally, according to ZipRecruiter. We haven't seen payouts this lucrative in Omaha since rates tend to go by the night.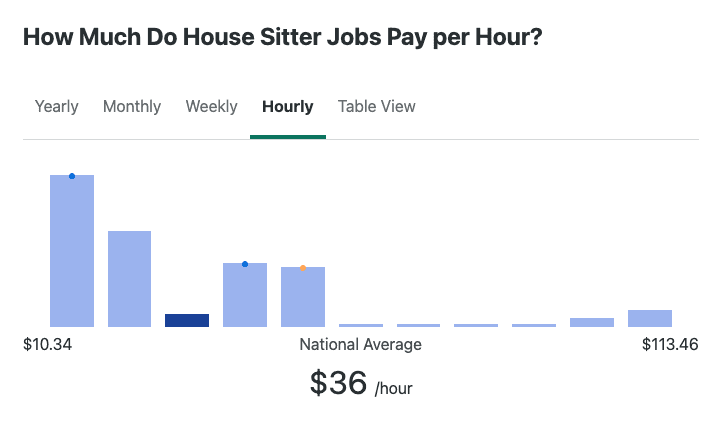 You can advertise your services on social media accounts or a site like Care.com.
6. Tutor Students
Are you a teacher? Or do you have experience in a specialized area? If so, tutoring is one of the best jobs that pay cash.
You don't need to be certified to be a tutor, but it does allow you to charge more for your time. If you don't mind working with students, tutoring can be a great way to earn extra money.
The average hourly rate for a private tutor is $24, according to ZipRecruiter. Having certifications or expertise in a certain area can help you increase your rates.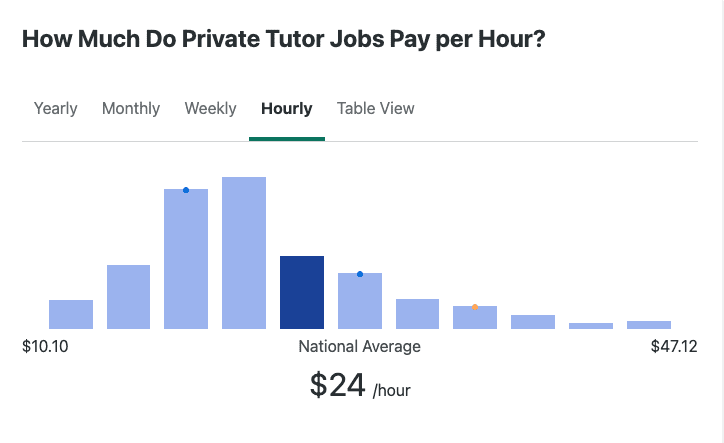 You can use a site like Flexjobs to find tutoring gigs or advertise your services on social media to get more clients.
7. Freelance Writing
Freelance writing is one of my favorite ways to earn extra income. My wife started our business over a decade ago by writing for clients.
There are many opportunities to make money as a freelance writer. Opportunities range from bloggers looking for extra articles to businesses that need help with content.
Depending on your experience, you can write about anything from personal finance to cooking and everything in between. The average pay for a freelance writer is $33 per hour, according to ZipRecruiter.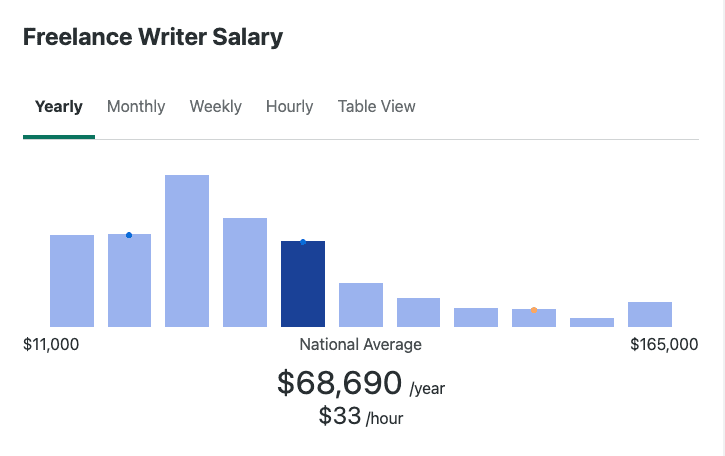 Word of mouth and sites like LinkedIn are fantastic ways to find clients. Read our guide on how to get paid to write articles to learn more.
8. Summer Yard Work
If you don't mind a little manual labor, doing yard work for people in your city is a terrific way to make money fast.
Potential ways to earn include:
Mowing lawns
Trimming hedges and trees
Cleaning gutters
Weeding
Watering plants or flowers
The work isn't glamorous, but if you prove yourself to be reliable and a hard worker, these gigs pay good money.
According to ZipRecruiter, the average rate for a yard worker is $15 per hour.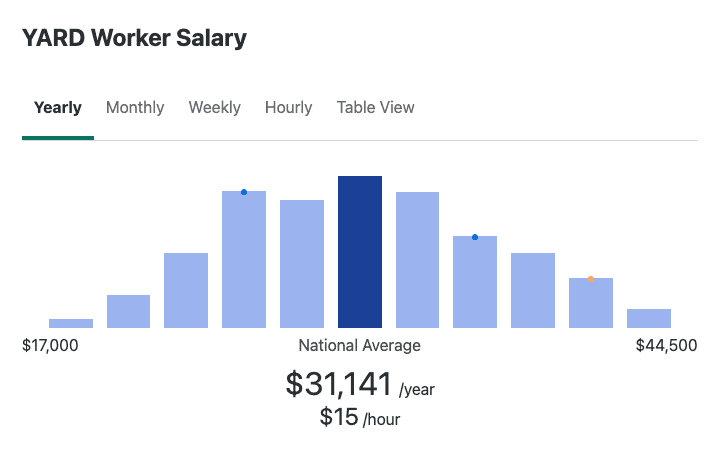 Old-fashioned word of mouth and asking for referrals are the best ways to attract more clients.
9. Snow Removal
Yard work doesn't have to be seasonal. You can also earn a little extra cash in the winter by removing snow for people in your neighborhood.
We have young men in our subdivision that walk around after a snowfall and offer to help people. In most cases, they earn $20 or $25 per driveway.
According to ZipRecruiter, the average pay is $21 per hour for snow removal.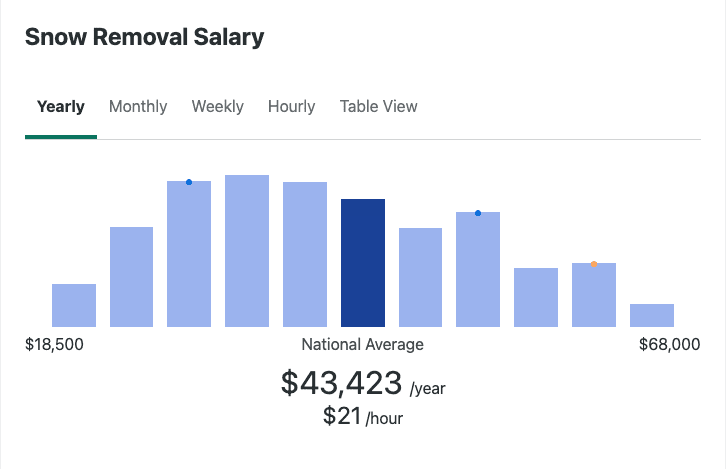 Proving you are dependable can help you build up a nice list of clients in your area who will pay you to remove snow each winter.
10. House Painting
If you like spending time outside and are a quick worker, painting houses is one of the best under-the-table jobs. However, if you have no experience or are afraid of heights, you may want to consider other gigs that pay cash.
Many clients will require that you provide your own supplies, so account for that when quoting a project. The average hourly rate for a house painter is $18, according to ZipRecruiter.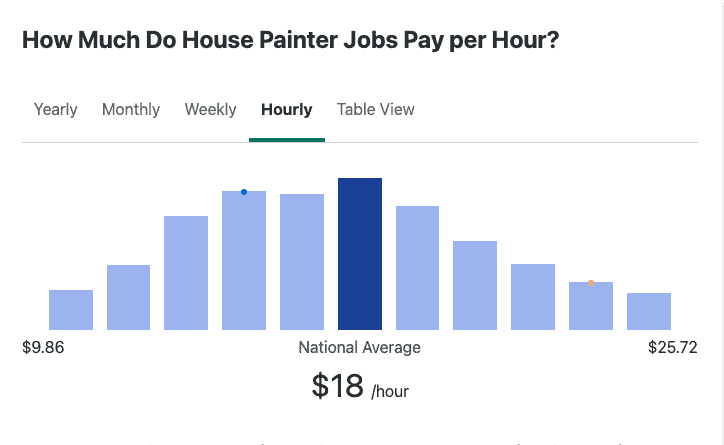 Numerous factors should influence your quote, including the size of the house and the type of paint you're using. TaskRabbit is a good platform to find house painting jobs that pay cash fast near you.
11. Photographer
Do you love to take pictures and have an eye for detail? If so, you can make extra income as a freelance photographer.
It is possible to find gigs with no experience, but many clients will want to see a portfolio of your work. This can include anything from taking family portraits or headshots for people who want to update their LinkedIn profiles.
If you are friends with a realtor, you can even offer to take photos of homes they are selling.
Freelance photographers can expect to earn around $28 per hour, according to ZipRecruiter. This makes the opportunity one of the best jobs that pay $20 an hour without a degree.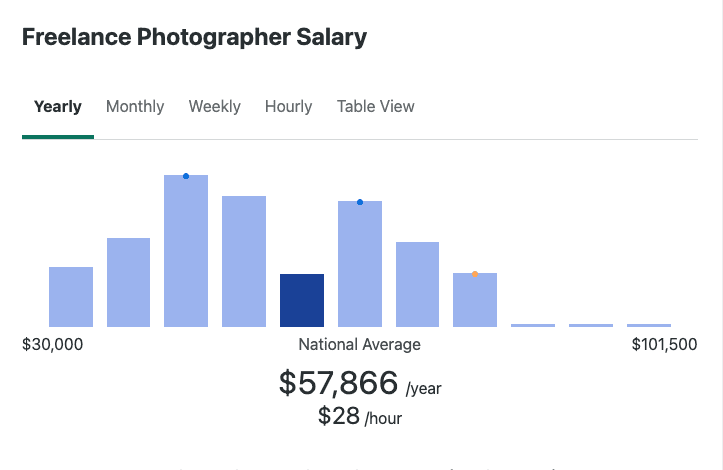 Your rate can depend on the amount of time spent on a project and the type of pictures the client wants. It's possible to find clients by promoting your services on social media or a site like Flexjobs.
You can even sell photos to stock photo websites to earn passive income.
12. Handyman Work
If you like fixing things or are good with your hands, you can make cash as a maintenance or repair worker. This can be as simple as assembling furniture or as complex as repairing electronics in a client's home.
Instead of searching for "jobs near me" on Google, TaskRabbit is a fantastic resource to earn quick cash. Prospective clients book your services through the TaskRabbit site, and you go to their home or business to complete the work.
The site claims it has over 200 potential categories to find work for independent contractors. According to ZipRecruiter, the average hourly pay for handyman jobs is $21.
An awesome benefit of working with TaskRabbit is they handle all payments. The client will pay cash to TaskRabbit, and the platform will send payment to you. There is no exchanging of money between you and the client.
13. Car Repair
A good mechanic is hard to find. One of the more unique gig economy jobs is to offer car repair services to people who need maintenance on their automobiles.
If you are good with cars and can use your driveway or garage to do work, you can earn quick cash as a car mechanic. You may not be able to do more advanced jobs, but you can do basic repairs and maintenance such as oil changes or replacing brakes.
The average rate for freelance auto mechanics is $24 per hour, according to ZipRecruiter.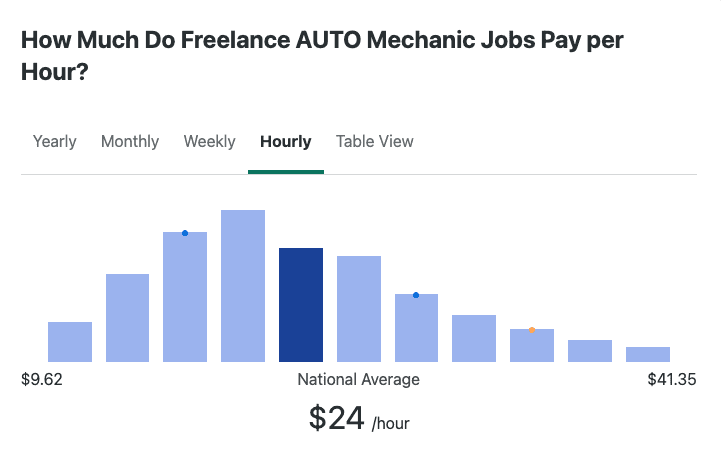 However, YourMechanic claims that some independent contractors can earn up to $70 per hour using their platform. The site is similar to Care.com but connects you with clients who need car repair work.
YourMechanic helps you find customers and allows you to work on your own schedule. This is terrific for someone who wants to do part-time work on evenings or weekends to earn extra cash.
If you want to offer car washing services, a site like TaskRabbit could be a better choice.
14. Hair Stylist
Cutting hair isn't a new opportunity created by the gig economy. Registered beauticians have been able to make money for years as hair stylists.
Unlike other jobs that pay cash, you will need a license in most states to be a hairstylist. However, it can be a lucrative side gig. The average hourly wage for a freelance hair stylist is $42, according to ZipRecruiter.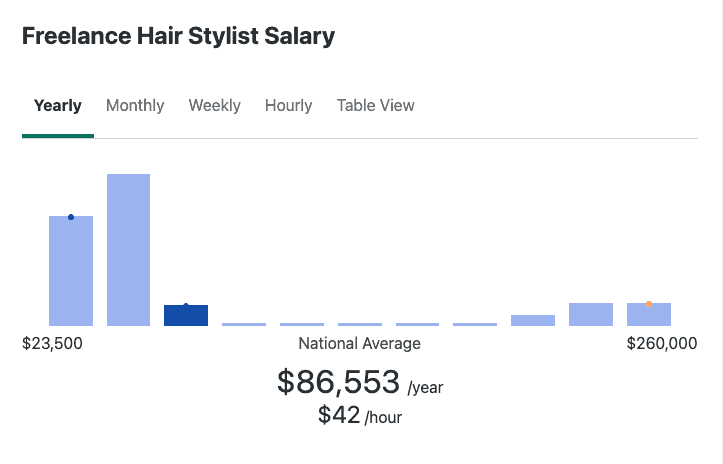 While you could rent a chair at a local hair salon, that comes at a cost. Instead, you can offer in-home services to clients or do the work in your home.
15. Help People Move
Manual labor is not the most glamorous work. But, if you don't mind physical activity, being a house mover is an excellent option to earn extra spending money.
If you offer the service on your own, you will need access to a truck to help clients. You can also find work on sites like TaskRabbit to get moving jobs near you.
The average hourly pay for a house mover is $16, according to ZipRecruiter. However, we know individuals who earn quite a bit more.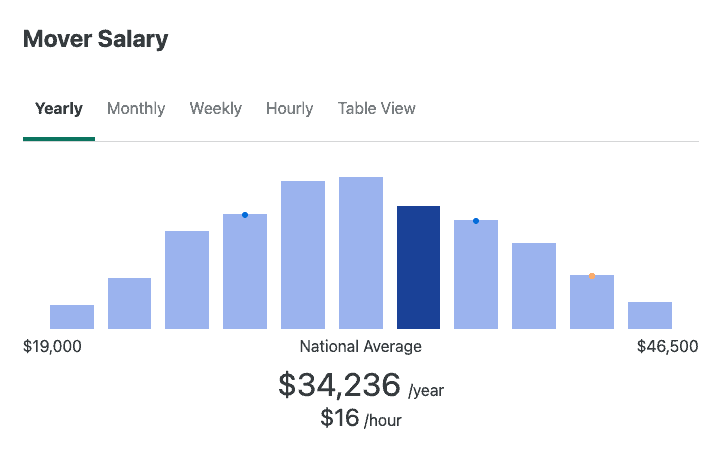 Bellhop is a good resource for finding moving jobs in your area. The platform lets you work a flexible schedule and offers access to people looking for help moving their homes.
16. Personal Trainer
Many people want to get fit or lose weight but don't know where to begin. If you have the appropriate certification and enjoy motivating people, you can earn good money as a personal trainer.
As a part of this side gig, you help people achieve their fitness goals. You can help them do this by creating exercise plans or dietary practices they need to follow.
The average pay for a personal trainer is $25 per hour, according to ZipRecruiter.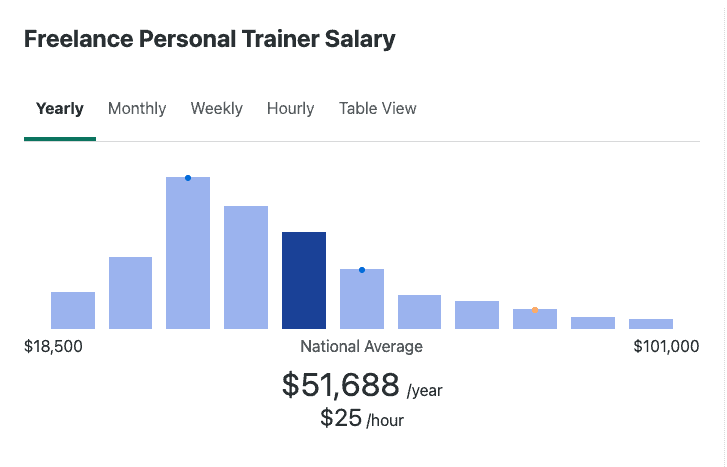 If you are just starting, you may want to contact gyms in your area to learn if they are hiring or if they refer clients out. Similar to other under-the-table jobs, referrals are a terrific way to grow your business.
17. Design Graphics
Graphic designers are an essential part of any business. They design logos, marketing materials, banners, and much more.
If you have creative skills or design graphics for your day job, you can design graphics in your spare time to earn a freelance income. This may be the last thing you want to do if it's your full-time job, but it can be quite lucrative.
Freelance graphic designers can expect to earn an average hourly rate of $28, according to ZipRecruiter. If you have advanced skills or experience, you can likely earn more.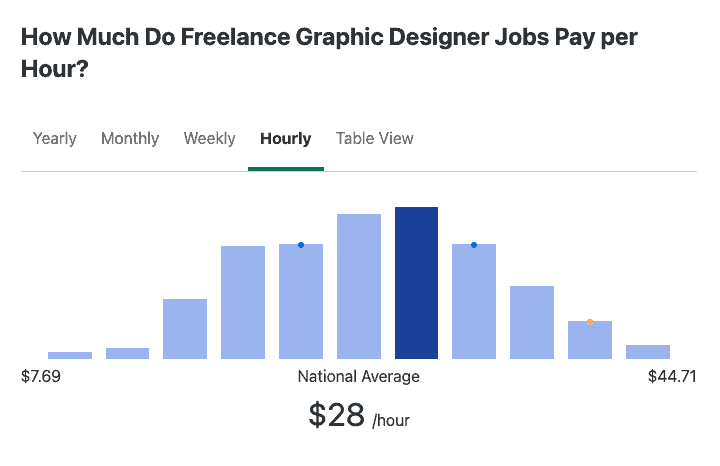 Sites like Flexjobs are a good resource for finding paying clients. You may also want to use a site like 99designs to showcase your portfolio and find work.
18. Baking
Do you enjoy spending time in the kitchen and have an artistic flair? If that describes you, being a baker is one of the more creative under-the-table jobs to make money.
We have a friend who does this to earn money on the side. She makes everything from cakes and pies to custom-made cookies. Most of her business comes from referral traffic and her Instagram profile.
The average hourly pay for an at-home baker is $26, according to ZipRecruiter.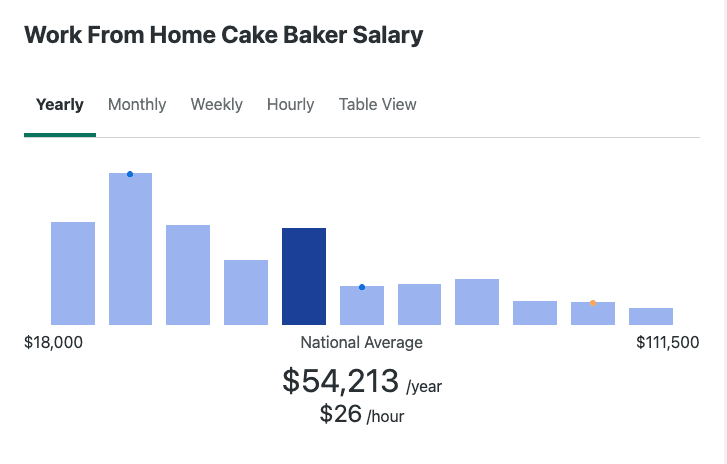 Keep in mind that your state or city may have regulations that impact what types of foods you can make or the ingredients you use. It's best to research that before starting your baking business.
19. Work Events
If you are free on many evenings or weekends, you can work as event staff to make money in your spare time.
Possible responsibilities include:
Bartending
Waiting tables
Valet drivers
Coat checkers
Average rates may vary depending on the job you do. ZipRecruiter reports you should expect to earn $15 an hour if you work as event staff.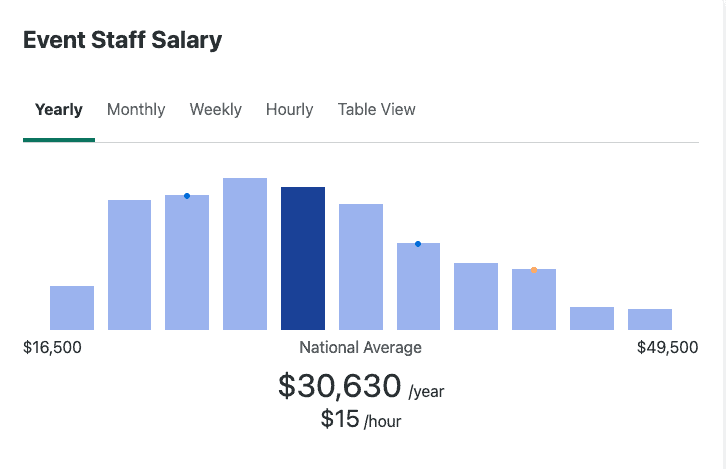 Temp agencies and TaskRabbit are two excellent resources for finding jobs as event staff.
20. Be a Masseuse
Many people enjoy massages as a way to relieve stress or relax. You can help those individuals and make good money by offering massage therapy.
Offering massages will require certification in most states. Purchasing the appropriate insurance policy may also be a wise decision, especially if you're working with strangers.
Those costs aside, ZipRecruiter reports the average freelance massage therapist should earn an average rate of $32 per hour.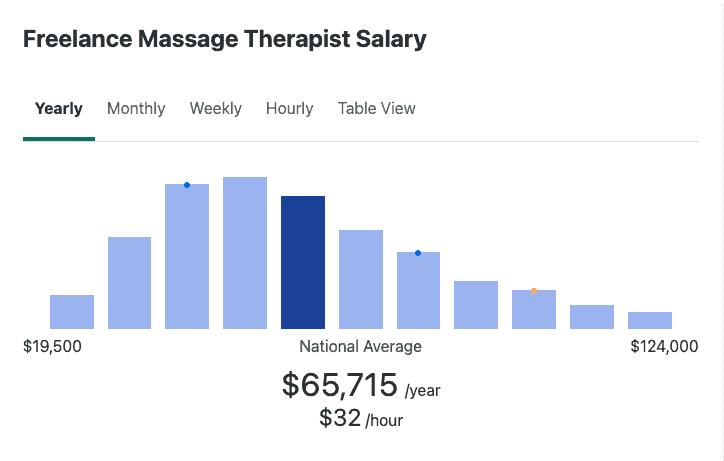 If you don't want to rent out a space as a masseuse, you can offer in-home services to clients. Referral traffic and regular posting on a social media profile are great ways to grow your client base.
21. Sports Instructor
If you enjoy teaching and love sports, being a coach is a fun under-the-table job that pays cash. No experience is required to begin, but many opportunities may expect that you have spent time playing the sport.
In most situations, coaching will be during warmer months, allowing you to make extra money during the summer. Contact a YMCA or gym in your local area to see if they know of any available opportunities.
Part-time coaching jobs pay an average of $21 per hour, according to ZipRecruiter.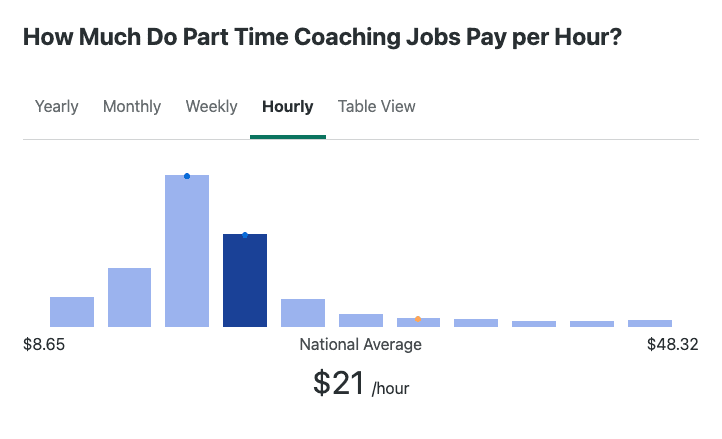 If you're unable to find work through the YMCA or local gym, CoachUp is a good resource. The platform works like other side hustle apps, but it specializes in coaching jobs that you can find in your area.
The website requires you to have a valid email address to start and the ability to pass an annual background check.
FAQs About Jobs That Pay Cash
Cash-paying jobs can be an excellent way to make ends meet. However, there is a lot of uncertainty around how they work or if they're legal.
Here are some common questions we receive from readers about under-the-table jobs.
Is it Legal to Work Under the Table?
Yes, jobs that pay cash can be legal to accept. The key is if the job is purposely avoiding paying taxes since this is not legal.
Receiving payment in cash is legal, and many jobs operate in this fashion. However, it is essential that both parties act appropriately when tax season rolls around.
Do I Pay Taxes if I Get Paid in Cash?
Regardless of how you are paid for your work, paying taxes is required. You must keep track of your cash earnings and report those to the IRS. This is done on tax form 1099.
If you have questions about how this will impact your specific taxable situation, it is best to ask a tax professional.
Can You Work Under the Table For Money?
It is completely legal to work jobs that pay cash. All it means is that you receive cash for the tasks you complete and that you report your yearly earnings
Cash-paying jobs have been around for many years. There is nothing wrong with them, but you can't use them to avoid paying taxes.
Is DoorDash Considered an Under-the-Table Job?
Working with DoorDash or any other delivery platform is an independent contractor role. You are not an employee of the service, so taxes do not automatically come out of your earnings.
Like most other side hustles, you will need to hold back enough money from what you earn to pay taxes. The company you work with often will not do this for you.
Bottom Line
The gig economy is a fantastic way to make money on the side. Most of these opportunities allow you to make money under the table.
This does not let you avoid paying taxes, but it does give you the ability to earn extra income and possibly grow professionally. With a little creativity, you can find a lucrative side hustle that will help you reach your financial goals.
What's most important to you when looking for great side hustle ideas?
*Earning more on certain types of orders (ex. alcohol): Earn more per order as compared to restaurant orders. Actual earnings may differ and depend on factors like number of deliveries you accept and complete, time of day, location, and any costs. Hourly pay is calculated using average Dasher payouts while on a delivery (from the time you accept an order until the time you drop it off) over a 90 day period and includes compensation from tips, peak pay, and other incentives.
*Get paid instantly (DasherDirect): Subject to approval
*Cash out daily (Fast Pay): Fees apply
*Start Dashing today: Subject to background check and availability
*Dash anytime: Subject to availability