Shopping online lets you search for the best prices and avoid going to stores. It also allows you to use apps that make it easier to save money.
The Honey app can automatically apply discount codes for instant savings when you shop online. Then, you can earn rewards points that you can redeem for cash or gift cards to save on future purchases.
This Honey review covers how the mobile app and browser extension can help you spend less money.
What Is the Honey App?
The Honey app is a shopping browser extension that you can install to help you save money. Android and iOS apps are also available.
This tool is free and owned by PayPal. However, you don't need a PayPal account unless you want to earn cash rewards instead of gift cards.
The shopping portal scans the internet for codes, including coupon and discount codes, to help you get lower prices when you buy items online.
Honey saves you money on various purchases, including:
Amazon purchases
Clothing and purchases from online shoe sites
Food and groceries that you're ordering online
Travel
Once you're ready to pay for a purchase, click on the Honey browser extension. Then, click on the "apply coupons" button. The app will apply the automatic promo codes they have for the website you're using.
Honey works with over 30,000 shopping platforms, from major online retailers to smaller online stores, so you can get better deals when shopping online.
The best part is that the Honey savings app applies these coupons for you instantly.
Read our guide on other top coupon sites to use to save money on your shopping needs.
How Does the Browser Extension Work?
Installing and using the Honey app is incredibly easy. Honey is available for use on most browsers, including Chrome, Firefox, Safari, and Opera.
To install the free browser extension:
Open the browser of your choice
Go to www.joinhoney.com
Click the button that says "Add to (browser that you're using)"
Sign up via email, Facebook, or PayPal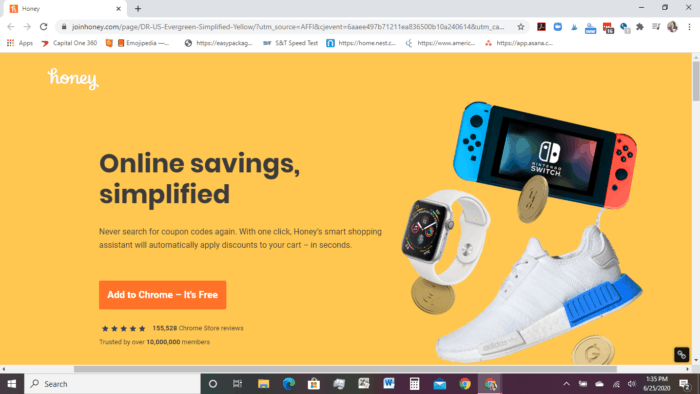 Once installed, you can start using the shopping assistant instantly. It's extremely easy to use.
To use the extension:
Go to the website that you're looking to shop with
Add all the items you want to purchase to your cart
Go to the site's checkout page
Before you click the "purchase" button, click the Honey extension button
The extension will tell you if it found a coupon you could use and automatically apply it to your purchase
Check out and enjoy the savings
The app does this in mere seconds as opposed to you having to spend minutes or hours looking for promo codes online. You effortlessly save money and get to go on with your day.
Features
Besides helping you find deals and discounts to take advantage of, the Honey shopping app has some other incredible online shopping tools that are worth mentioning.
Droplist
Did you find an item that you're interested in but can't purchase it yet? That's okay. Honey has a feature called Droplist that allows you to add that item to a list.
When you add the item to your list, the tool monitors the pricing activity for you.
If the item drops in price, goes on sale, or is cheaper elsewhere, you can receive price drop alerts. You can set alerts for 30, 60, 90, or 120 days.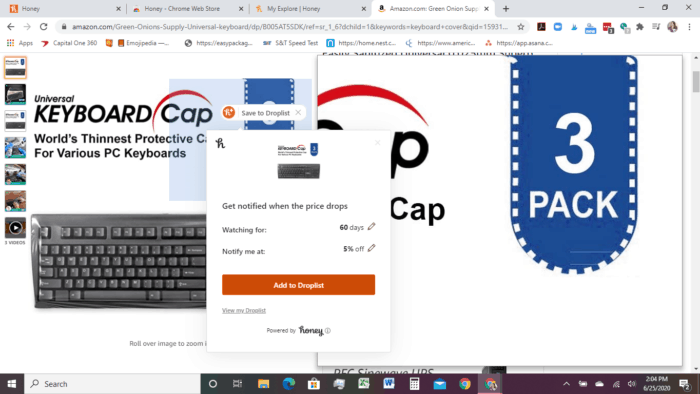 You can also let Honey know when it should alert you. For example, "Only alert me when the item is 50 percent off or more."
This tool can also help you quickly compare prices between retailers.
Price History
Unlike most rebate apps, Honey lets you track the price history of items you're waiting to buy.
The price history tool can help identify trends of when your item was on sale to help you decide when to purchase.
This feature is also helpful when shopping for back to school supplies and you have multiple items to purchase.
Amazon Best Price
If you are like most people, shopping on Amazon is something you often do. However, you might not be getting the best deal on what you buy.
Fortunately, there's no need to search all over the website to see who has the best price. The Honey browser extension has an Amazon price comparison feature to see which seller has the lowest price.
Additionally, the comparison shopping tool also looks up the item cost at other online retailers so that you get the best price.
While you're looking at products, the app will insert an icon next to their prices.
If Honey finds that item for less from another shop on Amazon, you'll see the icon turn into a button that shows you the potential savings.
Honey Gold
In addition to coupon codes for instant savings, you can also earn Honey Gold points on many online purchases for additional rewards.
Before you shop online at a specific retailer, you add an offer from the Honey Gold dashboard to earn shopping credits on qualifying purchases.
Honey Gold allows you to earn "gold" with each online purchase you make. Gold is redeemable for free gift cards to your favorite online retailers.
Here are just a few of the retailers that offer gift cards through Honey Gold:
Walmart
Target
eBay
Sephora
Amazon
Nordstrom
Groupon
Earning gold is easy and free. As you shop, you see how much gold you can earn back on your purchase. Once you complete your purchase, Honey will credit your account with the gold.
You can earn up to 20 percent back on each purchase. However, your earning potential varies by store.
Once you reach 1,000 gold points, you can redeem them for a $10 gift card.
You can also earn "bonus gold" based on your purchases, so look out for that.
This rewards program is competitive with other money-saving apps. Nevertheless, you might choose Honey as it can be easier to save a little money through discounts and comparison shopping.
Mobile App
The Android and Apple app for phones and tablets is free. It has the same features as the Honey extension.
This app can apply promo codes on your behalf, track prices, and earn Honey Gold shopping rewards.
As a result, it's easy to save money automatically when you shop from your laptop or mobile device.
Honey Travel
The shopping app can also help you get better deals on flights, hotels, rental cars, and experiences. You can find travel coupons for upfront discounts and earn rewards points.
It's also possible to receive special offers by following your favorite travel brands. The service will send shopping alerts when new opportunities for extra savings arise.
How Does the Honey App Make Money?
Honey is free to use because online merchants pay a commission when you make a purchase.
The app earns income when they help you save money through discounts or earn Honey Gold points.
In other words, Honey makes money by helping you get better deals.
Is Honey a Safe App?
Honey is safe to use, and the company takes security seriously. They use many practices to protect your data, including encryption and advanced malware protection.
The app does collect information such as your IP address, operating system, and information about the purchases that you made while using the app.
However, the app does not collect or store your financial information, emails, or search history. In addition, Honey won't sell your personal information.
If you want to delete the user data that Honey collects, you can do so. All you have to do is send a request to Honey to delete your account and all your data.
How Do You Uninstall the Honey App?
This browser extension is a helpful tool for cutting costs. But what if it's not for you? It's simple to get rid of your account.
To permanently close your account, follow these steps:
Visit the account settings page
Select "Delete account"
Enter a unique verification code
Click "Delete forever"
You might remove this account if you prefer other cash back apps or want to protect your privacy.
Deleting the app or extension is also easy, but the exact steps vary by device and browser. The Honey website shows the latest uninstall process for your situation.
Once you remove the shopping extension, Honey discards all of your information and purges you from their system entirely.
Pros and Cons
While Honey is excellent, no app is perfect. Here is what to keep in mind when considering this money-saving app.
Pros:
Easy to install and use
No extra work on your part to find coupons and deals
Works on all major browsers and phones
Completely free to use
Earn cash back on the purchases you already make
Uninstall the extension at any time
Earn Google Play points with purchases
Completely delete your information at any time
Transparent data collection policy
Cons:
Not all discount codes save money
Honey Gold redemption minimum ($10) is relatively high
No signup bonus
Collects a lot of your data
Doesn't work well if you use a VPN
If you want an effortless way to save money when shopping online, Honey is worth trying.
Alternatives to Honey
The Honey shopping app is a useful way to cut costs. But, it's not the only platform you can use when buying something online.
| App | Cost | Best For | Cash Back? (Y/N) | Try |
| --- | --- | --- | --- | --- |
| Honey | $0 | Amazon purchases | Y | Try |
| Capital One Shopping | $0 | Product searches | N | Try |
| Rakuten | $0 | Promo codes | Y | Try |
| Swagbucks | $0 | Earning opportunities | Y | Try |
Here are several of the top alternatives to find active promo codes.
Capital One Shopping
Capital One Shopping is a free mobile app and browser extension with many overlapping features with Honey. However, you can't earn cash back with the platform.
Here are a few tools Capital One Shopping offers:
Search for active coupon codes
Apply discount codes at checkout
Compare prices from online retailers
Price drop alerts
Earn shopping credits for gift cards
It's also possible to earn rewards points for in-store shopping at participating retailers. Consider comparing the offers to see which app has the better tools for your favorite brands.
Read our comparison of Capital One Shopping vs. Honey to learn more.
Rakuten
Rakuten (formerly known as Ebates) specializes in earning cash back at most online retailers and on select in-store shopping trips.
You can redeem your cash back quarterly via PayPal cash, check, or select gift cards as long as you have a minimum $5.01 balance.
In comparison, Honey offers more free gift card options.
This shopping portal can also apply promo codes at checkout. However, it lacks the price comparison tools that can make it easier to save money when shopping online.
New members can also earn $10 bonus cash after their first purchase of at least $25.
Read our Rakuten review to learn more.
Swagbucks
Swagbucks is a helpful platform to save money shopping online, but that's not the only way you can earn. Other earning opportunities include:
Redeeming in-store coupons
Trying new products
Answering surveys
Playing games
This online community is free to join, but some activities require a purchase.
Each task earns points that you can redeem for gift cards or PayPal Cash with a minimum 500 points balance ($5 rewards). Amazon gift card rewards only require 140 points for a $1 balance.
New members can earn up to $10 in bonus cash (1,000 points) by completing qualifying activities.
Read our Swagbucks review to learn more.
Honey App Review
Cost

Availability

Savings Opportunities

Cash-out options

Ease of Use
Honey Review
The Honey app is a free browser extension that works in the background to help you identify and apply active promo codes to help you save money.
Pros
✔️ Free to use
✔️ Save at over 30,000 retailers
✔️ Simple to install and use
✔️ You can earn cash rebates
✔️ Works on all major browsers
Cons
❌ Doesn't guarantee the best coupons
❌ Must download the app if you want to shop on your phone
❌ Droplist doesn't work with all retailers
Bottom Line
Overall, the Honey app is worth using if you shop online regularly. It's an effortless way to save money on online purchases since it has more features than competing apps.
In addition to the upfront discounts, this app can also be worth using if you're comfortable with saving up at least ten dollars in Honey Gold points.
Other shopping rewards apps might be better if you don't need price comparison tools and want a lower redemption minimum.
How often do you search for discount codes when buying an item?
*Capital One Shopping compensates us when you sign up for Capital One Shopping using the links provided.
Kim Suazo has been a freelance writer and business owner for over four years. When she's not writing for Frugal Rules, you can find her on other publications like Chime, Discovery, and Due. She also owns her own websites The Entrepremomer and Part-Time Profit, where she teaches overworked moms how to streamline their new businesses so they can scale without a team.