Shopping online is something many of us like to do. It lets you avoid going to stores, and you get to search for the best prices. If you're like me, you search for discount codes or when shopping to save additional money.
Unfortunately, that doesn't always lead to success. Worse yet, it often results in wasting time. That's where the Honey app can help you as you shop.
Yes, you can use a coupon site to find promo codes. However, the Honey extension simplifies that process so you can save time and money.
What Is the Honey App?
The Honey coupon app is a shopping browser extension that you can install to help you save money. The tool works by searching for discount codes and the best deals available for your online purchases.
Honey saves you money on:
Amazon purchases
Clothing, shoes, and other apparel purchases
Food and groceries that you're ordering online
Travel
And more
Once you're ready to pay for a purchase, click on the Honey browser extension, click the "apply coupons" button, and the app checks all of the coupons they have for the website you're purchasing from.
The add-on works with over 30,000 shopping platforms, from major online retailers to smaller, independent online stores to identify discount codes.
The best part is that the Honey savings app applies these coupons for you instantly.
If you prefer to shop from your phone, you're in luck. The tool is also available as an app on your smartphone, on both iOS and Android phones.
How Does the Browser Extension Work?
Installing and using the Honey app is incredibly easy. Honey is available for use on most browsers, including Chrome, Firefox, Safari, and Opera.
To install the app:
Open the browser of your choice
Go to www.joinhoney.com
Click the button that says "Add to (browser that you're using)"
Sign up via email, Facebook, or PayPal
And that's it; you're done installing the extension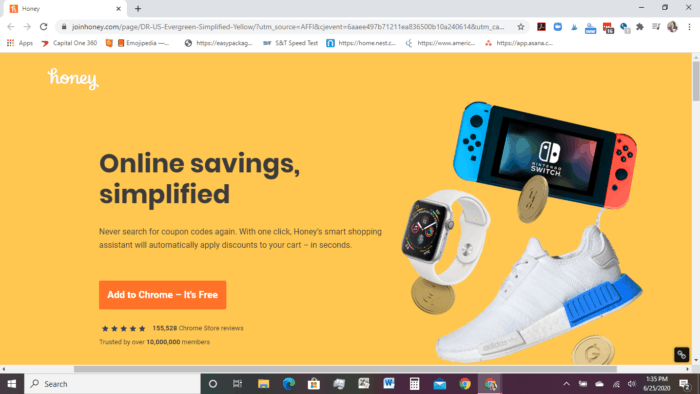 Once installed, you can start using the app instantly. Using it is simple as well. Here's how to do so:
Go to the website that you're looking to shop with
Add all the items you want to purchase to your cart
Go to the site's checkout page
Before you click the "purchase" button, click the Honey extension button. Honey will automatically try all of the coupons it has in its database for that site.
Honey will tell you if it found a coupon you could use and automatically applies it to your purchase
Check out and enjoy the savings
The app does this in mere seconds versus spending minutes or hours looking for promo codes online. You effortlessly save money and get to go on with your day.
Other Helpful Features
Besides just finding discounts and deals for you to take advantage of, the Honey shopping app has some other incredible features that are worth mentioning.
Price Drop
Do you see an item that you're interested in, but can't purchase it yet? That's okay. Honey has a feature, called Droplist, that allows you to add that item to a list.
When you add the item to your list, the tool monitors the pricing activity for you.
If the item drops in price, goes on sale, or is cheaper elsewhere, the browser extension will alert you. You can set alerts for 30, 60, 90, or 120 days.
You can also let Honey know when it should alert you; for example, "Only alert me when the item is 50 percent off or more."
Price History
An excellent way to determine if you should buy an item now is to learn the pricing history, which you can do with Honey.
Their price history tool shows you the price history of an item. This feature will identify trends of when your item was on sale to help you decide when to purchase.
Amazon Best Price
Do you love shopping on Amazon? You're not alone. But you may not be getting the best deal on what you buy.
However, there's no need to search all over the website only to see who has the best price.
The Honey browser extension has a feature that allows you to see who on Amazon has the best price on the item you want to purchase.
While you're looking at products, the app will insert an icon next to their prices. If Honey finds that item for less from another shop on Amazon, you'll see the icon turn into a button that shows you the potential savings.
Can Use with Other Extensions
If you use other cash back or savings extensions like Rakuten or Swagbucks, Honey can work in conjunction with them.
You don't have to do anything special either, just shop like you normally would.
Online Shopping with Honey Gold
When PayPal purchased Honey in 2019, it added a new feature called Honey Gold. While this feature is not mandatory to use the extension, it is helpful if you find yourself using PayPal to shop online.
Honey Gold allows you to earn "gold" with each online purchase you make. Gold is redeemable for free gift cards to your favorite online retailers.
Here are just a few of the retailers that offer gift cards through Honey Gold:
Walmart
Target
eBay
Sephora
Amazon
Nordstrom
Groupon
Earning gold is easy and free. As you shop, you see how much gold you can earn back on your purchase. Once you complete your purchase, Honey will credit your account with the gold.
You can earn up to 20 percent back on each purchase; however, points and gold will vary based on the store. Once you reach 1,000 gold, you can redeem the gold for a $10 gift card.
You can also earn "bonus gold" based on your purchases, so look out for that.
Is Honey Safe to Use?
Honey is safe to use, and the company takes security seriously. They use many practices to protect your data, including encryption and advanced malware protection.
Honey's founder, Ryan Hudson, came up with the idea for the app while ordering a pizza for his kids. As most retailers do, he had the option to enter a coupon code at checkout to save money.
Because he didn't want to waste time searching, Ryan decided not to enter in a coupon code, but he thought there had to be an easier way. Thus, Honey was born.
Since Honey's acquisition by PayPal, they have more financial and security backing than ever before.
The app does collect information such as your IP address, operating system, and information about your purchases that you made while using the app.
However, the app does not collect or store your financial information, emails, or search history.
If you want to delete the user data that Honey collects, you can do so. All you have to do is send in a request to Honey to delete your account and all data.
Pros and Cons
As with everything, there are a few pros and cons to using the Honey app.
Pros:
Easy to install
Easy to use
No extra work on your part to find coupons and deals
Works on all major browsers
Completely free to use
Can add it to your browser and phone
Can earn cash back on the purchases you already make
You can uninstall the extension at any time
You are able to completely delete your information at any time
The app has a transparent data collection policy
Cons:
You can't get your cash back in cash, only as a gift card
The app does collect a lot of your data (even though they are transparent, this is important to look into)
Doesn't work well if you use a VPN
Overall, the app has many more pros than cons. The browser extension is secure and safe to use.
Plus, you can see whatever data Honey collects from you and revoke access at any time, so it's a win-win for you as the consumer.
FAQs
You may have a few more questions before adding the money-saving tool to your favorite browser. Here are some of the commonly asked questions about the service.
Is the app safe to use?
Yes, Honey is safe to use. The tool has over 17 million customers and maintains strict protocols to ensure the safety and security of its users.
What is the catch?
There is no catch to using the extension. The app provides numerous ways to save money when shopping online. The app does not sell any of your data to third parties.
Is Honey free to use?
Yes, Honey is a free browser extension to use when shopping. There is no cost to sign up or add the extension to your browser.
The tool only makes money from the commission it earns from online retailers after you make a purchase.
How do you uninstall the extension?
The tool is simple to uninstall if you decide it's not for you. The process varies depending on the browser you're using – from Chrome to Safari.
Regardless of your chosen browser, it typically only takes a few steps to uninstall the app.
Once you remove the shopping extension, Honey discards all of your information and purges you from their system entirely.
Is the shopping tool safe to use with Amazon?
The Honey coupon app works quite well with Amazon, not to mention other internet retailers.
You can use the Amazon best price tool, which allows you to find the best seller on Amazon for the item you want to purchase.
Summary
Overall, the Honey app is worth using if you shop online regularly. I've used the shopping tool for almost two years, and I've been able to save hundreds on something that I would anyway.
I've also been able to connect PayPal to my Honey account and start earning cash back so I can redeem gift cards.
However, if you're skeptical about using online apps, and don't like your information on an app, no matter how secure, using Honey may not be for you – and that's okay.
While Honey does show their privacy policy and promises not to compromise your security, it's up to you to decide whether you want to add your information.
That aside, the tool saves the time and hassle of looking up coupon codes, many of which don't work or have expired. And, it's handy as an extra way to save money and make cash back in addition to other apps.
What do you do to save money when shopping on the internet? How often do you search for discount codes when buying an item?