As any mom knows, it's challenging to balance responsibilities at home while contributing to the household income. Fortunately, work-from-home jobs can help moms earn money.
There are many legitimate jobs for stay-at-home parents. Some don't require a college degree and can be done on your schedule.
Here are some of the best jobs for stay-at-home moms to help make their home a two-income household.
Top Stay-at-Home Jobs for Moms
As a stay-at-home mom or dad, your time is limited. You want a side hustle that gives you flexibility, helps you avoid sacrificing time with your kids, and lets you earn $20 an hour or more.
It is possible to achieve all three of things and earn a living from home. Steady is a terrific option if you're struggling to find such opportunities.
The free app connects you with opportunities for local side hustles and part-time jobs you can do from home.
Read our review of the freelance marketplace here to learn more.
| Job | Average Pay | Degree? | Tools Req. |
| --- | --- | --- | --- |
| Freelance Writing | $23/hr. | No | Computer and internet |
| Blogging | Varies | No | Computer, internet, and hosting |
| Virtual Assistant | $18/hr. | No | Computer and internet |
| Proofreading | $22/hr. | No | Computer and internet |
| Graphic Design | $17/hr. | No | Computer, internet, and design software |
| Social Media Manager | $19/hr. | No | Computer and internet |
| Delivery Driver | $20/hr. | No | Car |
| Data Entry | $18/hr. | No | Computer and internet |
| Customer Service Rep. | $20/hr. | No | Computer, internet, and phone |
Here are nine awesome work-from-home jobs you can start today.
1. Freelance Writing
Freelance writing is one of the best work-at-home jobs for moms. You can often work on your own time and, unless you're writing about a specialized topic, you don't need an advanced degree.
As a freelance writer, you create original content for companies and online publications. Many businesses need content, and it's easier for them to outsource this need.
If you have a niche or two you enjoy, freelance writing is a terrific way to stay home with your kids and still make money.
You can create various types of content, including:
Blog posts
Newsletters
Speeches
White papers
Marketing copy
Social media content
If you're a new writer, you may want to start by focusing on topics you know. As you gain experience and clients, you may find that specializing in a particular area or two will garner more income.
The more adaptable you are as a writer, the more opportunities you'll have to make money.
Building a client list and a portfolio can be tough in the beginning, especially if you don't know where to start. Fortunately, there are resources out there that can help you.
Our friend, Holly Johnson, is a well-known freelance writer who earns six figures a year writing for many top business sites.
She offers a free online webinar that helps get your feet wet in writing articles for money.
If you take her paid course, you receive access to a closed Facebook group and exclusive tips to launch your career.
What it pays: Pay varies, but it's possible to earn at least $200 per blog article. Glassdoor reports the average earnings for a freelance writer is $60,000 annually, though it's possible to make more.
2. Blogging
Blogging is one of the more non-traditional work-from-home options. Running a blog gives you the freedom to create content about anything that interests you.
While blogging may not seem lucrative, it's possible to make good money. Better yet, if you value being self-employed, you can work on what you want without dealing with a boss or supervisor.
You can start a blog about almost any topic, but some of the more popular areas are:
Decorating
Fashion
Finance
Parenting
Relationships
Health
There are no set guidelines on how to make money blogging. To be successful, you need to compose helpful, timely, and well-written articles.
Blogging does take work, but you can earn money in various ways. A few revenue opportunities include:
Affiliate marketing
Display ads
Sponsored content
Creating products or printables to sell
All you need to launch a blog is a computer and the willingness to put in some effort.
If you're not tech-savvy, don't worry. You can still make money. There are tools available that can help you get started.
Bluehost is an excellent resource to launch a website. The service helps you create a site in just a few clicks, ensures it stays up, and gives you a domain name free for a year.
They also offer 24/7 technical support.
Frugal Rules readers only pay $2.95 per month for this service, discounted from $8.99, which saves you 67 percent.
What it pays: Blogging is one of the most lucrative online jobs, but income varies. According to Glassdoor, the average blogging salary is roughly $51,000 annually.
You can earn more, but it does take considerable work.
Benefits
Logo
Bluehost - Free Domain for a Year
Cost: $2.95/month using our link!

Perfect for beginners. Launch your website in a few clicks and get 24/7 support.


3. Virtual Assistant
If you're detailed oriented and want to find a job where you can work from home, consider becoming a virtual assistant (VA). A VA is someone who works remotely as an assistant for businesses or entrepreneurs.
An increase in online work created demand from businesses that need help but lack the funds to hire a full-time assistant. This is a perfect work-from-home opportunity if you like variety and want to help a business grow.
Virtual assistants should expect to perform a myriad of tasks, depending on the need of the business. These can include (but are not limited to):
Social media management
Email management
Scheduling meetings
Sending invoices
Customer service
Project management
Being a VA is a terrific way to make money from home if you are organized, communicate well, and have basic computer skills. While you don't need to have expert-level technical skills, these could help you earn more.


If you're new to the idea of being a VA and don't know how to start or build a client base, $10K VA is a great resource.
In it, Kayla Sloan offers a free webinar to help you learn more about working as a VA.
In Kayla's paid course, she provides actionable tips to maximize earnings and attract clients. She earns six figures per year as a VA, so her expertise is invaluable.
What it pays: According to Indeed.com, the average salary for a VA is $18 per hour. However, with experience, it's possible to earn $30+ per hour as a VA. This makes it one of the top high-paying online jobs for moms.
Benefits
Logo
$10K VA
Earn up to $25 per hour!

Learn how to make $25 per hour as a virtual assistant with Kayla's course!


4. Proofreading
Do you want a flexible work-from-home job that caters to your eye for detail and grammar? If so, being a proofreader is an excellent way for moms to make money on the side.
Proofreading is different from editing. Companies value quality content and need a final set of eyes to review it before it goes live. This is where a proofreader comes in.
People who work as proofreaders review content to ensure it has no errors, misspellings, or grammatical mistakes.
Proofreaders fix any errors and pass content onto the final step before publishing. A college degree is helpful but not required to find work.

Like many home-based jobs, proofreading offers a flexible work environment. You can work as many hours as you want.
However, you must find your own clients. You can pitch prospects on your own or use job boards to find work.
A helpful resource to find remote proofreading jobs is Proofread Anywhere.
Created by Caitlin Pyle, you'll learn how she built her own six-figure freelance proofreading career. She shares tips to launch your business and locate clients.
The virtual workshop is free to attend and provides the strategies you need to succeed at making $20+ per hour as a proofreader.
What it pays: Indeed.com estimates the average salary for a proofreader is almost $22 per hour. With a little experience, you can earn $25 or more per hour.
You can make more if you specialize in a niche or work quickly.
5. Graphic Design
Do you like to design items or want to work with others to produce logos and graphic materials? Additionally, do you have experience using programs like Photoshop, Adobe Illustrator, or Canva?
If so, working as a freelance designer could be the perfect opportunity for you.
Graphic designers create visual concepts using software to communicate ideas to an audience. They design a variety of items, including:
Brochures
Logos
Flyers
Magazine ads
Billboards
While a degree is helpful to land work in this field, it is not required. If you have experience using programs like Photoshop or Adobe, this is one of the best online stay-at-home mom jobs.
Best of all, there are minimal start-up costs outside of having a computer and access to several design programs.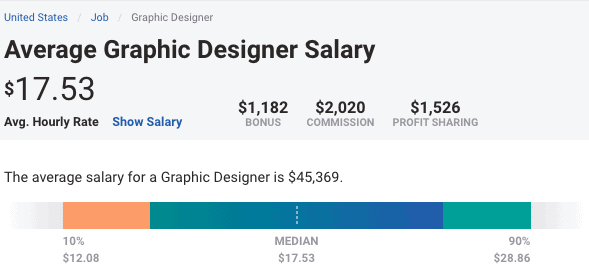 You can find graphic design work on sites like ZipRecruiter. You can also let friends and family know you're looking for design gigs.
What it pays: Similar to other work-from-home ideas, you can set your own rates as a graphic designer. Payscale estimates the average salary is $18 per hour. With experience, you can earn up to $30 per hour.
6. Social Media Manager
If you spend a lot of time on social media, why not get paid for it? Blogs, small businesses, and Fortune 500 companies alike focus considerable effort creating a presence on different social media platforms.
Like other home-based jobs, you only need reliable internet access and a computer to do this work. If flexibility to work where and when you want, this could be a good opportunity.
Depending on what you need to post you may also need access to a camera to make posts.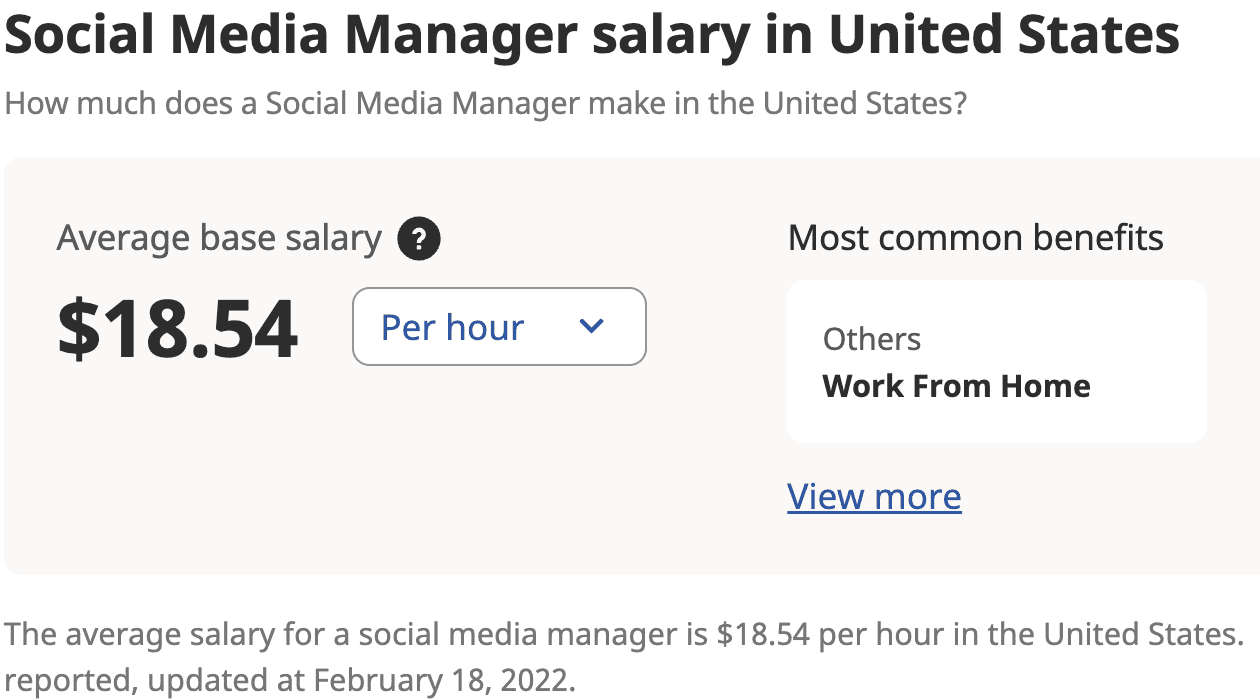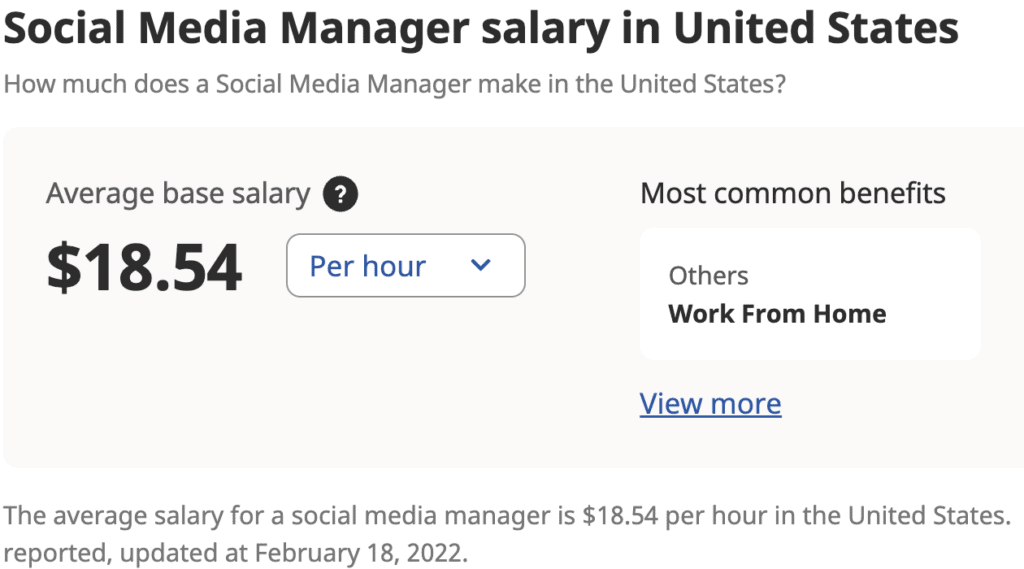 There is an ever-growing number of social media networks, but you don't need to be an expert in each. However, you should be proficient with the following platforms:
Facebook
Pinterest
Instagram
Twitter
TikTok
Snapchat
LinkedIn
A college degree isn't necessary to be a social media manager, though larger companies may look for people with a degree in advertising, communications, or marketing.
What it pays: Like other at-home gigs, earnings can vary for a social media manager. However, according to Indeed.com, the average pay is $19 per hour.
If you have experience, or expertise on one or more platforms you can expect to earn up to $30 per hour.
7. Deliver Meals
Are your kids in school, allowing you to make extra money during the day? Or, do you want to work on the weekends while your partner is at home?
If so, a fantastic way to supplement your income is delivering meals.
The on-demand delivery space has grown substantially in recent years. As a result, it's possible to earn good money delivering meals or other items from local retailers to people in your city.
DoorDash is one of the top platforms to start earning money. You deliver restaurant meals to customers with DoorDash.
Most delivery platforms pay weekly and have minimal requirements. You can start earning money quickly if you have access to a car, are insured, and pass a background check.
If you don't have a car, some platforms even let you deliver via bike or motorcycle.
Here is what you can expect to earn with each of the major delivery platforms and how often they pay.
Read our guide on the best delivery driver jobs to learn more.
What it pays: Pay varies for delivery driver jobs as most are tip-driven.
Some platforms, like Instacart Shopper, potentially pay $20 or more per hour and DoorDash driver compensation depends on several factors, including tips.
8. Data Entry
Are you a fast typer, organized, and have an eye for detail? If you answered "yes" to any of these questions, data entry work is one of the better jobs to do from home.
*Related: Are you looking for a new job? Read our review of the top alternatives to Indeed to learn about the top job boards to use.
Like other work-from-home ideas, a lot of companies need data clerks. They depend on correct data for billing, coding, and more.
It's more affordable for businesses to outsource this work instead of hiring a full-time employee.
There are numerous data entry possibilities available in the space, including:
Coding
Data entry
Data processing
Transcribing
Typing
Word processing
You typically don't need to have a degree to get work. As long as you have access to a computer, are skilled, and work quickly, you're qualified to apply.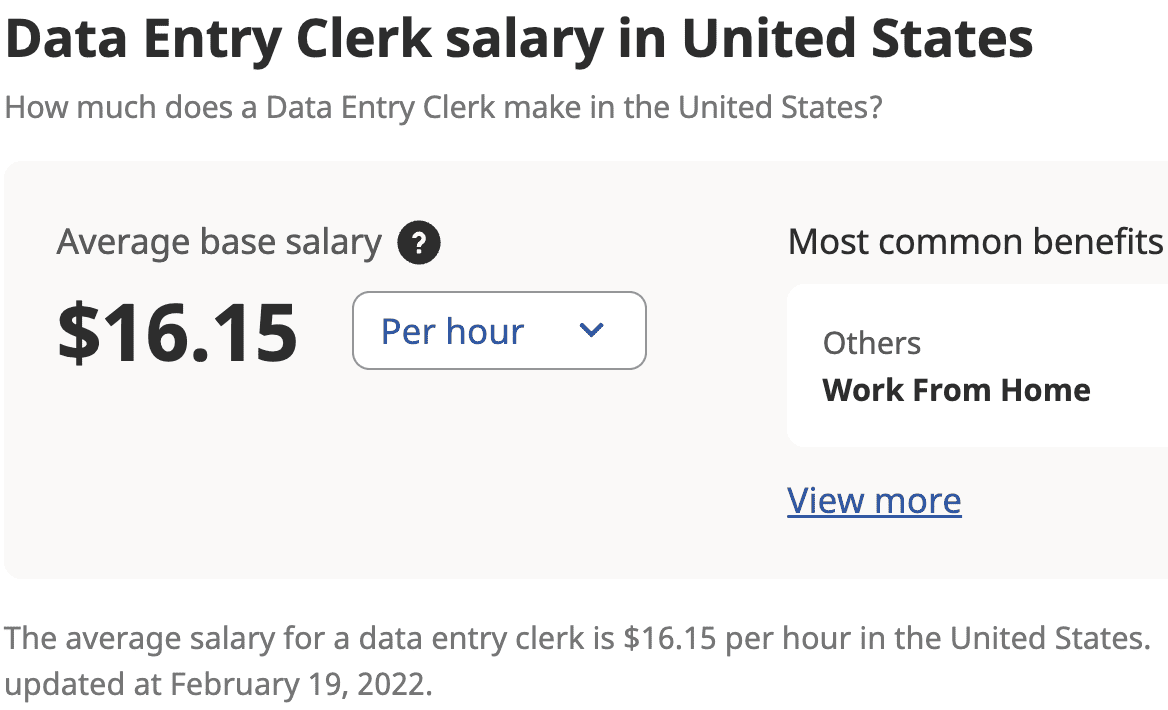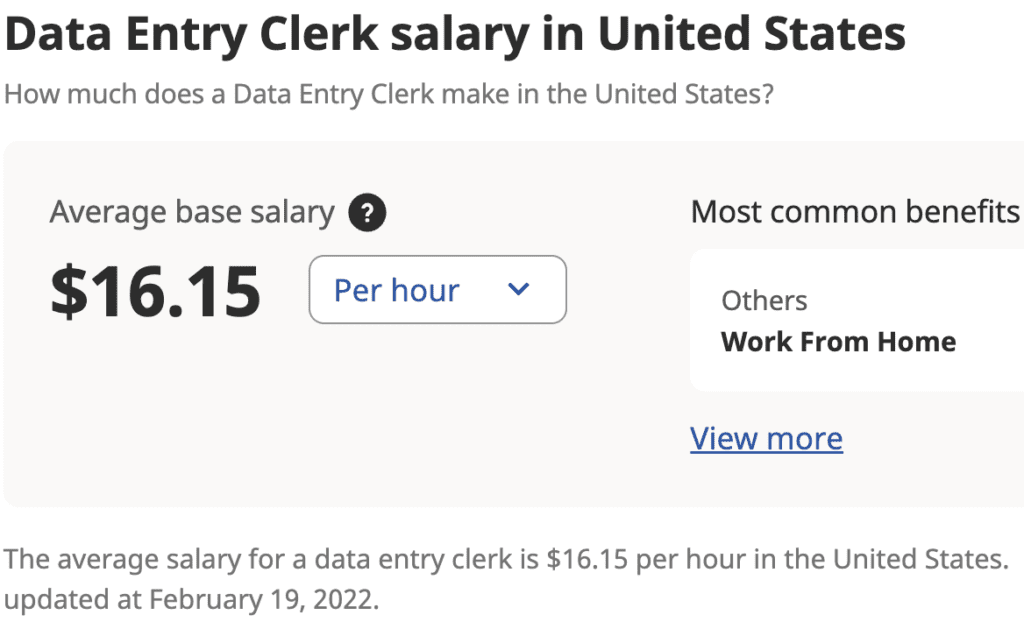 Be aware that there are scams that try to take advantage of prospective job seekers in this niche. Read our guide on data entry to learn how to spot legitimate jobs.
What it pays: Indeed.com reports the average salary for a data entry clerk is $16 per hour. It's possible to find some gigs that pay $20 or more an hour, but that's usually for specialized clerks.
9. Online Customer Service Representative
Do you have experience in customer service? Or, do you like helping people with their needs?
If so, you can do this from the comfort of your couch since more companies are hiring work-from-home customer service representatives.
If you have access to a computer, you can help customers via live chat or as a call center agent. Better yet, if you have technical skills, you can even work as a technical support representative.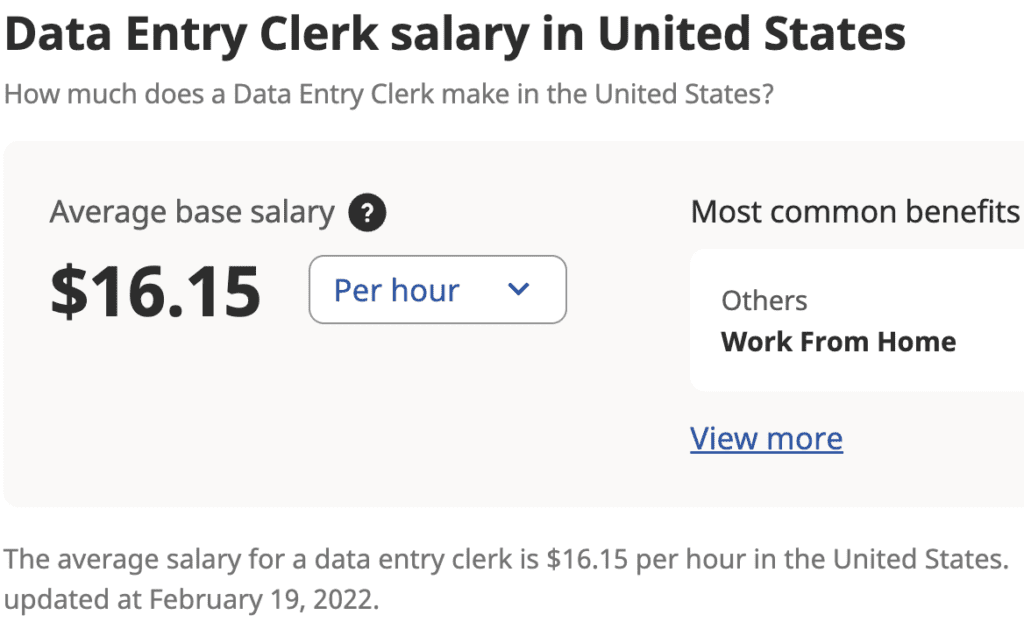 This is an excellent way for stay-at-home parents to work in the evenings or when their child is at school or napping. You can usually choose part-time or full-time work.
What it pays: According to Payscale, the average salary for an at-home customer service representative is $15 per hour. If you have more experience or technical skills, you can expect to find a job that pays $20 an hour.
Job Opportunities Parents Should Avoid
There are many ways for stay-at-home moms to make money, but not all of them are above board. For every legitimate work-from-home job out there, there are scams you want to avoid.
These can often turn into a money-losing situation or cause you to bother friends and family to sell them a product. Be wary of any of the following opportunities.
Anything Requiring You Pay a Fee
Some online jobs for moms require you to pay a fee. Avoid these opportunities since fees only serve to make someone else money.
Opportunities Promising Crazy Results
Another common ploy in the online job space is promising crazy income for an investment of time and money. This is a scam meant to make someone else money.
Pyramid Schemes
Relationship marketing or pyramid schemes, also known as Multi-Level Marketing (MLM), are popular with many stay-at-home moms.
While a small percentage of people can be successful with MLM companies, most end up making nothing. In fact, the Federal Trade Commission reports less than one percent of those in MLMs make a profit.
You've likely heard of some of the companies:
Amway
Arbonne
Melaluca
Norwex
Pampered Chef
These are just a few examples. Most people who join MLM companies end up with lots of products they can't sell, resulting in debt.
There are many good-paying work-from-home jobs for moms. Remember that it pays to do your due diligence before choosing an opportunity so you don't get scammed.
Best Online Jobs FAQs
There is a lot to consider if If you're new to working from home. Here are several common questions stay-at-home parents have before they earn money working from home.
How much can moms earn in a work-from-home job?
Many online jobs from home will pay at least $20 per hour. You will find some variance depending on the job and your skill level, but this rate may make parents want to leave traditional employment behind.
How can moms work from home?
This depends on your particular situation. You're likely able to work during nap times, mornings, or evenings if you have younger kids.
If your children are in school, that provides another opportunity to get work done.
What do I need to work from home?
In most cases, you don't need anything special to take advantage of work from home opportunities.
A computer, reliable internet, discipline, and a designated work environment will allow you to do many stay-at-home jobs.
What are the best jobs for stay-at-home moms?
Typically, the most flexible jobs are ones you can do on your own without reporting to a company.
This can include freelance arrangements or jobs that let you set your own schedule.
Summary
Working from home is more realistic than ever. There are plenty of jobs for stay-at-home dads and moms that can be done online.
Depending on your skills and experience, you can earn $20 per hour or more.
Since there are many ways to make money online, you can be picky about what you select. However, keep in mind that many of these jobs are freelance positions, so you'll have to pay for your own benefits and taxes.
What are some other work-from-jobs you might you've seen people use to make good money? What kind of work are you interested in landing?
*Earning more on certain types of orders (ex. alcohol): Earn more per order as compared to restaurant orders. Actual earnings may differ and depend on factors like number of deliveries you accept and complete, time of day, location, and any costs. Hourly pay is calculated using average Dasher payouts while on a delivery (from the time you accept an order until the time you drop it off) over a 90 day period and includes compensation from tips, peak pay, and other incentives.
*Get paid instantly (DasherDirect): Subject to approval
*Cash out daily (Fast Pay): Fees apply
*Start Dashing today: Subject to background check and availability
*Dash anytime: Subject to availability
Choncé is a Certified Financial Education Instructor (CFEI), personal finance freelance writer, and blogger who focuses on helping others manage their money better in order to live a life with more possibilities and fewer limitations. Her work has been featured on Business Insider, LendingTree, Credit Sesame, and Barclaycard.