9+ Best Jobs for Stay-at-Home Moms to Make Money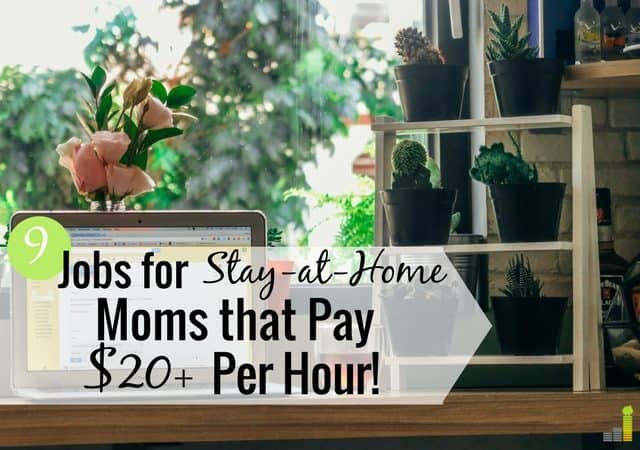 Stay-at-home mom jobs let many take care of children and still bring income into the house. When my son was born, I wanted to stay home, but I also needed to make money. After time I learned there are plenty of jobs for stay-at-home moms that let them care for their children and help make our house a two-income home.
Some people say that being a parent is the hardest job of all. There certainly is no limit on the responsibilities that accompany parenthood. Whether you work full-time, are one of the many stay-at-home moms across the country, work from home or work full-time in your home, chances are that you need to make extra money.
If you're looking for the best jobs for stay-at-home moms, this post offers legit ideas to consider.
My Own Experience as a Mom
I know how exhausting it can feel at times being a parent. When I worked in an office, I found it stressful to make sure my son got to and from school on time.
I often had to request sick days at work when he wasn't feeling well, and found it a challenge to keep my home organized and put dinner on the table each night.
Now that I work from home, my life is not stress-free but I do feel I can parent and run my household better. This means I have the time and availability to pick up my son from school each day and do homework with him.
I can put dinner in the oven or in the crockpot at 1:00 p.m. and keep an eye on it while I work.
I can get up at 6:00 a.m. and start working if I want to, or I can run errands first then begin at 9:00 a.m. The flexibility of stay-at-home jobs can provide you with a lot of benefits like these that parents especially need.
Best Jobs for Stay-at-Home Moms
If you are looking to work from home as well but are not sure where to start, here are nine of the best stay-at-home mom jobs.
1. Online Teaching/Tutoring
Do you have at least one year of experience teaching and a college degree? You might find tutoring students online or even landing a full-time online teaching job as one of the best jobs for stay-at-home moms.
Requirements vary for this position, but you must typically have a college degree or teaching experience. You can also find virtual teaching jobs on sites like EF Education.
EF Education First requires a college degree, or you can be in your last year of college. You'll be teaching English to students across the world.
You can earn up to $20 per hour, and they provide all lesson plans and handle many of the administrative duties related to teaching. All you need is a laptop and at least six hours a week to devote to teaching.
VIPKid and QKids are other great choices to teach students overseas, using an experiential based teaching approach. Either platform pays up to $20 per one hour of teaching.
Students are able to select you as a teacher for additional classes with this platform, providing the opportunity to build relationships and grow earnings.
2. Proofreading
Did you know that you can make $20+ per hour as a proofreader? That earning potential makes this one of the best side gig ideas for moms.
Quality content is crucial today. If you can spot errors and grammar mistakes quickly, you may have a shot at being a work from home proofreader.
Not only is this one of the most legitimate online jobs, but like driving for a ridesharing service listed below, working as a proofreader is one of the best jobs for stay-at-home moms with no experience, but with an eye for well-written, grammatically correct content.
This would most likely be a freelance position where you'd need to find your own clients, but you may be able to find some companies willing to hire a remote proofreader to go over their content.
Your best bet is pitching prospects on your own if you want to work from home. A great resource to help you get started is Proofread Anywhere.
With Proofread Anywhere, our friend Caitlin Pyle, shares the tools tips she used to build her own freelance proofreading career.
The virtual workshop is free to attend and provides the strategies you need to succeed at making $20+ per hour as a proofreader. For a limited time only, if you choose to buy the course, use the code "SKILLS" to receive $150 off the total cost.
3. Run A Blog
Do you have a particular interest, or like to spend considerable time online? If you answered yes to either of those questions, you can make money as a blogger.
Blogging is one of the best online jobs for moms as all you need is a laptop to run a website.
*Related: If your eyes get fatigued from too much screen time, check out Coastal's Biofinity Energys contacts. They filter blue light. and may give your eyes some relief.
You can run a blog on virtually any topic, but some of the more common areas for a stay-at-home mom are:
Decorating
Fashion
Finance
Parenting
Product reviews
Travel
If you have an interest in any of the above areas, you can turn that into a money making venture. How much do bloggers make?
It varies, but it's definitely possible to make $2,000+ per month within your first year of blogging – and often with less than 25 hours of work each week.
What if you're not technically inclined? You can still make money blogging.
Bluehost is a hosting company that does all the technical work to get your blog up and running. With one click they install your site, plus give you a free domain name for a year.
They also provide 24/7 support to answer any questions.
They do this for just $2.95 per month, with a 30-day money back guarantee.
You can make money blogging in several ways, including:
Affiliate marketing
Display ads
Freelance writing
Public speaking opportunities
Sponsored content
The opportunity is endless, and many make a full-time living running their blog from home. Open a Bluehost account and get started today.
4. Driving for A Ridesharing Service
Part of being a Mom is running errands and your kids to different activities. Why not get paid to drive other people around town? This may be a bit of an odd job for some, but if you have the time driving for a ridesharing service can be one of the best jobs for stay-at-home moms with no experience.
This job requires a bit of flexibility in your schedule, but it can be done and you can make good money doing it. Here are some of the times when you might be able to drive for a ridesharing service:
During the day when your kids are in school (If you don't have kids, but still stay at home then you have even more time!)
Evenings, when your partner or parent can stay at home
Weekends
Driving for Lyft or Uber is just one option for work-from-home moms. However, you may not want strangers in your car.
You can also deliver meals to bring in some additional income. You can make money using just your car as a driver for the following services:
Delivering flowers
Delivering pizzas
DoorDash – you pick up meals at restaurants and deliver them to customers
Delivering groceries with Instacart Shopper
Work for Postmates – works similar to DooDash but you also deliver groceries and clothing
If you have a flexible schedule, using your car can be one of the best jobs for stay-at-home moms looking to make an extra buck.
Make sure to check out our guide on how to get paid for driving your car to maximize earnings.
5. Virtual Assistant
A virtual assistant (VA) is one of the best online jobs for moms. A VA is someone who works online, or remotely, as a personal assistant for businesses or entrepreneurs.
Virtual assistants manage a number of various tasks including:
Social media management
Email management
Scheduling meetings
Sending invoices
Customer service
Online research
You can even do data entry work from home in many VA jobs.
If you are organized, communicate well, and have basic computer skills, you can most likely make this role work for you and may find it one of the most enjoyable jobs for stay-at-home-moms.
Some VAs are highly skilled in specific areas and use that to market themselves. You probably won't be an expert at everything, which is why it's best to have a focus area as well.
If you're just starting, read our guide on how to become a virtual assistant with no experience to learn where to begin.
Be mindful that most clients will show you exactly what they need done and provide basic training if they already have a process in place. Beginner VAs can earn anywhere from $15 – $20 per hour while experienced ones can earn $30+ per hour.
My friend Kayla started out as a part-time VA and now runs her freelance VA business full-time. She earns over $10,000 per month working from home as a VA.
This means that being a VA has the potential to be one of the best high paying jobs for stay-at-home moms.
She offers a course, aptly named $10K VA that gives all the tools and resources needed to launch your own VA business.
If you're interested in starting your own freelance VA business, sign up for her course to learn how you can start earning money as a VA.
6. Online Reseller
Do you like to find deals or love Target? You can turn that love of the deal into a money-making opportunity by becoming an online reseller.
*Related: Want a part-time job with benefits? Check out our guide on the best part-time jobs for Moms that offer benefits.*
Being an online reseller is a relatively simple idea. When you find an item you believe holds greater value than the sales price, you buy the item and sell it through the Amazon FBA service.
Amazon has a big marketplace people use to buy and sell items every day, to all over the world. When you sell the item, you pocket the difference and make a profit.
This is the perfect job for a stay-at-home mom who wants to add extra money to their family's budget.
Being an online reseller does sound simple, but it does take some strategy and outlay of cash to start. If you have a spending problem, this may not be the opportunity for you.
If that does not describe you, this is a legit opportunity to make extra money.
You don't have to store merchandise, handle shipping, or deal with customer service by using the Amazon FBA service. Amazon handles all of that for you. You simply provide the product to Amazon to sell.
If this sounds like an opportunity you would enjoy, check out The Selling Family. They offer a free 7-day course that teaches you all the steps you need to start a store and be successful.
Many online resellers make six figures per year working from home. It takes work and effort to reach that level, but it's certainly doable.
Sign up for the free 7-day course to start your own Amazon FBA store.
7. run an e-commerce store
E-commerce is a big business, racking up trillions of dollars in sales each year. You can be a part of the e-commerce space by selling products from your home. While this does take time to get up and running, it can be a lucrative business.
No, this does not mean you're storing items in your home. Thanks to drop shipping you don't have to store a single item in your home.
When a customer orders a product from your e-commerce site, you get the item from your wholesaler and it's shipped by a third party.
Shopify is a platform that helps you set up an e-commerce site. They provide a wealth of training resources to help you launch your site, and they also help you design the site so it looks professional.
They also help you manage many of the administrative aspects of running the business from handling payments to managing taxes on purchases.
Shopify offers a free 14-day trial to get you up and running and they offer a variety of paid plans after your free trial is over. You get to pick which one meets your needs and can change at any time.
Shopify also integrates with Amazon and eBay so you can get in front of as many customers as possible. If you've ever thought of running your own business, Shopify can be a great option to sell products online.
Read our guide on how to make money on Shopify to learn more about this possibility for a stay-at-home job.
Sellfy is another option you can use to quickly set up an e-commerce site. Their website walks you through all of the many features and advantages offered, including the ability to set up recurring subscriptions.
If marketing isn't your strength, Sellfy will help you out. They have built-in marketing features that can connect to your other apps as well as analyse product performance.
Like Shopify, Sellfy has a 14 day free trial to let you try it out without paying a dime. When the trial is over, there are three different pricing levels to choose from, depending on your sales volume. If your product volume exceeds their highest tier you can get a pricing offer for higher volume sellers.
8. taking surveys
No, taking surveys will not amount to the same as income from a full-time job. However, taking surveys is a decent way to make money from home and put some extra money in your budget.
The key is to find surveys that don't waste your time and provide ample opportunity to earn income.
There are many legit survey companies that let you make money while watching TV or sitting at the doctor's office. Here are some of the best paid survey sites to make money on the side:
Survey Junkie: This is our favorite survey site. They pay you cash straight to PayPal or let you redeem rewards for Amazon gift cards. You may ask is Survey Junkie legit – they are, and they're one of the best sites in the space.
Pinecone Research: This site pays $3 per survey and you can choose between PayPal, Amazon or restaurant gift cards for your payment. They also pay to do product testing.
InboxDollars: Earn money for taking surveys, watching TV or making purchases online. Get $5 just for signing up.
Opinion Outpost: One of the top survey sites and they have quarterly $10,000 prize drawings
Surveys will not replace your income but they can be a good way to pad your savings account in your spare time.
9. Graphic Design
Graphic designers create visual concepts using computer software (or by hand), to communicate ideas for an audience. They design brochures, websites, logos, flyers, magazines and a variety of ads.
Since most graphic design work is done online these days, this is a great work from anywhere job.
If you have knowledge of and access to graphic design software, and have an artistic bent, working from home as a graphic designer could be one of the best jobs for stay-at-home moms for you to consider.
You can find graphic design work on job boards like FlexJobs. You can also strike out on your own and sell your own designs online to make an income.
Make sure to use the promo code "JOBS" when signing up to get 50 percent off!
Here some of the best sites if you want to simply freelance and not work for a company:
Fiverr is great if you're just starting out. Yes, gigs are low paying, thus the $5, but the money is in the add-ons you can provide.
CafePress is suitable if you like to design pretty much anything. With CafePress you can design anything from coffee mugs to clothing and sell your items to make money.
10. bonus opportunity – Personal Stylist
If you're interested in fashion and style, Stitch Fix is almost always hiring work from home fashion stylists. Stitch Fix is a popular fashion subscription site that sends customers hand-picked clothing styles based on their needs and preferences.
Each customer fills out a style profile along with their sizes when they sign up then that's where you come in. As a virtual stylist, you'll pick pieces that you think certain customers would like to fill their subscription boxes.
You don't need a fashion or merchandising degree to do this job and it pays $15 per hour. So if you enjoy fashion or like helping people find outfits they feel great in, this is one of the jobs for stay-at-home moms worth a second look.
Work-from-home jobs stay-at-home Moms should avoid
Not all work-from-home jobs for moms are equal. There are many opportunities for legitimate work-from-home jobs, but the space is also filled with a number of not so legit opportunities.
These "opportunities" can often turn into a money-losing situation, or one where you pester your friends to make a buck.
Here are some job opportunities to avoid:
Anything requiring you pay a fee
Some online jobs for moms can require you to pay a fee. You don't want to involve yourself with something that's going to require you pay any type of regular fee.
The only purpose this serves is to make someone else money.
Anything promising crazy results
Another common ploy in the online job space is promising crazy income for your investment of time, and often money. This is a scam and largely only meant to make someone else money.
Pyramid schemes, multi-level marketing (MLM), or relationship marketing
MLM companies are popular with many stay-at-home moms. Some are able to be successful with a MLM company, but by and large, most end up making nothing.
In fact, the Federal Trade Commission reports less than one percent of those in MLMs make a profit.
You've heard of some of the companies: Amway, Melaluca, Norwex, and Pampered Chef. These are just a few examples. Only a small handful of people make money with them and the majority end up with lots of product they can't sell.
There are many legitimate online jobs for stay-at-home moms to be found, but it pays to do your due diligence before jumping in to anything.
Remember Expenses and income
One thing many overlook is keeping track of business expenses and income. As a work-from-home Mom you need to monitor both for taxes. If you have multiple sources of business income, or multiple expenses this can be a challenge.
The last thing you want is to cause extra work or stress come tax time. Worse yet, you don't want to miss something.
You don't need anything complicated. A simple spreadsheet to keep track of income and expenses works great. Don't forget to hold aside a portion of your income to pay quarterly taxes as you don't want to forget those.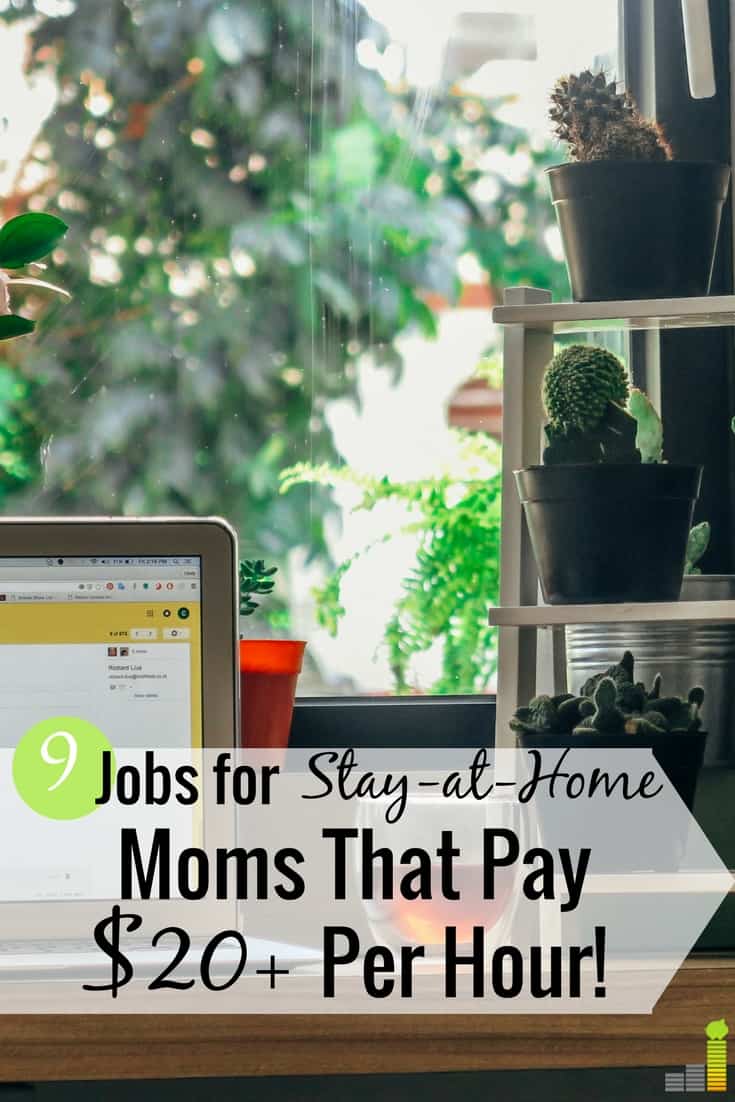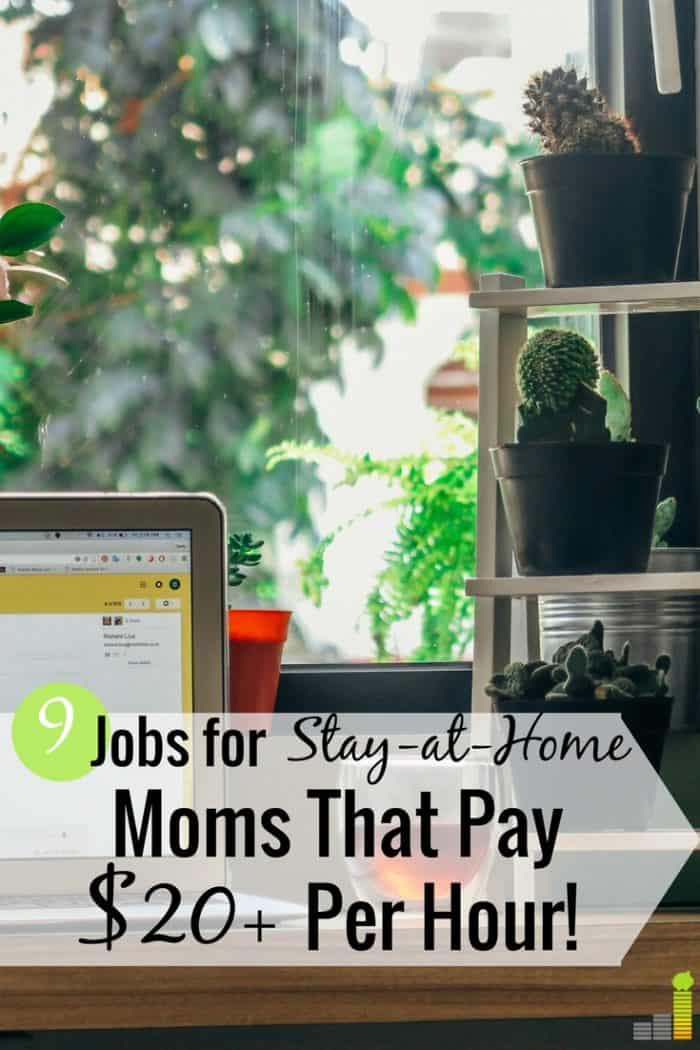 Online Jobs for Moms faqs
How much should I expect to make in a work-from-home job?
Many of the best stay-at-home jobs pay at least $20 per hour. You will find some variance, depending on your skill level, but you should expect to make around $20 per hour.
How can moms work from home?
This depends on your particular situation. If you have younger kids you're likely able to work during nap times, or in the morning or evening. If your kids are in school, that is the best time to get work done.
What do I need to work from home?
In most cases you don't need anything special to work from home. If you have reliable internet, self-discipline, and a devoted work environment you can do many of these jobs.
What are the best flexible jobs for stay-at-home moms?
Typically the best flexible jobs are ones you can do on your own, without having to report to a company. This can include freelance arrangements, or jobs that allow you to set your own schedule.
Stay-at-Home Jobs: Bottom Line
The best jobs for stay-at-home moms let you bring additional income into your home by using your skills, interest or experience while doing something you enjoy. There are many opportunities out there, so you can afford to be picky in what you select.
Keep in mind that many of these work-from-home jobs for moms are freelance positions meaning you'll have to pay for your own benefits and taxes. If you want to avoid this, consider search engine evaluation jobs or online customer service positions where you'll be considered an actual employee of the company.
What are some other work-from-jobs you might you've seen people use to make good money? What kind of job are you interested in landing?
The following two tabs change content below.
Chonce is a freelance writer who's obsessed with frugality and passionate about helping others increase their savings rate, eliminate debt, and work toward financial stability. She chronicles her journey with balancing motherhood, work, and finances on her blog, MyDebt Epiphany.com