9 Best Jobs for Stay-at-Home Moms to Make Money
Stay-at-home jobs make it easier for moms to remain home with their kids while contributing financially to their household. However, some moms may believe the misconception that it's difficult to find jobs you can do from home. Fortunately, stay-at-home moms can rest easy knowing there are many jobs you can do online.
When my son was born, I wanted to stay home. I also needed to make money since debt and other expenses meant that I had to help make our house a two-income home.
Since I didn't want to leave the house, I had to look for online jobs for moms. Thanks to the availability of stay-at-home jobs, I was able to work from home.
If you're looking for the best jobs for stay-at-home moms, this article can help.
Best Jobs for Stay-at-Home Moms
When it comes to work from home jobs for moms, a college degree is often unnecessary. There are plenty of real online jobs that merely require prior experience or the skills needed to perform the work. The best part is many opportunities pay $20+ per hour.
Here are nine of the best stay-at-home mom jobs that offer flexibility and a source of good income.
1. Freelance Writing
Freelance writing is one of the top online jobs for moms. There are many opportunities and you don't need an advanced degree to write about most topics. As you gain experience, it's possible to earn $200+ per article.
Many companies and websites need content. If you have a niche or two you enjoy, freelance writing is an excellent way to earn money from home. You can create content in various forms, including:
Blog posts
Newsletters
Speeches
White papers
Marketing copy
Social media content
If you're a new writer, you may want to start by focusing on topics you know. As you gain experience and get more clients, you may find that specializing in a particular area or two will garner more income. The more adaptable you are as a writer, the more opportunities you'll have to make money.
Building a client list and a portfolio can be tough in the beginning, especially if you don't know where to start.
Our friend, Holly Johnson, is a well-known freelance writer who earns six figures a year writing for many top business sites. She offers a free online webinar that helps get your feet wet in writing articles for money.
If you take her paid course, you receive access to a closed Facebook group and exclusive tips to launch your career.
2. Blogging
Blogging is one of the best jobs for stay-at-home moms. Running a blog allows you to write about topics you enjoy. It also eliminates the need for you to find clients.
You can start a blog about virtually any topic, but some of the more popular areas are:
Decorating
Fashion
Finance
Parenting
Product reviews
Health
There are no set guidelines on how to make money blogging. To be successful, you need to compose helpful, timely, and well-written articles.
Blogging does take work, but you can earn money in various ways. These can include affiliate marketing, display ads, and sponsored content.
You can create a significant source of income through a simple blog. With some effort, you can turn your passion into good money.
If you're looking for real online jobs, blogging is a perfect choice. You get to be your own boss and all you need is a computer.
If you're not technical, don't worry. You can still start a blog and make money. There are resources available that can help you get started.
Bluehost is an excellent resource to launch a website. The service helps you create a site with a few clicks, they ensure it stays up, and they give you a domain name free for a year. They also offer 24/7 technical support.
Benefits
Logo
Bluehost - Free Domain for a Year
Cost: $2.95/month using our link!

Perfect for beginners. Launch your website in a few clicks and get 24/7 support.


Frugal Rules readers only need to pay $2.95 per month for this service, discounted from $7.99.
Read our guide on how to start a blog here to learn more.
3. Virtual Assistant
A virtual assistant (VA) is one of the best online jobs for moms. A VA is someone who works remotely as an assistant for businesses or entrepreneurs.
Virtual assistants can manage various tasks. These can include (but are not limited to):
Social media management
Email management
Scheduling meetings
Sending invoices
Customer service
Project management
Being a VA is a terrific way to make money from home if you are organized, communicate well, and have basic computer skills. While you don't need to have expert-level technical skills, these could help you earn more.
According to Indeed.com, the average salary for a VA is $18 per hour. However, with a little experience, it's possible to earn $30+ per hour as a VA. This makes it one of the top high paying online jobs for moms.


If you're new to the idea of being a VA and don't know how to start or build a client base, $10K VA is a great resource.
Creator Kayla Sloan teaches you how to launch your VA career by providing actionable tips on how to earn more and attract clients. Kayla earns six figures per year as a VA, so her expertise is invaluable.
4. Proofreading
Do you have an eye for grammar and want to pursue one of the top work-from-home jobs for moms? If so, being a proofreader is one of the best at home jobs.
A college degree is helpful, but it is not required to find proofreading jobs from home. Companies value quality content, so they will pay good money to ensure their website is correct and reads well.
Indeed.com estimates the average salary for a proofreader is almost $22 per hour. With a little experience, you can earn $25 or more per hour.

Like many jobs where you work from home, proofreading offers a flexible work environment. You can work as many hours as you want.
Similar to freelance writing, you must find your own clients to start. You can pitch prospects on your own or use job boards to find work. A helpful resource to find remote proofreading jobs is Proofread Anywhere.
Created by Caitlin Pyle, you'll learn how she built her own six-figure freelance proofreading career. She shares tips to launch your business and identify clients.
The virtual workshop is free to attend and provides the strategies you need to succeed at making $20+ per hour as a proofreader.
Try Proofread Anywhere
5. Graphic Design
Graphic designers create visual concepts using computer software (or by hand) to communicate ideas to an audience. They design brochures, websites, logos, flyers, magazines, and ads.
While a degree might be helpful to land work in this field, it is not required. If you have experience using programs like InDesign and Photoshop, this is a perfect opportunity for stay-at-home moms to make money in their free time.
Similar to other jobs that allow you to work from home, you can set your own hours and rates. Payscale estimates the average salary of a graphic designer is $18 per hour. With experience, you can earn up to $30 per hour.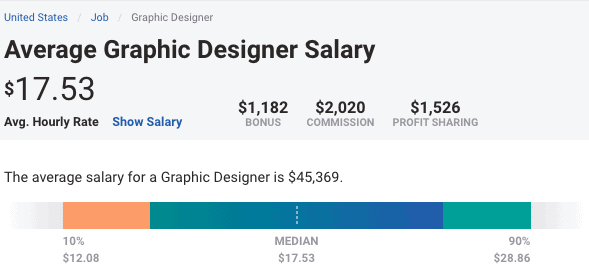 There is little cost to become a graphic designer. All you need is a computer and access to different software programs.
You can find graphic design work on sites like ZipRecruiter. You can also make money by creating your own designs online through CafePress.
6. Online Teaching/Tutoring
Students around the world want to learn English, so the online tutoring space is exploding. Consequently, this is one of the best jobs to make money.
This opportunity does require you have a college degree. Additionally, a year of experience is often required. This can be in-class teaching, tutoring, or homeschool experience.
While you can start by tutoring students online in your city, there is a demand for teaching English to Chinese students and other students around the world.
EF Education First is one of the best platforms to teach students overseas and class sizes are usually around seven or less students. The company pays up to $20 per hour of teaching. Due to the time zone differences, hours are most commonly available in the early morning.
Learnworlds is another teaching option that lets you create online courses to share your skills and knowledge. You can create courses on your own schedule and earn an unlimited amount of income.
Learnworlds integrates with many different marketing tools to make course promotion easy. Students who enroll and purchase the course can learn at their own pace since everything is online.
*Related: Stay-at-home moms who teach can increase their effectiveness by reducing background noise and distractions with the Krisp app. This tool is free and supports a variety of different web conferencing apps to help you have productive lessons with your students.*
7. Deliver Meals
If your kids are in school and you have access to a car, one of the best gig economy jobs is delivering meals. Even if you don't have free time during the day, this is a terrific opportunity to make money at night or on the weekends.
The on-demand delivery space has exploded in recent years, making it possible to earn $20+ per hour delivering meals from local restaurants to people in your city.
DoorDash is one of the top platforms to start earning money. You deliver restaurant meals to customers with Postmates:
DoorDash pays weekly. You can earn $20 per hour with tips. Alternatively, you can work for Instacart Shopper to shop for and deliver groceries to people near you. You can also try delivering food with Postmates.
Postmates
DoorDash
Instacart

Deliver anything

Deliver food

Deliver groceries

Requirements
Insured vehicle (scooters/bikes OK)

Be 18; iPhone / Android

Drivers license / Background check

Requirements
Insured vehicle

Be 18; iPhone / Android

Background / DMV check

Requirements
Reliable vehicle
Be 18 years old

lift 30-40 lbs.

iPhone5 / Android 4.4

Pay: $18-$25/hr.
Base (time + distance) + Tips

Pay: $18-$25/hr.

Base + Promos + Tips

Pay: $20/hr.

Base + Tips
Read our guide on the best delivery driver jobs to learn more.
8. Online Reseller
Do you like to find deals? Consider turning your love of bargains into a money-making opportunity by becoming an online reseller.
Being an online reseller is simple. When you find an item you believe holds a higher value than the sale price, you buy the item and sell it through the Amazon FBA service.
Amazon has a massive marketplace people use to buy and sell items. When you sell an item, you pocket the difference and make a profit.
Make Extra Money by Taking Short Surveys
Taking short surveys in your free time can be an awesome way to earn extra money fast! The instant you finish a survey,
Survey Junkie pays you in cash via PayPal
. Six million users and an 8.9/10 Trust Pilot rating prove you can trust them.
Being an online reseller requires you to be strategic and pay the expense of purchasing items to sell. If you have a spending problem, this may not be the opportunity for you.
However, if that does not describe you, this is a legitimate opportunity to make extra money.
You don't have to store merchandise, handle shipping, or deal with customer service if you use the Amazon FBA service. The site handles that for you. You just provide the product to Amazon to sell.
If this sounds like an opportunity you would enjoy, check out The Selling Family. They offer a free 7-day course that teaches you all the steps you need to successfully start a store.
Many online resellers make six figures per year working from home. It takes work and effort to reach that level, but it's achievable.
9. Run an E-commerce Store
E-commerce is a big business, racking up trillions of dollars in sales each year. You can be a part of the space by selling products from your home. While it takes time to get up and running, it can be a lucrative business.
Thanks to drop shipping, you don't have to store a single item in your home.
When a customer orders a product from your e-commerce site, you get the item from your wholesaler. Then, it's shipped by a third party.
Shopify is a platform that helps you set up an e-commerce site. They provide a wealth of training resources to help you launch your site. They also help you design the site so it looks professional.
*Related: If your eyes get fatigued from too much screen time, check out Coastal's Biofinity Energys contacts. They filter blue light. and may give your eyes some relief.
Shopify will even help you manage many of the administrative aspects of running your business, including handling payments and managing taxes on purchases.
They offer a free 14-day trial to get you up and running. After your trial ends, Shopify offers a variety of paid plans designed to fit your needs. You can change plans at any time.
Read our guide on how to make money on Shopify to learn more about this possibility for a stay-at-home job.
Try Shopify
Sellfy is another option you can use to set up an e-commerce site. Their website walks you through all of the features and advantages offered, including the ability to set up recurring subscriptions. It has many of the same features as Shopify.
Opportunities to Avoid
Not all work-from-home jobs for moms are equal. There are many opportunities for legitimate work-from-home jobs, but there are also numerous scams.
These can often turn into a money-losing situation or result in you bothering your friends to make a buck. Be wary of any of the following opportunities.
Anything Requiring You Pay a Fee
Some online jobs for moms require you to pay a fee. Don't involve yourself in these opportunities since fees only serve to make someone else money.
Anything Promising Crazy Results
Another common ploy in the online job space is promising crazy income for your investment of time and money. This is a scam meant to make someone else money.
Pyramid Schemes
Relationship marketing or pyramid schemes, also known as Multi-Level Marketing (MLM), are popular with many stay-at-home moms. While a very small percentage of people can be successful with MLM companies, most end up making nothing.
The Federal Trade Commission reports less than one percent of those in MLMs make a profit.
You've likely heard of some of the companies: Amway, Arbonne, Melaluca, Norwex, and Pampered Chef. These are just a few examples. Most people who join MLM companies end up with lots of products they can't sell, resulting in debt.
There are many high paying work-from-home jobs for moms. Remember that it pays to do your due diligence before choosing an opportunity so you don't get scammed.
Best At-Home Jobs FAQs
If you're new to looking for internet jobs, you may have some questions. Here are several common questions moms have before working from home.
How much should I expect to make in a work-from-home job?
Many online jobs from home will pay at least $20 per hour. You will find some variance depending on the job and your skill level.
How can moms work from home?
This depends on your particular situation. You're likely able to work during nap times, mornings, or evenings if you have younger kids. If your kids are in school, that is the best time to get work done.
What do I need to work from home?
In most cases, you don't need anything special to work from home. A computer, reliable internet, self-discipline, and a designated work environment will allow you to do many stay-at-home jobs.
What are the best flexible jobs for stay-at-home moms?
Typically, the most flexible jobs are ones you can do on your own without having to report to a company. This can include freelance arrangements or jobs that allow you to set your own schedule.
Summary
Working from home is more realistic than ever. If you're a stay-at-home mom who wants to help add income to your household, there are plenty of jobs you can do online. Depending on your skills and experience, you can earn $20 per hour or more from the comfort of your home.
Since there are many opportunities to work from home, you can afford to be picky about what you select. Keep in mind that many of these jobs are freelance positions. This means you'll have to pay for your own benefits and taxes, so be sure to plan accordingly.
What are some other work-from-jobs you might you've seen people use to make good money? What kind of work are you interested in landing?
The following two tabs change content below.
Choncé is a freelance writer who's obsessed with frugality and passionate about helping others increase their savings rate, eliminate debt, and work toward financial stability. She chronicles her journey with balancing motherhood, work, and finances on her blog, MyDebt Epiphany.com