Do you enjoy reading and have an eye for grammar? If you answered yes, a career as a proofreader may be an excellent fit for you. Work-from-home jobs are growing in popularity, especially ones that pay a good income.
Companies in various sectors look for freelance proofreaders to help them ensure content is suitable to publish. This represents a fantastic side hustle opportunity, and in many cases, you can earn a solid income by reviewing content.
If this sounds like a possible opportunity for you, there are a few things you need to know about how to become a proofreader before you begin.
What Is Proofreading?
Proofreading sounds difficult, but it's very straightforward. Proofreading is reading any document and correcting any errors or mistakes. You also help ensure the content flows and reads well.
A proofreader is a person that does a final check on any type of publication, including:
Social media posts
Blog posts/online articles
Court transcripts
Self-published books and ebooks
Emails and email marketing campaigns
Resumes
Transcripts
PowerPoint presentations
As you can see, numerous types of content require a review. Once a writer finishes their piece, it moves on to the editing stage. That is where you, as the proofer, begin your work.
There is a great need for this position, and you can find online proofreading jobs, or locally depending on where you live.
As you consider this role, don't confuse it with copyediting. Proofreading is the last step to check for errors before publishing a piece of content.
Copyediting, on the other hand, actively provides feedback on the piece and ensures it fits with the style of the company.
How Much Does A Proofreader Make?
Proofreaders can charge an average of $30 – $35 per hour, according to the Editorial Freelancers Association. Like any field, the range will vary depending on your experience level and the services you offer.
As you can see below, from Glassdoor, the average salary for a proofreader is just shy of $45,000 per year.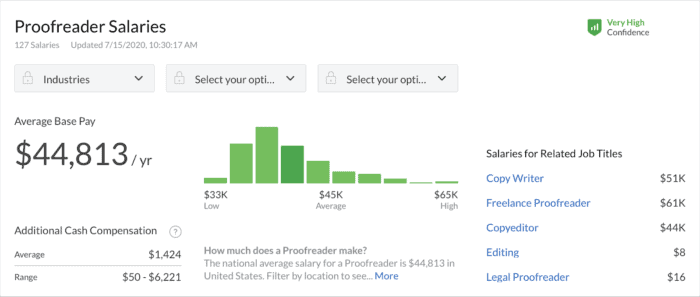 Again, this will vary based on your area of focus and how much time you work. However, regardless of that, it's possible to make a good income with many proofreading jobs from home.
For example, Suzanne Tuttila at The Phoenix VA Group charges $20-$25 an hour for proofreading services.
When asked why she became a proofreader, Suzanne says, "I am just an old-school writer, and I cannot look at spelling and punctuation errors."
She doesn't have a Masters in English and didn't even know it was possible to proofread online. Yet, she's building what she hopes will become a full-time business for both her and her daughter.
Suzanne is one of many who started their proofreading businesses part-time but are now finding work and earning income from what they do.
Read our review of the top jobs that pay $20 an hour without a degree requirement to find other gigs if proofreading isn't for you.
However, if you're an educator, proofreading may be a good way to earn cash when you're on a break. Read our guide on the best summer jobs for teachers to identify other opportunities.
How to Become A Proofreader and Work from Home
Remote proofreading jobs are a lucrative side gig that you can also turn into a full-time job you do from home. You can read our guide on the top side hustle apps to find other, similar, opportunities.
Before you start, there are a few things to consider to maximize your odds of success.
1. Determine if This is An Opportunity for You
Proofreading requires a particular skill set. You need to have excellent attention to detail and the ability to catch mistakes.
Companies rely on proofers to ensure content is correct. If you regularly miss omissions or errors, it can cost the company money.
You also need to realize that some fields, such as transcript proofreading, may not focus strictly on grammar. Instead, they focus on other things specific to their niche.
Expectations may vary depending on the niche you're working in, but you must be reliable, flexible, and detail-oriented to succeed as a proofer.
If you're still unsure, our friend Caitlyn Pyle offers a free workshop to help beginners determine if proofreading online is for them.
Caitlyn earns six figures a year as a proofer, and she shares her insights into creating a proofing business via her blog, podcast, and courses.
2. Train Yourself
Proofreading is an opportunity that requires specific training. You don't need to have a degree in English to succeed, Tutilla is evidence of that.
However, you will need some training to help launch this side hustle. Pyle's course offers helpful tips to learn the necessary skills and how to find clients.
In addition to the free course, Pyle offers other self-paced training sessions to grow your skill set further.
If you're new to proofreading, you also want to take advantage of the quizzes on the Chicago and AP Styles. These free quizzes, in conjunction with Caitlyn's Proofread Anywhere course, help provide you a solid foundation to start.
3. Decide on a Field
Now that you have the training and necessary skills for proofreading, you need to choose a niche. There are multiple fields to choose from to earn a living.
Academic proofreading: This opportunity goes well beyond simple grammar issues. Academic proofers verify references, and also correct course materials or thesis work.
*Related: Are you looking for work-from-home data input work to supplement your income? Read our guide on data entry jobs from home to learn where to find the top paying gigs.
Legal transcript proofreading: This is a bit of an anomaly in the proofing space. You don't check for grammatical errors. You check for exactness between recordings and transcripts. Given the unique nature of this role, you can earn more as a legal transcript proofreader.
Marketing content: Companies produce massive volumes of marketing content. In this role, you verify all advertising media for correct spelling and grammar. This can be anything from an email campaign to a billboard ad.
Print media proofreading: Print media is one of the oldest forms of proofing work. As a print media proofer, you check for spelling, grammar, formatting, and punctuation in books and newspapers.
Transcript proofreading: YouTube and podcasters are a gold mine for content. Similar, but not as advanced as legal transcript proofing, you ensure the transcription reads right and formatted correctly.
4. Determine Your Rates
While the average pay range for proofreading is $30 – $35 per hour, that range varies based on your experience and field. If you work in a competitive niche or are known for your work, you can charge a higher rate.
As you first begin, you may see lower rates, but don't let that stop you. As you grow your skills and find a niche to specialize in, your rates will grow in time.
Lastly, you may find it best for you to charge per project, or by the number of revisions to help boost your earnings.
5. Have A Website
When you become a proofreader, you have the flexibility to work online for many of your gigs. And while you can also market yourself offline, you still want people to see you as a professional. Having a website will help you do that.
A website helps you show off your portfolio, give people a way to contact you, and showcase testimonials. You can also have a "Hire Me" page on your website that describes your services and prices.
*Related: Are you looking for additional opportunities to earn cash? Read our guide on how to make money without a job to learn how to find a profitable side hustle.
That way, you aren't wasting your time with people who aren't willing to pay your rate or utilize your services to their fullest ability.
You don't need a large website, merely a simple one that allows prospective clients to see your work and contact you. A clean and straightforward site, with just a few pages, can go a long way.
If you lack the technical skills to start a website, Bluehost is a terrific resource. The company will help you launch your site with a few clicks and host it for you. They charge just $2.95 per month to help you maintain and host your website.
Also, don't overlook using social media platforms like Facebook or Instagram to promote your business. It lets friends see you're looking for work and is another way to attract clients.
6. Sites to Find Online Proofreading Jobs
As you begin to market your business, you need to network with potential clients. You will want to find events in your city to meet with companies looking for help.
Don't overlook finding work online, though. Online proofreading jobs make up much of the available work, so you want to look on the internet to discover opportunities.
ZipRecruiter and FlexJobs are both excellent sites to use to find remote work possibilities. You can even use sites like Upwork to find work.
If there is a specialized niche you like, search for groups on Facebook or LinkedIn to find companies looking for proofreaders.
Read our review of FlexJobs to learn more about that job search tool.
Resources to Use
To be a successful proofreader, you need to use a variety of tools. Each client has different requirements and expectations, but you can meet them by using the right tools.
Here are a few tools you want to be proficient in to impress clients.
Google Docs
While you may find the occasional client that prefers Microsoft Word, most companies prefer to use Google Docs.
Word is a terrific tool, but Google Docs simplifies the process of working with multiple people on a project. Tasks like commenting on content or highlighting issues are easy with Google Docs. Plus, it's free to use.
Grammarly Premium
Grammarly Premium is an online app you can use that scans content for mistakes. While Grammarly has a free version, the Premium version is an affordable monthly or annual cost.
It's not perfect, but it offers a simple way to double-check your work. Remember, it's not a replacement for you doing the work, but a way to verify that you haven't missed anything.
Hemingway App
It's not always easy to write clear, concise sentences that are short. The Hemingway App helps you accomplish that.
The app scans the document for unnecessarily long sentences and gives suggestions to simplify it. This tool is a better fit for copyediting, but it never hurts to impress a client.
The Elements of Style by William Strunk Jr.
The Elements of Style is a classic, written in 1923, that helps people tell stories with fewer words. Many people recognize this book as a helpful resource for anyone, especially someone working with content.
Summary
If you want a work-from-home job that lets you earn a decent income, look no further than becoming a proofer. The need has been around since the written word and is not going anywhere anytime soon.
As companies continue to create volumes of content, so does the need for that content to be of high quality. Although this opportunity does require some skill, even if you don't have a degree you can make money proofreading.
With a little hard work and the ability to adapt, you can make good money while working from home.
What are some other work-at-home opportunities you would like to pursue? How much do you need to earn per hour to make a side hustle worth pursuing?
Kim Suazo has been a freelance writer and business owner for over four years. When she's not writing for Frugal Rules, you can find her on other publications like Chime, Discovery, and Due. She also owns her own websites The Entrepremomer and Part-Time Profit, where she teaches overworked moms how to streamline their new businesses so they can scale without a team.