Grocery delivery services are a popular necessity as more people decide to opt out of going to the store and have a personal shopper do it for them. Companies like Instacart and Shipt also provide a terrific way to make money in your free time.
When comparing the two services, it can be difficult to know which one is best as a side hustle. You need to compare pay, requirements, scheduling, and more to determine which company to choose.
When looking at Shipt vs. Instacart both of the food delivery services are similar, but some of the key differences may make one a better choice for you. Read on to see how both offer the opportunity to earn up to $20 per hour.
Instacart vs. Shipt: Which is Better for Drivers?
Jobs like Instacart Shopper and Shipt Shopper allow customers to order groceries and have you do their shopping for them.
As customers enter their orders, they become available for you to claim, do the shopping, and deliver to their homes.
Both platforms operate in many similar ways, but they still operate differently.
You want to consider numerous things when working for either service, such as:
Pay
Bonus structure
Tips
Driver support
How the app works
This review of Instacart Shopper vs. Shipt Shopper covers those topics so you can decide which of the delivery jobs is best for your needs.
If neither work, read our review of the top delivery app jobs to work for as an independent contractor.
What is the Difference Between Shipt and Instacart?
Instacart and Shipt are on-demand grocery delivery services. They allow customers to order food and groceries in their respective apps.
A shopper claims your order, does the shopping, and delivers it to your door.
Instacart begin in 2012 and delivers in nearly every city nationwide, as well as Canada. It previously hired both in-store shoppers and full-service shoppers.
Instacart now only hires full-service shoppers who buy items and deliver them.
| App | Number of Cities | Full-Service Only? |
| --- | --- | --- |
| Instacart | 5,500+ | Yes |
| Shipt | 5,000+ | Yes |
Read our review of Instacart Shopper to learn more.
Shipt began in 2014 and is owned by Target. Previously a member-only service, anyone can use the app to order groceries.
Shipt also delivers some home products from Target. You can do this via the Shipt Driver option if you don't want to deliver groeceries.
Read our review of Shipt Shopper to learn more.
Where are the Services Available?
Deciding between Shipt Shopper vs. Instacart Shopper first comes down to whether or not the app operates in your area. If not, your choice is limited to whomever does serve your city.
Shipt is in most major cities, currently serving over 5,000 cities in the U.S., but Instacart is in over 6,000 cities in the U.S. and Canada.
When deciding between the two grocery delivery services, consult the respective site to learn if they're in your area.
Requirements
The application process is for both companies is simple, and you can apply for either online.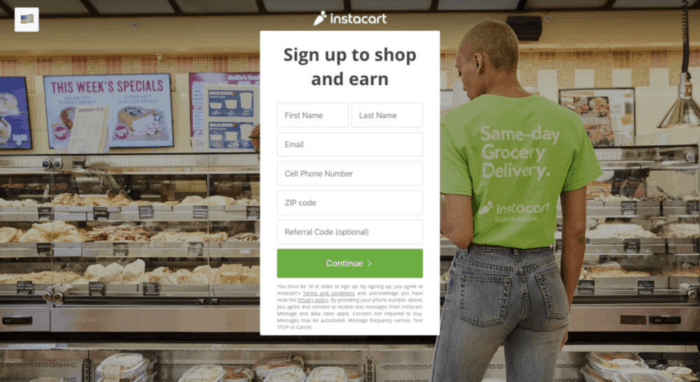 Both apps host their onboarding process and optional training online or via the app. Some locations may require you to attend an in-person event to qualify for employment.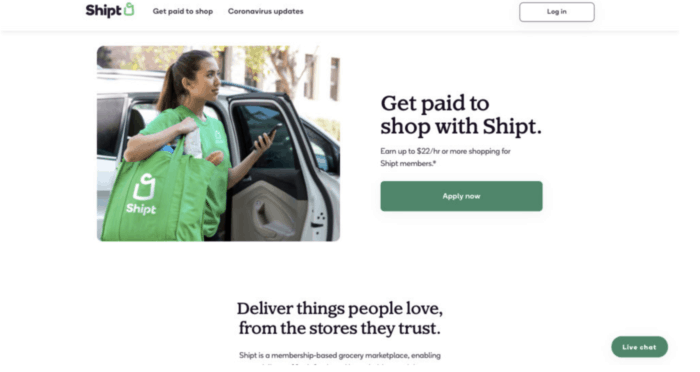 Requirements to work for both apps are similar. If you meet the qualifications for one, it's likely you will for the other.
Shipt Shopper requirements:
You must be at least 18 years old
Have a reliable 1997 or newer vehicle
iPhone (iOS 10 or newer) or Android (5.1 or newer) smartphone
Capable of lifting 40 pounds
Eligible to work in the U.S.
Valid U.S. driver's license and auto insurance
Instacart Driver requirements:
You must be at least 18 years old
Access to a recent smartphone (iPhone 5/Android 4.4 or newer)
Eligible to work in the U.S.
Capable of lifting 40 pounds
Access to a reliable vehicle
Valid driver's license and auto insurance
Both companies perform background checks for all prospective contractors. The process takes up to ten days. If it comes back clear, you can start delivering groceries.
Does Instacart or Shipt Pay More?
Instacart and Shipt pay relatively the same amount. Most drivers report earning an average of $15 to $20 an hour, inclusive of tips. Indeed.com reports the average wage for both is $14 per hour.
*Related: Would you rather deliver packages than groceries? Read our Amazon Flex driver review to learn how you can earn $20+ per hour driving for Amazon.
You receive a minimum order fee often based on the size of the order.
The more orders you take, the more you can earn with either service. Shipt claims drivers can start earning up to $22 an hour once they complete their 100th delivery.
Shipt also offers optional education courses to help you become the best possible shopper.
| App | Avg. Pay | Max Pay | Pay Frequency | Instant Cashout? |
| --- | --- | --- | --- | --- |
| Instacart | $14/hr. | $20/hr. | Weekly | Yes - $0.50 |
| Shipt | $14/hr. | $22/hr. | Weekly | No |
Instacart Shoppers usually earn more for larger orders and can earn more during busier times. If you work weekends or during holiday periods, it's possible to increase your earnings.
Read our guide on the best times to Instacart to learn how to maximize earnings.
You can work part-time or full-time for either grocery delivery service. It's up to you as you create your own schedule. Both services pay weekly, and you can cash out instantly with Instacart for a $0.50 fee.
Drivers can accept or reject orders as they like, though it may impact your ability to claim orders if you reject too many orders.
As an independent contractor, you are responsible for gas and maintenance costs.
How Each App Works
Shoppers for both on-demand platforms use the app to accept orders, view items on a customer's list, and receive the delivery destination.
With Instacart Shopper, you use the app to scan grocery items and cross them off the list.
Instacart lets you know all the orders that are ready for pickup in the "available batches" part of the app.
You'll see everything you need to know about the order by looking in this section.
How many items
Location of the store
Estimated pay
Dropoff location
Estimate mileage
Once you arrive at the store, use the app to mark that you have arrived and are starting to shop. Another way you may use the app is to pay.
For the Online Pay orders, you don't use the Instacart pay card. Instead, you scan the barcode on the app.
You also use the app to chat with customers, scan items, request substitutions, and track the weight and quantity of produce.
The Shipt Shopper app works similarly, allowing you to see or determine the following:
Items to purchase
Communicating with the customer
Expected pay
Setting delivery radius
You can use the "available orders" tab in the Shipt shopper app when you are ready to start taking orders. Shoppers can also look for promo orders that are worth a little more than regular ones.
Finally, when working for Shipt, the service provides you a prepaid cash card for each order. It will cover all the items you must buy, with a little extra in case a customer requests additional items.
Scheduling
Instacart hours typically begin between 7:00 a.m. and 9:00 a.m. If you aren't a morning person, you can also choose shifts in the afternoon, or up until the stores close in your area.
You are in charge of when you work and can select your shifts through the app. Orders come through, and you decide if you would like to accept them.
Customers are allowed to leave notes in the app, letting you know of any substitutions that may arise while shopping.
Having those notes already in the app can help limit the number of times you have to check with the customer while shopping for their groceries.
With Shipt, you choose your schedule in advance. Select the hours that best fit your schedule, and you'll receive orders only during that period.
You can select multiple shops at once, but pick realistic ones that you think you can complete. You want to be strategic when scheduling these out.
You'll know how big an order is before accepting it. If you feel an order might not be worth it, you can decline it, but that will affect your acceptance percentage.
Shopper Support
Driver support is essential when working for a grocery delivery service. You never know if there will be a problem with an order, or you may have a question about your earnings.
Both the Instacart Shopper app and Shipt Shopper app offer various forms of support. Following are the methods of support available through each service:
Both platforms offer 24/7 support by phone, though neither guarantees contact via email or social media.
Shipt does differentiate itself a bit as it offers a 24/7 live chat option through the app.
This lets you reach a support representative, and receive immediate assistance, without having to wait on hold.
Can You Work for Both Instacart and Shipt?
Yes, it is possible to work for both food delivery apps at the same time. You may want to try both to learn which pays more in your area.
If you want to expand your options, DoorDash is an excellent service to work for that allows you to delivery meals from local restaurants.
DoorDash also lets you work on your own schedule and receive earnings weekly.
Read our Shipt Shopper vs. DoorDash review to learn which is best for drivers.
Does Shipt or Instacart Pay for Gas?
No, neither Instacart or Shipt pays for gas. This is an expense you will have to account for when driving for any courier job.
If you track your mileage, you can claim it on your taxes. Consult a tax professional to learn how to take advantage of this benefit.
Do You Need to Pay Taxes on Your Earnings?
Instacart and Shipt Shoppers are independent contractors. Neither company pulls taxes out of your earnings. Holding back money for taxes from your earnings will help you avoid a headache later on.
If you earn over $600 during the year, both companies will send you a 1099.
Pros and Cons for Both
Instacart Shopper and Shipt Shopper are similar services. Both offer personal grocery shopping and delivery in cities across America.
Here's what to keep in mind when working for Instacart Shopper:
Pros
Flexible Hours
Get paid weekly
Keep 100 percent of tips
Know your delivery destination before getting to the store
Only need a reliable car
Wide availability throughout the country
Cons
Don't get paid hourly
Can cause heavy wear on vehicle
Here's what to keep in mind when working for Shipt Shopper:
Pros
Puts drivers through training
Get paid weekly
Keep 100 percent of tips
Only need a reliable car
Cons
Some areas have limited order availability
Vehicle wear and tear
There aren't many significant differences between either service. If you have a flexible schedule and a reliable car, both offer a legitimate way to run errands for money.
Summary
Both Instacart Shopper and Shipt Shopper are reliable ways to make money on the side. Drivers can select their own hours with either service and it's possible to make decent money.
Driving for both simultaneously may increase your earning opportunities. Which one you may choose will largely depend on whether or not the service is available where you live.
What is your favorite way to make money on the side? How important to you is a set schedule when attempting to earn extra money?
*Earning more on certain types of orders (ex. alcohol): Earn more per order as compared to restaurant orders. Actual earnings may differ and depend on factors like number of deliveries you accept and complete, time of day, location, and any costs. Hourly pay is calculated using average Dasher payouts while on a delivery (from the time you accept an order until the time you drop it off) over a 90 day period and includes compensation from tips, peak pay, and other incentives.
*Get paid instantly (DasherDirect): Subject to approval
*Cash out daily (Fast Pay): Fees apply
*Start Dashing today: Subject to background check and availability
*Dash anytime: Subject to availability