9 Legit Ways to Run Errands for Money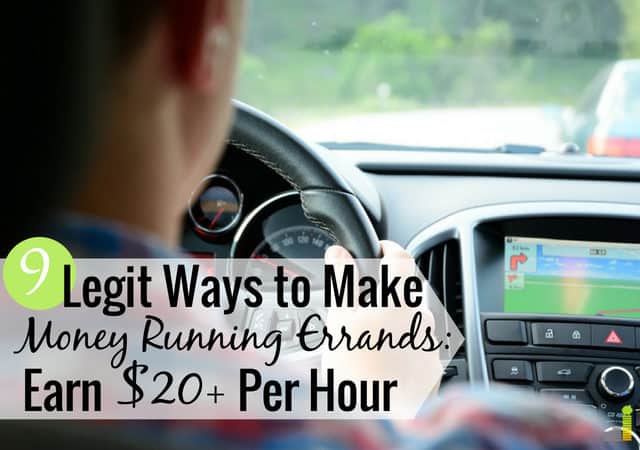 People are busier and busier these days. We pack a lot into our lives, reducing the time we have to take care of certain responsibilities. You can use this to your advantage if you need to make extra money on the side. If you have spare time and need a good side hustle, take advantage of the opportunity to run errands for money for busy people.
Yes, it is possible to run errands for cash. Thanks to the ridesharing industry and the growth of app-based services, you can use your free time help others in need and make money on the side.
Legit Ways to Run Errands for Money
Many want to make extra money but think they need a specialized skill. In certain circumstances you will need a certain skill to make extra cash. However, in many cases, all you need is the time and willingness to work.
If you want to make money on the side doing something relatively simple, here are nine ways to run errands for money.
1. DoorDash
DoorDash is a service that allows you to pick up meals at restaurants for other people. This is a service you can provide to help busy families who don't want to spend the time picking up a meal. The service is also one of the best delivery app jobs available.
DoorDash pays you weekly to deliver meals. It's likely you will receive also receive tips from the people you serve. While a car helps to make money driving for DoorDash, you can also deliver meals via bicycle, scooter, or motorcycle. Here are other requirements to deliver meals for DoorDash:
You must be at least 18 years old with a valid driver's license
Must have valid insurance
Dashers must own an iPhone or Android-based phone
You must have a government-issued ID
Ability to pass a criminal record check
You must pass a DMV check if driving a car or motorcycle
There are no car requirements. If it runs then you can use it to make money driving for DoorDash.
Driving for DoorDash, like other delivery services, gives you the flexibility to choose your own schedule. DoorDash also offers bonuses in certain cities so make sure to ask when you sign up.
2. Uber Eats
UberEats is a service from Uber and is similar to DoorDash. Instead of being an Uber rideshare driver, you go get food for customers via UberEats. They have lots of restaurants participating in this, including McDonald's.
Driving for UberEats is a good side hustle option for single and busy moms because they don't have to put strangers in their car with their kids and still run errands for cash.
The requirements for UberEats are slightly different than those for DoorDash. The requirements for UberEats are:
You must be at least 19 years old (21 in Canada)
Drivers must have a government-issued ID
You must have access to a car but it cannot be older than the 1998 model year. You can also deliver with a bike or scooter
Drivers must own an iPhone or Android-based phone
Ability to pass a criminal record and DMV check
You must have at least one year of driving experience
UberEats and DoorDash also require the ability to lift up to 30 pounds. Delivering meals is one of the more popular ways to get paid for driving your car and, if you require a flexible schedule, is a great way to make money on the side.
3. Lyft
Lyft is one of the best apps to run errands for money, and is a popular ridesharing service similar to Uber. Being a Lyft driver lets you make money running errands by helping people get to appointments or other locations.
Lyft is available in cities across the country, and the great news is that you can set your own hours. They're also currently offering a $1,000 earnings guarantee in your first 30 days. You just need 125 rides in the first 30 days to reach the guarantee.
There are certain requirements before you can start driving for Lyft. Below are the driver requirements you must fulfill to make money driving for Lyft:
You are at least 21 years old with an active U.S. driver's license for at least one year
Have a valid license plate on your car with current registration
Your auto insurance policy is current, valid, and in your name
Your car must also pass certain requirements:
The age of your car must meet the requirements of your home city
Your car needs to have four working doors and they must operate both internally and externally
The air conditioning and heat must be fully functional
The vehicle must have at least five seat belts and they all need to be functional
Driving for Lyft can be a great way to run errands for cash in your spare time.
Check out our guide on how much money can you make driving for Lyft if you're interested in driving for their service.
4. Instacart
Instacart is a really cool company that hires people to shop for groceries and deliver them to you. So if you don't feel like going to the store to get a six pack of beer, all you need to do is open the Instacart app and order it.
Make Extra Money by Taking Short Surveys
Taking short surveys in your free time can be an awesome way to earn extra money fast! The instant you finish a survey,
Survey Junkie pays you in cash via PayPal
. 6 Million users and an 8.9/10 Trust Pilot rating prove you can trust them.
Of course, if you'd rather be on the other end and make money delivering food, Instacart is a great option. You can make money running errands for elderly people who can't or don't want to leave their house or help the busy family unable to stop at the store. You never know who might need help.
The woman who dropped off my groceries the first time I used it let me know that they rely on tips to make a good income on top of their weekly pay. In fact, many that work for Instacart make at least $20 per hour by either doing the shopping in store, or delivering groceries to customers.
You can read our guide on how to become an Instacart driver to learn more about this opportunity.
5. Postmates
Postmates isn't available in all cities but it is expanding. The service hires people to deliver food, groceries, and drinks, and is a great way to run errands for money.
So if someone wants donuts in the middle of the day, you can help them by going to get some for them.
Postmates pays you 80 percent of the delivery fee and you get paid weekly. Like many other ways to make money running errands, you get to accept tips.
6. TaskRabbit
TaskRabbit has been around for quite a long time, so there are many people making extra money by completing tasks. I think what makes TaskRabbit unique is that you offer just about any errand or task on there.
*Related: Want more a more in-depth review of some of these services? Check out our Postmates vs. DoorDash guide to see which is better for drivers.*
For example, if you happen to be really great at tiling a bathroom, you can put that skill on TaskRabbit and people can hire you to do that.
If you want to mow someone's lawn, go grocery shopping, or pick up a Starbucks latte for a new mom, you can do all of those through TaskRabbit. TaskRabbit pays out weekly and like many other ways to run errands for money, you can earn tips on top of your pay.
7. Rover
Rover connects dog owners with dog walkers and dog sitters. Walking a dog is one of those errands or tasks that can be a drag, especially in the wintertime.
If you want to make money walking dogs, sign up on the Rover app. If you decide to watch people's dogs while they're on vacation, you can set your own rates. I've seen sitters make as much as $50 per night. This can be good money, especially if you love spending time with animals.
8. Become a Courier
There are many companies that hire part-time couriers to run errands for money or deliver packages. If you've been to New York City, you've probably seen couriers carrying mail and packages on bikes. However, New York isn't the only city that uses couriers.
I used a courier one time when I left a pair of earrings in an Atlanta hotel. No matter how many times I called housekeeping, they assured me they had them and would mail them to me eventually. 
When I realized they might not do that at all, I hired a courier service. The courier went to the hotel, picked them up, and mailed them to me. It worked out well, and I was grateful for their help.
If you're interested in becoming a courier, do a search for companies in your area. They might be hiring part-time employees.
9. Make Deliveries for Local Businesses
Some of these services only operate in certain parts of the country or may not appeal to you. You can still run errands for money in many locations by keeping your eyes open for businesses that are hiring.
Places like local grocery stores, drug stores, and home improvement stores have been known to hire people to make deliveries and are great ways to get paid for driving your car.
Just keep an open eye for who is hiring or makes deliveries on a regular basis. Those can provide great opportunities to run errands and get paid.
What to Keep in Mind if You Want to Run Errands for Cash
There are a number of things to keep in mind if you want to run errands for money. For instance, each service will have its own requirements. It's important to know what they are before you sign up.
If it's an app based service like Lyft or DoorDash, you must sign into the app to receive request notifications. This provides flexibility but make sure you put yourself in the best position possible to make money.
Many services will view you as an independent contractor and not take out taxes. If you make over $400 for the year, you'll be subject to self-employment tax. For example, if you drive for Lyft, it's good practice to set aside a portion of your earnings each time you get paid so you can pay quarterly estimated taxes.
Many of the services are heavily tip-based. Keep that in mind as you provide service to help increase your earnings.
Running errands for cash is one of the simplest ways to make extra money on the side. It doesn't require specialized skill. It primarily requires a reliable car, flexibility, and a willingness to work.
If you have free time in your schedule and a need for extra cash, why not supplement your budget and make money running errands?
Would you ever run errands for money to make extra cash? What other run errands apps have you used to get items delivered to you? What are some important things to keep in mind if you make money running errands for elderly people?
The following two tabs change content below.
Catherine Alford is the go to personal finance expert for parents who want to better their finances and take on a more active financial role in their families.