Working for Postmates Review: How Much Can You Make as A Driver?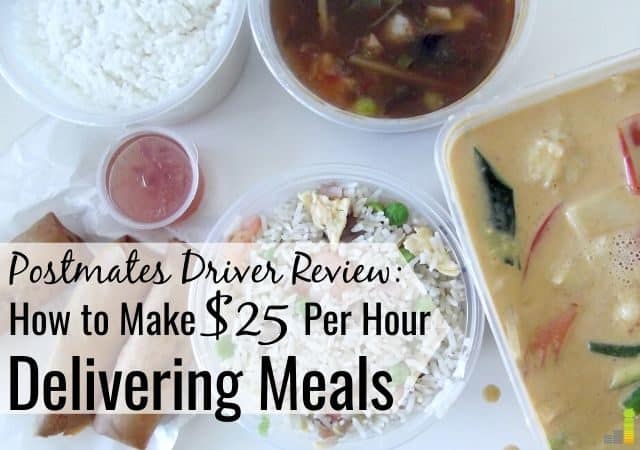 If you're looking for a simple, flexible, and profitable side hustle, look no further than delivering meals and groceries. The on-demand delivery space has exploded in recent years, providing excellent opportunities to make money on the side. Working for Postmates and other delivery app gigs allows you to make money on your own schedule.
When you sign up to be a Postmates driver, you earn money delivering food to people in your city. It's similar to delivering pizzas, but also considerably more lucrative.
The best part? The service claims that delivery drivers can make up to $25 per hour.. If that sounds like what you're looking for, our Postmates driver review shares everything you need to know.
What Is Postmates?
You may have heard about the app, but if you've never used it, Postmates is an on-demand food delivery service. The app has served users since 2011 and is a convenient way to have meals delivered to your home or office.
Unlike other food delivery apps, it offers delivery on items other than meals. The platform also delivers the following:
Alcohol
Clothing
Groceries
So, someone shopping on Postmates could order their groceries and take-out all at once. In some cities, Postmates also offers other task completion services, like buying clothing or picking up non-grocery items like home goods.
This isn't available in every city. Still, if you live in certain metro areas, you can deliver more than just meals.
How To Apply for Postmates
If you want to know how to drive for Postmates, it's relatively simple. You go to their website or app and click on "Join the Fleet" to start the application process.
The service asks for necessary information like your name, address, Social Security Number, and phone number.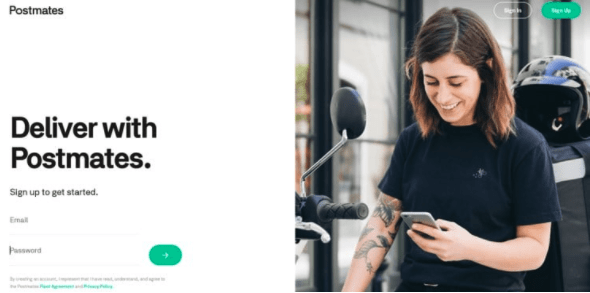 You must be able to meet the following requirements to drive for Postmates:
Be at least 18 years of age
Have a valid driver's license as well as an insured vehicle
You must be able to pass a background check
You need a smartphone, either Android or iPhone to receive orders and payment
You can even make money riding a bicycle delivering meals, if you don't have access to a car.
Upon completion of the application, you will receive a welcome packet. Expect this to take several days to receive. This packet includes information you need to start working for Postmates, such as an insulated bag and a prepaid card.
Once accepted as a driver, Postmates has you set up your account and upload a selfie. This is for the security of customers, so they know who is bringing them their order.
You'll also receive a company card and link your bank account for when it's time to get paid.
As soon as all of those items are complete, you'll be a certified Postmates driver and can start taking orders.
How Does Delivery Work?
All food delivery apps work differently for drivers. You don't schedule hours to do any Postmates jobs. You simply launch the app and change your setting to "available."
You then receive a notification when any orders are available for pick-up.
If you wish, you can choose to accept the next order automatically and have it assigned to you regardless of what it is. The Fleet app simplifies delivery by showing you the fastest way to get to your destination.
When you arrive at the restaurant, the meal is typically ready for you to pick up. If the customer already paid, you can leave with the meal; otherwise, you pay for it with your prepaid card and then take the meal.
Keep in mind, if the customer doesn't place their order before your arrival, order the food and wait – you're still on the clock and getting paid.
How to Make Money Working for Postmates
Many prospective drivers ask themselves "how do you make money with Postmates?". Working for the platform is similar to other delivery app gigs. The service pays you, plus you can receive tips from customers.
Pay is comprised of the following factors when driving for Postmates:
Base rate per leg you perform
Per-minute wait while waiting at a pick-up
Per mile rate for the distance between pick-up and drop off locations
Possible blitz bonuses
Postmates pays couriers weekly via direct deposit for deliveries made Monday through Sunday of the previous week. And, you can expect payment mid-week on Wednesday or Thursday.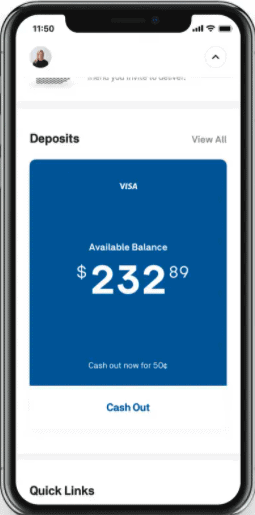 If you need payment sooner than that, you can select "Instant Deposit" within the app to receive your earnings more quickly.
How Much Do Postmates Drivers Make?
Pay varies based on your state, city, and how much you can actually work. For many locations, you will receive a minimum of $4 per hour. Remember, you also earn money for any time spent waiting at restaurants, the drive time between locations, and blitz bonuses.
This includes $0.10 per minute you wait and $0.60 per mile between pick-up and dropoff. Postmates claims you can earn up to $25 per, inclusive of tips.
However, reports indicate drivers earn closer to the $15 to $18 per hour when working for Postmates.
If you focus on working during busier times and take advantage of blitz bonuses, it's more likely you will get closer to the $20 per hour threshold. This makes it one of the best side hustle apps out there to earn cash on the side.
Driving for Postmates is a terrific way to supplement your income, but unless you live in a large city, you likely won't replace your day job.
How to Increase Earnings
Like any side hustle, there are multiple ways to increase your income when you use the Postmates driver app. Below are several ways to multiply your income.
Work During Peak Hours
One of the best ways to increase earnings potential is to work when it's busiest. This is often during the lunch hour (11:00 a.m. – 1:00 p.m.) and over dinner hours (5:30 – 8:30 p.m.) on weekdays, as well as weekends.
Make Extra Money by Taking Short Surveys
Taking short surveys in your free time can be an awesome way to earn extra money fast! The instant you finish a survey,
Survey Junkie pays you in cash via PayPal
. 6 Million users and an 8.9/10 Trust Pilot rating prove you can trust them.
In many cases, the service will dictate these hours as blitz pricing, allowing you to earn more per delivery. The Postmates Fleet app enables you to set notifications for blitz pricing to help you maximize your income.
Offer Good Customer Service
Think about when you're at a restaurant. If your server provides excellent service, you're more likely to give a better tip. The same holds true when working for Postmates.
Remember to smile, thank the customer for the order, and communicate if there's a delay. All of these go a long way to help improve your tips.
Work Fast
The more orders you complete, the more opportunity you have to increase earnings. Additionally, Postmates gives bonuses if you complete a certain number of orders within a specific timeframe. Just remember to practice safety!
Be Selective in the Orders You Select
Not all orders are equal. Some may require you to do a considerable amount of shopping. Others may be at locations with limited parking.
Accept Multiple Deliveries When Able
Multitasking is an excellent way to make money with Postmates. When you accept multiple orders in the same area, you instantly increase the number of deliveries you can complete and increase per-hour earnings.
Pros and Cons To Working For Postmates
Like any means to make extra money, there are pros and cons to working for the delivery gig app. It's essential to consider the following before pursuing this side hustle.
Pros
You can work on your own time and set your own hours. It's possible to accept as many orders as you want, and don't have to choose grocery shopping jobs if you don't want to, deliver all weekend, or anything like that. You get to choose your own delivery schedule and the jobs you accept.
You can work anywhere. Near quite a few metro cities? You can choose any of them and complete orders in the app. This is also great if you're traveling or moving around and need some quick cash.
There aren't any passengers involved. Unlike Uber and Lyft, you're in the car by yourself while completing deliveries.
You don't need a car. You can use a bike or scooter for several Postmates jobs. This will limit how far you can go, but is an excellent option if you live in a metro area and don't really need a car to get around.
You keep all the tips. Anything you earn for excellent customer service goes directly to you. The app encourages tipping, so it's rare to miss out on a tip.
The service is now available all over the country and in over 700 cities. There are plenty of opportunities to work for the Postmates driver app.
Postmates pays weekly. This is a great way to get money, if you need help paying rent, or other needs.
Cons
The pay is lower for certain orders. According to users in the Postmates Reddit community, grocery shopping is the lowest-paid option. Also, if you have high competition in your area, it can eat into your profits because everyone else is trying to get in on orders too.
It can be slow. Depending on your area, you may go a few hours between orders. You can partially avoid this by shopping and delivering during the busiest times like weekends and dinner time. Still, you may have to deal with competition.
It's critically important to keep in mind that you're an independent contractor when you drive for Postmates. This is the case when you make money through any delivery app jobs, and not specific to Postmates.
However, it does mean you must pay taxes on your income and deal with wear and tear on your car.
Alternatives
Postmates is just one option to get paid for driving your car. Below are other leading delivery app gigs you can use as a side hustle:
Each of the above has its own requirements, and you can drive for multiple providers to increase earnings. Read our guide on driver apps like DoorDash to learn more about each platform.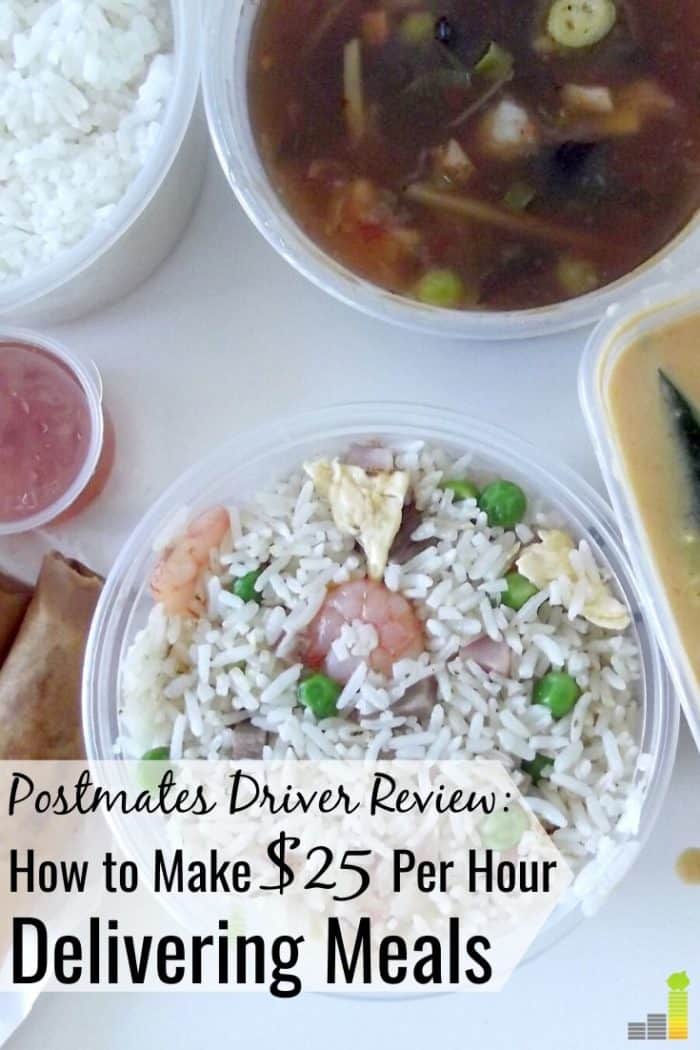 Summary
Working for Postmates, and other food delivery services is a growing niche. More and more restaurants are working with these services to deliver meals to customers.
If you need to make extra money on the side, driving for Postmates offers an outstanding way to supplement your income. The work isn't difficult, and you can typically start within a few days.
Additionally, there are no vehicle requirements, as opposed to driving for a service like Lyft or Uber.
If you want to make money each week and create your own schedule, working for the Postmates fleet could be an excellent solution.
What is your favorite way to make money on the side? Would you consider working for an on-demand delivery service? How often do you order out?
The following two tabs change content below.
Kim Suazo
Kim is an online business manager and freelance writer that focuses on personal finance, productivity, and running an online business as a mom and entrepreneur. She shares tips and tricks to help women work less on their business while scaling their income on her blog, TheEntrepremomer.com
Latest posts by Kim Suazo (see all)