Driving for delivery apps is a popular and easy way to earn money in your free time. One great option is Postmates.
When you sign up to be a Postmates driver, you make money delivering food to people. You earn cash for each delivery plus tips, making it fairly lucrative.
If this side hustle sounds like what you're looking for, our Postmates driver review shares everything you need to know.
What Is the Postmates Fleet?
Postmates is an on-demand delivery service that helps customers by delivering items to their homes or businesses.
Customers place an order using the app. Then drivers can accept open delivery requests after joining the fleet.
The platform lets you deliver these items:
Restaurant meals
Alcohol
Clothing
Groceries
Office supplies
Prescription drugs
Your delivery options depend on where you live. That said, delivering food for Postmates is the most common way to make money.
Depending on your city, you may be able to deliver by bicycle or scooter if you don't have a vehicle. You can choose your transportation method during the signup process.
How to Make Money Working for Postmates
Here is an in-depth look at how to start making money as a Postmates driver.
How to Apply
Signing up to drive for Postmates is relatively simple. You go to their website or app and click on "Join the Fleet" to apply.
The service asks for information like your name, address, Social Security number, and phone number.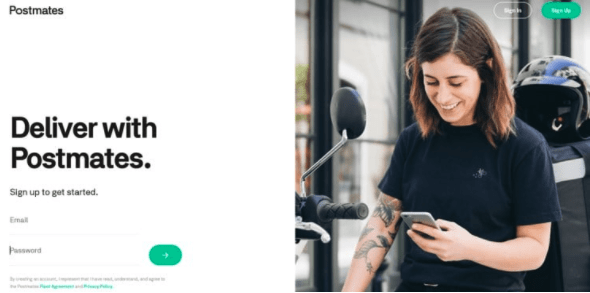 You must meet the following driver requirements:
Be at least 18 years of age
Have a valid driver's license as well as an insured vehicle
Pass a background check
Own a smartphone, either Android or iPhone, to receive orders and payment
Once you complete your application, you will receive a welcome packet. It may take several days for the packet to arrive.
This packet includes information you need to start working for Postmates, such as an insulated bag and a prepaid card. You use the prepaid card to pay for orders.
After activating your prepaid card, you create an account, upload a selfie, and undergo a background check. You can become a Postmates driver and accept deliveries after completing these security protocols.
What Do Deliveries Look Like?
Accepting and completing a delivery is simple.
First, you open the Postmates Fleet app and look for current delivery requests. You will see the pickup location, destination, and estimated pay.
The app also sends notifications when new orders are available.
After accepting an order, you go to the restaurant or store to pick it up and pay with the prepaid card.
It's sometimes possible to accept multiple delivery requests at once. This means that you can pick up multiple orders from the same merchant or nearby stores to increase your earnings.
The app provides turn-by-turn navigation to the delivery location. You provide delivery updates and receive payment in the app as well.
Once you complete the delivery, you can view your earnings and request same-day payment if you need money now.
How Much Can You Earn on the Fleet App?
Many prospective drivers ask themselves, "How much do Postmates drivers make?"
Your free time is valuable, so it's important to make the most money possible.
It's feasible to earn up to $25 per hour when you receive customer tips and delivery bonuses.
However, reports indicate that the average Postmates driver pay is between $15 and $18 per hour without tips and app bonuses.
The payment system and pay rate are competitive with other delivery app jobs. The company pays you, plus you can receive tips from customers.
Payouts for each delivery gig are calculated based on these factors:
Base rate per pickup and dropoff
Per-minute wait while waiting at a pick-up
Rate per mile for the distance between pick-up and drop off locations
Possible blitz bonuses
Here are some examples of what you can expect to earn across the country.
| City | Per Pickup | Per Dropoff | Per Minute | Per Mile |
| --- | --- | --- | --- | --- |
| New York | $1.80 | $.70 | $.07 | $1.05 |
| Los Angeles | $1.40 | $.70 | $.07 | $.69 |
| Chicago | $1.45 | $.70 | $.07 | $1.01 |
| Houston | $1.50 | $.95 | $.07 | $.50 |
| Phoenix | $1.80 | $.70 | $.07 | $.42 |
| Philadelphia | $1.65 | $.70 | $.07 | $1.01 |
| San Antonio | $1.70 | $.75 | $.07 | $.61 |
| San Diego | $1.50 | $.70 | $.07 | $.55 |
You can see how much Postmates pays in your area when you sign up. New drivers can also earn a starter guarantee bonus by completing a specific number of deliveries in the first few days.
The company pays couriers weekly (each Monday) via direct deposit.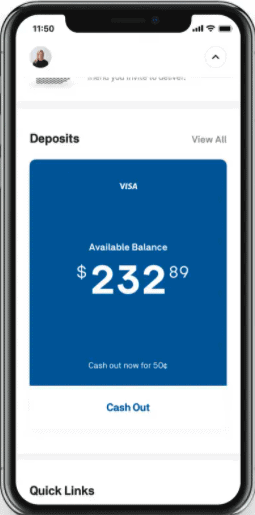 If you need payment sooner, you can select "Instant Deposit" within the app. Each Instant Deposit has a $0.50 fee and requires a $5.00 minimum.
It's more likely you will get closer to the $20 per hour threshold if you work during busier times and take advantage of blitz bonuses.
This makes Postmates one of the best side hustle apps to earn extra cash.
Driving for Postmates is a terrific way to supplement your income. However, unless you live in a large city, it likely won't replace your day job.
Ways to Increase Earnings
Like any side hustle, there are multiple ways to increase your income when you use the Postmates driver app.
Encourage Higher Tips
Increasing pay often means getting bigger tips.
Quick deliveries and being friendly are two simple ways to encourage higher tips and earn more money.
*Related: Are you looking for legitimate jobs that pay quickly? Read our guide on the top same day pay jobs that let you make fast cash to find the best opportunities.
Sending brief texts with the estimated delivery time or if you encounter delays can be helpful.
It's also important to avoid restaurants that consistently don't have orders ready at the scheduled pickup time. While it's not your fault that a restaurant is slow, the customer may not leave a tip due to the late delivery.
Offer Helpful Items
Providing extra napkins, silverware, and condiments can make the customer happy.
Customers can request add-ons from the restaurant with the order. Having extra items on hand as a food delivery person lets you meet their requests if the restaurant is out of supplies.
Work During Peak Hours
One of the best ways to increase earnings is to work when it's busiest. This is often during the lunch hour (11:00 a.m. – 1:00 p.m.) and dinner hours (5:30 – 8:30 p.m.).
You only make money delivering for Postmates when you accept and complete delivery requests. There are more requests to choose from during peak hours.
In many cases, the service will dictate these hours as blitz pricing, allowing you to earn more per delivery. It's possible to accept more deliveries and earn more per request because of the blitz pricing.
You can get app notifications for blitz pricing to help you maximize your income.
Work in Busy Areas
Drivers are more likely to get delivery requests if they are located in busy areas with multiple restaurants and stores.
This gives you access to more delivery requests. Better yet, you can quickly reach the pickup location.
Being near the pickup location means you can get there before the order is ready and keep the food as warm as possible.
Be A Fast Worker
If you want to be a high-earning Postmates delivery driver, you must complete multiple orders per day. Each order you deliver means a higher base pay and more chances to earn a tip.
Additionally, the company periodically gives bonuses if you complete a certain number of orders within a specific timeframe.
It's also important to avoid restaurants and stores that have excessive wait times or limited on-site parking. Small delays extend your delivery times and make it harder to maximize your per-hour rate.
Accept Multiple Deliveries
Multitasking is an excellent way to make money with Postmates. When you accept multiple orders in the same area, you instantly increase the number of deliveries you can complete and raise per-hour earnings.
Batched orders let you deliver multiple orders from the same pickup location.
Chained orders are when you deliver orders from different pickup locations.
Delivering multiple orders requires multiple dropoff locations but minimizes your idle time and driving distance.
You can also work for both Postmates and Uber Eats simultaneously as Uber recently acquired Postmates.
Read our Uber Eats vs. Postmates comparison guide to see how to work for both and maximize earnings.
Benefits
Logo
Postmates
Earn $18 - $25 per hour

Deliver anything with just a car or scooter!




Pros and Cons
There are positives and negatives of working for the driver app.
Pros
You can work on your own time
There are no passengers involved
Can deliver by bike or scooter in select cities
You keep all the tips
Weekly payments
Cons
May receive few delivery requests outside of peak hours
Instant payouts cost $0.50 each
Not available in many small towns
You can earn money by delivering for Postmates, but you may not replace your full-time income.
Alternatives to Delivering for Postmates
This company is just one option to get paid for driving your car. Below are other leading delivery app gigs you can use as a side hustle:
DoorDash: Complete restaurant deliveries in most cities. Weekly and same-day payments are available.
Instacart Shopper: Deliver groceries from local supermarkets. In-store shoppers are available in select cities and don't require a vehicle.
Shipt Shopper: Deliver grocery and retail purchases using your car.
Each of these options has its own requirements. You can work for Postmates and other rideshare delivery apps at the same time to increase your earnings since you're an independent contractor.
Read our guide on delivery jobs like DoorDash to learn more about each platform.
Postmates Review: How much can you earn?
Earning Potential

Sign Up

Ease of Use

Job Availability

Payment Speed
Summary
If you live in a busy area with lots of meal delivery requests, you can earn up to $25/hour driving for Postmates. The ability to earn tips and turn around jobs quickly will help increase your potential earnings.
Pros
✔️ You can work on your own time
✔️ There are no passengers involved
✔️ Can deliver by bike or scooter in select cities
✔️ You keep all the tips
✔️ Weekly payments
Cons
❌ May receive few delivery requests outside of peak hours
❌ Instant payouts cost $0.50 each
❌ Not available in many small towns
Summary
Postmates and other food delivery services are a growing niche as more people order food from the comfort of their homes. These apps take minimal skill and have a flexible schedule.
Delivering food and store purchases can be an exciting option to earn extra income if you have reliable transportation and enjoy being active.
What is your favorite way to make money on the side? Would you consider working for an on-demand delivery service?
*Earning more on certain types of orders (ex. alcohol): Earn more per order as compared to restaurant orders. Actual earnings may differ and depend on factors like number of deliveries you accept and complete, time of day, location, and any costs. Hourly pay is calculated using average Dasher payouts while on a delivery (from the time you accept an order until the time you drop it off) over a 90 day period and includes compensation from tips, peak pay, and other incentives.
*Get paid instantly (DasherDirect): Subject to approval
*Cash out daily (Fast Pay): Fees apply
*Start Dashing today: Subject to background check and availability
*Dash anytime: Subject to availability
Kim Suazo has been a freelance writer and business owner for over four years. When she's not writing for Frugal Rules, you can find her on other publications like Chime, Discovery, and Due. She also owns her own websites The Entrepremomer and Part-Time Profit, where she teaches overworked moms how to streamline their new businesses so they can scale without a team.