9 Smart Uses for Your Tax Refund
Posted on February 5, 2018 by Cat in
Taxes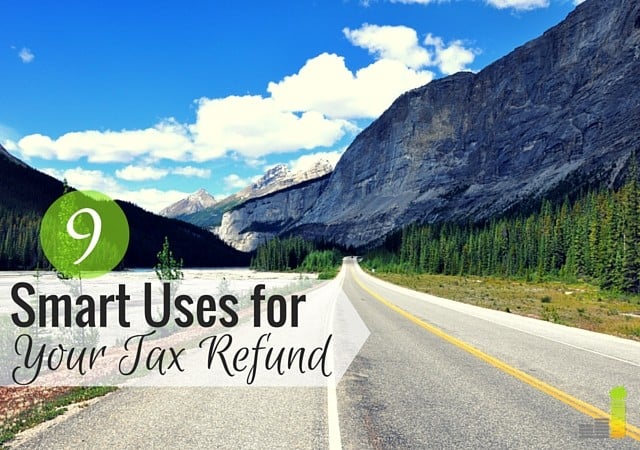 Tax season is upon us. Are you ready for it? Whether you have started on your tax return or not yet, if you are expecting a tax refund, you should probably think about how to best spend it. According to the IRS, the average tax refund is around $3,100. That means many people in the U.S. will have a nice chunk of change hitting their bank accounts in the very near future, and they might wonder what to do with it.
Like many people who are self-employed, this year I had to send over a hefty check to the lovely folks at the IRS. But last year, forgetting that I had two little deductions (my twins) I was able to get a refund that I wasn't expecting. I ended up using it to max out my Roth IRA, which I thought was an example of #adulting at its finest.
Investing is one of the best ways you can use your tax refund, and I'll list three ways you can do that below. However, you can also save it or spend, spend, spend it, baby! Here are some options for all three of these categories:
Invest Your Tax Refund
Investing your tax refund is definitely a responsible thing to do. After all, you could go out and buy one of those crazy huge TVs or you can make sure your money will last a lot longer in the market.
Open a Roth IRA
If you're already contributing the max to your 401(k) plan but you want to save even more, you can use your tax return to create your first outside investment.
The best place to start, in most cases, is by opening a Roth IRA as it's great to give yourself an extra boost in your retirement fund. Here are the best Roth IRA providers if you don't know where to start.
If you don't currently have a Roth IRA, or any other outside investment accounts, Ally Invest is a great option to consider. Ally Invest charges an industry low $4.95 per trade, and offer various free tools to help you start investing.
Invest in Real Estate
Investing doesn't always mean putting money into the market. You can also invest it in real estate. Many are often held back from investing in real estate due to lack of funds or inability to manage properties.
This is where crowdfunded real estate investing comes into play. Real estate crowdfunding allows you to invest in real estate by putting your money into a pool with other investors. You get access to real estate investment opportunities, but you do it with a lot of other people – helping make it simpler for all involved.
Fundrise allows you to start investing in real estate for as little as $500. You get to select from three different eReits and start investing in real estate without all the hassle.
RealtyMogul is another good option to invest in real estate. You need to have $1,000 to start, but has lower fees than Fundrise.
Start Your Child's College Fund
Another great investment to make is to invest in your children with their college fund. You can open up a 529 college savings plan and make your first deposit in it. In addition to funding your child's future education, you may be able to enjoy some tax advantages as 529 contributions are tax deductible in many states.
Since plans vary by state, do your research and if at the end of that process you feel like you need help deciding which 529 to invest in, reach out to a financial professional who can help you choose the best one for your family's goals.
Spend Your Tax Refund
Go on a Weekend Trip
A $3,100 tax refund is the perfect amount for a nice weekend trip. You get extra points if you decide to go on a weekend trip without your kids in tow. After all, sometimes you just need a little bit of room service and a full night of sleep to really recharge.
I personally like to take advantage of rewards cards to lower my out-of-pocket expenses. That way, I can redeem points for airfare or the hotel stay so I can spend my money elsewhere.
Here's a list of some great travel rewards cards to consider if you want to take advantage of stretching your travel budget.
Spruce Up a Room in Your Home
Sometimes it's nice to improve your home's overall design and environment. Let's face it; decks are nice but so is new furniture.
If you don't want to make an investment in your home and simply want to enjoy it more, you can always get a few new pieces of furniture, brighten up your bedding or hire someone to paint a room that you've been avoiding.
Buy An Experience
When it comes to your tax refund, you don't always have to buy things. You can consider buying an experience for your whole family.
Some examples might be a family zoo membership or taking your kids to see a movie with all the works – candy and popcorn included. Note: You don't have to buy $3,100 worth of popcorn. 😉
Save Your Tax Refund
Start Your Emergency Fund
An emergency fund is a crucial part of being financially stable. Even $500-$1,000 as a cushion in your bank account can save you if something goes wrong and can help to keep you out of debt.
If you don't have an emergency fund yet, make sure to have it in a savings account that pays a good interest rate and a low minimum balance.
You can open a savings account with CIT Bank for as little as $100 and they pay 1.55% on your cash – more than 20X the average at typical banks.
Make a Holiday Savings Account
Christmas seems to sneak up on everyone each year. In order to avoid spending shock, I always put $50 a month into a holiday savings account every month throughout the year.
If you haven't done that yet, you can always put your tax refund in a holiday savings account and you'll be ready to start shopping earlier than most.
Add it to a Car Replacement Fund
If I were getting a tax refund this year, this is the route I would go. If you have an old car or a high mileage car, it's important to keep a car repair fund or a car replacement fund handy.
I just had another $1,600 repair bill for my 250,000 mile SUV, so I'm actively adding to the replacement fund whenever I can. Again, CIT Bank is a great option for situations like this so you can save as much as possible towards the purchase of a new to you car.
Ultimately, there are many smart ways you can use your tax refund. You can also combine many of the methods above and have a little fun spending and a little fun saving.
Are you getting a tax refund this year? If so, how will you be using it? Why do you think so many go out and foolishly spend their tax refund? Do you prefer a larger or smaller tax refund?
The following two tabs change content below.
Catherine Alford is the go to personal finance expert for parents who want to better their finances and take on a more active financial role in their families.