Will the 4 Gift Rule Work for Your Family this Christmas?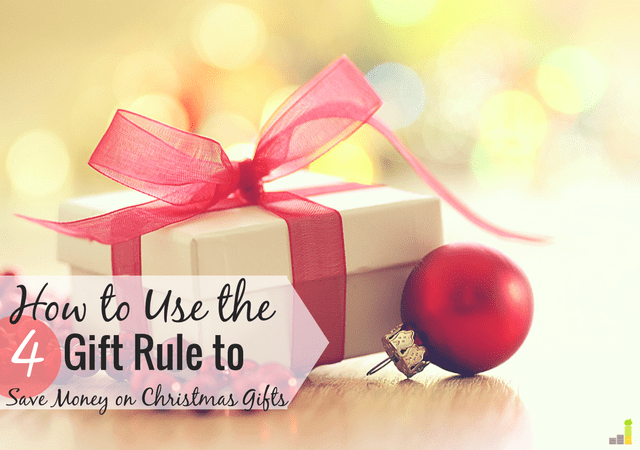 Every Christmas parents struggle with what to get their kids for Christmas. It can be a challenge to find or often, afford the 'perfect' gift. It can also be easy to lose sight of your budget when you're out shopping and come home with considerably more than your kids need. I like to use the 4 gift rule as a way to guide my shopping and save money. Whether you're on a budget or just trying to discourage materialism in your family this holiday season, you might want to consider the four gift rule this Christmas.
The 4 gift rule has been circling the Internet the past few years. I do not know the origin but there are a few variations of it. The idea is that you buy your children no more than four gifts for Christmas, and they fall under these categories:
what is The 4 Gift Rule?
1. Something they want
2. Something they need
3. Something to wear
4. Something to read
My husband and I have gone back and forth trying to decide if we are going to follow the 4 gift rule or just put money in their investment accounts instead. I know we are just a few days away from Christmas, but we still haven't decided what we're doing yet. (Thank God for Amazon two day shipping amiright?)
If you like shopping on Amazon (or other stores for that matter), make sure to use shopping portals like Ebates or Swagbucks to get cash back (up to 10% in some categories) plus a free $10 just to start.
It's easy for us to have a small and frugal Christmas because our children are very young, and they won't remember anything. They can't even rip presents open, although they are extremely adept at trying to eat any kind of paper they can get their hands on. 🙂
We've opted to wrap a few gifts they've received from friends and family. They recently got baptized and a few people sent them gifts for that, which we just put under the tree.
One thing to add is that if you are considering the 4 gift rule for older kids this Christmas, you may encounter some disappointment, especially if they are used to getting more presents at Christmas or have friends who will be getting far more gifts than four under the tree. Use it as an opportunity to encourage thankfulness and help them understand the importance of living on a budget.
Help them see that you are still giving them something (up to four somethings in fact) and are being responsible with your money so that you can help them later in life – like helping pay for college or a car or something else that they will appreciate much more when the time comes than more junk now that they'd just end up giving or throwing away.
The beauty of the four gift rule is that you can modify it to fit your family. Gifts can get expensive, especially with older children; so, if you have multiple older children don't feel bad buying just two gifts instead of four to fit your overall spending within your budget.
With that said, here are some examples of Christmas gift ideas for kids using the 4 gift rule.
Examples of how to use the four Gift Rule
For Infants:
1. Something they want: A nice, wooden toy
2. Something they need: Put money in their investment accounts. Ally Invest is a great option if you don't already have an account. Ally Invest offers custodial accounts and the lowest price in the industry – $4.95 per trade, with no minimum balance requirement.
3. Something to wear: A puppet or socks since they have so. many. clothes.
4. Something to read: Any book that has something interactive in it. My son could watch me open and shut the little windows on Brown Bear, Brown Bear all day long.
For Toddlers:
1. Something they want: A play kitchen
2. Something they need: A new coat and gloves or a big kid bed
3. Something to wear: Dress up clothes
4. Something to read: Something inspirational or memorable.
**Related – check out Amazon's 12 Days of Deals for deals on gifts for your family!**
For Older Children
1. Something they want: A new bike.
2. Something they need: The musical instrument they've been practicing in school.
3. Something to wear: The sneakers everyone has but you swore you wouldn't buy.
4. Something to read: An entire series they can enjoy during their winter break.
For Teenagers
1. Something they want: A cell phone.
2. Something they need: A tablet or laptop.
3. Something to wear: A gift card to their favorite clothing store
4. Something to read: A new series, a magazine subscription (Amazon has some good ones to select) or something that has to do with their career aspirations.
If all else fails for a teenager, you can also buy them an American Express gift card to use on something they want to get themselves.
You can also get them an experience through Living Social if you'd rather get them something and not just cash.
I'm starting to notice that kids get more expensive as they get older (and I thought the carseats we just bought were bad!) However, you'll notice that outside of these four gifts, there's really not much else you would get your children. These four gifts really cover all the bases, and they can limit you from going over the top.
The best part is that this rule still allows for some nice splurges except they are concentrated in just one or two items. If you don't like to fight the crowds either, you can do the bulk of your shopping on Amazon.
It's also important not to overlook potential savings on your Christmas shopping needs. You can take advantage in drops in prices from your online shopping with Paribus. 
Paribus compares prices against what you paid to find rebate opportunities. They also work with Amazon on shipping fees if no delivery attempt was made by the guaranteed delivery date.
Also, remember the above suggestions are merely options. You can customize the four gift rule to your budgetary needs and particular situation.
So, what do you think? Would the 4 gift rule work for your family? Would your children revolt if you instituted the four gift rule this Christmas? Do you have a method you follow to stay within budget on your holiday spending?
Save
The following two tabs change content below.
Catherine Alford is the go to personal finance expert for parents who want to better their finances and take on a more active financial role in their families. Check out her award winning blog,
CatherineAlford.com.