33+ Killer Ways to Make Extra Money Before Christmas
If you need to make extra money before Christmas, you only have a few months to go. Hard to believe, I know, but it's the sad truth. The average family spent over $800 on Christmas gifts in 2015, according to Gallup. If you don't budget for those expenses the money has to come from somewhere. This is where making extra cash before Christmas comes into play as we all know you don't want to finance the holidays on a credit card – that's just plain foolish.
Don't think you have the skills to make extra money? Please don't give into that belief! I know anyone can make extra cash, even without technical skills or knowledge. If you can wrap a gift or do yard work then you can make extra money before the holidays. Last I checked, nearly everyone can do those, and many other things.
Don't stop with the holidays though. Use them as an opportunity to make earning extra money a mindset. Find a goal you want to accomplish and use that new stream of income to attack it – whether it be paying off debt, putting away more money for retirement, saving extra spending money or something else, all of these things require extra money to accomplish. If you want or need to make extra money before Christmas, check out some of the following ways to help you do just that.
Killer Ways to Make Extra Money Before Christmas
Go Shopping
#1 – Get paid to shop. Why not make a little money back for Christmas shopping you're already doing? You can use a site like Swagbucks to earn cash back on all your shopping through earning points called SB points you can then turn into cash back – even on Amazon. Signup through this link and earn a $5 sign on bonus.
#2 – Personal shopping. Do you love to shop? Then turn that desire into a moneymaker and make money through Christmas shopping. I wouldn't pay someone to shop for me, but there are many out there who will. Advertise for free on Craigslist, use word of mouth or offer your services to neighbors. You can charge by the hour or by trip, but this can be a great way to make extra money before Christmas.
#3 – Make more money shopping. Ebates is another option to use for online shopping during the holidays. The beauty of Ebates is that you can earn cash back, like on other sites, but you can also apply other discounts. So, you can save money and make a little extra at the same time – not too bad. Like with Swagbucks, you get a $5 sign on bonus when you open an account.
#4 – Use a credit card. I know, I mentioned not financing Christmas on a credit card. That being said, if you plan on paying them off the next month then why not take advantage? Many credit cards have rotating categories allowing you to get extra rewards back, or you could sign up for a new rewards credit card to get some free travel out of your normal Christmas shopping.
***Additional resource: If you're looking for ways to save money when shopping online, check out some of my favorite sites – 15 Awesome Money Saving Websites.***
#5 – Mystery shop. I've never done mystery shopping, though I know many make extra money from it. You can earn things from free meals to other services and even cash in some instances.
TRY SOMETHING NEW
#6 – Be a Designated Driver. Yes, you can drive for Uber or Lyft and make good money while doing it, but there are also companies who hire out Designated Drivers. You can drive as little or as much as you want. Turn your free time into extra cash and keep the streets safe. If you'd rather not deal with drunk people, you can sign up to be a driver for Uber Eats and deliver meals for cash.
#7 – Take surveys. Ok, you're not going to get rich quick taking surveys but you can still make a little extra money for your budget. There are many survey sites out there that allow you to make extra money in your free time. The best ones are: Opinion Outpost, VIP Voice, Survery Junkie, Earning Station, OneOpinion, ProOpinion,Vindale Research, CashCrate, ShopTracker, National Consumer Panel, PineCone Research, Reward TV, Inbox Dollars, MySoapbox, Ipsos iSay, Survey Voices,  ClickPerks or Harris Poll – each with their own specialty. Sign up for a few and increase your earning ability!
#8 – Start a blog. Starting a blog may seem overwhelming, but it really isn't. I have few technical skills, but I started this blog four years ago and I've more than replaced the income from my former day job. If you need help starting a blog, Bluehost can get you started with only a few clicks and you get hosting for as little as $2.95 per month when you sign up through my link. It does take some time to make money blogging, but it can be very lucrative. One way you can make money blogging is through affiliate marketing. My good blogging friend Michelle makes over $50,000 each month through affiliate marketing and offers a course where she shares all her tips. Sign up for Making Sense of Affiliate Marketing to learn how to make money blogging.
#9 – Retail arbitrage. The main method to do this is through Amazon. Do you have an eye for a good deal? You can sell those items, for a profit, by using Amazon FBA. You can make hundreds, or more, each month by selling items through Amazon. Here are some free training courses to help get you started to make money on Amazon.
.
Spread Holiday Cheer
#10 – Be Santa. Do you have a beard? This is a great way to make extra money before Christmas. My Dad did this for years and makes nice money doing it.
#11 – Wrap presents. Do you like to wrap presents? Many don't and retailers charge $5+ per gift. Undercut them and you can make some decent money if you're quick with it.
#12 – Bake. The holidays are all about baked goodies. If you can make some mean cookies or other food, turn your time into cash. This can work for office parties, in-home Christmas parties and more.
#13 – Hang Christmas lights. People go all out where we live, hiring professional companies to decorate their yards. I'd never spend money on that, but many like it. If you love setting up Christmas lights this can be a great way to make a little extra money.
#14 – Work holiday parties. If you live in a bigger city there are likely many large holiday parties thrown. If you have serving, bartending or valet skills (who can't drive a car?) you can make some nice cash. You may need to go through a company to do this, but it can still be a great way to make extra money before Christmas.
#15 – Decorate. Do you love to decorate your house for Christmas? Turn that into extra cash by offering your services to neighbors, co-workers, etc.
Traditional Methods
#16 – Get a part-time job. This isn't my most favorite way to make extra cash before Christmas, but I have done it. Retailers ramp up hiring before the holidays to handle increased traffic. Just make sure not to spend all your earnings on discounted store products. 😉
#17 – Babysit. This is the standard of making extra money. With all the parties, events, etc. during the holidays there is ample opportunity to make money. It's nothing to see a babysitter make at least $8-10 per hour.
***Additional resource: If you want a great way to begin saving money before the holidays and cut down your high priced cell phone bill, check out Republic Wireless. Plans start at $15 per month for unlimited talk, text and WiFi data, plus they pay you back for what data you don't use.***
#18 – Ask for a raise. When was the last time you got a raise? If it's been awhile, stop waiting and ask! If that's not a possibility, then volunteer for overtime work. Often times, the best place to make extra income is in your current job.
Get Creative
#19 – Sell something on Etsy. Are you good at crafts? Turn that skill into cash. I know it may take time to set up a store or stand out, but this can be a nice way to make extra cash before the holidays if you know what you're doing.
#20 – Take pictures. Admittedly, this does require talent. I know I couldn't charge people to take pictures for them, but many can. If you have the skill and a nice camera turn it into extra money by offering your services for Christmas pictures, cards and more.
#21 – Start writing. Writing does take some talent, but all you need is a voice. There is a lot of opportunity online as many companies have content needs. If you have experience in a certain topic area you can turn this into money. I now make my income from writing online, though it did take time to build up. If you'd like training on how to write online, check out Cat's course to help get you started writing online.
#22 – Sell items at a craft fair. Don't want to take the time to establish a shop on Etsy? You can still make extra cash for the holidays if you are crafty. Sign up for a table at a craft fair or bazaar to sell your wares. You'll likely have to pay back some of your earnings to a charity or the event organizer but you get to pocket the rest.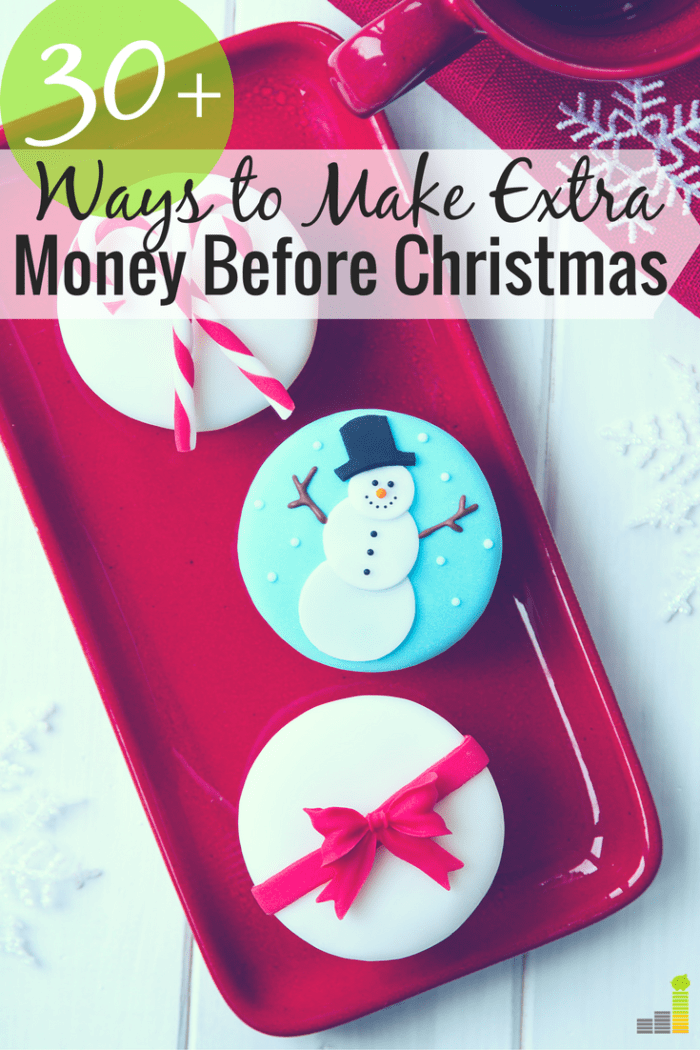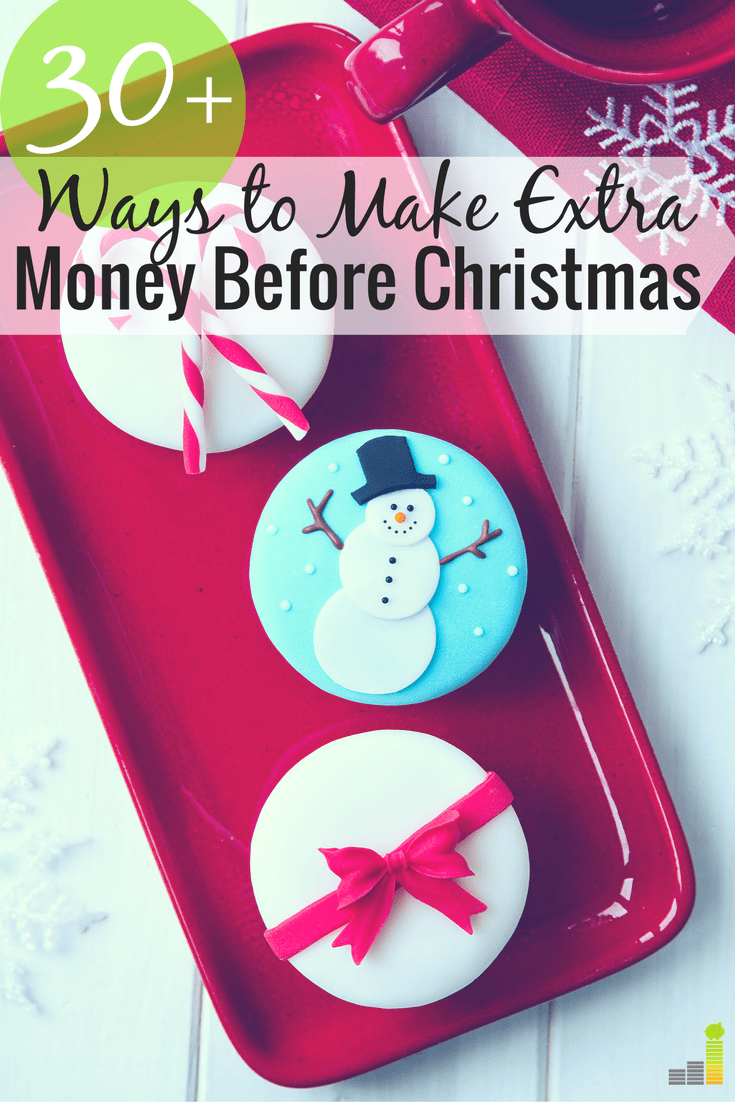 WORK AROUND YOUR NEIGHBORHOOD
#23 – Yard work. As a homeowner I can tell you yard work doesn't come to an end when the summer winds down. It's a year-round activity. Does your neighborhood have a lot of older trees? People hate leaves. Turn those leaves, or any other yard work activity into cash.
#24 – Shovel snow. Do you live in an area that gets a lot of snow? Turn that snow into cash. There are kids in our neighborhood who charge $25+ per yard to shovel snow. All it takes is a few clients and you can get started making some serious extra money.
#25 – Housesit. Do you know people who travel during the holidays? A warm body is about all this side hustle takes.
#26 – Clean homes. One thing to remember about holiday parties…often they're in homes. Last I checked, cleaners are expensive; if you know how to sweep and spray a little Windex this can be a great way to make extra cash before Christmas.
#27 – Clean Gutters. Remember the leaves earlier? You just can't rid of those things. If you have a ladder, and know how to clean out a gutter (really, who can't clean a gutter?!) this can be easy money. Turn it into a family affair and have one person do the gutters and the other rake.
***Additional resource: Looking to travel during the holidays for cheap, or rent out your house? Check out VRBO as a money saving or money making option!***
#28 – Run errands. The holidays are busy for many. If you have spare time and don't mind doing mindless tasks for friends or co-workers this you can be a lifesaver to them and you get to make extra money.
Miscellaneous
#29 – Open a brokerage account. Do you have an old 401(k) you need to rollover? Have you put off investing in the stock market? Many brokerages offer year-end promotions to get new clients, which is extra cash you can use to invest. You can start investing with someone like Motif Investing for as little as $250. Motif even offers up to $150 cash back when you open a new account.
#30 – Cash in old gift cards. How many gift cards do you have sitting around from last year? There are many sites out there that allow you to sell gift cards. Turn that plastic into cash you can use in better ways.
#31 – Open a savings account. I know a savings account may not seem like a good way to make extra money before Christmas, but hear me out. Saving money can be a hassle if you don't remember to to do it or automate it. Thankfully there's a service that handles all the work for you and saves you money in the background – that service is Digit. When you sign up for Digit, they analyze your spending and pull out small amounts every few days and put it in a fee-free savings account you can use at any time. You even get a savings bonus every three months!
#32 – Get rid of your crap. How much stuff do you have lying around the house you don't use? Instead of keeping the clutter sell it. There are many ways to do so – Craigslist, consignment, Ebay and more.
#33 – Sell a bodily fluid. Not the most pleasant, I know, but the holidays are a high need time for things like blood and plasma. You can help someone out in need plus make extra money!
#34 – Rent a second property. You can also rent out a second home or apartment. Do you travel much or do you own a second property? Consider listing your house or apartment on Airbnb to earn extra money on the side or create a new stream of income.
This list only scratches the surface of ways to make extra money before Christmas. The goal is to view it as a year round activity that helps you accomplish your goals.
What are some of your favorite ways to make extra money for Christmas? How much do you spend on Christmas shopping? How do you respond to people who say they can't make extra money?
Save
The following two tabs change content below.
I'm the founder of Frugal Rules, a Dad, husband and veteran of the financial services industry. I'm passionate about helping people learn from my mistakes so that they can enjoy the freedom that comes from living frugally. I'm also a
freelance writer
, and regularly contribute to GoBankingRates, Investopedia, Lending Tree and more.
Latest posts by John Schmoll (see all)