33+ Killer Ways to Make Extra Money Before Christmas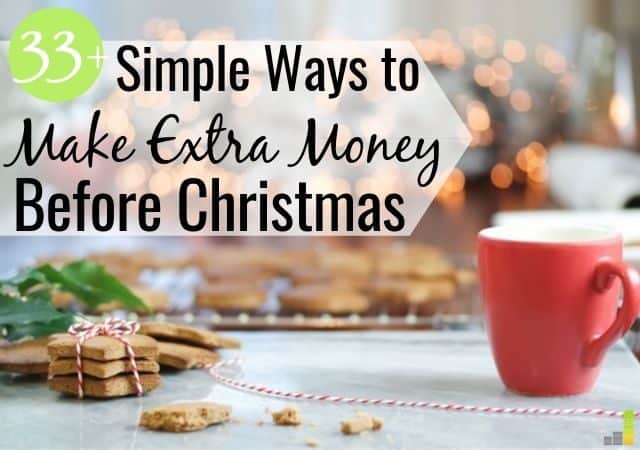 If you need to make extra money before Christmas, there are only a few months to go. Hard to believe, I know.
The average family spent over $950 on Christmas gifts in 2018, according to the National Retail Federation. If you don't budget for those expenses, the money has to come from somewhere. This is why making extra cash before Christmas is important. You don't want to finance the holidays on a credit card, because that's foolish.
Don't think you have the skills to make extra money? Please don't give in to that belief! Anyone can make extra cash, even without technical skills or knowledge. For instance, if you can wrap a gift or do yard work, you can make extra money before the holidays.
Don't stop with the holidays, though. Use the holidays as an opportunity to make earning extra money a mindset. Find a goal you want to accomplish and use that new stream of income to attack it.
Whether it's paying off debt, putting away more money for retirement, saving extra spending money or something else, they all require extra money to accomplish.
Killer Ways to Make Extra Money Before Christmas
Here are some of the best ways to make extra money before Christmas to help pad your budget:
1. Personal shopping. If you love shopping, you can turn that passion into a moneymaker by Christmas shopping for those who don't. Advertise for free on Craigslist, Facebook Marketplace, or use word of mouth to offer your services.
You can charge by the hour or trip, and this can be a terrific way to make extra cash before Christmas.
Would you rather work for a company to shop for others? Instacart Shopper lets you shop for groceries for people – either solely in the store or by delivering groceries. Shoppers can make up to $20 per hour with Instacart Shopper.
An option like Instacart Shopper is a great way to make extra money all year by shopping for others.
You can check out our guide on how to become an Instacart Shopper to learn how to maximize earnings.
2. Deliver meals. Meal delivery is big business, especially during the holidays when people are busy shopping or taking care of other errands.
You can make good money before Christmas delivering meals with DoorDash.
Fortunately, delivering meals doesn't have the same requirements as driving for Lyft (which we discuss later). If the weather permits, you can deliver meals via scooter, motorcycle, or bike. Like driving for Lyft, you can set your schedule with DoorDash.
Postmates is another terrific option that allows you to deliver groceries, in addition to meals.
Check out our guide on how to get paid for driving your car for requirements to deliver meals and how to increase your earnings.
3. Take surveys. We've said it before. You're not going to get rich quick taking surveys, but it can help you pad your budget. Fortunately, there are many survey sites out there that allow you to make extra money in your free time. Whether you're watching TV or waiting at the doctor's office, you can take surveys to earn extra cash.
Here are a few of the highest-paid survey sites to make money in your spare time:
Survey Junkie: This is our favorite survey site since they pay you cash directly to PayPal or let you redeem rewards for Amazon gift cards.
InboxDollars: Earn money for taking surveys or making purchases online. You can also get paid to watch videos on InboxDollars. Get $5 just for signing up.
InboxPays: Looking for a way to get paid to play games online? Not only can you do that with InboxPays, but you can also earn money taking surveys or printing off coupons.
If you want opportunities beyond surveys, it's best to consider get-paid-to (GPT) sites that pay you to perform various activities online.
Swagbucks is one option that gives you cash back on your online shopping, in addition to completing other tasks. Read our guide on the best Swagbucks alternatives for good options to consider.
4. Use a rewards credit card. I know I mentioned not financing Christmas on a credit card. However, it might be a good idea if you pay them off the next month. Why not take advantage of end-of-year offers and deals?
For instance, many credit cards have rotating categories that allow you to receive extra rewards back.
Or, you can sign up for a new rewards credit card to get some free travel out of your normal Christmas shopping.
5. Be a Designated Driver. Nothing ruins a holiday more than a ticket or DUI. Since many companies hire designated drivers for people attending parties or going out for a night on the town, this is a perfect time to make extra money as a designated driver.
You can also drive for Lyft and make good money while doing it. You can drive as little or as much as you want, and it's the perfect side hustle for those with free time and a newer car.
Lyft is currently offering a $1,000 earnings guarantee in your first 30 days. You need 125 rides in the first 30 days to reach the guarantee.
Check out our guide on how to make money driving for Lyft to learn how you can increase your earning potential.
6. Test products at home. Many companies like to receive feedback directly from consumers before launching a product. You can test physical products or food items.
Pinecone Research, generally known for surveys, also partners with companies to perform product testing. They pay you for your time to test the product plus $3 to take a survey afterward.
If the product launches publicly, the company often rewards testers with a free offer, or a discount to buy the item. Many ask, 'is Pinecone Research safe?' Read our review to see how the platform works and how to increase earnings.
7. Get paid to shop. Why not get a little money back for Christmas shopping you're already doing? You can use the Ibotta app to earn cash back on your shopping. Ibotta began as a grocery rebate app, letting you earn cash back on groceries.
However, you can now use Ibotta at over 350 retailers to earn cash back on shopping. You get $10 when you sign up and can start cashing out once you hit the $20 threshold.
8. Become a Virtual Assistant. A virtual assistant (VA) is actually one of the best ways to make extra money from home year-round. V
As help people with tasks ranging from social media and email management, to online data input jobs, to scheduling meetings and invoicing clients.
They can even perform online research and blog management. Bottom line, if you need a task completed, a VA can get it done. Beginner VAs can earn anywhere from $15 – $20 per hour while experienced ones can earn $30 or more per hour.
My friend Kayla started out as a part-time VA and now runs her freelance VA business full-time. She earns over $10,000 per month working from home as a VA.
This means that being a VA has the potential to be one of the best high paying jobs for anyone wanting to work from home.
If you're interested in starting your own freelance VA business, sign up for her course to learn how you can start earning money as a VA.
9. Rent out your car. Did you know you can make money on the side by renting your car? If you don't use your car much and are comfortable renting it out, this is a great option to make money before Christmas.
You can rent your car through Turo as long as it has less than 130,000 miles and less than 12 years old. Turo handles all the administration of renting your car and they provide insurance equal to the cash value of the car.
You will need to provide the license plate number, make, model, year, and a photo of the car to list it for rental. You also want to check with your insurance provider to verify they will cover damages in the event of an accident.
10. Make more money shopping. Rakuten, formerly known as Ebates, is another option to use for online shopping during the holidays.
The beauty of Rakuten is that you can earn cash back, like on other sites, but you can also apply other discounts.
So, you can save money and make a little extra at the same time! You even get a $10 sign-on bonus when you open an account.
11. Proofread. Do you have a degree in English or have an eye for grammar? You can use those skills to make money proofreading content to ensure it's grammatically correct and reads well, and you can often make $20 or more per hour.
Our friend Caitlin Pyle provides a free webinar, Proofread Anywhere, that teaches you how to land general proofreading and transcript proofreading jobs you can do from the comfort of your home (or anywhere else you choose).
12. Teach. Teaching is an awesome way to make extra money. If you have a bachelor's degree or are in your final year of college, you can teach students overseas with VIPKid.
It's all done online and from the comfort of your home. Not only that, but they also provide all the lessons plans and course materials you need, and you can earn up to $22 per hour. All you need to teach is a computer with a webcam.
Another perk with VIPKid is that you get to set your own hours. They focus on teaching younger students, ages 4 through 12, and you never have more than four students in one class.
VIPKid isn't the only opportunity to teach from home. You can also teach with EF Education First to make money.
EF Education First: EF Education First is the largest foreign-language company in the world. Like the other opportunities, you get to make your own schedule. You also get to teach either students or adults with EF Education First.
Check out our guide on how to teach English online from home if you're interested in this opportunity.
13. Get paid to lose weight. Do you want to lose weight, but lack the motivation to start? If you're like me, making money is a great motivator. And yes, you can even make money losing weight.
HealthyWage is a service that lets you bet against yourself to hit a specific weight loss goal. Here's how the service works.
You go to HealthyWage and enter how much you want to lose, it has to be at least ten percent of your body weight, and the amount of time you want. You also enter how much you want to bet.
Their calculator determines how much you can win, which is up to $10,000. You have weekly weigh-ins, where you enter the weight you lost for the week, as well as support others on your team. Once you hit your goal, you can claim your earnings.
Head over to HealthyWage now to see how much you could win.
14. Get rid of your crap. How much un-used stuff do you have lying around the house? Instead of keeping the clutter, sell it through BuyBackWorld.
BuyBackWorld buys old electronic devices, gaming consoles, and phones, and is a great way to sell old electronics for cash. To begin, go to the BuyBackWorld site and type in the bar code from your products.
They'll then tell you how much they'll pay and send you a packing slip to mail your items.
Within 24 hours of receiving your products, they pay you via direct deposit or PayPal. If you'd rather not ship items, do an internet search for 'salvage yard near me' to find local places that buy electronics and metals.
15. Rent a second property. Are you planning on traveling during the holidays? Do you have a second property? If so, you can make money renting your property through Airbnb.
To increase your chances of renting your property, make sure to take great pictures and specify exactly what's included in the rental. Although there are administration and cleaning fees, renting through Airbnb can develop into a solid year-round passive income opportunity.
Supercharge Your Savings Today!
Start earning more on your savings right now with
CIT Bank
. They pay .95% interest on your balance when you commit to depositing at least $100 per month into your savings account via ACH.
Enjoy quick and easy access to your money, which is FDIC insured up to $250K. Start saving today with as little as $100 per month!
Check out our Airbnb host checklist to learn how to maximize earnings.
16. Walk dogs. Do you love to spend time with dogs, plus get exercise? If so, you can walk dogs with the Rover app.
You create your own schedule to walk dogs. You also set your rate and specify the type and size of dog you prefer. Like other choices on our list, this is an opportunity to make money all year.
*Related: Looking for other choices to earn spare cash? Check out our top ways to make free money online any can do.*
17. Housesit. Do you know people who travel during the holidays? A warm body is just about all this side hustle takes.
You can advertise your services on Facebook Marketplace, use word of mouth, or create a profile on Housesitter.com to start getting clients.
18. Babysit. This is the most common method for making extra money. And thanks to all the parties and events during the holidays, there are plenty of opportunities to make money before Christmas.
You can advertise your services on Sitter.com, allowing parents to check your references and do a background check so they're comfortable using you.
19. Run errands. If you have spare time and don't mind performing mundane tasks for friends or co-workers, you can be a lifesaver to them and make extra money doing it.
This is also another opportunity to drive for Lyft since you can make money driving people around town as they run errands.
20. Pet sit. This opportunity lets you go beyond simply walking dogs by providing additional services.
You probably have neighbors traveling this time of year, many of whom have pets. The Nextdoor app lets you use your iphone or ipad to connect with people in your area who need a pet sitter while they're away from home.
21. Open a brokerage account. If you have an old 401(k) you need to roll over or you've put off investing in the stock market, many brokerages offer year-end promotions to earn your business. You can use those promotions to your advantage and invest the extra cash.
You can start investing at a brokerage like Wealthsimple that has no minimum balance. Wealthsimple offers up to $100 cash back when you open a new account.
22. Cash in old gift cards. Do you have gift cards sitting around from last year? Why not sell them to Raise and turn that plastic into cash?
23. Retail arbitrage. Do you have an eye for a good deal? If so, you can sell items for a profit through Amazon FBA – Fulfillment by Amazon. There is a lot of profit potential as a reseller on Amazon.
This does take time to build up, but it can be an outstanding way to start a small business. Check out the free training courses by The Selling Family to get started.
If you'd rather not sell products on Amazon, you can always sell gently used clothes and items on Facebook Marketplace or Craigslist.
24. Be Santa. Do you have a beard and enjoy being around kids? If so, this is a great way to make extra money before Christmas. My dad did this for years and earned nice money doing it.
25. Hang Christmas lights. People go all out here in Omaha, hiring professional companies to decorate their yards. Although I'd never spend money on that, many people enjoy it. If you love setting up Christmas lights, this can be a great way to make a little extra money.
26. Start writing. While writing does take talent, all you need is a voice. There are numerous opportunities online as many companies have content needs ranging from blog posts to speeches. If you have experience in a certain area or have excellent research skills, you can turn this into money.
The pay for freelance writers can range from $100 for a blog post to hundreds of dollars. Once you gain a few clients, this can be a great way to make an income.
Check out our guide on legit work-from-home jobs to learn more about this opportunity to make extra money.
27. Get a part-time job. Although this isn't my favorite way to make extra money for Christmas, I have done it. Since retailers ramp up hiring before the holidays to handle increased traffic, it's easy to find seasonal work to make money on the weekends prior to the holidays.
Just make sure you're not spending all your earnings on discounted store products.
28. Sell something on Etsy. Are you crafty? If you are, you can turn that skill into cash. Although it can take time to set up a store and attract buyers, if you know what you're doing, this can be a wonderful way to make extra cash before the holidays.
29. Save your change. Do you only use cash? Save all of your change during the season to pad your savings account. Take it up a notch and save $1 and $5 bills too.
30. Wrap presents. Do you like to wrap presents? Many people don't, and since retailers charge $5+ per gift, if you undercut them you can make some decent money, especially if you're quick at wrapping.
31. Bake. The holidays are all about baked goodies. If you can bake some mean cookies or other food, turn your time into cash. This can work for office parties or in-home Christmas parties.
32. Work holiday parties. If you live in a bigger city, there are likely large holiday parties happening and if you have serving, bartending, or valet skills, you can make some nice cash.
33. Shovel snow. Do you live in an area that gets lots of snow? Similar to leaves, people see snow as an inconvenience. So why not use that and turn the snow into cash?
There are kids in our neighborhood who charge $25 or more per yard to shovel snow. You can make that kind of extra money, too. All it takes is a few clients to start.
34. Clean homes. If there's one thing to remember about holiday parties, it's that they're often in people's homes. And while house cleaners are expensive, people are willing to pay for help. If you know how to sweep and spray some Windex, this can be a simple way to make extra cash before Christmas.
35. Sell a bodily fluid. Not the most pleasant, I know, but the holidays are a high need time for things like blood and plasma. You can make money donating plasma or blood and help someone in need.
Make Extra Money For Christmas: Bottom Line
This list only scratches the surface of ways to make extra money before Christmas. However, the goal of this list is to get you started on some activities and encourage you to use that momentum to make extra money all year. With a little creativity and effort, you'll be surprised at how much you can add to your earnings.
What are some of your favorite ways to make extra money for Christmas? How much do you spend on Christmas shopping? How do you respond to people who say they can't make extra money?
Save
The following two tabs change content below.
John is the founder of Frugal Rules, a dad, husband and veteran of the financial services industry whose writing has been featured in Forbes, CNBC, Yahoo Finance and more.
Passionate about helping people learn from his mistakes, John shares financial tools and tips to help you enjoy the freedom that comes from living frugally. One of his favorite tools is Personal Capital , which he used to plan for retirement and keep track of his finances in less than 15 minutes each month.
Another one of John's passions is helping people save $80 per month by axing their expensive cable subscriptions and replacing them with more affordable ones, like Hulu with Live TV.
Latest posts by John Schmoll (see all)