7 Best Places to Sell Old Electronics For Cash Near Me
Whenever you need to make extra money quickly, trying to sell old electronics for cash and other unused and unwanted items from your home is one of the best and easiest ways to earn extra money. You can even sell broken electronics for cash and make some decent money fast.
More than 90 percent of Americans own a computerized gadget making electronic devices among some of the best-selling items that let you get cash for old electronics, even if the item isn't in mint condition.
Don't believe me? Just go online and see how many people are choosing to sell electronics for cash, including broken devices, for parts. They are still very valuable regardless of usability.
Odds are, you have a laptop, desktop computer, tablet, smartphone, iPod, digital camera, TV, video game or game system that you can sell for extra money.
Best Places to Sell Old Electronics for Cash
Do you have old devices you no longer use? Instead of letting them collect dust, you can sell them for cash. Below are the best places to sell old electronics for cash.
1. Gazelle
Gazelle is one of the top places to sell your old devices for cash. The Gazelle platform buys back a fairly wide range of devices, though not as many as some. Below are some of the old electronics Gazelle will pay cash for:
iPhones
iPads/tablets
Samsung phones
Macbooks
Mac desktops
Blackberry devices
Gazelle is fairly simple to use to sell your item. You tell them the item you want to sell and they give you an offer in less than a minute.
If you decide to take their offer, they send you a trackable shipping label so you can ship your item to them for inspection. This process tends to take no longer than a week and afterward, Gazelle will send your payment via check or PayPal.
Gazelle is A+ rated by the Better Business Bureau, and has a consumer rating of 4.5 out of 5 stars.
You can also turn your item in at any Gazelle kiosk in your area for immediate cash. Their kiosks only accept phones, tablets and MP3 players and offers tend to be lower than what you'd receive online.
2. Sell Old Electronics on Amazon
If you want to try selling old electronics for cash directly, Amazon is a great place to find buyers on your own. You can set up a seller account and create your own listing.
Should you go this route, be sure to take clear pictures and use specific keywords to describe your item. You can sell a wide array of old electronics for money through Amazon. Below are just a few examples:
Phones
Tablets
Cameras
Blu-Ray players
Streaming media players
If you don't want to sell your item you can also take advantage of Amazon's Trade-in program that allows you to send your old video games, Kindles, books, electronics, DVDs, etc for Amazon gift cards.
This is one of the best ways to earn free Amazon gift cards if you just want to turn it around to use later on Amazon.
Depending on your location, trade-in items may take up to ten business days to arrive before they are processed, but you can track the items you send in.
*Related: Have a lot of old DVDs? Here are the best places to sell used DVDs and turn them into cash.*
Amazon does request that items must be at least in acceptable condition. You won't be able to sell broken electronics for cash this way, but can be a good option for items you no longer want.
3. Decluttr
Decluttr sounds just as they operate. You can sell virtually anything through Decluttr for cash. Below are just a few of the items you can sell to Decluttr for cash:
iPhones
Android-based phones
Most any iOS based devices
Kindles
CDs, DVDs, and Blu-Rays
Gaming consoles
Blackberry devices
You can even sell books and Legos to Decluttr for cash. The process to sell old electronics for cash to Decluttr works similar to that of Gazelle.
You go to the Decluttr site and enter in the barcode of the device. You can also use their app if you choose. Within minutes you get a quote for what they will pay you.
Assuming you take the offer, you can either print off a free shipping label or take it to a UPS store (where they take care of it for free). The day after Decluttr receives your item they pay you via either PayPal, direct deposit, or check.
Just make sure to be honest in your description of the item to ensure you get the most cash for it.
4. BuyBackWorld
BuyBackWorld works similar to Gazelle to sell your old electronics for cash. The BuyBackWorld platform buys a wide variety of electronics, including:
Phones
Tablets
Laptops
Cameras
Game consoles
Gadgets such as Apple Watches and iPods
BuyBackWorld buys both Android and Apple based products. When you go to their website, you provide the product you want to sell and they give you a quote. BuyBackWorld buys new, used, and broken electronics for cash. They even buy unused gift cards.
Assuming you accept the offer, they provide a shipping label for you to send in the device(s). Upon receiving the item(s) they pay you via either check or PayPal. The process takes roughly a week, and you can expect payment faster if you choose PayPal for payment.
5. Buyback Boss
If you're simply looking to sell your old phone for cash, BuyBackBoss may be a good option. They don't buy back quite as many items as does Gazelle or Decluttr, but can be a good option if you just want to get rid of your iPhone or Samsung based phone. They also take back iPads on occasion.
BuyBackBoss works like other sites that buy old electronics for cash. You enter your barcode and they give a quote within minutes. If you take their offer, they provide a prepaid shipping label to print off so you can mail the item for free.
Make Extra Money by Taking Short Surveys
Taking short surveys in your free time can be an awesome way to earn extra money fast! The instant you finish a survey,
Survey Junkie pays you in cash via PayPal
. 6 Million users and an 8.9/10 Trust Pilot rating prove you can trust them.
The day after BuyBackBoss receives the item they send payment via PayPal or check. BuyBackBoss also buys broken electronics for cash, so keep an eye open for those opportunities.
6. GameStop Trade-In
GameStop is a popular franchise where you can purchase video games, consoles, accessories and other electronic devices. If there is a store in your area, you can bring in your devices for inspection and receive either store credit or cash.
Currently, GameStop is offering to pay up to $400 for smartphone trade-ins depending on the type of phone and the condition.
You can also get a $200 credit when you trade in select items to put toward a new Xbox or Xbox One purchase.
7. Target Trade-In
Like the idea of selling old electronics, but prefer a gift card to cash? You can use the Target Trade-In program to get Target gift cards for your old devices.
Target accepts the following types of devices:
Games and gaming consoles
Tablets
Phones
It's fairly simple to use the Target Trade-In program. You go to the Target site and input your barcode. Once you accept their offer you can print off a prepaid packing slip to mail them the item.
The day after they receive the item they send you a Target gift card in the amount of the trade-in. Walmart and Best Buy also run similar programs if you prefer gift cards from them over Target.
8. Bonus – eBay
eBay is another place you can sell used electronics online for cash. When you create a listing and make a sale, the site will take a small fee out of the purchase price (just like Amazon) so keep that in mind and also consider shipping costs when pricing your item.
As most know, eBay also has an auction format where you can list your item and have buyers bid on the final price. With this option, be sure to set your item at a minimum price that ensures the item doesn't sell for less than its value.
Where to Sell Old Electronics for Cash Nearby
As you can see, it's relatively simple to sell old electronics for money online. However, you may not want to deal with mailing items somewhere and sell it locally. Many ask themselves 'where can I sell electronics for cash near me?' and believe they have no options.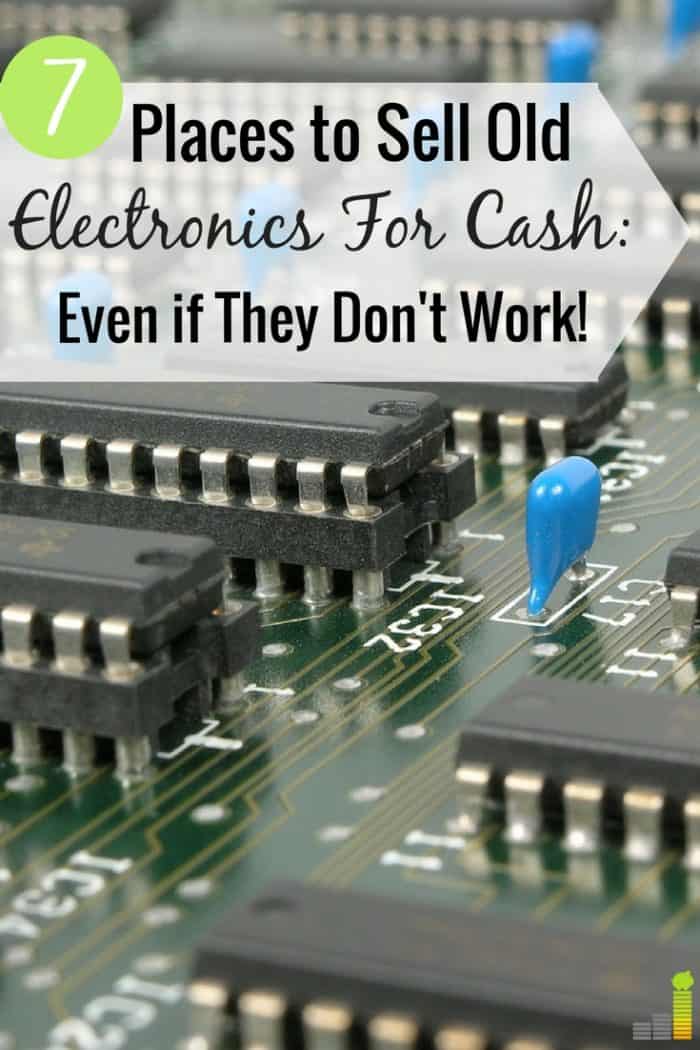 Thankfully, that is not the case. There are several options to sell old electronics for cash nearby, largely through one of the three below options:
When trying to sell electronics for cash through Craigslist or Facebook make sure to take some precautions. It's best to meet the individual in a public place, during the day. You also only want to take payment in cash.
You also want to take some precautions with the device to ensure your protection, such as:
Back up photos, videos and data
Encrypt your data and then wipe it from the device
Disable factory reset protection
Perform a factory reset
You want to make sure to do the above steps to protect your data. There are apps available to take care of the last steps so you don't have to do it manually. Security aside, if you're asking yourself 'can I sell my phone for cash near me?' there are often plenty of options available to sell it for cash.
Selling your old electronics can easily put extra cash in your pocket. While there's no guarantee that you'll receive an offer on your items, the process to either request a quote online or sell your item locally to a buyer are both pretty easy and won't take up too much of your time.
Just keep in mind that the older devices or ones with more wear and tear may not be as profitable, but you still may be able to make some type of profit off the sale especially if the item was just sitting in your home collecting dust.
How many old electronic devices do you have lying around the house? Have you ever tried selling old electronics for cash? Do you have any concerns about selling old cell phones or other old electronic devices for extra money?
The following two tabs change content below.
Chonce is a freelance writer who's obsessed with frugality and passionate about helping others increase their savings rate, eliminate debt, and work toward financial stability. She chronicles her journey with balancing motherhood, work, and finances on her blog, MyDebt Epiphany.com