11 Auction Sites Like eBay to Sell Your Stuff Online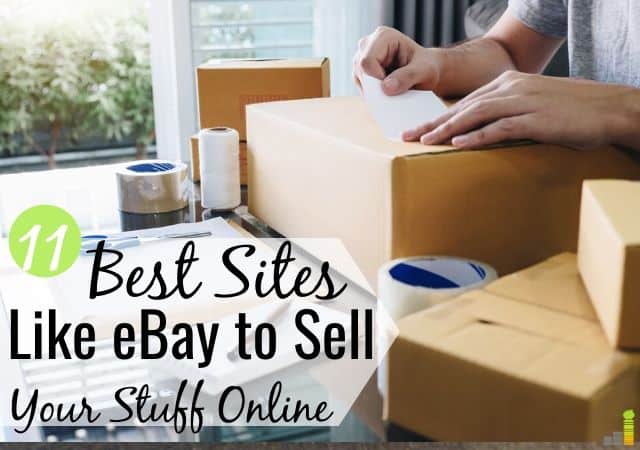 Do you like to sell items online? If so, you're likely well aware of eBay. The online giant is widely known for its online marketplace, allowing people to sell their stuff. However, there are many other sites like eBay that let you sell items for top dollar.
Selling your stuff on eBay comes with one significant benefit – it's huge. The site has millions of active users worldwide that want to buy or sell items locally or not-so-local.
But, there are alternatives to eBay that work just as well, if not better than the online powerhouse. If you like to occasionally sell your stuff online, our guide shares a few of the best eBay alternatives to make money.
Best Auction Sites like eBay
Thanks to its size, you can sell virtually anything on eBay. From cars to clothing, it's possible to sell it on the online marketplace.
While a few of the eBay competitors allow you to sell a similar array of items, many of them focus on several specific types. Many also offer two key benefits to selling on eBay:
They often charge lower, if any, fees
There's less competition, so it's easier to stand out
This fact makes the top competitors worth considering. If you're looking for new sites to sell your items, here are the best selling sites like eBay to turn your clutter into cash.
1. Amazon
Amazon offers one of the best alternatives to selling on eBay. The retailer, like eBay, boasts millions of users, though it's larger than eBay.
As a seller on Amazon, you get access to customers from around the world. The best part is you pay no fees to sell on Amazon, aside from $0.99 per item you sell.
This is assuming you're not a professional seller.
While eBay does offer some listings for free, they charge you per listing once you pass the limit.
If you want to succeed in selling, it's typically new or handmade items that fare the best. However, if your used item is in good condition, you should have success.
As a seller on Amazon there are a few fees to keep in mind:
Fee per item sold – Individual sellers pay $0.99 per item sold. Professional sellers: No per item fee. (but you must pay $39.99 per month)
Shipping fees – This is charged based on the product's category and shipping service method selected by the buyer.
FBA fees – Varies depending on if the item is apparel or non-apparel and how large it is.
Subscription fees – There are two selling plans. Professional has a flat rate of $39.99 per month. The individual plan rate is $0.99 per item sold.
Amazon offers plenty of different inventory and metric tools to make keeping track of your sales simple.
If you want to make money on Amazon but don't want to deal with shipping, that's also possible through Fulfillment by Amazon – known as Amazon FBA.
Through Amazon FBA, the site handles all shipping, so you only deal with selling the items. Check out the course by our friends The Selling Family to help you learn how to grow an Amazon FBA business.
2. Bonanza
Bonanza is one of the more unique websites like eBay. They market themselves as the site to find anything but the ordinary.
The site focuses on collectible or unique items. Still, like eBay, you can sell virtually anything on Bonanza – both new and used items.
Bonanza is a little different than some of the other selling sites on the internet. They do not charge a listing fee for sellers.
You will get hit with a fee when you sell an item, but it's 3.50 percent instead of the ten percent that eBay charges.
If you want online auction sites like eBay, Bonanza does not offer bidding on products; instead, you sell at a fixed price.
3. BuyBackWorld
If you're looking for platforms to sell electronics, BuyBackWorld is an excellent choice. Unlike other apps like eBay, BuyBackWorld focuses solely on used electronics.
You can sell the following items to BuyBackWorld:
Cameras
Gadgets like Apple Watches and iPods
Game consoles
Laptops
Phones
Tablets
BuyBackWorld has no charges to use the platform, so it's one of the best platforms to sell used electronics for cash. The site is relatively simple to use.
When you go to the site, you provide the name of the item you want to sell and its condition. You will then be provided with a quote on the item based on the information you submitted.
If you like the quote, you accept it, and they provide you a postage-paid shipping label. If the item condition doesn't match what you initially said when BuyBackWorld receives it, they revise your offer.
BuyBackWorld offers payment via PayPal or check, and the entire process takes one week from shipping the device.
4. SellCell
While BuyBackWorld is a top site to sell used electronics online, you only receive a quote from their platform. This method does not allow you to compare multiple quotes.
If you want to receive simultaneous quotes, SellCell is one of the best online selling sites like eBay to make money for your electronics.
SellCell allows you to compare quotes from several dozen platforms. They do not buy the items, but they connect you when you choose a quote.
Like BuyBackWorld, SellCell is free to use, and they provide you a shipping label when you accept an offer.
SellCell specializes in letting you sell used cell phones for cash, but the service buys other devices, including:
Amazon Kindles
Desktops
Fitbits
GoPros
Laptops
SellCell is so sure that you won't find a better deal that they offer a 'best price' guarantee. If you happen to find someone to give you a better price within 24 hours of your order, they will give you a refund of double the difference.
5. Etsy
If you love to create unique things or have some antique items to sell, Etsy is a suitable option. Etsy allows you to create your own online shop to list handmade, custom, unique, or vintage goods.
What makes Etsy unique from other websites similar to eBay is a marketplace for handmade products. Instead of a site where you can find just about anything, Etsy is a site that specializes in creative products.
It's free to create a storefront on Etsy, but you must pay a $0.20 listing fee per item you list. Etsy also charges a 3.50 percent transaction fee and a three percent payment processing fee.
Regardless of the cost, Etsy is still cheaper than eBay to sell stuff online.
6. Craigslist
Cragslist is one of the best sites to sell stuff online and one of the top alternatives to eBay.
The site receives a lot of traffic, especially if you live in a larger city. The main difference between the two is that Craigslist is for local buyers and sellers, while eBay allows you to bid on items and have them shipped to your home.
Another notable difference between Craigslist and eBay is the former does not charge a fee to sell most items. Craigslist is free to use, allowing you to keep the entirety of the income from your sale.
While you can ship an item to someone, it's easiest to sell an item to a local person. Craigslist isn't the only eBay alternative to sell items locally.
Read our guide on other sites like Craigslist to sell your stuff locally.
7. LetGo
LetGo is similar to a few other online selling sites like eBay on this list. It's another way to find the best deals from people right in your neighborhood or city.
This means you can avoid shipping costs. The platform wants to make sure that all listings have clear, well-lit photos that do a good job representing what you are trying to sell.
One key benefit of using LetGo is the site's emphasis on visuals. It shows images of items for sale on its home page, as well as on listings.
People are visual, so this gives LetGo an advantage versus other auction sites like eBay that let you sell items locally.
Like Craigslist, it's free to list items for sale on LetGo. You also do not pay a fee once the item sells. The drawback is you can only sell items locally through LetGo.
LetGo has an app version that makes it easy to communicate with buyers. Or, you can choose to use their desktop version.
8. Ruby Lane
Do you like to sell unique or vintage items like dolls, antiques, or fine art? If so, one of the best eBay alternatives to do so is Ruby Lane.
Ruby Lane is not a site for you if you want to sell items occasionally. It's best for someone who wants to earn a side income selling unique or vintage items.
Because of that, Ruby Lane is not entirely free to use. You can create a shop for free, and listing items is free. You do get charged a monthly maintenance fee though:
$54 up to 50 items
$0.30 per item for 51-150 items
$0.20 per item for 151-1,000 items
$0.01 per item for 1,001+ items
The site also charges a 6.70 percent service fee on all order totals.
This site is an outstanding opportunity for anyone who is looking to make a business from selling items online since your fees go down as you list and sell more stuff.
9. Poshmark
Poshmark is a popular website that allows you to sell your gently used clothing online. Sellers list clothes for men, women, and children.
Once you list your items, you wait for an individual to purchase it.
Poshmark has also recently expanded the platform to allow sellers to list items for the kitchen, dining, bedding, and many other types of home goods.
Poshmark charges $2.95 for all items you sell under $15. If your sale is over $15, the platform charges 20 percent of the total order. Buyers pay for shipping, so you only pay the service fee.
If you want an alternative to consignment stores, Poshmark is worth a look.
10. eBid
If you're looking for bidding sites like eBay, eBid is a must-see. eBid works similar to eBay, as you can sell virtually anything on the platform – from CDs to cars.
It's a true online auction site, offering over 13,000 categories to choose from for selling items.
The one key difference between eBid and eBay is the price. It's free to create a listing on eBid. The highest fee you pay on eBid is three percent versus ten percent on eBay.
If you want to keep more of your profits, eBid is a terrific alternative to eBay.
11. Mercari
Mercari, unlike other online selling sites like eBay, focuses on offering a mobile-friendly marketplace for buyers and sellers.
While Mercari focuses on clothing and devices, you can sell other items, including:
Beauty
Handmade goods
Jewelry
Sporting goods
It's simple to use Mercari. You take a picture of the item with your phone and create a listing. You can talk to prospective buyers within the app, and the platform offering a shipping label once the item sells.
It's free to create a listing on Mercari. The only fee you incur is a ten percent fee on the total sales price, making it cheaper than eBay.
Summary
When you're getting rid of an item, it's always a good idea to consider selling it. You never know what you're going to get, and auction sites like eBay can positively surprise you.
Auctions work a little differently, but if it's an item people really want, doing it auction-style can help drive up the price due to demand. Keep in mind that with some sites, you may have to pay a fee to list or sell your item.
If the fee is small, it's usually worth it to get your item on a busy platform and in front of tons of potential buyers.
What is your favorite site to buy and sell items online? What alternatives to eBay are your favorite? How often do you throw out items that you could sell for money?
The following two tabs change content below.
Choncé is a freelance writer who's obsessed with frugality and passionate about helping others increase their savings rate, eliminate debt, and work toward financial stability. She chronicles her journey with balancing motherhood, work, and finances on her blog, MyDebt Epiphany.com