Using overnight delivery can be cost-prohibitive when you need to get a package somewhere quickly. After losing my father, I needed fast shipping to manage some of his affairs.
In some instances, you may not actually require next-day delivery but instead need something postmarked by a certain date. Mailing your tax return is an example of this. However, that may not be enough in other cases, and you might need to look beyond the U.S. Postal Service (USPS).
This guide shares the cheapest overnight shipping options to get your package or envelope to its destination quickly.
What's the Cheapest Overnight Shipping Option?
Affordable overnight shipping is essential as costs can often get out of hand when mailing an item. The major carriers include USPS, Federal Express (FedEx), and UPS.
*Related: Read our guide on the best places to make cheap copies if you need to include a copy of a document in your package.
Comparing USPS vs. UPS vs. FedEx is often necessary to keep costs low. Here's how the three services compare for cheap overnight shipping.
Federal Express
FedEx offers three options for next-day delivery. Which one you select depends on your needs.
Here are the three choices for overnight shipping services:
FedEx First Overnight: ensures next business day delivery as early as 8:00 a.m. to most areas. Rural areas may have later delivery times.
FedEx Priority Overnight: ensures next business day delivery by 10:30 a.m. for most businesses. You can expect delivery by 12:00 p.m. to most residences and by 4:30 p.m. to rural areas.
FedEx Standard Overnight: ensures next business day delivery by 4:30 p.m. to businesses and by 8 p.m. to most residences.
Cut-off times vary based on the location you send your package from. You will want to inquire at the location before making plans.
Additionally, deliveries to Alaska, Hawaii, and some remote rural areas may differ. It's best to ask before dropping off your package to ensure you can plan accordingly.
Saturday delivery is available, but it comes with an extra charge. According to the FedEx site, you can send packages up to 150 pounds each, with package dimensions of 119" in length and 165" in length plus girth.
UPS
Like FedEx, UPS has three tiers for overnight shipping. Here are the available options for sending a package:
UPS Next Day Air Early: ensures next business day delivery as early as 8:00 a.m.
UPS Next Day Air: ensures next business day delivery by 10:00 a.m.
UPS Next Day Air Saver: ensures next business day delivery by 3:00 p.m.
Delivery times may vary if your package is going to a rural area, Alaska, or Hawaii. Package dimensions and weight are similar to FedEx, with the only difference being a length of 108".
Cut-off times vary by location. UPS does offer Saturday deliveries for a small fee.
U.S. Postal Service
You may only think of the post office as an option to mail small packages and letters, but USPS does offer an overnight class of service.
However, there is only one guaranteed overnight service option.
Priority Mail Express: ensures next business day delivery by 6:00 p.m. or you get your money back. It also sometimes goes by the name of Priority Overnight.
This option offers delivery seven days a week. If you see a choice for Priority Mail, that doesn't offer a guarantee.
USPS is usually only for smaller packages as they have a 70-pound weight limit. It also has a package dimension limit of 108" in total length and girth.
If you have a small package or letter, you can handle postage at home via Stamps.com. New users qualify to receive a free scale and supplies kit.
All three shipping companies offer detailed tracking and weekend delivery, though FedEx and UPS charge more for the latter.
Unfortunately, same-day delivery is typically not available with these companies.
For this post, we focused on fast shipping times and finding the cheapest overnight shipping. We will analyze the three options to identify the most affordable for next-day air, with rates as of February 2023.
What is the Cheapest Way to Send Overnight Letters?
If you're sending a letter, USPS is the most economical option. Rates begin at $28.75 for anything you can fit in the flat rate envelope.
If you select Priority Mail Express, the guaranteed delivery date is the next day as long as you meet the cut-off time.
UPS Next Day Air Early rates start at $58.61. Dropping it to Next Day Air drops your cost to $28.61
FedEx First Overnight rates start at $65. Changing it to Standard Overnight lowers your cost to $32.
What is the Cheapest Way to Send Overnight Packages?
UPS is the most affordable option to deliver packages overnight. To compare prices, we tested a package that's 5" x 5" x 5" from New York, New York, zip code 10001, to Los Angeles, California, zip code 90001.
Finding the best rate depends on the level of service you choose from the respective shipping carriers. The weight of the package also impacts pricing.
If you have oversized packages, FedEx is likely your best choice, even if it's not the most affordable.
Here is what we found with our sample package.
FedEx Overnight Prices:
One pound: $102.73 – $154.30
Five pounds: $144.30 – $194.07
Ten pounds: $198.68 – $239.93
20 pounds: $290.79 – $336.89
50 pounds: $556.46 – $614.21
UPS Overnight Prices:
Up to 50 pounds: $26.35 – $44.75 as UPS offers flat rate shipping on up to 50 pounds.
USPS Overnight Prices:
One pound: $51.65
Five pounds: $83.55
Ten pounds: $122.90
20 pounds: $171.70
50 pounds: $382.00
As you can see, if you're looking for the cheapest way to ship something, your best choice is UPS, followed by USPS.
What is the Cheapest Way to Send Internationally?
DHL is the best choice if you need to overnight internationally.
You can overnight a letter weighing up to half a pound from Chicago to London, England, for $85.37.
It's possible to ship a 20-pound box that is 18" x 15" x 13" for $409.22.
Rates are quoted as of February 2023, and the delivery time depends on when you drop off your package.
What to Look For in Major Carriers
Dependability is key when comparing the major shipping carriers. As someone who has shipped various items overnight with each company, I've had positive and negative experiences with them all.
Trustpilot scores highlight this, with both UPS and USPS having a 1.2 out of five score. Federal Express scores minimally higher, with a 1.3 rating.
Finding the cheapest overnight service is terrific, but it's nothing if it misses the delivery date.
All three services offer expansive tracking and have retail locations. Only USPS offers a legitimate money-back guarantee to provide some peace of mind.
However, they only guarantee packages will be delivered by 6:00 p.m. the next day. If time is of the essence, you will be better served by UPS vs. FedEx.
Ultimately, you need to select the carrier you feel most comfortable with.
Is Overnight Shipping Really Overnight?
No shipping service is perfect, so there will be times when FedEx, UPS, or USPS will fail to deliver an item the next day. You can attempt to have your money refunded, but that may not make up for the failure.
If you want to ensure next-day delivery, plan to set it up for success. Identify the cut-off times for overnight delivery and understand the available tiers.
It will lower your shipping rates if you have flexibility in delivery. USPS wins in this case, but they may not have the reliability you want.
Getting your package dropped off as soon as possible and selecting the appropriate tier is the best way to ensure overnight delivery.
Which Carrier is Cheapest for Overnight Delivery?
Overall, USPS is the most affordable option for delivering letters and packages overnight.
If you only need to send an envelope or small package, their shipping fees are reasonable compared to the other carriers. You can even use Stamps.com for online postage service if you want to reduce your time at the post office.
Unfortunately, they only guarantee delivery by 6:00 p.m. and have issues with reliability.
How Can I Find USPS, UPS, and FedEx Shipping Rates?
Shipping rates vary based on the package size, company, and tier selected. The best way to determine what you will pay is to consult the respective shipping calculators.
Here they are:
All you have to do is provide some basic details of the package, like destination and dimensions, and you will receive a quote.
Who Has the Fastest Overnight Shipping?
FedEx is often considered the fastest overnight shipping option domestically. Its FedEx First Overnight claims to offer delivery as early as 8:00 a.m.
UPS has a similar claim with its Next Day Air Early, promising delivery by 8:00 a.m. the next day. However, their customer service scores lag behind FedEx.
UPS is more affordable than FedEx. If that is a priority, go with UPS.
Bottom Line
Shipping an item overnight often requires special consideration. You want to select a carrier that will take your business seriously and offer stellar service.
However, this doesn't come without cost. Before choosing cheap overnight shipping, make sure you do your research to identify your best choice.
What's most important to you when choosing a shipping provider?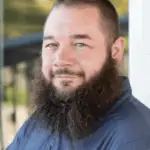 I'm John Schmoll, a former stockbroker, MBA-grad, published finance writer, and founder of Frugal Rules.
As a veteran of the financial services industry, I've worked as a mutual fund administrator, banker, and stockbroker and was Series 7 and 63-licensed, but I left all that behind in 2012 to help people learn how to manage their money.
My goal is to help you gain the knowledge you need to become financially independent with personally-tested financial tools and money-saving solutions.