Money orders are one of the best ways to pay individuals or providers for a service. They are similar to a check but better as they are a guaranteed payment since you already funded the transaction.
Personal checks are drawn from your bank account, and the recipient must trust that your checking account has sufficient funds. As a result, merchants are less likely to accept checks since there is more potential for fraud.
This guide shares a few of the best places to get a money order and avoid this problem.
Where Can I Get a Money Order Near Me?
Your city likely has numerous locations to buy money orders. Here are our top picks based on price.
| Retailer | Cost |
| --- | --- |
| Kroger | $0.69 |
| 7-Eleven | $0.75 |
| Walmart | $1.00 |
It's important to compare the fees and order limits to find the best deal.
1. Your Local Bank
When figuring out where to buy money orders, check with your bank or local credit union. It's possible that your financial institution may sell them at no charge with a qualifying bank account.
However, some institutions charge up to $5 per order. This fee can be more expensive than other places that sell money orders.
Each bank has its own limits and possible fees. Ask your local bank for more information.
Consider using your bank if the money order fee is $2 or less.
If you don't have a bank account, expect to pay more for your money order. This can also make cashing checks problematic. Read our guide on the best places to cash a check near me if that's your situation.
Benefits
Logo
CIT Bank - start your emergency fund
$100 minimum deposit requirement

Open a high yield savings account or money market with $100!

2. Grocery Store
Grocery stores are an excellent option for cheap money orders. They often cost less than $1 and can have higher limits.
Scanning your store loyalty card may help you get a small discount.
*Related: Need to go to the bank, but not certain if it's open? Read our guide on are banks closed today to learn if it's open for business*
If you need to purchase a money order and don't have a bank account, a supermarket may be the best option.
Most stores partner with Western Union for processing.
Below are several stores that sell money orders and what to expect for cost:
Kroger stores include King Soopers, Baker's, Cala Foods, Fred Meyer, Dillon's, and others. The other stores are standalone chains.
Your local grocer may vary on what they offer or charge. Visit the store's customer service center to learn more.
3. Walmart
With over 5,000 reported retail locations in the United States, it's likely you live near a Walmart.
Similar to a grocery store, Walmart is a good choice to purchase money orders.
If you live near a participating store, here's what you need to know:
Service used – MoneyGram
Fee – up to $1 per money order
Limit – $1,000 per money order
It's possible to pay for a money order with cash or a debit card at a Walmart Supercenter or Neighborhood Market.
Visit the customer service desk or money services center to start the process.
If you want to cash a money order, Walmart provides this service. However, they will only do this for money orders they issue. You will pay a fee that varies based on location.
4. U.S. Post Office
In addition to banks and supermarkets, your local post office is another suitable choice.
The post office issues their own money orders, so they're not from MoneyGram or Western Union.
Like the other vendors, postal money orders cap out at $1,000 within the United States. It's also possible to send money internationally to most countries.
They also cash any money order they issue for free, though they will not cash those from other vendors.
The fee to buy a postal money order depends on the amount you spend. The fees are:
$.01 – $500: $1.45
$500.01 – $1,000: $1.95
Postal military money order: $0.50
If you need to mail the money, your local post office is a terrific option to do everything at once.
5. CVS
CVS is a fantastic option to buy cheap money orders. The pharmacy store giant specializes in over-the-counter and prescription medication, but they also offer minimal banking services.
Here's what to expect when purchasing a money order at CVS:
Service used – MoneyGram
Fee – up to $1.25 per money order
Limit – $500 per money order
CVS has over 9,900 retail branches across the country, according to its website. Most stores offer money orders, but checking with individual locations is an excellent idea before heading out.
Click here to find a location by your home or office.
6. 7-Eleven
If you live near a 7-Eleven, you can buy money orders at your local store.
The chain has locations in over 30 states, including Washington D.C., according to their website. They sell the instrument as a part of the 7-Eleven Financial Services offering.
*Related: Looking for the best place to get rid of your coins? Read our guide on the best places that offer free coin counting near me and avoid the Coinstar fee.*
When obtaining a money order from 7-Eleven, here's what you'll get:
Service used

– MoneyGram and Western Union, depending on the location
Fee – $0.75
Limit – $500 per money order
Keep in mind 7-Eleven only sells money orders. They won't cash them.
Click here to locate a store near you.
7. Western Union or MoneyGram Locations
Do you need to send an international money order? Consider Western Union and MoneyGram since you can place an order online and get free money orders.
One benefit of using either platform is receiving a trackable payment so you know when the recipient receives your funds.
Fees and sending limits vary on these factors:
Where you live
The destination country
How you fund the transaction (i.e., checking account, debit card, etc.)
Delivery method (i.e., directly to a bank, cash pickup, check card deposit)
For example, sending $600 to Mexico on either platform has the following fees:
MoneyGram: $0 for bank-to-bank ($3.99 for cash pickup)
Western Union: $0 ($5 for cash pickup)
Your fees are higher if you fund the transaction with a payment card at a local agent.
These services can also help you find local agents when you need help making payments.
8. Kmart
Although they're closing stores, there are still some Kmart locations around the country. Not every store location sells money orders, so it's important to contact your local store before visiting.
Here's what you need to know about a Kmart money order:
Service used – Western Union
Fee – $0.70 per money order
Limit – $500 per money order
Click here to locate a store near you.
9. Check Cashing Company
Check cashing companies are a popular choice for some people to manage their cash needs. They should be your last option to purchase a money order since their fees are usually very high.
Here are several of the larger national check cashing companies:
ACE Cash Express
Advance America
Check 'n Go
Payday Express
Speedy Cash
You likely have other independent check cashing companies in your city. They may charge lower fees, but research what they are prior to buying.
If they charge more than several dollars or a percentage of the total, you want to look elsewhere.
In addition to the fees, also see which money order service the company uses. Some partner with MoneyGram, while others use Western Union.
Frequently Asked Questions
In addition to knowing where to get money orders, it's important to understand how they work to avoid scams and keep your fees low.
How much do money orders cost?
The fees to buy a money order varies between retailers. Some retailers charge as little as $0.50, while others charge between $1 and $5.
In some instances, the retailer may charge a percentage of the amount you purchase.
The fee can also depend on the amount. For example, most retailers have different pricing for orders up to $500 and up to $1,000.
As money orders typically have a $1,000 cap and you may need to send more than $1,000, you will pay a fee for each one purchased.
How do I pay for a money order?
Most local agents require cash or debit cards to buy a money order. Online services may let you pay with a credit card or a linked bank account.
*Related: New to writing checks? Check out our guide on how to fill out a check for step-by-step directions.*
If you can pay with a credit card, the transaction may code as a cash advance and carry additional fees.
Also, don't forget your government-issued photo ID when buying a money order. The institution needs it to verify your identity.
What if I lose a money order?
It is possible to get a replacement when you lose a money order. However, you will usually need to report the missing item within 30 days and pay an approximate $6.95 processing fee.
The issuer provides a receipt with each purchase that includes a tracking number. That tracking number is what institutions use to track the funds.
If you lose a money order, go to the institution where you purchased it and give them the tracking number.
Assuming it has not been cashed, they can issue you a new one.
How can I tell that a money order is legit?
Money orders are a guaranteed form of payment and secure alternative to cash or personal checks, but they're also susceptible to fraud.
Scammers like to create fake money orders as a form of counterfeit payment.
Keep the following in mind when looking at a money order:
It should not be over $1,000
The amount area should not be altered
It must have a watermark
Don't accept a money order if you suspect it's not legit. You can contact the issuer to verify it's safe to accept. If it's not, request cash instead.
Does Walgreens do money orders?
Unfortunately, Walgreens doesn't sell money orders like CVS pharmacies do. However, you can initiate Western Union money transfers with this retailer.
You can transfer up to $6,000 to another person with this service, and the fees can be similar to money orders.
Bottom Line
There are plenty of cheap options to purchase money orders. Buying one is simple and should not cost more than $1 or $2.
If you don't have a bank account or need an easy way to have a trackable payment, they are a good tool to use.
Where do you go to manage your banking needs?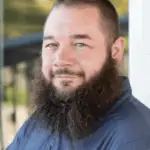 I'm John Schmoll, a former stockbroker, MBA-grad, published finance writer, and founder of Frugal Rules.
As a veteran of the financial services industry, I've worked as a mutual fund administrator, banker, and stockbroker and was Series 7 and 63-licensed, but I left all that behind in 2012 to help people learn how to manage their money.
My goal is to help you gain the knowledge you need to become financially independent with personally-tested financial tools and money-saving solutions.