Choosing a bank is an integral part of managing your finances. With online banks growing in popularity, it's easy to avoid fees. However, you want to find one that meets your needs.
Chime is a leading financial software company and one of our favorites in the space. But, other choices might be a better fit for you.
This guide shares the top Chime alternatives to consider if you need a new money management solution.
What is Chime?
Chime is a fintech company that offers services you would find at many other financial institutions.
These include:
Online-only checking accounts
High-Yield Savings accounts
You also get access to helpful perks like early access to paychecks, direct deposit, and access to over 60,000 in-network fee-free ATMs.
Chime operates entirely online and has the backing of The Bancorp Bank N.A. and Stride Bank, N.A. As a result, your account has up to $250,000 in FDIC insurance, similar to what you'll find at full-service banks.
Neobanks like Chime typically have lower expenses, so they pass those benefits onto customers. For example, Chime has no minimum account balance requirements or monthly fees.
Read our Chime review to learn more.
What are the Best Alternatives to Chime?
Selecting a financial institution to manage your banking needs can be a complex process. You want to find the best online bank that offers robust tools without many fees.
In our process, we analyzed digital-only banks based on the following factors:
Free ATM access
Fee-free checking
Access to complementary tools to manage your money
Low to no balance requirements
FDIC-insured
With those criteria in mind, here are the best alternatives to Chime.
1. Axos Bank
Axos Bank is one of the leading Chime competitors. The online-only bank boasts five different checking account options.
These include:
Essential Checking – their basic checking account
Rewards Checking – earns up to 1.25 percent on account balances
Cashback Checking – earns cash back on debit card purchases
First Checking – checking accounts for teens aged 13 to 17 years old
Golden Checking – checking for customers 55 and older
All of the account options have zero fees and no balance requirements. The first three receive unlimited domestic ATM fee reimbursements, including from non-network ATMs.
Axos also offers a high-yield savings account, but it currently only pays up to 0.61 percent. You can find better interest rates for savings accounts at many other banks.
Like its checking account options, Axos savings accounts have no balance requirements and are fee-free.
Additionally, Axos offers money market accounts as well as a variety of loan and investing products.
How Do They Differ From Chime?
Axos and Chime share a number of similarities. Both let you avoid bank fees since most services and accounts have no cost.
They also have no minimum balance requirements. Plus, you can utilize online bill pay with both apps.
One area where the two differ is that Axos has no credit builder options. If you're looking to better your credit, Chime may be the better choice.
Axos often offers a sign up bonus depending on your initial account funding level.
2. CIT Bank
CIT Bank is a terrific alternative to Chime. They have an e-checking product that is similar to what Chime offers.
The account includes mobile deposits, debit cards, online bill pay, and more. Additionally, balances under $25,000 earn an interest rate of 0.10 percent, while those over $25,000 earn 0.25 percent.
However, where CIT Bank shines is its savings tools. The bank offers a standard savings account that pays 0.25 percent.
If you can deposit at least $100 monthly or have at least $25,000 to deposit, you qualify for CIT Bank's Savings Builder account. This pays 1.00 percent on your cash.
Their top-tier savings product is Savings Connect, which pays 4.65 percent. That's 11X the current national average.
Keep in mind that you must deposit $200 monthly to receive that rate.
However, if you want to earn even more, you can earn 5.05 percent through CIT Bank's Platinum Savings account option. You must have a daily account balance of at least $5,000 to earn this rate. If you have beneath that, the rate lowers to 0.25 percent.
CIT Bank also offers a variety of money market and CD products as well as mortgages.
Most everything is handled online, though they do have several local banks in Southern California.
Read our CIT Bank review to learn more.
How Do They Differ From Chime?
CIT Bank and Chime both have minimal to no fees. However, Chime is more well-rounded in its offerings.
Chime offers credit building and provides early access to your paychecks with direct deposit. CIT Bank doesn't offer that. But, unlike Chime, they specialize in savings products.
You must have at least $100 to open most of their savings accounts, which is fairly minimal.
If you want to build an emergency fund or save for a future need, CIT Bank offers a competitive interest rate to help you achieve your goals.
Benefits
Logo
CIT Bank - start your emergency fund
$100 minimum deposit requirement

Open a high yield savings account or money market with $100!

3. Acorns
Acorns is considered a micro-investing app, but it's a terrific alternative to Chime if you want to marry banking with investing.
An Acorns account provides access to an e-checking account feature called Acorns Spend. This account is FDIC-insured.
Although not as robust as Chime, Acorns Spend offers many things you'll find at a traditional bank, including:
Direct deposits
Mobile deposits
Sending paper checks via the app
ACH transfers
You also receive a debit card with your account.
The one drawback to Acorns is that they charge a fee of $3 per month. In exchange for this fee, you get access to over 55,000 fee-free in-network ATMs and automated savings transfers.
This fee also provides access to all of Acorns' investing features so that you can grow your money. Unfortunately, Acorns doesn't currently offer any savings accounts.
Read our Acorns review to learn more.
How Do They Differ From Chime?
Chime and Acorns do not share many similarities. Both provide access to a broad network of fee-free ATMs.
The similarities end there as Chime is a more robust platform that offers banking services. Acorns merely includes e-checking as an add-on feature. Plus, it has a $5 minimum balance requirement.
If you want a broad range of services, choose Chime. If you want to combine checking and investing, consider Acorns.
Furthermore, Spruce Money may be a better choice if you want something closer to Chime. Read our review of Spruce Bank to learn more.
Benefits
Logo
Acorns - Invest Your Spare Change
Get a $5 Bonus

Acorns rounds up your purchases and invests your spare change!


4. Ally
Ally Bank is one of the more robust apps like Chime. Although the banking feature is 20 years old, Ally has been in business for over 100 years.
Ally Bank offers a wide range of services, including:
Checking and savings products
Investing and retirement accounts
Auto and home loans
Personal loans
One unique feature of Ally Bank's e-checking account is it all earns interest, regardless of the balance. The account earns 0.10 percent. But, if you have over $15,000, that increases to 0.25 percent.
You may want to use an institution like CIT Bank if you like to earn cash as you wait for short-term investments you've identified you want to pursue.
Ally Bank has no minimum balance requirements, and they recently waived their insufficient fund fees. This overdraft protection feature transfers funds fee-free so that you can avoid a nasty charge.
The bank provides access to 43,000 fee-fee ATMs if you need cash. Unfortunately, they only reimburse $10 per statement cycle in fees for using out-of-network ATMs.
How Do They Differ From Chime?
There are a lot of similarities between Chime and Ally Bank. They both have no minimum balance requirements and give early access to paychecks when you enable direct deposit.
However, Ally Bank is a bit more robust. You can invest through the platform as well as access a variety of loan products.
Ally also pays more in its savings account, currently offering two percent on balances. That said, if you don't need investing or loans, Chime is a better option due to its larger ATM network.
If neither are important to you, pick the institution that fits your needs best.
5. Discover
Discover Bank is another excellent alternative to Chime if you need a wide variety of services.
We have used Discover for years to house our emergency fund and goal-related accounts.
Discover has zero fees or account maintenance requirements. In addition to high-yield savings accounts, Discover offers:
Fee-free checking
CDs
Money market accounts
Retirement accounts
Mortgages
Personal and student loans
Not only is the checking fee-free, but you can also earn rewards on debit card purchases. The most you can earn is $30 a month, as it pays out one percent on up to $3,000 in purchases monthly.
This bank also has an ATM network of 60,000 fee-free options.
Discover allows early access to your paychecks by up to two days. If your employer pays via ACH, you can take advantage of Early Pay for no charge.
Discover even waives the first fee incurred in the calendar year. For example, if you need to send a wire, they waive the first fee to do it. This is one of the very few fees they charge.
How Do They Differ From Chime?
Discover is a lot like Chime in that it's very fee averse. You have to work to find fees from either bank.
They also have no minimum balance requirements. Plus, you can utilize online bill pay with both apps.
One key area where the two differ is Discover has no credit builder options. Fortunately, they do offer a variety of loan and retirement products.
If you need a full-service bank, Discover likely is the better choice.
6. Self
Self (formerly Self Lender) is a unique Chime alternative. It is not a bank, and it doesn't currently offer any banking solutions.
It primarily offers credit builder loans to help customers upgrade their credit. This lets you make small monthly payments, which are shared with credit reporting agencies to help bump up your credit.
Self also reports utility payments and future rent payments to reporting bureaus. Again, this is done to help elevate your credit.
There are some fees to use the service. If you use the credit builder option, you receive the funds back, minus any financing charges, upon completing payments.
Read our Self review to learn more.
How Do They Differ From Chime?
Chime and Self share one main similarity in that both offer credit builder loans to clients. These can be helpful tools to assist people in improving their credit.
Beyond that, the two tech apps have little in common. The loan product itself operates nearly identically, regardless of which platform you choose.
If you only need a credit builder loan, choose Self. If you think you need more banking services, Chime is the better choice.
7. Varo
Varo is one of the best free Chime alternatives if you typically have a lower balance in your savings account.
You only need $0.01 to open a savings account, and the platform pays a competitive two percent on your balance.
However, if you have $1,000 in direct deposits into one of your Varo accounts each month, you can earn five percent on your savings account.
You must have no more than $5,000 in your savings account at any one time to receive this rate.
Varo offers fee-free checking and an ATM network of 55,000 fee-free Allpoint ATMs.
The one drawback is Varo doesn't reimburse fees from out-of-network ATMs. They charge $2.50 each time you withdraw from a non-Allpoint ATM.
Varo also offers credit builder loans and early access to paychecks if you have direct deposit enabled.
Additionally, you can earn up to six percent cash back when you use your Varo debit card at participating brands.
How Do They Differ From Chime?
Varo is a banking solution for people with lower account balances. The ability to earn five percent on savings is fantastic.
Unfortunately, it's really only for people who usually have under $5,000 in savings.
Like Chime, they also offer free checking and debit cards. You even get access to credit builder loans if your credit needs a lift.
Chime does have a larger ATM network and a few additional features you won't find at Varo.
If you need more robust services, Chime is likely a better choice.
What to Consider When Looking at Chime Alternatives
Choosing a banking solution is a complex process. Here's what to keep in mind when looking at apps like Chime.
Your Banking Needs
Your needs are the most important factor when looking for a money management service. Every situation is different, so what works for one person might not work for you.
It's essential to look at how the given platform will help you reach both your short and long-term financial goals. You want to compare services from multiple options to determine which one is best.
For example, if you know you occasionally receive or send wires, Varo won't be for you as they don't support wires. Alternatively, if you need to better your credit, don't choose Ally since they don't offer builder loans.
Make sure to compare full-service banks and fintech apps to determine what's ideal for you. Furthermore, don't forget to make sure the platform is FDIC-insured to give you peace of mind.
Fees
Fees can be disastrous to a bank account. When looking at Chime and its competitors, consider what fees you might incur.
Even the best online banks charge fees. Some fees, like sending a wire, are to be expected. However, you want to avoid any service that charges exorbitant fees.
If Chime doesn't meet your needs, find an app that charges no monthly fees or overdraft fees. There is enough competition in the space that it's not difficult to find a fee-free option.
Account Maintenance Requirements
Chime is a fantastic choice to park your cash because they have no minimum balance requirements. Combine this with minimal fees, and it's clear why this bank is a good option.
Nevertheless, some fintech apps require a certain balance to open an account. Others make you spend a specific amount monthly or sign up for direct deposit to receive better rates or tools.
Keep this in mind as you research options. The teaser rate or tool may not be as good as it seems.
Perks
Online banks like to offer perks like signup bonuses to get you to open an account. These constantly change but are a nice opportunity to pad your account.
Compare your options since bonuses can be lucrative. Read the terms and conditions so that you know what's required to earn the bonus.
Bottom Line
Brick-and-mortar banks can be a helpful tool for managing your money, but they're not your only option. Fintech apps like Chime offer many services to holistically elevate your finances.
If you need a new banking solution, give one of these apps a try.
What's most important to you in a money management app?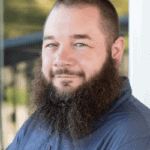 I'm John Schmoll, a former stockbroker, MBA-grad, published finance writer, and founder of Frugal Rules.
As a veteran of the financial services industry, I've worked as a mutual fund administrator, banker, and stockbroker and was Series 7 and 63-licensed, but I left all that behind in 2012 to help people learn how to manage their money.
My goal is to help you gain the knowledge you need to become financially independent with personally-tested financial tools and money-saving solutions.