If you're tired of paying an expensive cable bill each month, the streaming space offers ample opportunities to save. With seemingly every production company having their own platform today, one stands out from the crowd.
Paramount Plus, which replaced CBS All Access in March 2021, offers a unique combination of live streaming content and on-demand movies and shows.
Priced at $12 or less per month, it could be a great option for cord-cutters who love CBS content, Star Trek, Showtime content, live sports, and more.
What is Paramount+?
Paramount+ is a stand-alone video streaming service that offers a mix of on demand content, a huge library of movies, live sports, a live stream of your local CBS station, and original TV shows and movies.
The Paramount streaming service replaced CBS All Access in March 2021 after Viacom and CBS merged.
It's similar to Peacock and Discovery+ in that it offers original shows and movies plus content from popular television stations with limited commercial interruptions.
The platform is different because, unlike similarly-priced streaming services, the Paramount Plus app includes live TV. This makes it a unique option for those looking to cut the cord on cable.
How Much Does Paramount+ Cost?
Paramount+ is a relatively affordable on-demand streaming service. It also includes some live content, if you opt for the higher tier plan. The streaming platform has two plans.
Those two plans are:
A limited commercial option for $5.99 a month or $59.99 a year
A commercial-free option for $11.99 a month or $119.99 a year
Essential is the more affordable plan and doesn't include live TV. Premium does include four channels of live TV. Keep in mind that there will be commercials on those live channels.
**Now through September 20, 2023, get the Paramount+ Essential plan for $2.50 a month when you sign up for an annual plan. Use the code SPORTS to get the offer. That's a savings of nearly 60 percent!**
Additionally, as of June 27, 2023, the Premium plan also includes content from Showtime. Paramount Global merged the Showtime app with Paramount+. Essential plan subscribers do not receive access to Showtime content.
*Related: Read our Discovery+ review to learn more about the new streaming service.*
| Subscription Type | Monthly Cost | Annual Cost |
| --- | --- | --- |
| Limited Ads (Essential Plan) | $5.99 | $59.99 |
| Ad-Free (Premium Plan) | $11.99 | $119.99 |
Unlike cable, there's no contract or fees. You can start and stop your service at any time, cancelling whenever you want.
Does Paramount+ Offer a Free Trial?
Paramount Plus offers live streaming at no cost for seven days when you sign up for their free trial.
This is a great way to test the service and see how well your internet connection streams live sports and other content. You can also make sure the Paramount app has the content you want.
Since every episode of every show is not available, you'll want to use your free trial to search for shows and movies to see if you can get what you want.
Read our guide on how to cancel Paramount+ if you determine the service isn't for you.
What Do You Get With Paramount+?
The streaming TV app offers 40,000 TV shows and 2,500 movies, including more than 30 original series, live sports, news, and popular CBS comedies, dramas, and reality TV shows.
It includes content from networks such as BET, CBS, Comedy Central, MTV, Smithsonian Channel, and a substantial library of movies from Paramount. If you get the Premium plan you also get Showtime content.
TV Shows and Movies on Paramount+
If you're looking for variety, this streaming service offers plenty. However, not every episode of every show is available, so use the free trial to search for your favorites first before committing to the monthly payment.
BET
Popular series include:
Everybody Hates Chris
The Game
Hit the Floor
Real Husbands of Hollywood
CBS
The platform includes CBS shows like:
NCIS
Survivor
Hawaii Five-O
Blue Bloods
The Equalizer (exclusive, original series)
The Amazing Race
Daytime TV favorites like The Young & The Restless
Comedy Central
If comedy is your thing, you'll have access to:
Hot in Cleveland
Reno 911!
Younger
Key and Peele
Chappelle's Show
MTV
For MTV fans, series include:
The Real World
Teen Mom 2
Ridiculousness
RuPaul Drag Race All Stars
Nickelodeon
To keep the kids entertained, you'll find shows like:
Kamp Koral (original series)
The SpongeBob Movie (original content)
Henry Danger
Albert
Bubble Guppies
Smithsonian Channel
You'll be able to watch series including:
America's Hidden Stories
Air Disasters
Secrets Unlocked
Building Star Trek
Strange Creatures
Star Trek
The app calls out the hugely popular Star Trek shows and movies separately, making them easy to find. Its "Space: The Final Frontier" collection includes:
Star Trek: Discovery (original series)
Star Trek: Picard (original series)
Star Trek: Lower Decks (original series)
Star Trek X Nemesis
Star Trek: The Next Generation
Star Trek IV The Voyage Home
Along with the above options, you can watch Star Trek: The Original Series and six other series related to the space franchise.
Movies
On-demand access is offered to thousands of movies. Browse for titles in the following categories: Popular, Action, Comedy, Documentaries, Drama, Thriller, Kids and Family, and A to Z.
Popular titles include:
The Switch
Jackass the Movie
Top Gun Maverick
80 For Brady
Dungeons & Dragons: Honor Among Thieves
The Indiana Jones franchise
Mission: Impossible franchise
The Godfather franchise
If Paramount produced the movie it's likely you will find it on the app.
Paramount Library of Exclusive Content
In addition to original content, subscribers will enjoy exclusive access to new Paramount Pictures releases. Some films will debut briefly in theaters and then be released directly to Paramount Plus.
Examples include Mission: Impossible 7 and Paw Patrol: The Movie.
Original Series
Paramount+ has said it will launch 50 original series and movies within its first two years. Some of that includes spinoffs of popular TV series like Yellowstone, along with kids movies and plenty of other titles.
Examples include:
The Real World Homecoming: New York
1883
1923
The Stand
The Family Stone
Mayor of Kingstown
Tulsa King
Star Trek Discovery
The Twilight Zone
60 Minutes+
Does Paramount+ Have Live Channels?
A Paramount+ subscription includes access to your local CBS live stream if you don't want to deal with an over-the-air antenna. It also carries the following:
CBS News live stream
CBS Sports HQ
ET Live
The live sports offering includes a variety of options, including NHL, PGA, and live soccer games from the Champions League, Europa League, and Women's League.
You can also watch March Madness games aired on your local CBS network. Read our guide on other ways to stream March Madness online if Paramount+ doesn't work for you.
Related: Looking for a streaming service, but not sure which one is best for you? Take our free quiz to receive a personalized recommendation to learn which is best for you.
Does Paramount Plus Have NFL Games?
Yes, it is possible to watch NFL games online via the streaming app. You can get live NFL games with either of the two plans.
However, you can only watch games airing on your local CBS affiliate. CBS carries AFC games, so you can expect to watch the AFC game showing in your area.
Expand your access to local channels with an antenna like the Mohu Leaf. For a one-time cost of $50 or less, you can enjoy all your local channels for free, for life.
We've used Mohu antennas for years and they work great. If you want access to all NFL games, NFL+ could be a good solution.
It allows you to watch all games on a mobile device, regardless of where you live Read our NFL+ review to learn more.
Additionally, if you can also watch college football without a TV provider if you choose the premium plan. This will give you access to games broadcast on your local CBS affiliate.
Is Paramount+ the Same as CBS All Access?
When CBS and Viacom merged in 2020, CBS All Access was rebranded to Paramount Plus.
While it remained mostly unchanged, the new service includes lots of movies and shows from Viacom-owned brands like MTV, BET, and Smithsonian Channel.
If you subscribed to CBS All Access, your account was automatically upgraded to a Paramount+ account. The CBS All Access app was also replaced in all streaming platforms and TVs with the Paramount Plus app.
User Experience
When you launch the Paramount+ app, you'll see a layout that's pretty similar to other streaming services. Along the top, you can filter your content by TV shows, movies, live TV, brands, and news.
You can search for anything by name using the magnifying glass icon. Then, you can click on your profile over on the right and add up to five additional profiles.
It's important to note that you can only have three simultaneous streams at a time even if you have six different profiles.
It's also possible to enable parental controls to filter content for both older and younger kids.
A row of content by brand is beneath the main home screen page, followed by categories of content like Trending Shows, Recently Added Shows, Trending Movies, What's on Live Right Now on CBS, CBS News, CBS sports or ET Live, Original Content, Comedies, Dramas, News, Reality TV, and Daytime TV.
When you click on a show tile, you'll see that show's page, where you select a season and episode, and if there are any access extras like clips, outtakes, and other things.
You can also click Movies from the top menu and see a screen of movie tiles that you can click to watch. Movies are organized into Action, Comedy, Documentary, Drama, Thriller, and Kids.
While there is no DVR with this streaming service, there is plenty of on-demand content to play, pause, stop and re-watch whenever you want.
How Bad Are the Ads on Paramount+?
Commercials are a necessary evil of most streaming content services. Nearly every cable TV alternative will break up their content with ads to keep the price down.
Most commercials are between 15 and 90 seconds long and occur in batches of two or three every 30 minutes. Hour-long shows may have between four and five commercial breaks.
If ads are a deal-breaker for you, try the Paramount+ Premium plan free for seven days. After that, pay $11.99 a month to watch all but the live content commercial-free.
Device Support
All you need to watch Paramount+ is an internet connection and a laptop, desktop, tablet, smartphone, device, or smart TV.
Like all the major streaming services, the app is available through Roku, Apple TV, Amazon Fire TV, Samsung, LG, and Vizio smart TVs, PS4, Xbox One, and more added all the time.
Essentially, the compatible device is extensive, and if it has a screen, you can watch the service.
Pros and Cons
Before signing up for Paramount Plus, make sure to review the pros and cons to ensure the service is right for you.
Pros
Unique blend of on-demand and live content
Low monthly cost starting at $4.99 per month
Large selection of popular movies
Excellent for Trekkies
Live sports content
50 original series and movies
Early, exclusive access to select Paramount Pictures new release films
Cons
Content is limited to CBS and Viacom-owned brands
No DVR
No add-ons to customize content (other than Showtime)
No service is perfect, but for CBS fans, this is an affordable option to stream live sports, news, and exclusive content along with a decent selection of popular movies.
Paramount+ Review
Available content

Price

Availability

Original Series

Ease of Use
Paramount+ Review
Get some live TV and sports, plus thousands of episodes of popular TV shows for only $5 per month, and no contract.
Pros
✔️ Tons of content
✔️ Affordable way to get the CBS live stream
✔️ 7-day free trial
✔️ Has over 50 original series
✔️ Go-to source for Star Trek content
Cons
❌ Only CBS and Viacom-content available
❌ Must have ad-free plan to get CBS live stream
❌ No DVR
Is it Worth Getting Paramount+?
As is true of any streaming service, whether or not Paramount+ is right for you comes down to what you want to watch and how much you want to spend.
If there are just a few series you want to watch on Paramount Plus but don't see yourself watching it year-round, sign up when the series you're interested in drops its new season. Then, cancel it once you are done watching.
Unlike cable, you can start and stop your service whenever you want. This is a great idea and an excellent way to keep your streaming budget in check.
What do you look for in a streaming service?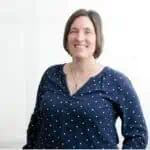 I'm Nicole Schmoll – a master's-educated professional writer, mompreneur, and co-founder of Frugal Rules.
As a freelance copywriter in Omaha, I still believe that writing is an artistic expression. Every time I strike the keys, I intend to evoke a response from my listeners. I left my full-time career as a senior copywriter for an insurance agency to start my own freelance writing business.
I love watching and writing about TV (and how to stream it!)