The streaming service space is exploding, and there has never been a better time to cut the cord. However, the Discovery family of popular networks keeps many people stuck in cable contracts.
The launch of Discovery Plus changes that. Thanks to the streaming service, you can watch the latest episodes of many popular titles plus original content for just $4.99 a month.
What is Discovery+?
Discovery+ is a subscription streaming service with a library of on-demand content featuring shows from the complete Discovery family of networks: HGTV, Food Network, TLC, ID, OWN, Travel Channel, Magnolia Network, Discovery, Animal Planet, A&E, History, Lifetime, and 12 other channels.
If you love to travel, read our guide on other ways to stream the Travel Channel online to save money.
Use this Discovery Plus review to determine whether or not the service is right for you.
How Much Does Discovery+ Cost?
The Discovery streaming service offers two plans:
This is a reasonable price and right in line with other on-demand streaming services similar to Discovery+, such as Disney+ and Hulu.
There are no fees, no contracts, and you can cancel your service or switch from one plan to another at any time.
Free Trial Promotion
The service offers a 7-day free trial of either plan, but you do have to provide a credit card to get it. After the trial period ends, your card will automatically be charged each month.
Verizon customers with select Unlimited plans, or those who get Fios Home Internet or 5G Home, can get the Discovery Plus ad-free plan free for 12 months.
What Do You Get With Discovery+?
There is over 55,000 episodes from more than 2,500 series on Discovery+. The library of content is extensive, entirely on-demand, and includes original content exclusive to the video streaming service.
| Networks | Networks2 | Networks3 |
| --- | --- | --- |
| HGTV | Discovery | Planet Earth |
| Food network | Animal Planet | A&E |
| TLC | History | Lifetime |
| ID | SCI | DIY Network |
| OWN | Cooking Channel | The Dodo |
| Travel Channel | PopSugar | Now This |
| Magnolia Network | Seeker | Thrillist |
| Destination America | AHC | Discovery+ Originals |
The Discovery+ lineup is impressive and diverse. People who enjoy lifestyle and entertainment content will find plenty of home improvement, nature, lifestyle, and adventure entertainment.
Here's a sampling of the Discovery Plus channels and shows.
Home Town
Rock the Block
Brother vs. Brother
Sister Wives
My 600-lb. Life
Breaking Amish
Ghost Hunters
Intervention
Hoarders
Fixer Upper: Welcome Home
Magnolia Table with Joanna Gaines
The Lost Kitchen
Ancient Aliens
Forged in Fire
American Pickers
One new feature added in August 2022 is the inclusion of films, originals, and specials from CNN on Discovery+. It's not live news content, but lifestyle-related content on the network.
Unfortunately, one thing the Discovery Plus app is missing is live TV. Everything is on-demand. Additionally, you're not guaranteed to get every episode of every show you want on Discovery Plus.
Current episodes of your favorite shows will air live on cable first before they are included on the platform.
Discovery views its streaming service as a complement to its live TV offering, not a replacement. You may want to have the same mindset as you're deciding whether or not to sign up.
If you're looking for a true cable replacement with live TV, consider Philo TV. It's only $25 a month and includes 60+ channels of live TV programming from all the Discovery channel networks.
What's the Difference Between Discovery and Discovery+?
Discovery+ and the Discovery Go app are not the same thing. Discovery Go content is limited to shows aired on the Discovery network.
Discovery Plus provides access to content from 23 networks and original Discovery Plus shows available only on the streaming service.
Additionally, Discovery Go is only available to cable subscribers, while all it takes to watch content on Discovery Plus is a subscription to the streaming service.
Discovery+ also offers exclusive, original shows like: 90 Day: The Single Life, Expedition Deep Ocean, Design Star: Next Gen, Super Soul with Oprah, Pop My Pet, Moonshiners: Smoke Ring, and much more.
User Experience
The app looks good and is designed in a way that makes it easy to find something to watch.
A logo at the top takes you back to the home screen from anywhere in the app. The browse button lets you search by title or keyword, while the "My List" icon lets you quickly access content you've favorited.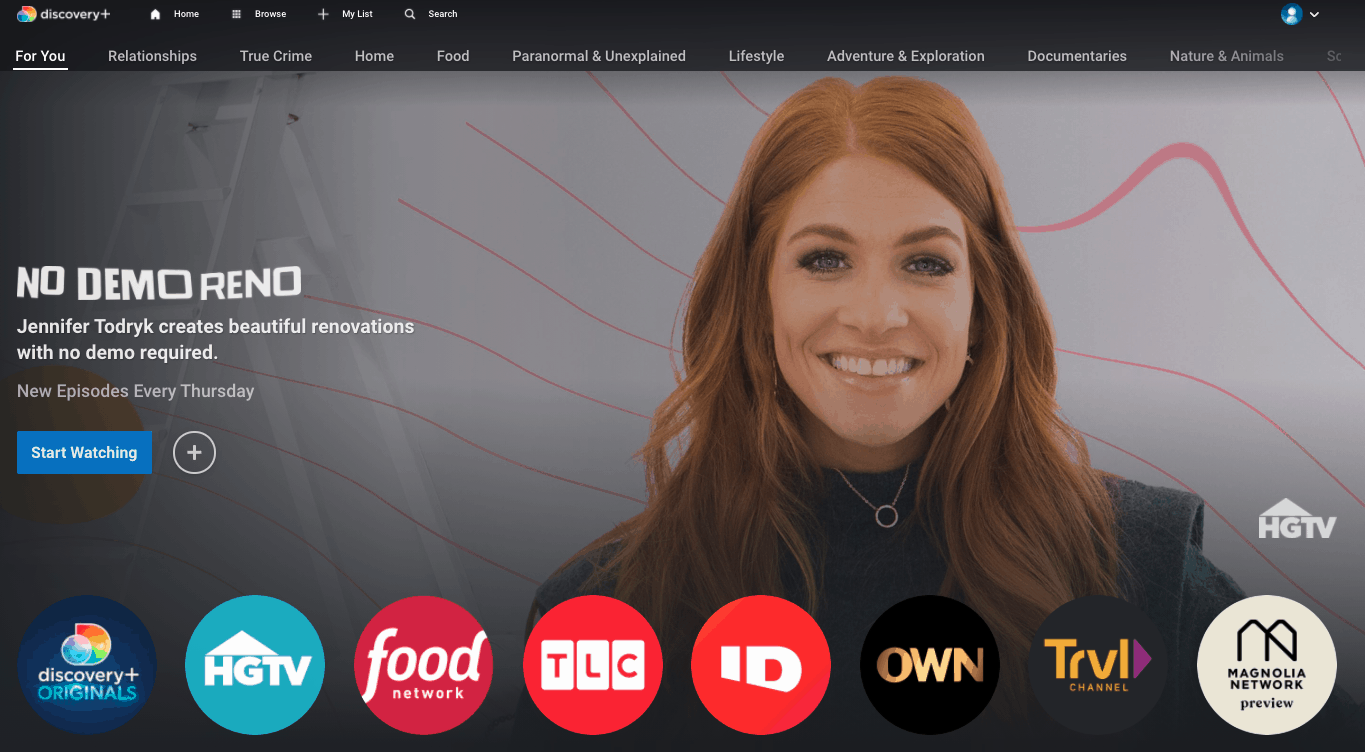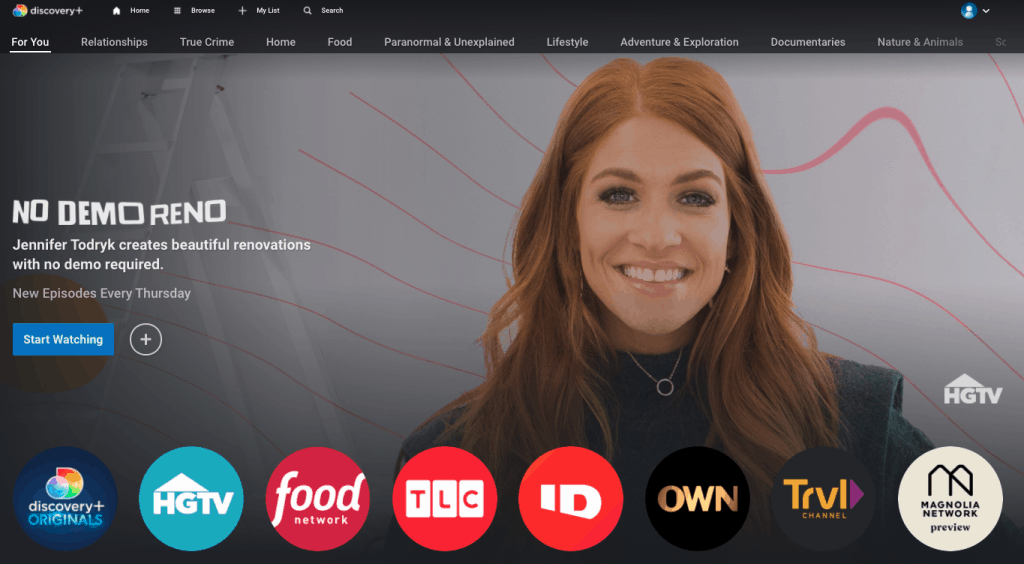 Network logos appear across the top, below the main image. Clicking on one will display show tiles from that network.
Clicking on a show brings up episodes, extras, and more information about the show and related series.
Below that, content is organized into categories that include: trending, A to Z, relationships, true crime, home, food, and more. Easily scroll through options by clicking on the arrow on the right and scrolling down.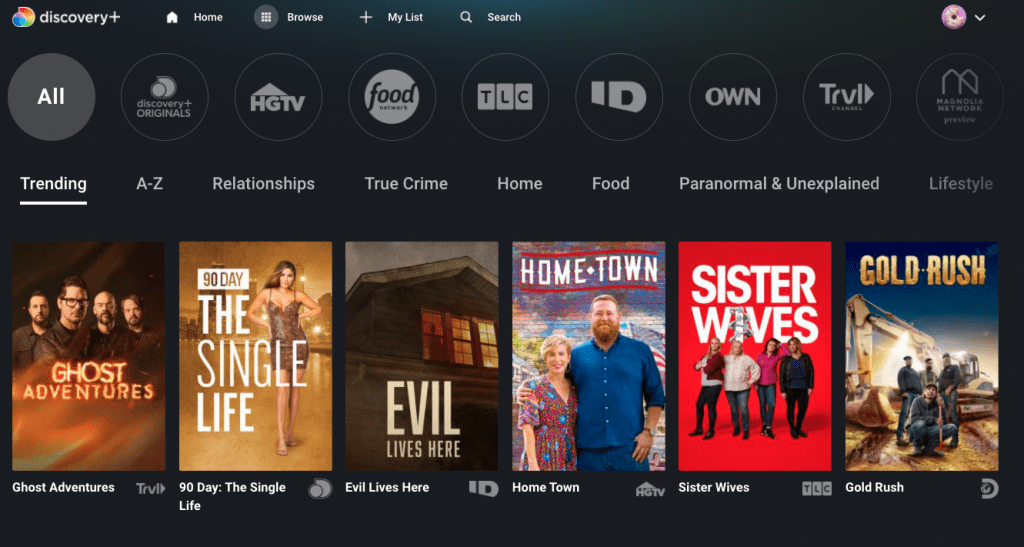 When you find something you want to watch, click on the tile. The show will pop up with a "watch now" button and a plus sign. If you want to add a show to your list, click the plus button.
A feature unique to Discovery+ is the existence of channels for certain shows that allow you to live stream a continuous feed of a particular show.
House Hunters International is one example. Just click the show to access the stream. There's no need to select an episode.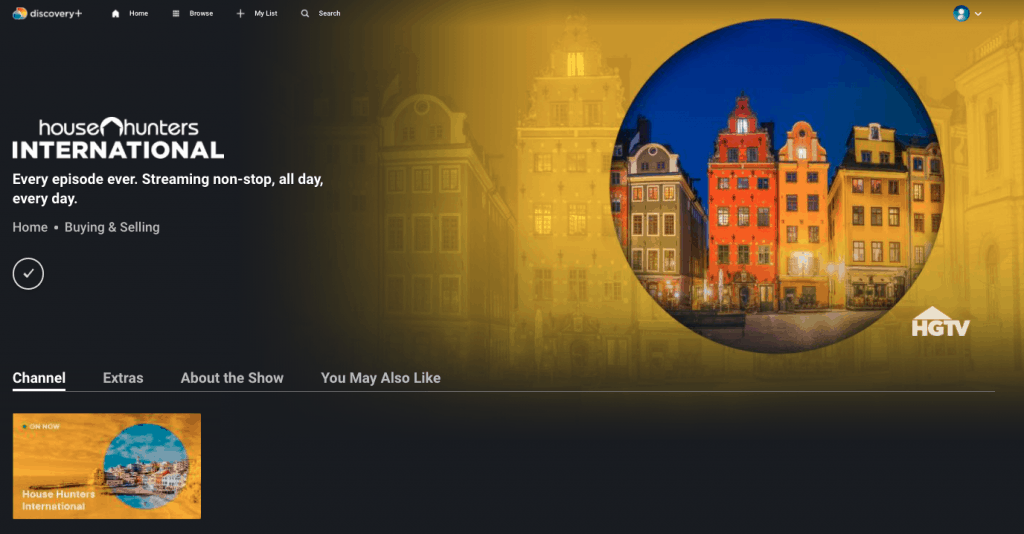 How Bad Are the Ads?
Having watched the ad-supported plan extensively, the commercial interruptions aren't too bad. You'll see about three short ads per 60 minutes.
If you plan to watch a lot of Discovery Plus, it may be worth it to pay the extra $2 each month to enjoy all that on-demand content commercial-free.
Device Support
You can stream on many devices, including: Android, Fire TV, Apple, Roku, Samsung smart TVs, Xbox, and laptops, devices, and smartphones.
While you can't currently stream on LG smart TVs or PlayStation 4, Discovery Plus says it's adding streaming platforms all the time. With 15 million subscribers and growing, if your preferred platform isn't there, chances are good it will be soon.
You can stream on up to four devices at once and create up to five profiles. The platform also recently added parental controls so you can restrict your children from being able to watch certain shows.
Pros and Cons
Before signing up for Discovery Plus, it's important to understand the pros and cons of the service.
Pros
Affordable on-demand streaming option
Enormous selection of lifestyle and entertainment shows
Original content
Ad-free option
Live stream "show" channels
Parental controls
Cons
No live TV
No free option
No ability to download content and watch offline
Discovery Plus is a solid option if you like the content it offers. Having the ability to stream ad-free for just $6.99 a month is a real value.
Bottom Line
Try Discovery Plus for free for seven days and enter your favorite shows and channels into the search bar to see how many are there. Look at how many episodes of each are on Discovery+.
By the end of the week, you'll have a great idea of whether or not it has the content you want. If it does, you can subscribe with confidence and know that what you're paying is worth it.
What do you look for in an on-demand streaming service? How much do you spend monthly on cable?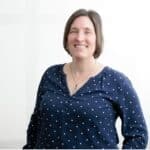 I'm Nicole Schmoll – a master's-educated professional writer, mompreneur, and co-founder of Frugal Rules.
As a freelance copywriter in Omaha, I still believe that writing is an artistic expression. Every time I strike the keys, I intend to evoke a response from my listeners. I left my full-time career as a senior copywriter for an insurance agency to start my own freelance writing business.
I love watching and writing about TV (and how to stream it!)