Live sports channels and local networks are essential for many cord-cutters. However, if you don't watch sports or local networks, you might think that there isn't a way to you reduce your monthly TV costs.
Thankfully, that's not the case. This Philo TV review shares insights from our numerous tests of the platform to help you determine if the streaming service is right for you.
What is Philo TV?
Philo is a live TV streaming service that lets you slash your monthly cable bill.
It combines dozens of popular networks that you can watch on your phone, device, or smart TV. To watch content, all you need is an internet connection.
Best of all, there are no contracts or hidden fees. You can cancel the service whenever you want.
Philo began in 2017 as a platform for college campuses. It quickly became a full-fledged live-streaming app like YouTube TV or Sling.
What makes Philo unique is that it focuses entirely on entertainment and lifestyle networks. You won't get local broadcast stations or sports.
How Much Does Philo TV Cost?
At only $25 per month, Philo is one of the most affordable live TV streaming services. The average cable bill is roughly $200 per month, so this is a significant reduction in cost.
Philo is able to keep costs so low because it doesn't include local networks or sports. Read our guide on how to get local channels without cable if that's important to you.
Subscription streaming services must pass on broadcast retransmission fees from ABC, CBS, FOX, and NBC, which is why companies like fuboTV are more expensive.
Additionally, sports networks are expensive for platforms to offer.
If you want to watch sports without cable, Sling TV is a suitable option. This service offers plans starting at $40 per month.
Frndly TV is another alternative that offers similar channel packages to Philo. Plans for Frndly start at $7.99 per month.
Read our Frndly TV review to learn more.
If you want to learn more about how the two services compare, read our Frndly TV vs. Philo side-by-side analysis.
Free Trials and Offers
TV streaming apps are beginning to eliminate free trials. Luckily, that isn't the case with Philo. You can test the platform free for seven days.
The company requires you to provide an email address and a credit card to start the trial.
If you're a T-Mobile customer, the carrier offers a monthly discount of $10 off for the streaming TV service. You may also be able to find a promo code for Philo online that can help lower the cost.
What Channels Do You Get With Philo?
Philo offers a competitive list of channels if you don't need live games or local networks. Unlike other live TV streaming services, the discount platform has only one package of live TV channels.
When it first launched, there were two Philo TV channel packages. They've since moved to the simplicity of one grouping of networks.
Here are the channels you get with a Philo subscription:
| | channel2 | channel3 |
| --- | --- | --- |
| A&E | Magnolia | MTV Classic |
| AMC | Food Network | MTV Live |
| American Heroes Channel | FYI | MTV2 |
| Animal Planet | Game Show Network | Nick Jr |
| AspireTV | getTV | Nickelodeon |
| AXS TV | GAC Family | Nick Toons |
| BBC America | Hallmark Channel | OWN |
| BBC World News | Hallmark Drama | Paramount Network |
| BET | Hallmark Movies & Mysteries | PeopleTV |
| BET Her | HGTV | Revolt |
| Cheddar | History Channel | SCI |
| Crime-Investigation | IFC | Sundance TV |
| Cleo TV | Investigation Discovery | Tastemade |
| CMT | INSP | TeenNick |
| Comedy Central | Law and Crime | TLC |
| Cooking Channel | Lifetime | Travel Channel |
| Destination America | Lifetime Movies | TV Land |
| Discovery | Logo | TV One |
| Discovery Family | MotorTrend | UpTV |
| Discovery Life | MTV | VH1 |
| AccuWeather | Newsey | Vice |
| We | GAC Living | |
| DECADES | Start TV | MeTV |
| Heroes & Icons | Story Television | FETV |
| Pop TV | Smithsonian Channel | |
The biggest benefit of the platform is the price. It's a fraction of the cost of a video streaming service like DIRECTV STREAM.
However, if you can't live without sports and want a cable-lite service, Sling TV is a good choice. Read our Philo vs. Sling comparison to see how they stack up.
Furthermore, if you're a fan of Yellowstone Philo is the best choice to watch the current season. You can stream new episodes of Yellowstone for far less than with any other live service.
Does Philo Offer Local Channels?
It is not possible to get local broadcast affiliates on Philo. This is a big part reason why they are able to keep costs so low.
If you must have local networks, an over-the-air antenna (OTA) is an excellent tool to use. Depending on where you live, it's possible to receive 50+ channels with an OTA.
These are usually your local ABC, CBS, FOX, NBC, and PBS stations. You will also receive some second-tier networks that are not often found through streaming providers.
Mohu is our favorite OTA option. We've used Mohu products for years, and they perform well. You can use the code FRUGALRULES10 to receive ten percent off your purchase of a Mohu antenna.
Regardless of the service you choose, using an OTA is a fantastic way to watch local channels without cable.
Add-Ons
The 60+ channels offered by Philo aren't the only networks you can get with the provider. You can expand your available channels with several add-on packages.
These packages typically include premium channels that focus on movies.
Here are Philo's available add-ons:
Epix ($6 per month): Includes Epix, Epix Hits, and Epix2
Movies and More ($3 per month): Includes CINEMOI, HDNet, MGM HD, Reelz, and Sony Movies
Starz ($9 per month): Includes Starz, StarzEncore, and Starz Kids & Family
You can get a seven-day free trial with each of the Philo packages. Even if you choose all three add-ons, you'll only pay $43 per month for service.
Look and Feel
Both the web and mobile interface have an intuitive look and feel. Although Philo has improved over the years, it's still not quite as robust as other players in the space.
When you log into your account, you're taken to a home screen that has three sections. These include:
Keep Watching
Saved Shows
Trending Live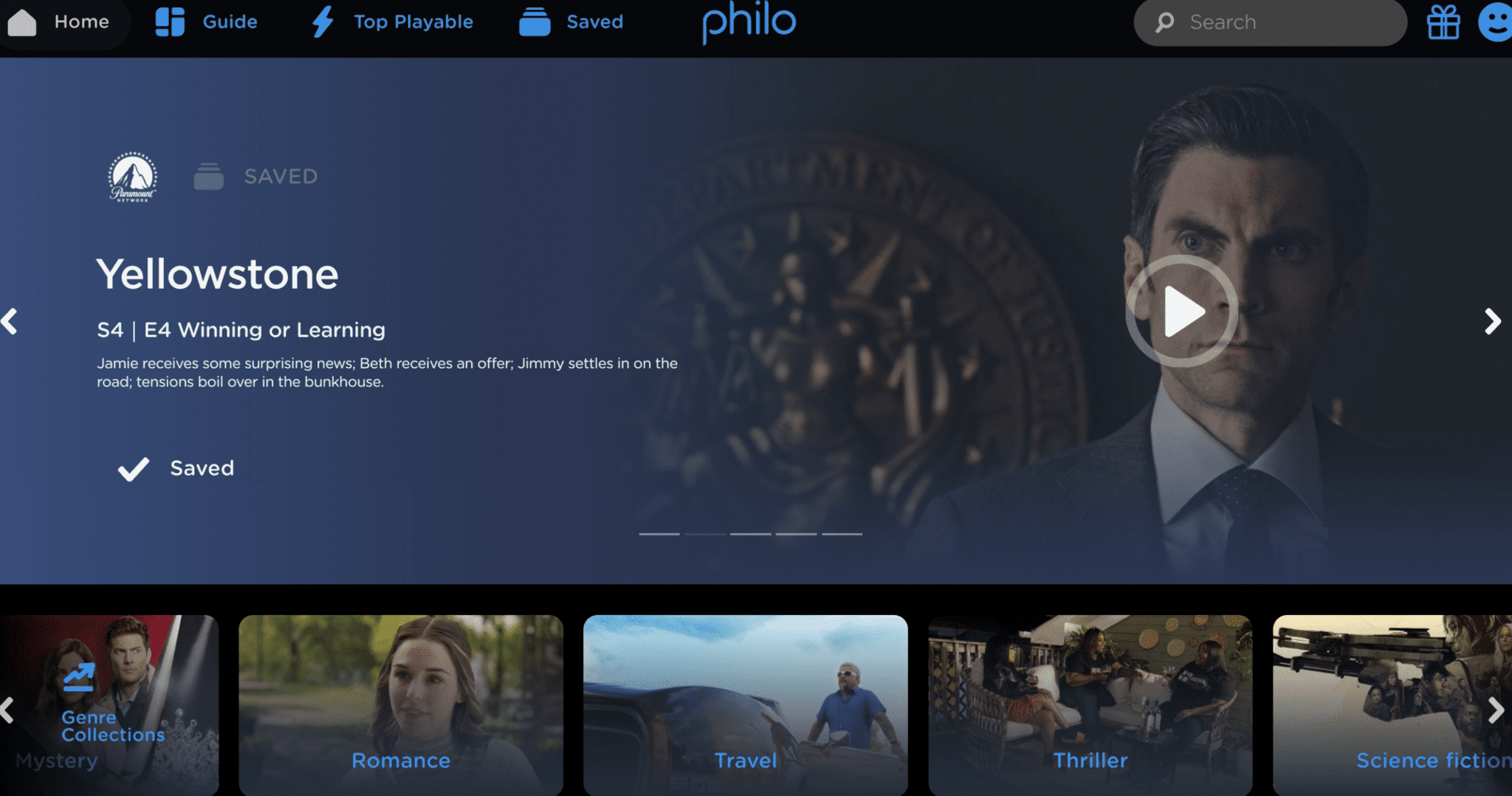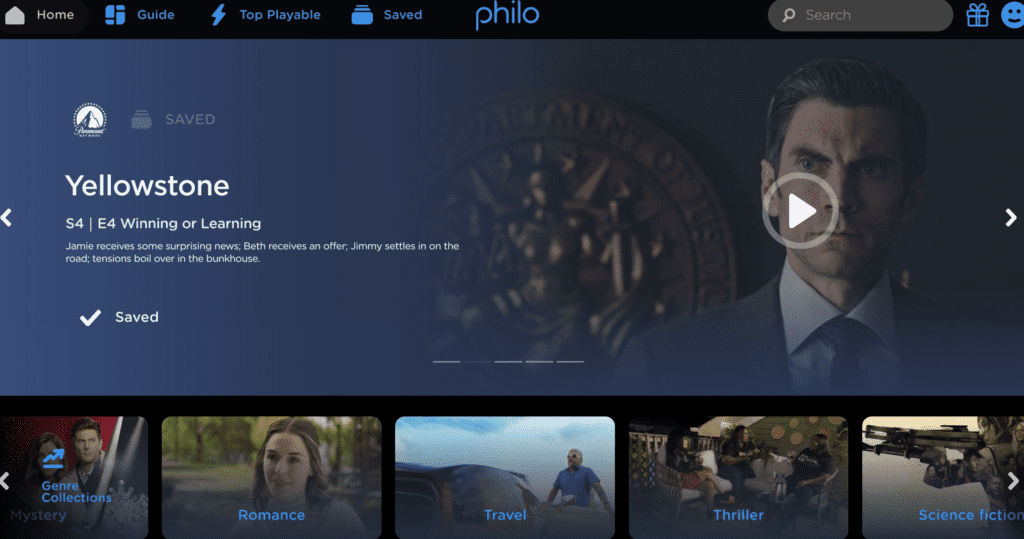 Philo's home screen isn't as busy as other platforms, which is helpful. When you navigate past the home screen and into the guide, you will find the same experience.
The guide is a traditional grid-style with several tabs across the top, including:
Home
Guide
Top
Saved
Search
Settings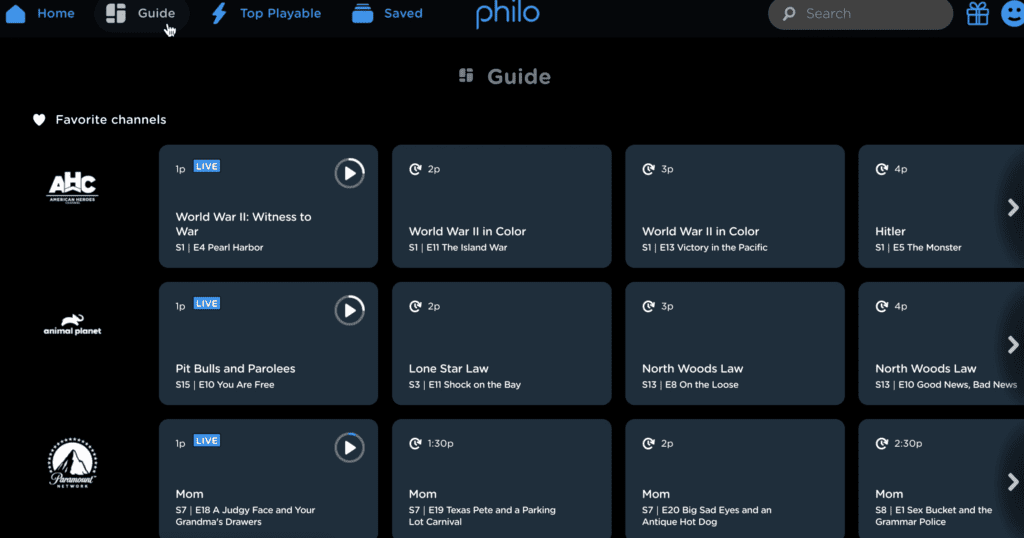 On the Live screen, you'll see currently available channels in alphabetical order. You can also create your own by favoriting your top channels.
To "favorite" channels, simply click on a channel logo and hold.
Philo offers an easy-to-use guide, and it is simple to schedule recordings of your favorite shows. To record a show, click on the title and then click the "Save" button.
Once you do that, it will record.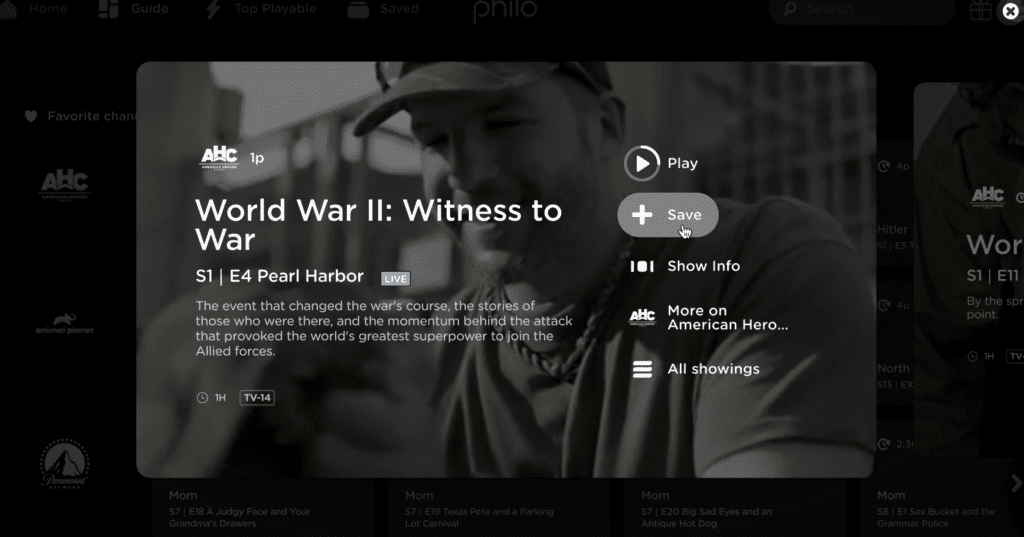 You can view listings and schedule DVR recordings up to a week in advance.
Features
There is a lot of competition for your money when you cut the cord on cable. Live TV streaming services use things like channel packages, on-demand content, and other features to win your business.
Here are several features that set the Philo live streaming service apart from the crowd.
Playback
Video quality is essential for many people who want to get rid of cable. Philo offers minimal information about the quality you'll receive when streaming TV through their platform.
However, based on our research, here is the video quality you can expect:
720p when streaming live TV
1080p when streaming on-demand content
Some platforms, like fuboTV, support up to 1080p for live streams. They even offer 4K streaming in certain cases. However, that service costs $74.99 a month, plus RSN fees.
Additionally, Philo does not support Dolby Digital or 5.1 audio. Audio is streamed in 2.0 stereo quality.
We were pleased with both the video and audio quality. However, you may not be happy if you appreciate more advanced technology.
Cloud DVR
A cloud DVR is important to any cord cutter. The Philo cloud DVR offers unlimited recording space, and you can keep content for one year.
Prior to June 2021, you could only keep recordings for 30 days. This upgrade puts the service ahead of YouTube TV and Hulu Live since they only let you keep recordings for nine months.
Furthermore, you also have the ability to fast-forward through commercials.
If you forget to record a show, you can still watch it using the Lookback feature as long as it aired within the past 72 hours.
Unfortunately, you're unable to fast-forward through commercials with Lookback.
You also can't fast-forward through commercials in on-demand content, which totals over 60,000 titles.
The cloud DVR performed well in our tests. Video quality was excellent, and you could rewind as well as fast-forward through recordings with ease.
What Devices are Compatible With Philo?
Like other major streaming TV services, you can stream Philo via computer, phone, or TV. Essentially, if it has a screen, you can watch movies and shows.
Here are the compatible devices for Philo:
Amazon Fire TV or Stick (all models)
Android devices (5.0 and later)
AppleTV (4th generation or later)
Chromecast devices (2nd generation or later)
iPhones and iPads (iOS 14 and later)
Roku Streaming Stick (model 3600X and later)
Samsung Smart TVs (2018 and newer models)
Vizio Smartcast TVs
Web browsers (Chrome, Firefox, and Safari)
You can also use the TV Everywhere app to view content. The service works with most streaming media players, so so you shouldn't encounter any issues watching content.
Read our guide on the top Fire Stick alternatives if you're in the market for a new device.
Simultaneous Streams
Ideally, you want to pick a service that allows multiple users for the best experience. Philo allows subscribers to watch TV on three screens at once.
This is better than Hulu Live, which only allows two in its base plan. It's also on par with YouTube TV, which allows three simultaneous screens.
*Related: Can't decide between Hulu Live and Sling TV? Check out our Hulu Live vs. Sling guide to see a side-by-side analysis.*
You can even create up to ten user profiles with an account. This gives every profile its own login and DVR.
Internet Speed
A high-speed internet connection is necessary to use any streaming platform. Each service has its own requirements to ensure quality playback and avoid buffering.
Here is what Philo recommends for internet speed connections:
| Video Quality | Min. Speed |
| --- | --- |
| SD | 3 Mbps |
| HD (1 TV) | 7 Mbps |
| HD (2+ TVs) | 13 Mbps |
If you have multiple users streaming simultaneously, you will need extra speed.
In our tests, Philo held its own for speed. We only experienced minimal buffering.
Read our guide on the minimum internet speed requirements for each respective service to learn more.
Parental Controls
Philo does not currently offer parental controls. Competitors like Sling TV and YouTube TV do offer this, but it comes with a higher cost.
It would be nice to see this added in the future, especially for on-demand content.
If parental controls are essential to you, create a separate profile for your children to keep them from viewing content that you don't want them to watch.
What Are the Pros and Cons of Philo?
There's a lot to consider when choosing a streaming platform. Here are some things to think about when looking at this discount provider.
Pros:

Inexpensive
Easy to use, unlimited DVR
Over 60 channels of top entertainment and lifestyle networks
Reliable streaming platform
Three simultaneous streams and ten profiles
Works with virtually any streaming device
Free trial
Cons:
No local or sports channels
720p quality for live shows
No parental controls
The lack of sports does hold a lot of people back from using the service. However, many people don't care about or need sports. For these viewers, Philo is an attractive choice.
Is Philo Worth the Money?
It is not always easy to choose a live TV streaming service. There are a lot of features to consider, and some providers can be expensive.
Many cord-cutters won't look at Philo because it lacks sports or local networks. However, for the person who doesn't need that type of content, the platform is worth the cost.
For only $25 a month, you get over 60 live channels of entertainment and lifestyle content. You also get an unlimited DVR and three simultaneous streams.
If you don't require a true cable-like replacement, Philo is a terrific value for the money.
Is There Anything Better than Philo?
Philo is one of the best alternatives in the cord-cutting space. It offers many awesome features. However, if you find that it doesn't meet your needs, there are other choices.
Here is how it compares against the other cable replacement services:
| Service | Cost | Channels | Streams | DVR | Rating | Trial |
| --- | --- | --- | --- | --- | --- | --- |
| Hulu Live | $76.99+ | 85+ | 2 | Unlimited | 4.1/5 | Try |
| fuboTV | $74.99+ | 140+ | 10 | 1,000 hrs. | 4.2/5 | Try |
| DIRECTV STREAM | $74.99+ | 65+ | 20 | Unlimited | 3.7/5 | Try |
| Philo | $25 | 70+ | 3 | Unlimited | 4.3/5 | Try |
| Sling TV | $40+ | 30-50+ | 1-4 | 50 hrs. | 4.2/5 | Try |
| Vidgo | $69.99+ | 110+ | 3 | N/A | 4/5 | Try |
| YouTube TV | $72.99+ | 100+ | 3 | Unlimited | 4.2/5 | Try |
Don't forget to use free trials to find an option that works for you.
If you're not sure what service to choose, try our free quiz to receive a customized recommendation in under 60 seconds.
Philo TV Review
Channel Lineup

Price

DVR Space

Availability

Ease of Use
Philo TV Review
Get live TV and unlimited DVR space for less than one quarter the cost of cable, and no contract!
Pros
✔️ Inexpensive cable replacement
✔️ Unlimited DVR
✔️ Dozens of popular lifestyle and entertainment channels
✔️ Three simultaneous streams
✔️ Reliable service
Cons
❌ No live sports
❌ Streams live TV in 720p
❌ No local channels
Summary
When you look at all the cord-cutting options on the market today, Philo is terrific. Aside from the lack of locals or sports networks, it provides a diverse channel lineup.
If you can keep your enjoyment of sports limited to what you can access on your local channels with an antenna, there's no reason why you can't use this platform to satisfy your TV entertainment needs and save money.
Try Philo's free seven-day trial today to see what you think.
How much do you spend on cable each month?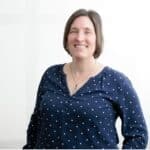 I'm Nicole Schmoll – a master's-educated professional writer, mompreneur, and co-founder of Frugal Rules.
As a freelance copywriter in Omaha, I still believe that writing is an artistic expression. Every time I strike the keys, I intend to evoke a response from my listeners. I left my full-time career as a senior copywriter for an insurance agency to start my own freelance writing business.
I love watching and writing about TV (and how to stream it!)