Are you hearing all the hype about Yellowstone from loved ones and feeling left out because you haven't watched it? Kevin Costner plays John Dutton, the lead in this modern-era Western-themed drama.
Unfortunately, streaming the show isn't as easy as it might seem.
If you want to join the millions who follow the show, our guide shares the best ways to watch Yellowstone without cable.
What Channel is Yellowstone On?
You can stream new episodes of Yellowstone on the Paramount Network. Paramount is available on most cable and video streaming services.
If you haven't cut the cord on cable, the network is available on both DIRECTV and Dish. Cord-cutters can also find the channel on most live TV streaming services.
You might think it's possible to stream Yellowstone online via Paramount+. Unfortunately, that is not the case.
Additionally, you can only watch new episodes via the channel. Yellowstone season four wrapped up in early 2022, and season five begins in November 2022.
This poses a problem for viewers who want to binge-watch all seasons.
What Streaming Service Has Yellowstone?
Peacock TV is the exclusive streaming service for this popular show. If you want to watch every episode of Yellowstone, the NBC streaming service is your best choice.
The Peacock TV app has all four seasons of the Dutton family drama and airs new seasons several months after they wrap up.
This on-demand streaming service has two subscription tiers to choose from – Peacock Premium and Peacock Premium Plus.
Here are the pricing levels and details of both subscription options.
| Feature | Peacock Premium | Peacock Premium Plus |
| --- | --- | --- |
| Price/Mo. | $5.99 | $11.99 |
| Price/Yr. | $59.99 | $119.99 |
| Ads | Yes | No |
| Mobile Downloads | No | Yes |
| Original Content | Yes | Yes |
| Live Sports | Yes | Yes |
| Free Trial | No | No |
At $5.99 a month, Peacock Premium is a decent value. In addition to the Dutton family drama, you get lots of NBCUniversal content.
This includes original content, next-day availability of many live NBC shows, and movies.
The service is also the exclusive streaming home of the WWE Network. Plus, you can watch Sunday Night Football on the platform.
Read our Peacock review to learn more.
Other On-Demand Options to Stream Past Episodes
While Peacock has the streaming rights to this popular show, it's not the only option to watch past seasons of Yellowstone.
Here are three other ways you can tune in.
Paramount Network
It's not uncommon for networks to air a marathon of a well-liked show. As such, Paramount often runs full seasons of Yellowstone.
However, this is usually around the same time that a new season airs, so you may not have the time to watch the entire season.
If you have a pay TV subscription or streaming service with a cloud DVR, you might be able to record episodes to watch at your leisure.
Pluto TV
Pluto TV is an ad-supported streaming service that is free to use. It has run marathons of Yellowstone in the past.
If you don't mind ads and can watch for hours, Pluto TV can be an option.
Read our Pluto TV review to learn more.
Amazon Season Pass
If you want to watch Yellowstone online without having to deal with a subscription service, Amazon is a suitable alternative.
You can purchase a Season Pass for each season for just $19.99. This gets you all ten episodes for the season.
The Season Pass allows you to own the content for as long as you keep your Amazon account open.
Live TV Streaming Services That Carry Yellowstone
If you want to watch current episodes, it is possible to watch Yellowstone without a cable subscription.
With the most expensive service costing $70 a month, live TV streaming services offer significant savings over the average cable bill of $200 a month.
Almost all of the major live services carry the Paramount Network in their channel lineup. Sling TV is the only exception.
You must buy the Comedy Extra add-on to get the Paramount Network on Sling TV. This costs $6 a month and gives you the channel plus nine other networks.
Adding that to Sling Blue will net you 51 total networks in your channel package for $41 a month.
Here are the live TV streaming services that carry the Paramount Network.
Each service works with most streaming devices, so all you need to do to start watching the show is sign up. Many, though not all, of the services offer a free trial to test out the service.
Additionally, most of the platforms offer the most recent season of the show on-demand.
You usually can't fast-forward through commercials watching it this way, but it's a good way to stay up-to-date with the Dutton family.
How to Watch Yellowstone Spinoffs
Further muddying the waters, Paramount+ is working to make money on the Dutton family through a variety of spinoffs.
1883 is the first Yellowstone prequel to air on the streaming service. The series ended in February of 2022. You can stream all episodes on the service, and you can't find them elsewhere.
The service is planning other Taylor Sheridan created spinoffs, 1932 and 6666, in the near future.
Paramount+ operates much like Peacock, except it's for Paramount-related content. It has two plans, including an ad-supported and ad-free option.
The ad-free option gives you access to four live CBS stations. Read our Paramount+ vs. Peacock analysis to learn how the two services compare.
Here is the pricing you can expect for Paramount+.
| Subscription Type | Monthly Cost | Annual Cost |
| --- | --- | --- |
| Limited Ads (Essential Plan) | $5.99 | $59.99 |
| Ad-Free (Premium Plan) | $11.99 | $119.99 |
Read our Paramount+ review to learn more.
Can You Watch Yellowstone for Free?
Unfortunately, there is no way to watch the show for free. Any site claiming that you can is typically full of spam or not legitimate.
Pluto TV is the only true option, but it doesn't always air the show. So, it's not truly a reliable option.
Bottom Line
Cutting the cord on cable is an easy way to save money. But, it sometimes takes a little effort to watch your favorite show. This is the case if you want to watch Yellowstone.
Luckily, there are ways to watch this drama without cable. Just remember to cancel any service you sign up for when you're done with it so that you don't eat away at your savings.
What's one can't-lose network you must have?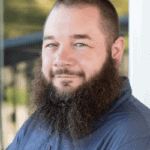 I'm John Schmoll, a former stockbroker, MBA-grad, published finance writer, and founder of Frugal Rules.
As a veteran of the financial services industry, I've worked as a mutual fund administrator, banker, and stockbroker and was Series 7 and 63-licensed, but I left all that behind in 2012 to help people learn how to manage their money.
My goal is to help you gain the knowledge you need to become financially independent with personally-tested financial tools and money-saving solutions.