Canceling cable is a terrific way to save money. Switching to a live TV streaming service can easily shave $100 per month off your entertainment costs.
Although on the pricey end of cable replacements, the DIRECTV streaming service may be a suitable option for your TV needs.
Our DIRECTV STREAM review shares our experience testing the platform and how it stacks up against the competition.
What is DIRECTV STREAM?
DIRECTV STREAM is a rebrand of AT&T TV as of August 2021. Before that, it was known as AT&T TV Now, and it was also previously called DirecTV Now.
The live television subscription service was recently spun off by AT&T to operate independently. It's the no-contract version of DIRECTV and is a worthy consideration to replace your cable or satellite TV contract.
How Much Does DIRECTV STREAM Cost?
The DIRECTV STREAM app is one of the more expensive cable alternatives. It has four plans to choose from, with the Entertainment package being the cheapest at $79.99 a month.
That base package offers nearly 75 channels of popular lifestyle, sports, and news channels. You also receive local broadcast channels in each package.
Here are the four DIRECTV STREAM packages and how much they cost.
| Plan | Price | Number of Channels |
| --- | --- | --- |
| Entertainment | $79.99 | 75+ |
| Choice | $108.99 | 90+ |
| Ultimate | $119.99 | 130+ |
| Premier | $164.99 | 140+ |
For the cost and channel guide, you may find fuboTV or YouTube TV more suitable for your needs. Read our review of how to watch local channels without cable if you want to save more money.
What Channels Do You Get with the DIRECTV STREAM App?
With four different options to select from, choosing the right DIRECTV STREAM channel lineup for you is crucial.
The Entertainment package is the most affordable, but the top choices rival prices you'll pay at any cable provider.
Each package includes channels from the one beneath it, so you want to ensure you pick the plan that works for you.
Here are the channels included in the base package.
| Channel Name | Channel 2 | Channel 3 |
| --- | --- | --- |
| A&E | ABC | AccuWeather |
| AMC | Animal Planet | AXS TV |
| Baby TV | BBC America | BET |
| Black News Channel | Bloomberg News | Boomerang |
| Bravo | C-SPAN | C-SPAN2 |
| Cartoon Network | CBS | CMT |
| CNBC | CNN | CNN En Espanol |
| CNN International | Comedy Central | Discovery Channel |
| Disney Channel | Disney Junior | Disney XD |
| E! | ESPN | ESPN2 |
| Food Network | FOX | Fox Business |
| Fox News | FS1 | Freeform |
| FX | FXX | Galavision |
| GEM Shopping Network | Hallmark Channel | Hallmark Movies & Mysteries |
| HGTV | History Channel | HLN |
| Home Shopping Network | IFC | Investigation Discovery |
| MTV | MTV2 | National Geographic |
| NBC | Daystar HD | Get TV |
| Nickelodeon | Newsmax | Paramount Network |
| QVC | Reelz | Revolt |
| RFD-TV | Sundance TV | Syfy |
| TBS | TCM | TeenNick |
| TLC | TNT | truTV |
| TV Land | Univision | USA |
| VH1 | Viceland | We tv |
These are examples of some of the channels you will receive in successive packages:
Choice: ACCN, BTN, CNBC World, Cooking Channel, ESPNews, ESPNU, Game Show Network, IFC, MLB HD, Nick Jr, and Nicktoons
Ultimate: BBC World News, Destination America, Discovery Family Channel, FX Movie, Lifetime Movie Network, Nat Geo Wild, NHL Network, Olympic Channel, Starz Encore, and Universal Kids
Premier: Cinemax HD, HBO, Showtime, and Starz
Premium Channels
Like any internet-based streaming service, DIRECTV STREAM offers a variety of premium channels to enhance your viewing experience.
These have an additional cost but can be a good way to watch movies and original, on-demand content.
Here are the premium channels available through the streaming service.
| Premium Channel | Monthly Cost |
| --- | --- |
| Cinemax | $11.00 |
| EPIX | $6.00 |
| HBO Max | $15.99 |
| Movies Extra Pack | $5.00 |
| Showtime | $11.00 |
| Starz | $11.00 |
If you choose the Choice package or above, you receive Max free for three months. However, when it was AT&T TV, you received it free for 12 months.
*Related: Read our Max streaming service review to learn more about the platform.
Sports Channels
Live sports are a big reason why people choose not to cancel cable or satellite TV. DIRECTV STREAM offers a competitive lineup of sports channels.
When you choose a higher-tier package, you receive all of the ones in the lower-tier plan. This is similar to the standard channels.
Here are the sports networks you receive in each package:
Entertainment: ESPN, ESPN 2, FS1, and NBC Sports
Choice: ACCN, BTN, ESPNU, ESPNews, MLB Network, NBA TV, SECN, and Tennis Channel
Ultimate: CBSN, FS2, Golf Channel, NHL Network, and Olympic Channel
Premier: CBSN, FS2, Golf Channel, NHL Network, and Olympic Channel
Unfortunately, you won't see NFL Network on DIRECTV STREAM. If that channel is important to you, read our guide on how to watch NFL Network without cable to get it.
Part of what sets DIRECTV Stream apart from other live TV streaming services is their inclusion of regional sports networks (RSNs).
Other services, like YouTube TV include some RSNs, but not to the extent DIRECTV STREAM does.
Here are the RSNs you can currently receive:
Altitude
AT&T SportsNet
Fox Sports RSNs
NBC Sports RSNs
MSG
NESN
Spectrum SportsNet
It is important to note that you must select the Choice package or above to receive access to RSNs. This makes it a costly $108.99 per month, but you receive considerably more RSNs than any other no-contract live TV service.
However, if you only need an RSN for a short time during the year, such as during the college football season, you could subscribe to DIRECTV STREAM for the season.
Then, you could move to another service once the season is over. If you don't need a live service and want Bally Sports RSNs, the standalone Bally app could be a good alternative.
Read our Bally Sports+ review to learn more.
Look and Feel
The DIRECTV STREAM interface is relatively easy to use without being overly flashy. It's simple to navigate, and the streaming quality matches any other top cable alternative.
The top navigation menu has four main tabs to view content. Those are:
Watch Now
My Library
On Demand
Guide
You can find a search bar in the top right of the screen as well as a gear wheel to access your account settings.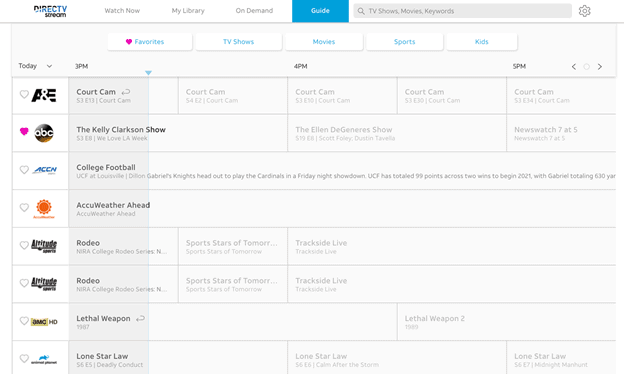 The search function isn't very robust, but it is resourceful enough to find programs to watch. However, one nice feature is that you can narrow results by type.
For example, if you search for baseball, you can filter it by TV programs and sports. YouTube TV and fuboTV have more robust search options, but it's still a solid feature on DIRECTV STREAM.
The guide is intuitive, and you can easily find what you want to watch. When you click on the guide, it brings up a grid you can use to browse channels.
You can bookmark channels, allowing you to streamline the guide to your needs. It also allows you to browse content by TV shows, movies, sports, and kids.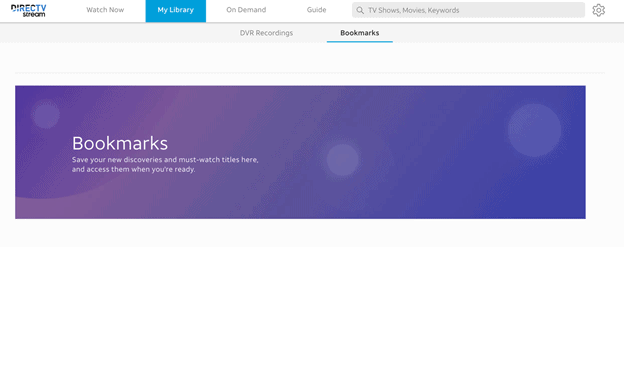 Clicking on any show currently running will bring up the program in full screen. If it's airing in the future, the guide will show a small box with a show guide and episodes you can record.
Using the mobile DIRECTV STREAM app produced a similar experience as the desktop and TV versions. It's a little more clunky but is intuitive and simple to navigate.
Do I Need DIRECTV STREAM's Streaming Device?
When you sign up for service, DIRECTV will offer you the ability to purchase its brand-specific streaming box. It is unnecessary to purchase since you can stream live television through the service using other supported devices.
*Related: Is the DIRECTV streaming service too expensive for you? Take our free quiz to find a better, more affordable service for your needs.
However, it is important to know that they charge $5 per month for the streaming device. It also requires a 24-month contract.
You can pay $120 upfront or pay for the device monthly. If you choose to leave the service, you will have to pay the balance due.
*Update: As of April 6, 2023, The DIRECTV STREAM device is no longer available. You can bring your own device to use the platform. The app works with many of the major devices, including Roku, Tivo, Apple TV, and Fire devices.
Features
The cord-cutting space is a competitive market, and the best video streaming services create packages to lure customers with sought-out features.
Features
Choosing a live TV streaming service can be challenging. Features are often where a streaming app sets itself apart.
Here are a few of the important features you get with a subscription to DIRECTV STREAM.
Cloud DVR
A DVR is what keeps many people from cutting the cord on cable or satellite. At launch, DIRECTV STREAM's cloud DVR was paltry in comparison to other premium services.
Now, it matches what you can find with YouTube TV or Hulu Live. The cloud DVR offers unlimited recording capacity and recordings expire after nine months.
Lookback and Restart
Lookback and Restart is a helpful resource to use if you forget to record a show. Both are helpful in a pinch.
Lookback works as it sounds. It allows you to watch programming that has aired in the previous three days. Not all channels support it, but it can be an excellent resource.
Restart lets users play a live show from the beginning. For example, if it's an hour-long show that's half over, you can restart it from the beginning.
Like Lookback, Restart is channel-dependent. The DIRECTV STREAM support page lists the channels that allow Lookback and Restart.
Simultaneous Streams
DIRECTV STREAM is a terrific choice for large families. The service allows for 20 simultaneous streams.
Most live streaming services allow two or three streams at once with the ability to upgrade for an additional cost.
If you're away from your home network, you can stream on up to three devices at once.
Parental Controls
Not all streaming services offer parental controls, but you can limit what your kids can watch on DIRECTV STREAM.
Here is how parents can access the controls and settings:
Click on the gear icon in the upper right corner of the page
Select Parental Controls and toggle on or off
Enter your 4-digit PIN
Doing this allows you to block content, create settings of what your children can watch, and more.
4K and Dolby
If you are a videophile or audiophile, you may want a live TV service that offers either 4K or Dolby surround sound. Unfortunately, DIRECTV STREAM doesn't offer access to either feature.
Both were available through its proprietary device, but the dongle is no longer in use.
DIRECTV STREAM says they will offer 4K streaming capabilities, but it will be later in 2023. There is no word on if it will require an additional cost. Currently, the service only offers Dolby 2.0 sound.
Supported Devices
Compatible devices are an important part of canceling cable. You can access DIRECTV STREAM with the following devices:
Amazon Fire TV devices
Apple devices
Chromecast
Microsoft Edge
Samsung smart TVs
They no longer offer a device to purchase. If you use one of the above you should face no issues in streaming TV.
How to Cancel DIRECTV STREAM
It is not always easy to cancel your subscription if you don't like the service. While DIRECTV STREAM does currently offer a five day free trial, it's a challenge to cancel.
Additionally, if you purchase their device, you must pay the balance in full.
They don't make it easy, but here is how to cancel DIRECTV STREAM:
Sign in to your account and click Watch Now
Click on the gear icon in the upper right corner of the account page
Choose Account Details
Select Manage My Subscription
Click on the Cancel My Subscription link on the left-hand side of the screen
This brings up a chat screen to speak with a representative.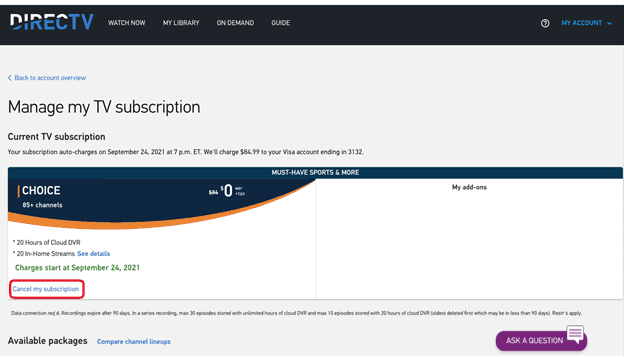 Tell them you want to cancel the service. Upon canceling, you will receive an email to confirm your cancellation.
You can also call 1-800-288-2020 to speak with a representative to cancel.
Pros and Cons
There's a lot to consider when picking a streaming service like DIRECTV STREAM. Here are some things to think about.
Pros:
Good streaming quality
Largest offering of RSNs from any live TV service
You can have 20 streams simultaneously
Allows you to stream away from home
Includes parental controls
Lookback and Restart features
Good channel lineup
Cons:
It's expensive
Canceling is difficult
Interface is a bit clunky
DIRECTV STREAM is great for sports fans and has a robust channel lineup. However, it's easy to see savings from cutting the cord evaporate with the service.
Top Alternatives
Given the high cost, you may want to choose a different service for your entertainment needs.
Here are three alternatives to DIRECTV STREAM that are cheaper or offer a better platform.
| Service | Cost | Channels | Streams | DVR | Rating | Trial |
| --- | --- | --- | --- | --- | --- | --- |
| DIRECTV STREAM | $79.99+ | 75+ | 20 | No limit | 4.2/5 | Try |
| fuboTV | $74.99+ | 140+ | 10 | 1,000 | 4.2/5 | Try |
| Sling TV | $40+ | 30-50 | 1-4 | 50 hrs. | 4.1/5 | Try |
| YouTube TV | $72.99+ | 100+ | 3 | No limit | 4.3/5 | Try |
fuboTV
FuboTV is a top choice for cord-cutters looking for a cable-like experience. The service has nearly 150 channels in its base package for just $74.99 a month, plus RSN fees.
You receive roughly 50 additional channels in its Elite plan for an additional $10 a month. The platform is a leading sports option with roughly a dozen add-ons to watch niche sports.
It also includes 4K content, when available, at no extra charge. Not all services offer that.
If you want to watch NFL games, plus other popular sports, fubo is often a better choice than DIRECTV STREAM.
Read our fuboTV review to learn more.
Sling TV
Sling TV is a low-cost, no-contract streaming service. The service has two base plans – Orange and Blue.
Either option costs $40 per month, or you can combine the two for $55 a month. Orange has ESPN, and Blue has Fox Sports.
The service only carries ABC, FOX, and NBC in select locations through the Blue package. You will want to pair it with an over-the-air antenna to get local channels.
It has a base DVR of 50 hours, or you can upgrade to 200 hours for $5 a month.
Read our Sling TV review to learn more.
YouTube TV
YouTube TV is our top-rated live TV streaming service. It has over 100 channels in its base plan, which costs $72.99 per month.
YouTube TV sets itself apart with its robust channel offerings of lifestyle, sports, and news channels. They're also the only service that includes the MLB, NBA, and NFL networks.
It even includes an unlimited capacity cloud DVR, and you can keep recordings for nine months.
Read our analysis of YouTube TV vs. DIRECTV STREAM to learn how they compare.
Read our YouTube TV review to learn more.
DIRECTV STREAM Review
Channel Lineup

Price

DVR Space

Availability

Ease of Use
DIRECTV STREAM Review
Get live TV and Regional Sports Networks for half the cost of cable, and no contract!
Pros
✔️ Unlimited DVR
✔️ Reliable streaming
✔️ You can have 20 simultaneous streams
✔️ Superb channel lineup
✔️ Parental controls are included
Cons
❌ The service is expensive
❌ Interface isn't very intuitive
❌ It is difficult to cancel
Bottom Line
DIRECTV STREAM is a worthy competitor in the cord-cutting space. They offer the most RSNs in the space and have a strong channel lineup.
However, it's difficult to look past the price. It's the most expensive option on the market, and it's DVR could use some help.
If you don't need RSNs, you will be better served by one of the other top live TV streaming services. They will likely save you money and provide a better experience.
How much do you spend on TV providers each month?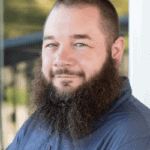 I'm John Schmoll, a former stockbroker, MBA-grad, published finance writer, and founder of Frugal Rules.
As a veteran of the financial services industry, I've worked as a mutual fund administrator, banker, and stockbroker and was Series 7 and 63-licensed, but I left all that behind in 2012 to help people learn how to manage their money.
My goal is to help you gain the knowledge you need to become financially independent with personally-tested financial tools and money-saving solutions.