If you are a fan of local network TV, you may think you need cable to watch your favorite shows. This may be keeping you stuck in a pricey contract.
Thankfully, there are numerous ways to watch CBS without cable. The best part is that all of them are cheaper than your current monthly bill.
Here are the best ways to cut the cord and get 60 Minutes, March Madness, news, daytime shows, AFC football games, and other content from the broadcast network.
How to Get CBS Without Cable
There are many reasons to watch CBS without a cable provider, but the primary one is to save money.
An antenna or streaming service makes it easy to catch all the network's programming, including hit series like Survivor, NCIS, 1923, and Clarice.
Here are the top ways to watch CBS without a TV provider.
1. Fubo
This sports-centered live TV streaming service is one of the best ways to watch CBS without cable. Plans start at $74.99 per month, plus RSN fees, and include local channels as well as 43 of the top 50 Nielsen-ranked channels.
These plans also come with 1,000 hours of cloud DVR space and the ability to stream on ten screens at once.
Fubo carries one of the best collections of 4K content and international sports in the streaming space.
In all, you'll get more than 140 channels and the ability to watch CBS online for less than half the cost of the average cable contract.
However, there are no Turner network channels. Plus, it is on the more expensive end of the streaming spectrum. This will pose a problem come time for March Madness.
Read our guide on how to watch March Madness without cable to learn of other streaming services that let you stream the NCAA basketball tournament.
If you upgrade to the Elite plan, or add on different channel packages, your price can increase quickly.
In spite of the minimal downsides, Fubo is one of the top live TV streaming services that carry CBS.
You can test the service with a seven-day free trial to see if it's for you.
Read our fuboTV review to learn more.
| Info | Data |
| --- | --- |
| Pricing & Packages | Pro - $74.99+ / Elite - $84.99+ |
| Simultaneous Streams | 10 at home + 2 on the go / 10 at home + 2 on the go |
| DVR | Pro - 1,000 hours / Elite - 1,000 hours |
| Channels | 140+ - 210+ |
| Supported Devices | iOS, Android, Roku, Amazon Fire TV + more |
| On-demand library | Yes |
2. DIRECTV STREAM
When AT&T purchased DIRECTV, it absorbed its live TV service and called it AT&T TV. It's since changed again to DIRECTV STREAM and is another way to watch CBS for less than cable.
To get CBS you'll need the 'Entertainment' plan, which is on the higher end of the cost spectrum.
However, this is the base package and includes dozens of popular national networks along with 45,000+ on-demand titles.
If you have a large family, DIRECTV STREAM may be a perfect fit. It allows uses to simultaneously stream on 20 screens.
Like all of the other platforms on our list, DIRECTV STREAM works with Roku or Fire devices, or pretty much anything with a screen.
You can try the service with a five-day free trial to see if it meets your needs.
Read our DIRECTV STREAM review to learn more.
| Info | Data |
| --- | --- |
| Pricing & Packages | 4 packages. Entertainment - $80 / Premier - $165 |
| Channels | 65 to 140+ |
| Supported Devices | iOS, Android, Roku, Amazon Fire TV + more |
| Simultaneous Streams | 20 |
| DVR | No limit |
| On-demand library | Yes |
3. Paramount+
Paramount+ is the cheapest way to watch CBS content. The app is the streaming home of all content from the Paramount family of networks. This includes next day airing of most CBS shows.
If you want a live broadcast of shows, you can get your local CBS live stream. You must upgrade to the Premium level to get your local broadcast affiliate.
It has four live TV CBS channels and more than 30,000 TV shows, 2,500 movies, and 50+ original series. There's also a lot of on-demand CBS programming.
Paramount+ offers two plans. These include a limited commercial option without live TV for $5.99 per month and an ad-free plan with four stations of live CBS programming for $11.99 per month.
| Subscription Type | Monthly Cost | Annual Cost |
| --- | --- | --- |
| Limited Ads (Essential Plan) | $5.99 | $59.99 |
| Ad-Free (Premium Plan) | $11.99 | $119.99 |
Both plans offer content from popular TV channels and national networks, including BET, Comedy Central, MTV, Nickelodeon, and Smithsonian Channel.
If you want to watch everything on your local CBS station plus CBS News, CBS Sports HQ, and ET Live, choose the more expensive plan. The more expensive plan also includes content from Showtime.
It's also the best way to watch Star Trek shows and movies if you're a fan of the franchise.
Sports broadcast on Paramount+ include soccer games from the Champions, Europa, and Women's leagues. It also includes Sunday afternoon NFL games from the AFC.
While that is a ton of content, it may not have every show or all episodes of every show you want to watch.
The service does offer a seven-day free trial, which is a great way to see if the monthly cost is worth it to you.
Read our Paramount+ review to learn more.
4. Antennas
An antenna is the best way to watch CBS for free. While rabbit ears no longer let you watch your local CBS channel for free, an over-the-air antenna will.
In fact, you can watch all your local over-the-air broadcasts with a simple antenna.
About ten years ago, TV signals switched from analog to digital. As a result, newer antennas became necessary to pick up your local CBS affiliate.
While the programming is free, there is a one-time upfront cost of about $50 to purchase an antenna.
After that, you can stream CBS and all your local stations for free for life.
If you live within 60 miles of your nearest broadcast tower, you'll be fine with an indoor antenna like the Mohu Leaf. You can use the code FRUGALRULES10 to receive ten purchase off the purchase of a Mohu product.
However, if you live more than 60 miles away, you'll need an outdoor antenna. These are more expensive but still less than cable in the long run.
A quick search on the FCC website will tell you how close you are to your nearest broadcasting tower.
Read our guide on how to get local channels without cable or satellite to identify your money-saving opportunities.
5. Hulu Live
If you want all the basic cable channels plus original series and on-demand content, Hulu Live is an excellent way to watch CBS without cable.
Hulu Live carries all the local networks and Turner channels. It costs $69.99 per month and includes all the popular networks like ESPN, HGTV, and CNN.
Additionally, subscribers also get access to the Disney bundle. This includes content from ESPN+ and Disney+. This gives the platform a bit more value than other live TV streaming apps, especially among premium offerings.
Unfortunately, you have to upgrade to watch on more than two screens. The service also doesn't offer a free trial.
Still, its library of titles available to stream anytime puts it ahead of almost every other streaming service.
Read our Hulu with Live TV review to learn more.
| Info | Data |
| --- | --- |
| DVR | No limit |
| Pricing & Packages | $76.99 - $89.99 (no ads) |
| Channels | 80 + locals |
| Supported Devices | iOS, Android, Roku, Amazon Fire TV + more |
| Simultaneous Streams | 2 - Free / unlimited - $9.99 |
| On-demand library | Yes |
6. YouTube TV
At $72.99 per month, this streaming service is not the cheapest option. However, YouTube TV is a terrific way to watch local channels without cable.
You can stream on three screens simultaneously and record an unlimited amount of content. It's arguably the most simple of the streaming plans.
There's just one plan, one price, and all the features are included. All your local channels and the most popular networks are offered in this plan.
If you're a big fan of the NFL, YouTube TV has the rights to NFL Sunday Ticket, starting with the 2023 season.
Premium channels can be purchased for an extra fee. YouTube TV also offers a seven-day free trial to test the service.
Read our YouTube TV review to learn more.
| Info | Data |
| --- | --- |
| Pricing & Packages | $72.99 |
| Channels | 100+ |
| Supported Devices | iOS, Android, Roku, Amazon Fire TV + more |
| Simultaneous Streams | 3 |
| DVR | No limit |
| On-demand library | Yes |
Bottom Line
There's no reason to stay in an overpriced cable contract just to watch CBS live.
Cut the cord and watch CBS for free with an antenna. Alternately, purchase a low-cost subscription from Paramount+ or another streaming service to get live TV programming.
If you watch a lot of sports and want a more cable-like experience for half the price, try fuboTV free for a week. No matter which option you choose, ditch cable and start saving money today.
What's one channel that keeps you from cutting the cord?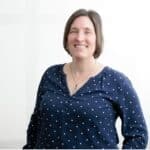 I'm Nicole Schmoll – a master's-educated professional writer, mompreneur, and co-founder of Frugal Rules.
As a freelance copywriter in Omaha, I still believe that writing is an artistic expression. Every time I strike the keys, I intend to evoke a response from my listeners. I left my full-time career as a senior copywriter for an insurance agency to start my own freelance writing business.
I love watching and writing about TV (and how to stream it!)