The 7 Best TV Streaming Services to Cut Cable and Save Money
Choosing one of the best TV streaming services can do big things for you financially. Personally speaking, before we canceled DirecTV we were spending close to $110 per month to watch TV. Today, we spend $26.35 per month.
If you currently spend close to the average monthly cable bill, like we were, you can live without cable regardless of what you may think. Not only can the savings be life-changing, but you can still catch your favorite shows with many of the best TV streaming apps.
I used to think that I couldn't live without cable. Thanks to the best TV streaming sites on the market, that is a myth. I've tried many of the services below. Some are great; others have their issues.
What I have found is that if you want to save money and cut your cable bill, there are many options out there to help you do just that. With that in mind, here are the seven best TV streaming services that can help you kick cable to the curb and start putting that money towards other, much more important things in your life.
1. DirecTV Now
The most recent live TV streaming service I've tried is DirecTV Now. As makes sense, DirecTV Now is the no-contract offering by DirecTV. DirecTV Now offers four service plans, which start at $35 and go up to $70 per month, for anywhere from 60 to 120 channels, respectively. DirecTV Now also allows you to add HBO or Cinemax for an additional $5 per month.
You can try out the platform with a free 7-day trial when you sign up for DirecTV Now. I found DirecTV Now to be one of the better TV streaming apps as you can seamlessly move between channels, unlike Sling TV. The channels also load relatively fast, and you can customize your own guide, so you don't have to scroll through a bunch of channels you don't care about.
Additionally, you can also stream on two devices at once, which is nice if you have multiple people in your home who want to watch different shows.
The big thing that sticks out to me, however, is that DirecTV Now does not currently offer a DVR option. I'm sure it'll come in the future, as not every live TV streaming service offers them currently. * 5/29/18 update: DirecTV Now has recently added a cloud-based DVR feature for users!
You can stream DirecTV Now from the following devices:
Android smartphones and tablets
Apple TV
Google Chromecast
Google Cast on supported Vizio and LeEco TVs
Google Chrome
Internet Explorer
iPad
iPhone
Safari
If you'd like to check out more features of DirecTV Now, check out our DirecTV Now Review.
2. Sling TV
Sling TV is one of the older streaming options and is considered by some as one of the best live TV streaming services. We've tried Sling TV a number of times and it is the no-contract offering by Dish TV.
Sling TV offers two services plans. Sling Orange is the original version, charging $20 per month for almost 30 channels. Sling Blue is the upgraded version, charging $25 per month for 45 channels – many of which are regional sports packages. Sling TV also allows you to add HBO for an additional $15 per month.
Like DirecTV Now, you get a free 7-day trial when you sign up for Sling TV.
Sling TV is a bit wonkier than DirecTV Now, but if cost is important to you, it may be worth the savings. Additionally, the base package only allows for one streaming device at a time.
What I do like about Sling TV is that it's a bit more customizable, offering eight different specialty packages, such as "Kids Extra" or "Lifestyle Extra" that gives you access to additional niche-specific channels for only $5 more per month, per upgrade.
**Additional tip: Love NFL football but don't know how to watch your favorite team without cable? Here's how to watch NFL games online for free and still catch all the action!**
The other great feature to Sling TV is that they've begun to roll out DVR capability. It's a cloud-based DVR, but you do need to use a certain device, and it's not currently available in all areas. Regardless of those two issues, it's exciting to see it as an option and assume it'll be more readily available in the near future.
You can stream Sling TV from the following devices:
Xbox One
Amazon Fire TV and Fire Stick
Nexus Player
Roku
Google Chromecast
Mac
PC
Android and iOS based devices
If you'd like to check out more features of Sling TV, read our Sling TV review.
3. Hulu with live tv
One of the more difficult things with cutting cable is missing your favorite network shows. Hulu Plus solves that problem. Hulu is not a true live TV streaming app…yet (they have a pilot launch of this capability just recently), but I like Hulu as it allows you to watch many network shows – just 24 hours after they've aired.
Hulu offers two plans – $7.99 per month with commercials; and Hulu Plus, which is $11.99 with limited commercials. There's no difference in the content you receive on the plans; you just remove the commercial aspect. You can also add Showtime for an additional $8.99 per month.
Like other TV streaming services, you can get a free 7-day trial when you sign up for Hulu.
We've tried Hulu a number of times and love the ability to catch network shows. Hulu has an expansive content library with a lot of older TV shows and a good amount of movies.
They've also begun to add original content and I can only imagine it will increase in the future. Netflix also offers a ton of original content, and has a lot of similarities to Hulu. Our side-by-side comparison of Netflix vs Hulu provides insight on which service may be better for your needs.
The one drawback is that some of the more popular shows only go back five episodes, so it's important to keep that in mind if you plan to binge watch a show.
You can stream Hulu from the following devices:
Amazon Fire TV and Fire Stick
Nexus Player
Sony Playstation
Xbox One
Wii
Google Chromecast
Mac
PC
Android and iOS based devices
Hulu Live has recently launched, charging $35 per month for 40 channels. Having a cloud-based DVR and other features, it ranks up there with DirecTV Now and Sling TV.
4. Amazon Instant Video
I love Amazon and have been a user of its instant video feature for a number of years. Being Amazon Prime members, we get the service as a part of the $99 annual membership cost.
If you don't want to buy an Amazon Prime membership, you can buy their streaming service for a cost of $8.99 per month. However, if you really want Amazon Instant Video it makes mathematical sense to just buy the Prime membership to get all its additional benefits.
There are many things I like about Amazon Instant Video service. They have a lot of older shows and movies, not to mention original content.
Both of their devices, the Amazon Fire TV and Amazon Fire Stick, are crazy simple to use.
I also like that you don't have to be Prime members to get content. You get access to a lot more as a member, but it's not essential to have a membership to get some of the content.
My one complaint about Amazon Instant Video is that their offerings don't always seem to be the most up-to-date and the pricing to buy movies can sometimes be too expensive.
You can stream Amazon Instant Video from the following devices:
Amazon Fire TV and Fire Stick
Amazon Fire Devices
Roku
Sony Playstation
Xbox One
Wii
Android and iOS based devices
If you'd like to learn about more features of the Amazon devices, check out our Amazon Fire TV Stick review and Amazon Fire TV review.
5. PlayStation VUE
PlayStation VUE has become one of the top TV streaming services in a relatively short time. Similar to Sling TV and DirecTV Now, VUE is a no-contract option by Sony that allows you to watch network and cable channels.
PlayStation VUE is more like DirecTV Now in its pricing, offering four different plans. The plans range from $29.99 to $64.99 per month, offering 45 to 90 channels, respectively with the higher end package giving access to HBO and Showtime. PlayStation VUE also offers a free five-day trial to see if you like the service.
I've not had much experience with PlayStation VUE, but there's a lot to like. VUE offers DVR capability and allows you to stream up to five devices at once.
They also allow you to set up different profiles for each family member and allow for pausing, forwarding and rewinding – something not completely found on all other live TV streaming services.
PlayStation VUE does have some drawbacks to keep in mind. Like DirecTV Now, it's easy to jack up the cost. You're not able to get all the same sports networks on PlayStation VUE. Finally, PlayStation VUE is not available on all iOS and Android-based devices.
You can stream PlayStation VUE from the following devices:
Apple TV
Android TV
Amazon Fire TV and Amazon Fire TV Stick
Roku
Google Chromecast
Google Chrome
Safari
PlayStation 3 and 4 consoles
*Select iOS and Android devices
You might not expect this, but you don't need a PlayStation console to use VUE, so keep that in mind.
6. YouTube TV
YouTube TV is the newest of the live TV streaming services. Only rolled out to a few select cities, YouTube TV gives you access to roughly 40 channels for $35 per month. You can also add Showtime for an additional $11 per month, or Fox Soccer Plus for an additional $15 per month.
I've not used YouTube TV, but what I do like is that they offer access to local networks – that's something that many of the best TV streaming services do not offer. Additionally, YouTube TV offers cloud DVR capability, and you can store unlimited content for up to nine months.
If you live in a city that has YouTube TV, I've seen free month-long trial offers, so that gives you plenty of time to try out the platform.
There are several things not to like about the YouTube TV platform. First, it's available only on iPhones, Android-based phones, tablets and computers.
If you want to watch on an actual TV, you must use a Chromecast, any other cast-compatible device or connect your PC to the TV.
I've got high hopes for YouTube TV, but with it only being available in five cities at the moment I'll be waiting awhile to try it out. If you don't live in a city offering YouTube TV, you can still use the legacy service to watch free movies online and user-generated videos.
Philo
Philo is a relatively new streaming service that has a unique spin – they don't include sports channels in their offering.
While there aren't any sports channels on Philo, if you don't mind that, they do have many other popular channels that most want after cutting the cord.
At only $16 per month, Philo may be one of the better options to get the shows you want without spending too much.
In fact, Philo's low monthly cost is its strongest selling point. Not having sports available to stream is a big part of how it is able to keep its monthly subscription fee so low. It also lets you watch HGTV without cable, among other popular channels.
You can enjoy 37 channels in its cheapest channel bundle, some of which include:
HGTV
A&E
AMC
BET
CMT
DIY Network
Food Network
Lifetime
Nick Jr.
MTV
Travel Channel
That's just a partial list! Philo does offer a 46 channel plan that's $20 per month. Philo offers a 7-day free trial to check out their platform.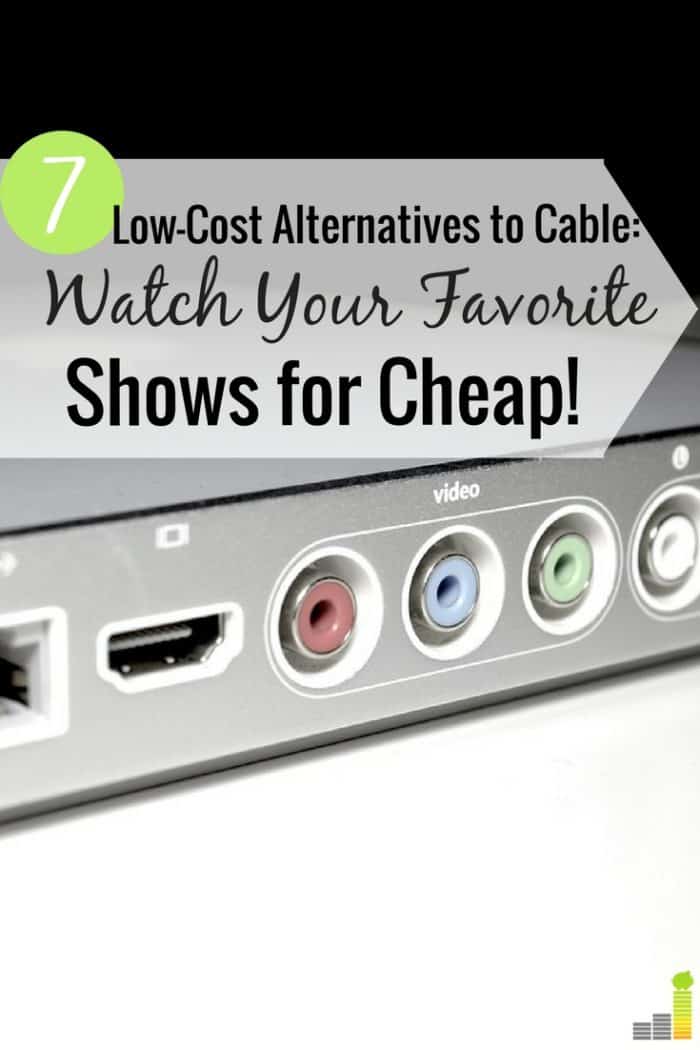 What to Keep in Mind When Looking at the Best TV Streaming Services
Cutting the cord is one of the best ways to save money every month. With the average cable bill at nearly $110 per month, that's instant savings you can use to do things like:
Pay off debt
Save for a vacation
Save more for retirement
Build up your emergency fund
Pay other bills
The above options only scratch the surface. If you still have a high-priced cable plan, cutting the cord is a great way to help reach those goals you never seem to hit – really, would you rather watch TV or accomplish a goal?
Maybe it's just me, but the answer is a given.
There are a few things to keep in mind when looking at the best TV streaming services to cut the cord. The goal is to save money, obviously. However, with a few of the live TV streaming sites, it's possible to give up a lot of the savings if you upgrade plans. That's the last thing you want to do.
Additional things to consider are:
You likely won't get local channels with many of the TV streaming apps. Buying an antenna is the best way to watch local TV without cable. We use the Mohu Leaf 50 antenna and love it. There are many other digital antennas available; here are some of the best ones on Amazon.
It's possible the streaming service you choose won't have everything you want. Pick what works best and pocket the savings. I've found that with a little bit of work, you can get most of what you want.
Know what sports you want. Many streaming services provide access to mainstays like ESPN and Fox Sports. If you want to watch MSL or Big Ten football, you may be disappointed. FuboTV is a great alternative for less mainstream sports. FuboTV is $19.99 per month for the first two months, then $39.99, after a 7-day free trial – and gets you access to dozens of sports channels for Major League Soccer, NFL and more. They also carry local channels, plus a handful of other non-sports related channels.
Some of the TV streaming services don't offer DVR capability. If you want a DVR, you can buy a standalone DVR, just make sure it doesn't require a monthly service fee. The Tivo Roamio, for example, costs around $350 but is one of the top ones on the market and doesn't charge a monthly fee. Also, keep in mind most standalone DVR options only allow you to record shows from an antenna and not from one of the TV streaming services.
Some networks still make shows available online. We like to watch Amazing Race and Blacklist, but we don't have a DVR. Both CBS and NBC respectively allow you to watch those shows online 24 hours after their air dates. We connect our laptop to the TV, and we get the show. This varies by network and show, but is a great way to get a show without paying a nasty fee.
These are just a few things we've done or used to help us save money without having a crazy high cable bill. None of the best TV streaming services are perfect, but when you pair many of them with a little creativity, you can save big money.
What live TV streaming services do you use to get your television content? Do you still have a cable bill and, if so, why? How much do you spend on TV each month?
The following two tabs change content below.
John is the founder of Frugal Rules, a dad, husband and veteran of the financial services industry whose writing has been featured in Forbes, CNBC, Yahoo Finance and more.
Passionate about helping people learn from his mistakes, John shares financial tools and tips to help you enjoy the freedom that comes from living frugally. One of his favorite tools is Personal Capital , which he used to plan for retirement and keep track of his finances in less than 15 minutes each month.
Another one of John's passions is helping people save $80 per month by axing their expensive cable subscriptions and replacing them with more affordable ones, like Hulu with Live TV.
Latest posts by John Schmoll (see all)