If you are looking to cut the cord and save money on your TV costs each month, YouTube TV and Hulu with Live TV are worth considering.
As two of the most popular live TV streaming services available, their expansive channel lineup, cloud DVR, and flexibility make them top cable replacements.
Hulu Live vs. YouTube TV
While there are many similarities between these two streaming services, they also have some important differences.
These include variations in DVR capacity, original programming, and the number of screens you can watch TV on at once.
In this article, we will help answer whether YouTube TV or Hulu Live is the better streaming service for cord-cutters.
Price
Hulu Plus Live TV and YouTube TV both cost $65 per month. Both cable TV alternatives have one base plan.
However, Hulu with Live TV has several add-ons that increase functionality.
For an extra cost, you can get additional simultaneous streams, increased DVR capacity, and the ability to fast forward through ads.
YouTube TV is much simpler. All of those features are included in YouTube TV's base package.
Both streaming TV services are easy to set up, have no hidden fees, and can be started, paused, or canceled at any time without penalty.
Free Trial
Free trials are available with both streaming services offer free trials.
Hulu lets you test drive the platform for free for seven days, while YouTube TV bounces between one and two-week free trial periods.
Benefits
Logo
Hulu Live - 80+ channels of live sports, news and more
7 day free trial

Stream all Hulu original shows, plus live TV from all the major networks including ESPN, HGTV, and CNN for half the cost of cable!


Price Winner: YouTube TV
Channel Lineup
Both internet-based streaming services offer a stellar streaming library with live sports and most viewers' favorite channels.
However, there are a few differences in the channel comparison between the providers.
YouTube TV and Hulu Live have roughly the same amount of channels at around 80. But, YouTube TV includes channels like NFL, MLB, NBA networks, and PBS.
Hulu Live recently added much of the Viacom family of channels. Read our guide on their channel packages here to learn more about what they carry.
Do Hulu Live and YouTube TV carry local networks?
When comparing Hulu vs. YouTube TV, many people want to know if local channels are included.
Cable and satellite TV providers used to be the only way to get local networks. Fortunately, that is no longer true.
Both streaming services carry all the major networks. This means that you can cut the cord on cable and get ABC, CBS, FOX, NBC, and many more popular channels with either of these live streaming options.
*Related: Read our guide the best ways to watch the ABC live stream without a contract and get your favorite network shows.
Which sports channels do YouTube TV and Hulu with Live TV have?
YouTube TV has about six more channels airing sports than Hulu Live. It is also the only streaming service that carries the MLB Network and NBA TV in its base package.
If you are a professional sports fan, this could tip the scales in favor of YouTube TV for you.
Being a Disney-owned company, Hulu Live carries all the ESPN networks and will soon have rights to air NHL games, including regular season and playoff matches.
Here's a glance at what sports channels each cable alternative offers.
YouTube TV Sports Networks
ACCN
Big Ten Network
CBS Sports Network
ESPN, ESPN2, ESPN News, ESPNU
FS1
Golf Channel
Local MLS Channel
MLB Game of the Week
MLB Network
NBA TV
NBC Sports
Olympic Channel
SEC Network
Tennis Channel
Hulu Live Sports Networks
ACCN
Big Ten Network
CBS Sports Network
ESPN, ESPN2, ESPN News, ESPNU, ESPN College Extra
FS1, FS2
Golf Channel
NBC Sports
Olympic Channel
SEC Network
NFL Network
If you prefer college sports, both services will meet your needs. However, if pro sports are of greater interest, YouTube TV is the superior choice.
Premium Channels & Add-Ons
Both services offer the ability to customize your viewing experience with premium channels and other packages that can be added for an extra cost.
YouTube TV lets you add the following channels, and more, for costs that range from $5 to $14.99 per month:
HBO Max, SHOWTIME, STARZ
AMC Premiere, Sundance Now, Shudder
EPIX, Hallmark Movies Now, FOX Soccer Plus
NBA League Pass
Hulu Live premium offerings include:
HBO Max, Cinemax, SHOWTIME, and STARZ
For an extra $7.99 per month, it also offers an Entertainment add-on with 15 channels, including Cooking Channel, Discovery Family, and Nick Toons.
There's even an Español add-on with seven channels for $4.99 per month.
Finally, for an extra $7.99 per month, the cable tv replacement lets subscribers add the ESPN+ and Disney Plus Hulu Live bundle.
Either of those won't replace ESPN or Disney Channel content, but both are terrific supplements to their parent networks.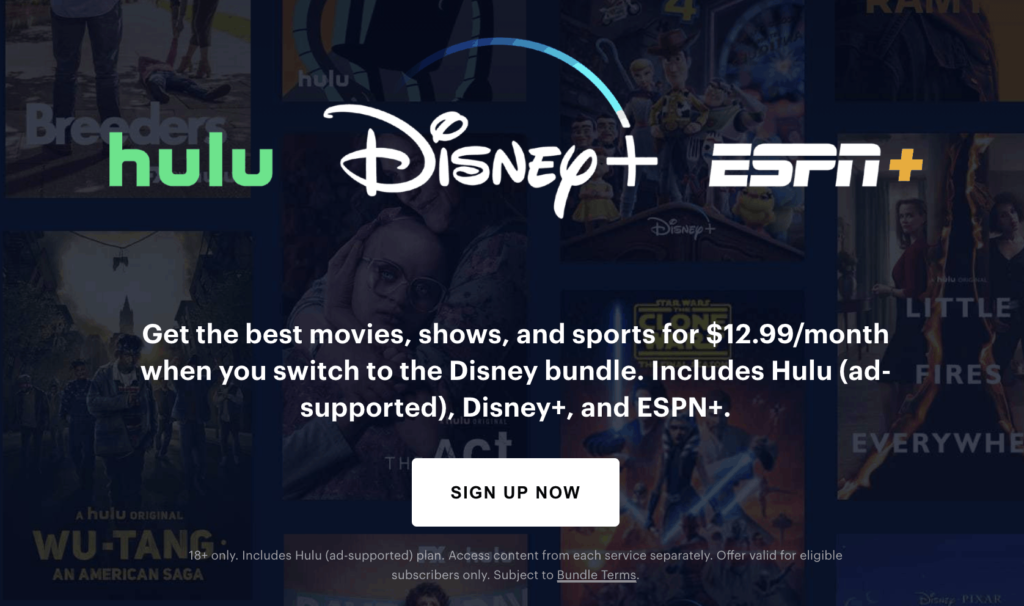 For a total of $72.99 a month, you can watch Hulu Live, ESPN+, and Disney Plus.
If you're okay sitting through commercials, can stick with the included two streams, and can get by with a 50 hour DVR, that's not a horrible price.
You'll get your local channels, all the popular networks for news and sports, a ton of extra sports content on ESPN+, and the entire Disney plus library.
Channel Winner: Hulu Live
On-Demand Content
Hulu Live has more on-demand titles than YouTube TV.
YouTube TV has 2,000+ titles in its on-demand library. Hulu Live has 43,000+ shows and movies to watch on-demand. It also offers more original shows and movies.
Handmaid's Tale, Little Fires Everywhere, and The United States vs. Billie Holiday are just a few of the award-winning original series and movies on the streaming service.
Hulu is constantly adding new shows and movies that are entertaining as well as interesting to watch.
On the other hand, YouTube TV's original offerings haven't fared as well or been as abundant.
Choosing the best service for you may come down to what you prefer to watch. The best way for you to decide might be to try each service for free.
On-Demand Content Winner: Hulu Live
Who has the better cloud DVR?
A YouTube TV subscription includes unlimited DVR storage space with the ability to fast forward through commercials.
Recordings are kept for nine months and then deleted, but there is no limit to what you can record.
Hulu's cloud DVR is much more complicated and nowhere near as good.
Hulu Live includes a 50-hour cloud DVR. But, you can't fast forward through commercials unless you add the enhanced cloud DVR feature for $9.99 per month.
You can also upgrade your subscription to "No Ads" for an extra $6.00 per month.
Even with the ad-free plan, you can't fast forward through commercials in your recorded content. So, if you hate watching commercials, you'll have to pay $79.99 a month.
Additionally, you'll still only get 200 hours of recording capacity on your DVR.
DVR Winner: YouTube TV
Interface
Both streaming services have easy-to-use menus and guides. As a result, both offer a satisfying user experience.
The feature of the streaming interface most often used is the channel guide. Comparing the two platforms, Hulu Live has the edge over YouTube TV.
The Hulu Live guide displays helpful content category tabs such as Recent, All, Sports, News, Movies, and Kids.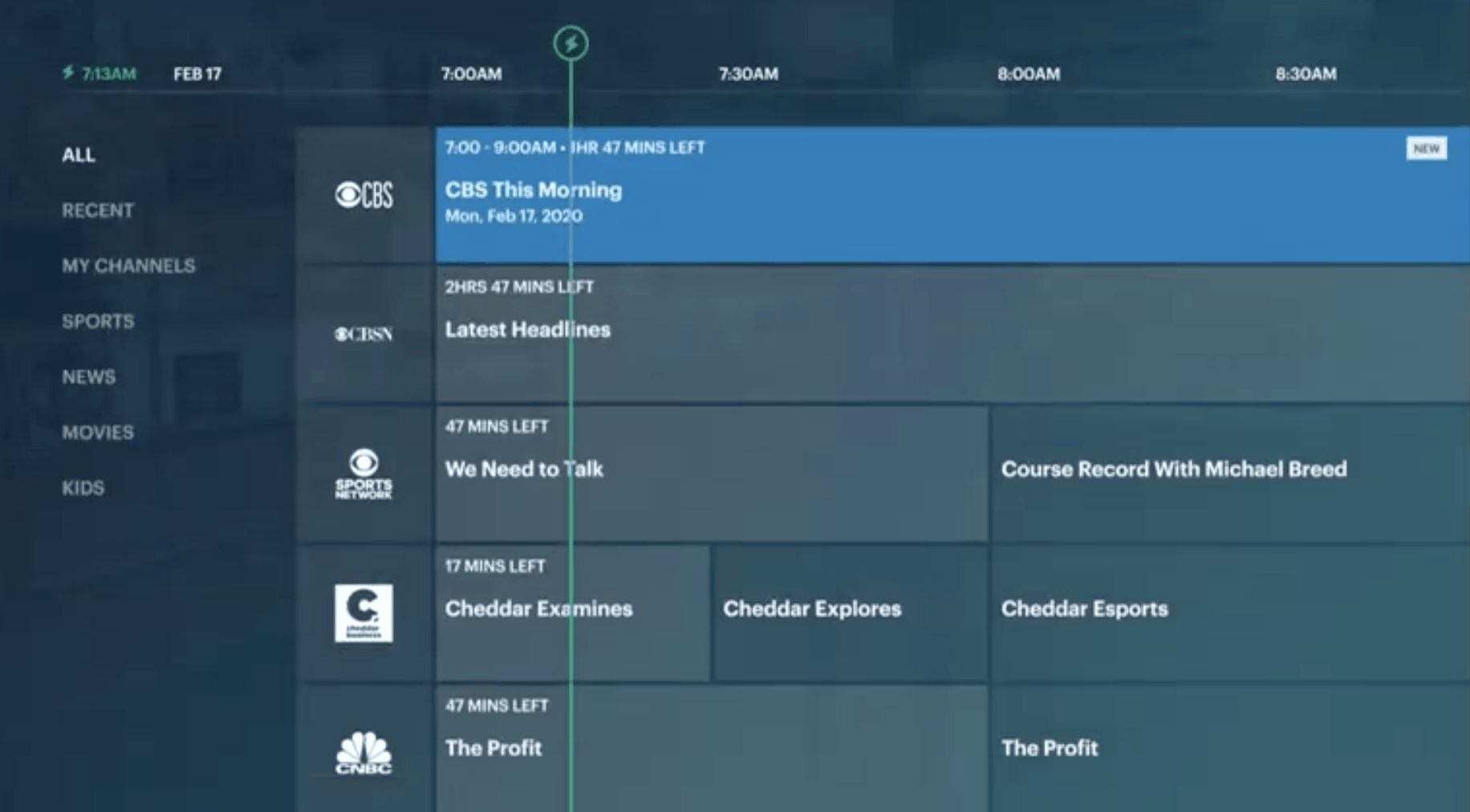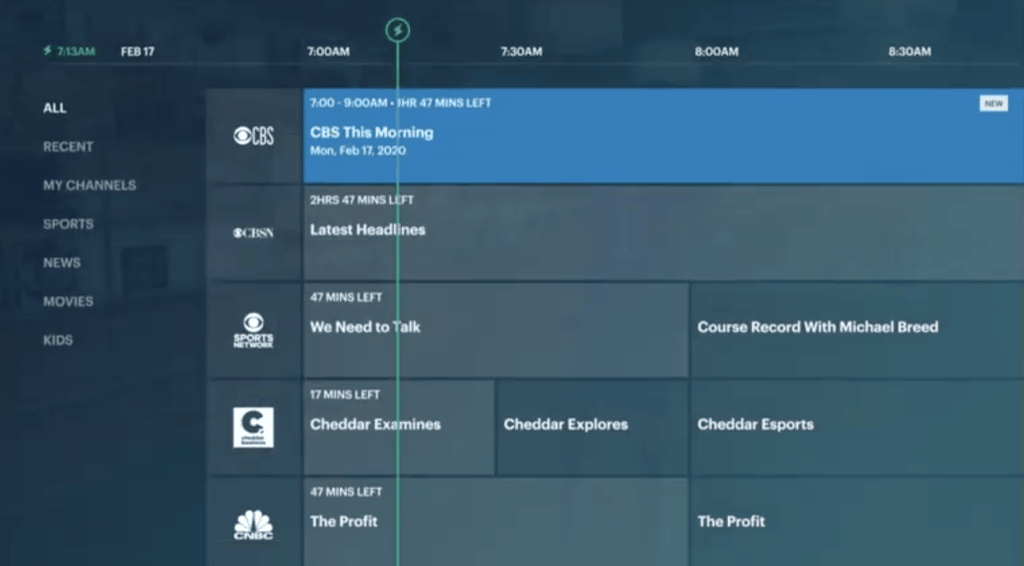 These help filter content and make finding something to watch easier.
There's also a search feature, which is excellent for when you are trying to find a specific show.
YouTube TV has a less intuitive channel guide. The content tabs are absent, which makes it harder to filter content.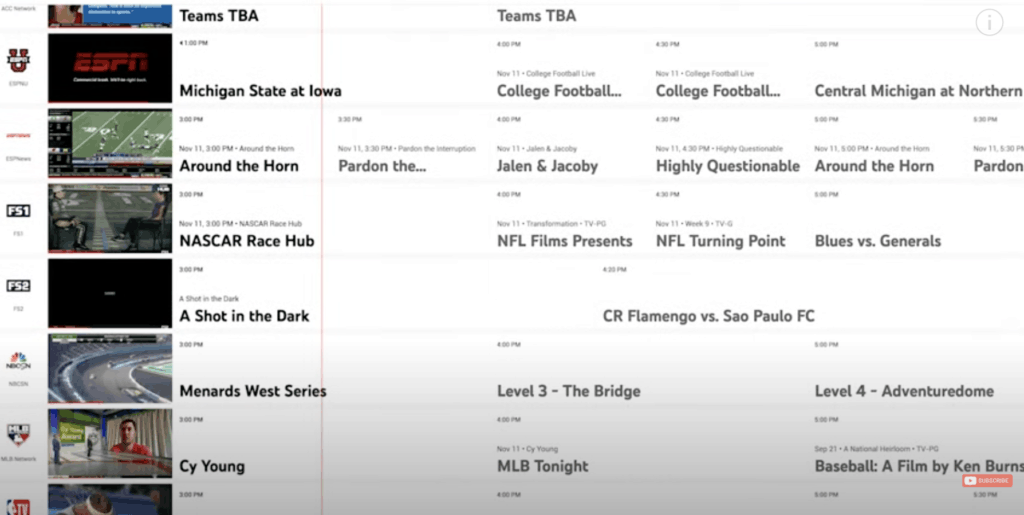 However, it does preview every title in a little box next to the show or movie name, which provides a quick glance at what is on live.
Interface Winner: Hulu Live
Which devices can you watch Hulu Live and YouTube TV on?
Both streaming services are available pretty much everywhere and carry the same device requirements.
To watch either streaming service, you'll need an internet connection.
You'll also need either an LG or Samsung smart TV or a streaming device like the Amazon Fire TV, Roku, Tivo Stream 4K, Apple TV, Chromecast, Xbox, or PlayStation.
It's even possible to watch on your laptop, smartphone, or device.
Device Support Winner: Tie
Multiple Streams
Many people are interested in knowing how many screens YouTubeTV and Hulu Live will let you watch on simultaneously.
Hulu lets you watch content on two screens at a time with its base package. YouTube TV lets you stream on three screens at once.
The Hulu unlimited screens add-on will let you watch on as many screens as you want at once for $9.99 per month.
You can also add both unlimited screens and the enhanced DVR option for $14.99 per month.
Streams Winner: YouTube TV
Other Streaming Options
These aren't the only two streaming services out there. Another alternative to consider is fuboTV. This also costs $65 per month.
| Service | Cost | Channels | Streams | DVR | Rating | Trial |
| --- | --- | --- | --- | --- | --- | --- |
| fuboTV | $64.99 | 110+ | 3 | 250 hrs. | 4.2/5 | Try |
| Hulu Live | $64.99+ | 80+ | 2 | 50 hrs. | 4.1/5 | Try |
| Philo | $25 | 60+ | 3 | Unlimited | 4.3/5 | Try |
| Sling TV | $35+ | 30-50 | 1-4 | 50 hrs. | 4.1/5 | Try |
| Vidgo | $55+ | 95+ | 3 | N/A | 4/5 | Try |
| YouTube TV | $64.99 | 85+ | 3 | Unlimited | 4.2/5 | Try |
You can try any of these services, including YouTube TV, for free before committing.
Then, choose the service that best fits your viewing needs and cancel the ones you won't use.
Bottom Line
YouTube TV offers the ability to fast forward through commercials, record unlimited content, and stream on three screens. All of those features are included for one simple cost of $65 a month.
To get those features with Hulu, you'll spend $84.99 per month.
While Hulu Live has original content and a bigger on-demand library, YouTube TV still has an edge with more live TV channels and a much better DVR.
What's your favorite streaming service? How much do you spend on television content each month?