Hulu With Live TV Review: A Great Option for Cord-Cutters!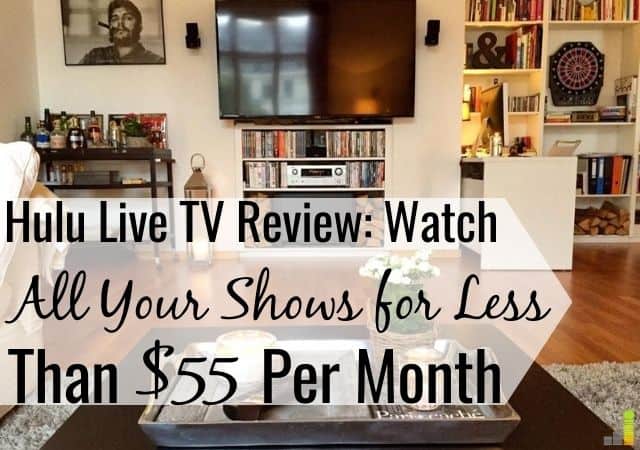 I wish Hulu with Live TV had been around four years ago. I remember sitting at my kitchen table paying bills, including our $110 per month DirecTV bill. Paying that bill each month made me sick to my stomach.
So, we decided to cut the cord. While it meant breaking our contract, it was worth it. Within two months we recouped the $100 or so that it cost to break contract and leave early.
In the four years since, we've experimented with most of the streaming services in the market. As with our other streaming service reviews, this Hulu with Live TV review covers everything you need to know about Hulu Live TV including:
What channels you can watch
What devices to watch the platform on
How reliable Hulu is
Hulu vs. Hulu Plus
How much the platform costs
If you've been looking for a reason to cut the cord on your expensive cable contract, Hulu with Live TV could be just the streaming service to satisfy your needs.
What is Hulu With Live TV?
Hulu has been around for nearly a decade. I still remember when it burst onto the scene with cheesy Alec Baldwin commercials advertising Hulu as "an evil plot to destroy the world." In reality, it turned out to be a way to eliminate overpriced cable contracts.
Hulu is a streaming service and a great way to watch the content you love without overpaying for it or getting yourself locked into an expensive contract.
Traditional Hulu or more simply, Hulu, is similar to Netflix in that it offers access to shows from major networks like ABC, NBC, CBS, and Fox as well as cable networks like HGTV, History Channel, and ESPN.
At $5.99 per month, Hulu is incredibly affordable; the only downside is that you have to wait 24 hours after a show first airs to watch it. Hulu, like Netflix, is a popular option for those wanting a bare-bones way to get content. Check out our Netflix vs Hulu guide to see which service may be better for you.
The exception to the 24-hour rule is Hulu original content, like the critically acclaimed The Handmaid's Tale. You can watch new episodes of that right away.
Hulu with Live TV is simply an upgrade of traditional Hulu.
Hulu Live TV offers several compelling additions beyond Hulu, which is what gives it a higher, yet still reasonable, price tag of $54.99 per month. Here's what you'll get with Hulu with Live TV that you won't get with just Hulu:
60+ live TV channels
Cloud DVR service (letting you record live shows when they air and watch later if it's more convenient for you)
Ability to stream to two devices at once
Hulu's complete library of content
We go into depth on Hulu with Live TV channels below but for now, just realize that Hulu Live gives you the ability to watch (and record) more content as well as to stream it on multiple devices, than straight up Hulu will.
If watching sports on ESPN, FS1 or catching the latest HGTV shows when they air is important to you, or being able to record content so that you can watch it when it's convenient for you matters to you, Hulu with Live TV could be well worth the additional $32 per month.
You can even bundle Hulu with Disney+ and ESPN+ to further enhance your content possibilities. The bundle offers you a 25 percent discount versus purchasing each platform separately.
Read our Disney Plus review to learn more about the service.
Read our review of ESPN+ to learn more about the service.
Hulu Plus vs. Hulu Live TV
It's easy to get confused when you start searching for Hulu reviews online. You've likely seen results for Hulu Plus reviews, along with Hulu Live TV reviews and Hulu with Live TV reviews. All three of these terms mean the same thing.
When Hulu first began offering content beyond what is now known as legacy Hulu for $5.99 per month, it called it Hulu Plus. Now, that upgraded service is marketed as Hulu Live TV or Hulu with Live TV.
So, whether you're looking for Hulu Plus channels or Hulu with Live TV channels, you're talking about the same thing. Check out our guide on Hulu vs. Hulu Live to see which is best for you.
Hulu Live TV channels list
Channel lineup is one of the most important factors when choosing a streaming service. After all, you want to be sure you can watch your favorite shows.
As mentioned above, the Hulu Live TV channel list is solid. Hulu Live TV channels span the spectrum from news and sports to cartoons and lifestyle channels as well as all the traditional networks.
The Hulu with Live TV channel lineup is comparable to Sling TV, as you can see in our Sling TV review.
*Related: Not certain which platform is best for you? Check out our Sling TV vs. Hulu Live guide to see a side-by-side analysis.*
So, what channels come with Hulu with Live TV?
The short answer is 60+ channels. Hulu also allows you to watch local TV without cable in many cases. Exactly which local channels you get will depend on where you live but it will most likely include all the major networks. Hulu Live TV packages are full of many popular channels.
Your potential Hulu Live TV channel lineup could include:
ABC, CBS, FOX, NBC, A&E, Big Ten Network, Boomerang, Bravo, Cartoon Network, CBS Sports Network, CNBC, CNN, CNN International, Disney, Disney Junior, Disney XD, E!, ESPN, ESPN2, ESPNews, ESPNU, ESPN Goal Line, Food Network, Fox Business, Fox News, FS1, FS2, Freeform, FX, FXM, FXX, FYI, NBC Golf, HGTV, History Channel, HLN, Lifetime, Lifetime Movies, MSNBC, National Geographic, Nat Geo Wild, NBCSN, Olympic Channel, Oxygen, Pop, SEC Network, Smithsonian Channel, SyFy, TBS, TCM, Telemundo, TNT, Travel Channel, TruTV, Universal Kids, USA, Viceland
That's a big block of channels, so let's unpack the Hulu with Live TV channel list by category.
Hulu with Live TV Major Network Channels
Hulu Live TV Sports Channels
CBS Sports Network
ESPN, ESPN2, ESPNews, ESPNU, ESPN Goal Line
FS1, FS2
NBC Golf, Olympic Channel
SEC Network (or perhaps the Big Ten Network, BTN, depending on where you live) and The ACC Network
Hulu with Live TV Lifestyle Channels
A&E Network, Bravo, E!, Food Network
HGTV, History Channel, Lifetime, Lifetime Movies
National Geographic, NAT GEO Wild
Travel Channel, TRU TV
Hulu Live TV Network Channels
FX, FXM, FXX
Oxygen, Pop, SyFy
TBS, TCM, TNT
Telemundo
Hulu with Live TV Channels for Kids
Hulu Live TV's channel lineup for kids is nothing to sneeze at and offers some content you won't find on Netflix.
CN (Cartoon Network)
Disney Channel and Disney Junior
Disney XD
FreeForm
Universal Kids
Hulu with Live TV News Channels
Hulu Live offers all the major news networks so you can watch the latest headlines live or record them on your DVR for later.
CNBC
CNN, CNN International
Fox News
Fox Business
Headline News (HLN)
As you can see, selecting Hulu with Live TV offers plenty of options, making it easy to watch and record all of your favorite shows.
In fact, the Hulu Live TV channel lineup rivals all the other major streaming options in the space. Thanks to their original content, Hulu is also one of the best alternatives to Netflix for your content needs.
A Note About Commercials on Hulu with Live TV
Unless you're in advertising, you probably hate watching commercials. Unfortunately, unless you're looking at streaming platforms like Netflix or HBO Now, there's no way to avoid them.
Traditional Hulu content contains commercials, unless you upgrade to the "commercial-free" version for an extra $6 per month. However, even then, Hulu will tell you that certain shows still contain limited commercials.
Just like broadcast TV, Hulu with Live TV contains commercials because you're watching it live.
However, there are ways to upgrade your Hulu Live TV subscription to be able to fast forward through the commercials; for an extra $14.99 per month, you can get an enhanced DVR, which comes with the ability to record up to 200 hours of content and to fast forward through ads.
If you absolutely can't stand to surf on your smartphone during commercials, it may be worth it to you to upgrade your total cost to $54.99 per month and get Hulu Live TV with an enhanced DVR.
Even at that rate, you'll still be paying nearly half of what the average cable subscription costs.
What Devices Can I Watch Hulu Live TV on?
One of the things that makes Hulu with Live TV so popular is how easy it is to access. It's very likely that you can already watch Hulu Live TV with what you already have in your home.
All you need is to put the Hulu app on your device and you're ready to go.
Hulu Live works with all of the following devices:
Apple TV and iOS devices, Amazon Fire Tablets, Android devices
Google Chromecast
If you just have a desktop computer in your home, you can watch Hulu with Live TV on it easily through any web browser including Google Chrome, Edge, Firefox, and Safari.
If you have a Samsung smart TV in your living room, you can likely watch Hulu with Live TV on it. This is one of the ways we can watch Hulu Live TV in our house. We just navigate to the apps section of our Smart TV menu and search for Hulu. After installing the app we simply launch it and go.
If you don't have a smart TV but do have one of the following gaming consoles, you can watch Hulu with Live TV on it as well:
Nintendo Switch, Xbox One, and Xbox 360
In our home, our favorite way to watch The Handmaid's Tale and all our favorite Hulu content is through our Amazon Fire TV Stick. We just press the home button on our Amazon Fire Stick remote, select Hulu and go.
The nice thing about using Amazon Fire TV or Amazon Fire TV Stick to watch Hulu is that you can take your favorite shows with you when you travel.
How Reliable is the Hulu with Live TV Platform?
We've enjoyed Hulu for years and have never experienced buffering or quality issues with its platform.
One of the nice things about the Hulu with Live TV platform is that unlike YouTube TV, it doesn't come in a separate app. So if you already have Hulu and are used to navigating its content, you don't need a separate Hulu with Live TV app. They are one and the same.
Hulu redesigned its app for Apple TV, Chromecast, iOS, and Android operating systems, ensuring that it would work seamlessly with them.
Another plus for the design of Hulu with Live TV is that it is consistent across platforms so that no matter what kind of device or operating system you are watching it on, your experience will be the same. This is a small thing that makes a big difference in the ease of use and an enjoyable, hassle-free experience.
Whether you want to watch Hulu with Live TV on your smartphone, tablet, computer, or TV, you will see the same colors, menus and clarity.
Using Hulu with Live TV is pretty easy. It allows you to set up different profiles, so that if you have kids like us, your content comes pre-filtered for age and preference.
After you choose your profile, the home screen loads with featured content and shows that Hulu thinks you will like, as well as shows you've been watching.
There's an easy to see "Keep Watching" column that makes it a breeze to find the latest episode of your show fast.
You can also search by category like "horror," "kids," "comedy," "Hulu originals" and more. Each click leads to a set of clickable submenus to guide you through the content.
The only downside is that you can't get back to the home screen with one click. You have to back click multiple times to get all the way back. More than once, I've made the error of clicking the home button on my Fire TV remote only to boot myself out of the Hulu app.
Hulu with Live TV does have one thing missing from its platform that would make it much easier to use. There is no full channel guide on the home page. You must find the "Live TV" option, and then it will take you to the channel guide. If you're watching a show, you simply click down and it brings up the guide.
Does Hulu with Live TV Include DVR?
The quick answer to this question is, yes.
Hulu with Live TV comes with a DVR feature that allows you to record up to 50 hours of content, which is included in the $54.99 monthly charge.
As mentioned earlier, you can choose to upgrade your Hulu with Live TV subscription to the enhanced DVR option, which gives you two critical abilities:
Record up to 200 hours of content
Fast forward through commercials on content you've recorded
The enhanced DVR option will cost you an extra $14.99 per month, bringing your total Hulu with Live TV cost to just under $60 per month.
With the average cable contract costing double that, it makes Hulu with Live TV an attractive option, even at its most expensive package level.
Hulu With Live TV Review: Our Take
If you are looking for a solid streaming service with good functionality, plentiful channel lineup that includes all of your favorite sports, news, lifestyle, and major network TV shows, there's not many better options out there than Hulu with Live TV.
One advantage that Hulu with Live TV has over other streaming services like DirecTV Now and Sling TV is the ability to record live TV shows on the included cloud DVR functionality.
There's no clunky box. All your favorite shows go into the cloud and wait there for you to watch them. Hulu with Live TV is a solid option to consider if you want to cut the cord.
If you're not sure whether or not you'll like the service, try it now risk-free with Hulu's free 7-day trial.
Have you used Hulu or Hulu with Live TV? What did you think of its channel lineup and viewing experience? Do you use a different streaming service? Do you still have a cable subscription? What is keeping you from cutting the cord?
The following two tabs change content below.
John is the founder of Frugal Rules, a dad, husband and veteran of the financial services industry whose writing has been featured in Forbes, CNBC, Yahoo Finance and more.
Passionate about helping people learn from his mistakes, John shares financial tools and tips to help you enjoy the freedom that comes from living frugally. One of his favorite tools is Personal Capital , which he used to plan for retirement and keep track of his finances in less than 15 minutes each month.
Another one of John's passions is helping people save $80 per month by axing their expensive cable subscriptions and replacing them with more affordable ones, like Hulu with Live TV.
Latest posts by John Schmoll (see all)