Simultaneous streams are essential for large families when they cut the cord on cable. When you're trying to figure out which streaming service is best for you, the number of screens you can stream on at once makes a difference.
Nothing is worse than having three, or more, people who want to watch different shows but are limited by a streaming service.
Here, we'll break down how many screens you can watch Hulu on concurrently, and how to mitigate any problems.
How Many People Can Watch Hulu at a Time?
It is possible to watch Hulu on two different devices at the same time. This is the standard for the on-demand version of the service.
If you move up to Hulu Live and add the unlimited screens add-on option for $9.99 per month, you can stream content on unlimited screens.
Unfortunately, the unlimited screens option cannot be added to a basic account.
As a recap, here is how Hulu vs. Hulu Live stacks up on cost, content and features.
Cost – Hulu costs $7.99 per month. Hulu Live (sometimes called Hulu Plus or Hulu with Live TV) costs $76.99 per month.
Content – You receive access to all original content (like Hulu TV shows and Hulu movies) and its large library of other shows.
Hulu Live includes live streaming content, originals and a large library of on demand content as well as Disney+ and ESPN+.
Which one is best for you depends on what you want to watch.
Still, if your main concern is how many people can watch Hulu at the same time, you will want to go with Hulu Live and the unlimited screens add-on, which will bring your monthly cost to $86.99 per month.
This is admittedly a bit of a price tag. However, if you have cable now, you can cut the cord and still come out ahead. Plus, you'll be able to watch Hulu on as many screens as you want.
If you don't want to deal with the add-on, and want a similar service, fuboTV is a terrific alternative.
It has roughly 140 channels, allows ten simultaneous devices, and is our top-rated sports streaming service.
Read our fuboTV review to learn more.
Unlimited Screens
Hulu Live Unlimited Screens is exactly what it sounds like. You can watch all of its channels on as many screens as you want at once.
Here are the details of Hulu's unlimited screens option:
You have to subscribe to Hulu Live (costs $76.99 per month)
You must add the Unlimited Screens Add-On (costs $9.99 per month)
You can stream all the devices connected to your home network at the same time
When you travel, you can also stream on up to three different mobile devices
If you add premium channels like Max, Cinemax, SHOWTIME, or STARZ to your subscription, there is a limit on the number of screens you can stream Hulu on at once and that number is five. Three of those five screens can be outside your home network.
It's best to test out the service before deciding to purchase the add-on. If you can live with only two simultaneous streams it will save you $10 a month.
Benefits
Logo
Hulu Live - 80+ channels of live sports, news and more

Stream all Hulu original shows, plus live TV from all the major networks including ESPN, HGTV, and CNN for half the cost of cable!


What is a Home Network?
A home network is the internet connection you designate as your "home" when you subscribe to Hulu Live.
The streaming service forces you to designate a home network within 30 days of subscribing. When you stream from your home, you are allowed to watch content on up to two screens at once.
*Related: Not sure if Hulu Live or YouTube TV is best for your needs? Read our YouTube TV vs. Hulu Live comparison to see how they stack up.
That is unless you add the Unlimited Screens add-on. Then, you can stream on as many screens as you want.
Hulu just requires you to access it on your mobile device at home once every 30 days. Doing so maintains the connection between your device and your home network.
Then, it's easy to watch your favorite shows at home and on the road. All of these benefits are for Hulu Live subscribers.
Can You Watch Hulu at Two Different Houses?
If you have a child who splits time between two homes, it's natural to want to know if one account will cover that child wherever he or she is.
Unfortunately, Hulu has said you can only designate one home network per subscriber. This leaves you with two options.
Sign up for two different accounts (double the cost).
Provide a mobile device for use outside of your home network.
The second option is the most cost-feasible. Unless the second home also wants to watch Hulu all the time, it makes more financial sense to create one account and watch it on a device when outside your home.
How to Watch TV on the Hulu App
It's easy to watch TV on the app. Just do the following.
Download and install the Hulu app from the Google Play or Apple App Store
Open the app on your device
Enter your login credentials (username and password)
Start watching TV
If you have the live version, you'll see a button called "watch live." Click on it to watch live streaming content.
Otherwise, browse Hulu's large on-demand content library and find something you want to watch.
How to Fix the "Too Many Screens" Error
If you try to watch the streaming service on too many screens at once, you will see an error message appear on your TV or device. That message will say:
"Too many screens."
Here are the reasons you'll see that message:
You are trying to watch on more than two screens at once
You have Hulu Live and the Unlimited Screens add-on, but are trying to watch content on more than three screens outside of your home network.
You have Hulu Live, the Unlimited Screens add-on, and one or more premium channels. You are trying to watch that premium content on more than five screens at once. Or, on more than three screens at once outside your home network.
The best solution is to ask the people with access to your account who's watching and work out a compromise so everyone can get what they want.
If you don't fall in to one of the above three categories, here's what you can do.
Go to your account page on a computer and sign in
Select "My Account" and then "Manage Devices"
A window will pop up. Inside will be all the devices registered to your account. Delete ones that don't belong there or are old. To delete a device, just select the device and click "remove"
If you're still seeing the "too many screens" error, there is something else you can do. You can log out of all the web browsers you've used to watch Hulu recently.
Too many browsers could be creating a false error. To log out of web browsers, follow these steps.
Sign in to your Hulu account on a computer
Click "Your Account" and then "Privacy and Settings" and then "Protect Your Account"
A window will pop up. Inside it, select "log out of all computers"
If you still see the error, reach out to Hulu support for help.
How Many Profiles Can You Have on Hulu?
It is possible to create up to six profiles on any Hulu account. This fares well against other streaming services with live TV.
You can choose to make each account "general" or "child."
General profiles can see all content. Child profiles are limited to shows appropriate for kids to watch.
If you're asking this question because you want to share your Hulu account with someone else, it really is best to maintain your own, separate account.
However, if you do want to share your account, it's as easy as providing your login credentials to the person you want to share your account with.
Keep your content preferences separate by asking the person to set up their own profile. When each of you login, you will just select your profile to see the content tailored to your interests.
Read our guide on how to cancel Hulu if you determine it's not for you.
Bottom Line
You can only stream Hulu on two screens at a time, unless you choose the Unlimited Screens add-on.
While it will cost you $9.99 per month on top of your Hulu Live subscription, you'll be able to watch Hulu on as many screens as you want.
If you have a large family and are concerned about having more than two ways to watch at the same time, consider signing up for Hulu Live and adding the Unlimited Screens option.
What do you look for in a streaming provider?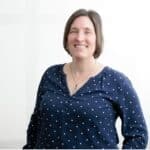 I'm Nicole Schmoll – a master's-educated professional writer, mompreneur, and co-founder of Frugal Rules.
As a freelance copywriter in Omaha, I still believe that writing is an artistic expression. Every time I strike the keys, I intend to evoke a response from my listeners. I left my full-time career as a senior copywriter for an insurance agency to start my own freelance writing business.
I love watching and writing about TV (and how to stream it!)