If your family is like ours, you love Disney content. From the Star Wars library to Pixar movies, there is a lot to watch from the House of Mouse.
This may make Disney's streaming service a must-have for your family. We have tested and used the platform since its launch in November 2019.
If you're on the fence about adding another streaming platform to your home, our Disney+ review can simplify your decision.
What Is Disney+?
Disney Plus is a newer player in the video streaming services space. It airs on-demand content from the entire Disney library.
This includes everything from the best Disney movies to Marvel classics and more.
The platform is a direct-to-consumer service that you can view on compatible devices, including smart TVs and mobile devices.
There is no live TV on the platform, so it's not a replacement for the Disney channel that airs on cable and satellite TV providers.
However, it's a terrific platform for cord-cutters who love Disney-related content that's not offered on other services.
How Much Is the Disney Streaming Service?
Disney+ starts at an affordable $7.99 per month. They offer two standalone plans, Basic with ads and Premium without ads.
As of December 2022, the service introduced the ad-supported option as part of a subscription overhaul.
Reports indicate the platform will include no more than four minutes of ads per hour of content.
This compares favorably with ad-supported plans from Peacock and Max.
| Plan | Price/mo. | Price/yr. |
| --- | --- | --- |
| Disney+ Basic with ads | $7.99 | N/A |
| Disney+ Premium no ads | $13.99 | $139.99 |
As part of the change, Disney+ is now the central hub for all bundled content. Hulu subscribers used to be able to add the Disney+ (no ads) and ESPN+ (with ads) bundle, but that is now a legacy option they no longer offer.
The bundles offer a comprehensive slate of options that give you the flexibility to choose what suits your needs.
| Plan | Price/mo. |
| --- | --- |
| Disney Bundle Duo Basic *Includes Disney+ (with ads), Hulu (with ads) | $9.99 |
| Disney Bundle Duo Basic *Includes Disney+ (no ads), Hulu (no ads) | $19.99 |
| Disney Bundle Trio Basic *Includes Disney+ (with ads), Hulu (with ads), ESPN+ (with ads) | $14.99 |
| Disney Bundle Trio Premium *Includes Disney+ (no ads), Hulu (no ads), ESPN+ (ads) | $24.99 |
| Legacy Disney Bundle *Includes Disney+ (no ads), Hulu (with ads), ESPN+ (with ads) | $14.99 |
Overall, the Disney+ streaming app is an affordable way to cut the cord and still watch popular movies as well as original content.
What Can You Watch on Disney+?
It is logical to think that the Disney streaming service only airs Princess films or classic movies. However, that merely scratches the surface of what's available on the platform.
In fact, Disney+ has a lot of content to choose from to watch. There are currently over 600 movies and 15,000 television episodes.
This doesn't include the platform's roughly 100 original shows. All of this makes it an excellent Netflix alternative if you need to reduce your entertainment budget.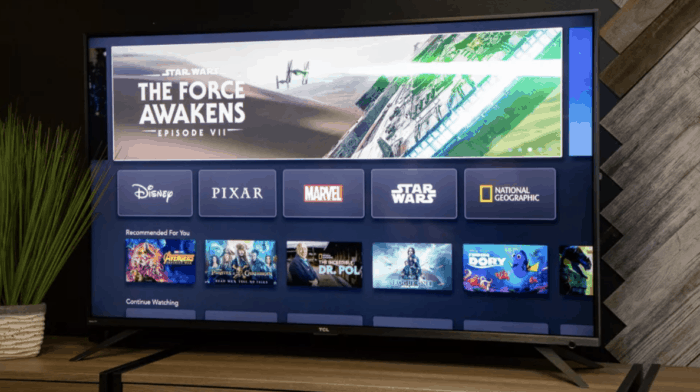 Here is what makes up the Disney+ library of content:
Disney movies and TV shows
Pixar content
Marvel movies
Star Wars movies and related shows
National Geographic content
If you want more original content, you may want to opt for Amazon Prime Video or Netflix. But, for such a young service, there's a lot to like about Disney+.
Shows
Disney+ is a fantastic option if you love original shows and content that is based on popular movies. The platform has over 15,000 television episodes, including original content.
Here are some of the shows you can find on the Disney streaming service:
The Mandalorian
WandaVision
High School Musical The Musical The Series
Encore!
The World According to Jeff Goldblum
The Imagineering Story
The Beatles: Get Back
Forky Asks a Question
Obi-Wan Kenobi
The Bad Batch
The Book of Boba Fett
Many of the above shows are Star Wars-themed original series. You can expect additional shows in the future, including Andor, Ahsoka, Rangers of the New Republic, Lando, and more.
Additionally, Disney+ even has streaming rights to the entirety of The Simpsons library.
Movies
If you love movies, Disney+ has a solid offering of popular feature films and classic movies. The service has over 600 titles in its library.
Here's a sampling of the movies you can watch on the Disney+ streaming app:
All of the Disney Princess movies
Marvel Avengers Endgame (and many more Marvel movies)
Avatar
Encanto
Diary of a Wimpy Kid
Rise
National Treasure
Toy Story (and all the Pixar movies)
All the Star Wars movies
Heartwarming sports movies like Remember the Titans, Miracle, Secretariat, and Invincible
Classics like Mary Poppins, The Sound of Music, Old Yeller, The Muppet Movie, Newsies, High School Musical, and The Parent Trap
Hamilton
There is something for everyone in your family.
Is Disney+ Good for Adults?
While it can be easy to assume that Disney+ is only good for children, the streaming service also is an excellent option for adults.
There is an abundance of family-friendly shows and movies to justify getting the service. But, there is also plenty of content that's suitable for adults.
Examples of shows and movies that are geared toward adults include:
The Mandalorian
The Simpsons
Once Upon a Time
WandaVision
Cosmos: Possible Worlds
Daredevil
The Right Stuff
Splash
Deadpool
Logan
You won't find a proliferation of adult-themed content like you'll get on a service like Max. Nevertheless, for the right person, Disney+ is a good choice for adults.
Look and Feel
Disney+ has improved over its few years and is fairly robust. The web and mobile interface has an intuitive look and feel.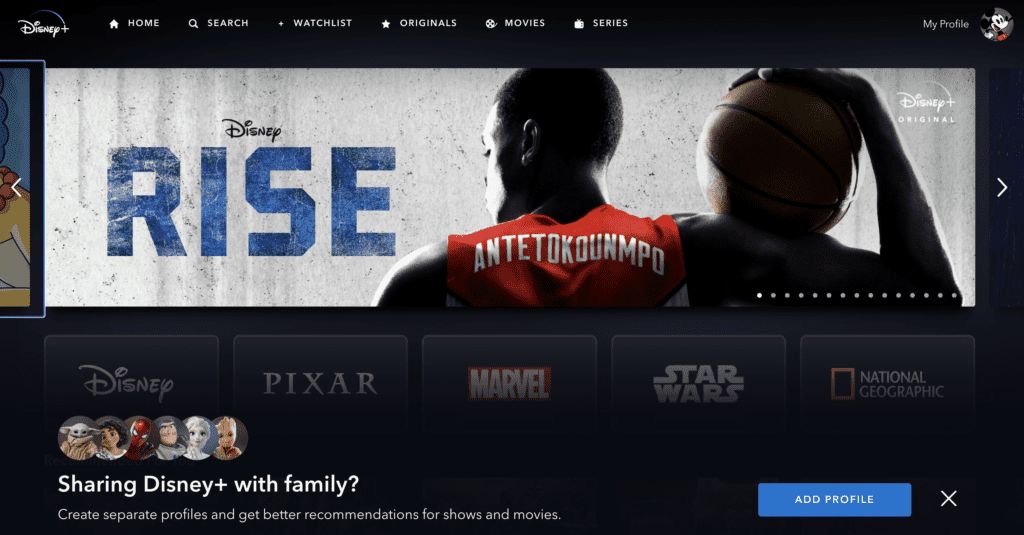 When you launch the platform, you see a simple homepage with numerous tabs. These include:
Home
Search
Watchlist
Originals
Movies
Series
You can access your account and settings by clicking on the My Profile wheel on the far right side of the homepage. Beneath the slider bar on the homepage are the content hubs for their library.
Clicking on one of them helps you narrow down available content. Further down the homepage, you will see additional ways to find content to view.
These are:
Recommended For You
New to Disney+
Continue Watching
Because You Watched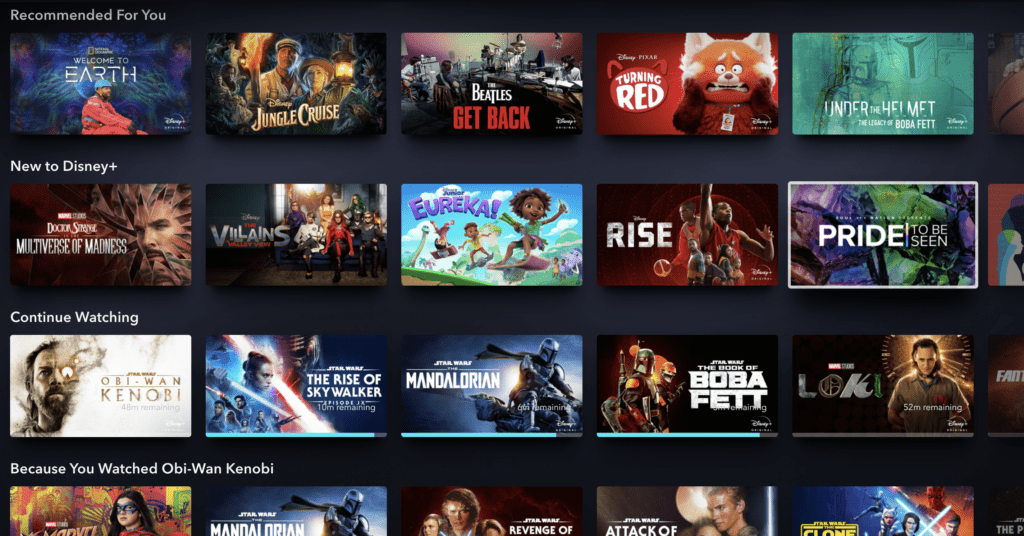 Overall, the user experience is seamless, even for the most novice cord-cutter. You can pause, rewind, and fast forward while watching, making it simple to enjoy content.
Features
The streaming service space has a lot of competition. Features are where companies attract more customers.
Here are a few of the features that set Disney+ apart from other on-demand streaming platforms.
4K Streaming
Streaming in 4K is something many platforms are still trying to offer en masse to subscribers. Most content on Disney+ streams in HD/SDR and looks great.
However, there are over 100 titles in 4K UHD and HDR. While it is a small portion of the library, it does provide some solid options.
All Pixar movies are available in 4K, as are the Star Wars movies and all of their original shows.
Similarly, Dolby 5.1 and Atmos are available on a select number of shows and movies. The platform will automatically use the highest quality available for your device.
If you want closed captions, you can select those in the Audio and Subtitles menu within your account settings.
Watch Parties
Do you have friends or family in a different area of town or out of state that you enjoy watching movies with? If so, Disney+ has a useful watch party feature.
It's simple to activate and invite friends or family to participate. However, it must be initiated through the mobile app or desktop, not on a TV.
Once you initiate the party, it will sync with your TV.
Simply select the show or movie you want to watch together. Then on the page for the content, locate the GroupWatch icon.
Click on that icon, and you can invite up to six additional people. When they receive the invitation, they select the Join Stream option and can start watching with the rest of the group.
Everyone in the group can react in real-time. If you want a shared experience, GroupWatch is a helpful feature.
Simultaneous Streams
If you're like our family, we almost always have multiple people wanting to watch content at the same time.
Consequently, it can be frustrating to go to watch something and accidentally boot someone off what they're watching.
Disney+ currently offers four simultaneous streams on accounts. This is included in the base price and should be sufficient for most families.
What Devices Are Compatible With Disney+?
It is incredibly easy to watch Disney+. Like other major streaming services, it has an expansive list of compatible streaming devices.
Here are the streaming media players you can use to view Disney+ content:
Amazon Fire TV and Fire tablets
Roku (boxes, TVs, and sticks)
Apple TV
Macbooks, iPads, and iPhones
Android phones and tablets
Any computer with an internet browser
Google Chromecast
Playstation
Xbox One
Samsung and LG Smart TVs
Essentially, if the device has a screen, you can watch anything on the platform.
Recommended Internet Speeds
TV streaming services require a high-speed internet connection for the best viewer experience. Each platform has different requirements to watch its content to avoid buffering and pixelation.
Here is what Disney+ recommends for internet speed:
| Video Quality | Min. Speed |
| --- | --- |
| HD | 5 Mbps |
| 4K | 25 Mbps |
If you have multiple people viewing at once, expect to need additional speed.
Read our guide on internet speed requirements to learn what you need for other cable replacements.
Parental Controls
Although the service doesn't have a lot of adult-themed content, having access to parental controls is necessary for those with younger children.
Parents can create a Kids Profile to restrict access to more age-appropriate shows and movies. This will typically only show content that's TV-7VF or G-rated.
You can also create up to six user profiles, which can be customized with avatars and by name.
Not every platform offers parental restrictions, so this is a helpful feature to have.
Should You Get the Disney Bundle?
If Disney does one thing well, it is sales. This shows through the streaming platforms they own, including Disney+, ESPN+, and Hulu.
While you can subscribe to Disney+, they also sell a bundle that includes all three platforms. The monthly price is an inexpensive $12.99.
If you want ad-free Hulu, the price increases to $19.99 per month. This gives you a ton of content and is a terrific choice for someone who doesn't need a live TV streaming service.
Furthermore, if you pair the Disney bundle with an over-the-air antenna, it might provide you with all of the content you need.
Plus, it provides significant savings over a traditional cable package.
The bundle fares well against a platform like Peacock, which only has NBC-related content. Read our Peacock vs. Hulu review to learn how the two apps compare.
If you love Disney content, want original sports content, and don't mind waiting a day to watch other programming, this bundle could be a perfect choice for you.
Read our ESPN+ review to learn more about that platform.
Is There Live TV on Disney+?
There is no live TV on the Disney+ platform. It strictly airs on-demand content and isn't a replacement for live television programming.
If you want both live TV and Disney+ content, you should consider signing up for Hulu Live Bundle. The platform has roughly 80 popular live networks for $69.99 a month.
This bundle also includes Disney+ and ESPN+.
Read our review of the Hulu with Live TV channels to learn more.
If you want to save money, consider one of the other alternatives to cable.
For example, Philo or Sling are more affordable. Better yet, if you pair either of these with a subscription to Disney+, you will spend less than what it costs to subscribe to Hulu Live.
However, if you don't need live TV, the Disney bundle may be a good alternative as it includes Hulu on-demand. Read our Hulu Live vs. Hulu analysis to learn more about how the two options differ.
Pros and Cons
Not everyone loves Walt and all he created, so it's important to know who the platform is and isn't for. Here's what to consider when looking at Disney+.
Pros:
Affordable monthly and annual plans
Large library of content
4K HD and HDR streaming
Growing library of original content
Intuitive, easy-to-use interface
Diverse content
Offline downloads
Parental controls
Cons:
No live content
No free trial
No gritty, adult drama, true crime, or other adult-only content like you'd find on Netflix
Overall, the service is a good value that most fans will enjoy.
Top Alternatives to Disney+
Disney+ is an excellent option for watching popular movies and original series. It offers many great features.
But, if you find it doesn't have what you want, there are other choices.
| Service | Mo. Cost | Live TV? (Y/N) | Streams | Try |
| --- | --- | --- | --- | --- |
| Disney+ | $7.99 | N | 4 | Try |
| Netflix | $6.99+ | N | 1+ | Try |
| Amazon Prime Video | $8.99 | N | 2 | Try |
| Max | $9.99+ | N | 2 | Try |
| Peacock | $4.99+ | Y | 3 | Try |
| Paramount+ | $4.99+ | Y | 3 | Try |
Here are the top alternatives to the Disney streaming app.
Netflix
Netflix is the grandfather of the streaming space. It has loads of content, especially original series. The Netflix library dwarfs that of Disney+.
However, pricing concerns and haphazard removal of content often frustrate subscribers.
Nevertheless, it's still the most-used streaming service for a reason.
Read our Disney+ vs. Netflix comparison to learn more.
Amazon Prime Video
Amazon Prime Video is another popular alternative to Disney+. It has a growing library of original content, and it's attempting to get into live sports.
Unfortunately, sometimes you have to pay extra to access premium content. That's on top of the $8.99 per month Prime Video cost or $139 annual cost of Prime.
It's not a true replacement for the Disney streaming service, but it's an option you could use alongside it.
Max
Max is one of our favorite streaming services. It has loads of content, from popular movies to classic original series.
Its plans and pricing are a bit higher than Disney+, but there is a lot of value for subscribers.
With its upcoming merger with the Discovery+ app, it could be an even more attractive alternative to Disney+.
Read our Max review to learn more.
Peacock
Peacock TV is the streaming home of NBCUniversal content. The service does carry content for children, though it tends to only be animated shows.
Peacock houses most NBC content and is the only way to watch popular hits like The Office or Parks and Recreation. It's also the only way to watch Yellowstone without cable.
The service is geared more toward adults, so you may need to combine it with Disney+ to get a good selection of shows and movies.
Read our Peacock review to learn more.
Paramount+
Paramount+ is another legitimate competitor to Disney+. The service is home to all Paramount and CBS-related content.
But, like Peacock, it's light on shows for children. You might want to pair the two to get well-rounded access to popular programming.
Read our Paramount+ review to learn more.
Disney+ Review
Available content

Price

Availability

Original Series

Ease of Use
Summary
Get the entire Disney library of content, plus favorites like Star Wars and Marvel movies for only $7.99 per month, and no contract.
Pros
✔️ You can bundle with ESPN + and Hulu
✔️ Get two months free if you sign up for a year
✔️ Offers 4K streaming
✔️ Big catalog of popular movies and TV series
✔️ Easy to navigate interface
Cons
❌ There is no live content
❌ Original content is lacking
Is Getting Disney+ Worth it?
Disney+ is an affordable streaming service that has a growing library of content for families and adults alike. At $7.99 per month, it's less expensive than rival service Netflix.
While it won't completely replace cable, the Disney Plus bundle with Hulu and ESPN+ for just $12.99 is enticing.
Pair that with an over-the-air antenna so you can watch local channels, and you could save a boatload of money compared to cable.
What are your thoughts on the service?