Finding a budget-friendly cable alternative is something many cord-cutters struggle with. Thankfully, there are choices that don't include live sports which are expensive to carry.
There is an option that can save you big bucks, and still get you the lifestyle and entertainment shows you enjoy. Frndly TV is a solution that could be a good fit for you as it has 40 live channels of sought-after content.
This Frndly TV review covers the platform's cost, available channels, plans, and features.
What is Frndly TV?
The Frndly TV app is an affordable live TV streaming service with a cloud DVR and family-friendly content.
While it has a live guide, some on-demand content, and more than 40 live TV channels, it has no local channels or live sports. Therefore, it is not a complete cable replacement.
However, if you're looking for a low-cost video streaming service that specializes in family-friendly and outdoor-oriented content, it could be the perfect solution for you.
How Much Does Frndly TV Cost?
This budget-friendly way to watch TV without cable offers three plans – Basic, Classic, and Premium.
| Feature | Basic | Classic | Premium |
| --- | --- | --- | --- |
| Cost/mo. | $7.99 | $9.99 | $11.99 |
| # Streams | 1 | 2 | 4 |
| DVR | No | Unlimited | Unlimited |
| Locals? | No | No | No |
| Sports? | No | No | No |
| Free Trial | 7 days | 7 days | 7 days |
All plans include the same live TV channel packages and some on-demand content. What differs from one plan to the next are the features and the price.
The Basic plan costs $7.99 per month and lets you stream on one screen at a time in standard definition (SD).
Frndly's Classic subscription costs $9.99 a month. This includes two simultaneous screens, streams in high definition (HD), and includes unlimited DVR storage.
Recordings are kept for three months.
The Premium plan costs $11.99 a month, includes four simultaneous streams, unlimited DVR capacity, and stores DVR recordings for nine months.
Additionally, Frndly offers an annual plan that basically gives you two months free.
There are no contracts, and you won't pay any fees to cancel the service. The list of channels is the same across all plans.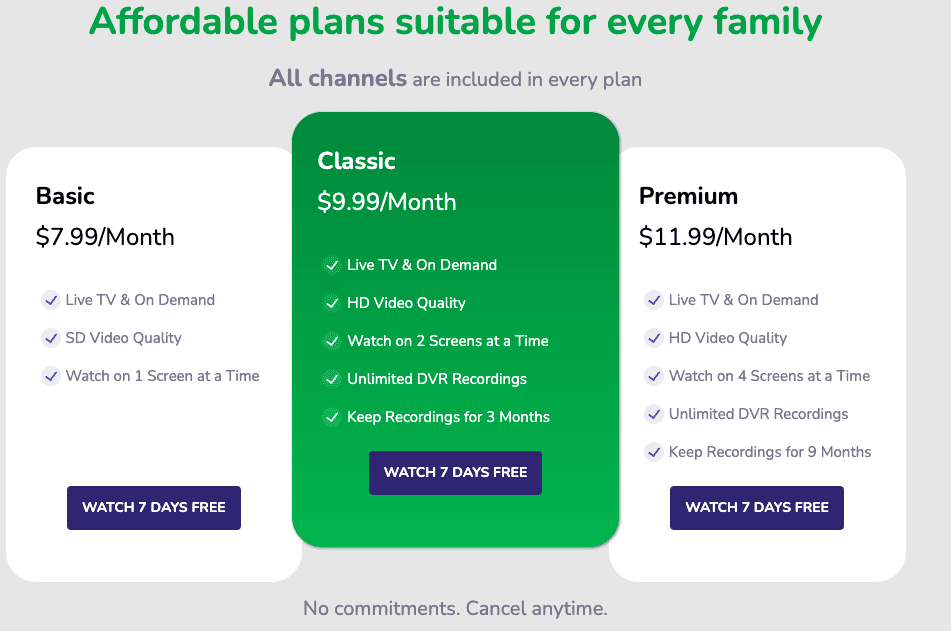 Furthermore, there is a seven-day free trial that you can use to try the service risk-free.
What Channels Do You Get With Frndly?
The Frndly channel lineup is focused on family-friendly and outdoor-oriented content.
Its low monthly cost makes it a great way to watch History channel without cable. You also get Family Movie Classics, A&E, all three Hallmark Channels, INSP, UPtv, The Weather Channel, and more.
Here are the channels Frndly TV carries.
| channel1 | Channel2 | Channel3 |
| --- | --- | --- |
| A&E | BYUtv | BabyFirst TV |
| Circle | CuriosityStream | Dove Channel |
| Family Movie Classics | FETV | FYI |
| GAC Family | GAC Living | Game Show Network |
| Get tv | Hallmark Channel | Hallmark Movies & Mysteries |
| Hallmark Drama | Heartland TV | The HISTORY Channel |
| Military HISTORY | INSP | Lifetime |
| LMN | Local Now | Outdoor Channel |
| Pixl | QVC | Recipe.TV |
| Sportsman Channel | UP TV | VICE TV |
| The Weather Channel | World Fishing Network | Movies! |
| MeTV | Heroes & Icons | DECADES |
| Start TV | Story Television | |
| Ion | Ion Mystery | Grit |
It's a great way to watch Lifetime without cable and a few sports-themed channels.
Furthermore, it's a great choice to watch Hallmark without cable as the Frndly TV plans carry all three networks.
Does Frndly TV Have Local Channels?
One drawback of this easy-to-use streaming service is that it does not include local channels.
However, pairing an antenna with a Frndly subscription could let you watch everything you need at a fraction of the cost of cable.
You can pair it with an over-the-air antenna to get your local broadcast stations. The Mohu Leaf is what we use in our home and it works great.
You can use the code FRUGALRULES10 to receive ten percent off the purchase of an antenna.
Not having locals is a key strategy it uses to keep cost at a minimum. Read our guide on how to get local channels without cable if Frndly isn't for you.
Look and Feel
The streaming service is simple, straightforward, and easy to use. During our tests, titles loaded quickly. Better yet, recordings were easy to access.
Four options across the top, including Guide, On Demand, My Recordings, and Settings, help filter content.
A search option in the top right lets users search for any show by name.
The default view is Guide, which looks a lot like a traditional cable TV grid.
Scrolling down reveals what's on more channels. Clicking right lets you advance forward in time to see what's coming up on any channel.
Selecting a title brings up choices to watch live, start over, or record.
Recording options include just one episode or an entire series. A small, red recording icon on titles in the guide makes it easy to see what you've scheduled to record.
Frndly lets you watch shows in a main window, picture in picture, or full screen.
An on-demand section features on-demand titles organized into categories like Dove channel ad-free TV, 72-hour look back, ad-free movies, and just-added movies.
The My Recordings tab is where recorded content is displayed.
Additionally, closed caption options are available in the Settings section of the app.
Features
A Basic subscription lets you stream all channels in SD on one screen at a time. The top two plans allow streaming on up to four screens at once and include unlimited DVR capacity.
You can watch the Frndly live TV streaming service at home on your smart TV, via any major streaming media player, such as Roku or other Fire stick alternatives.
You can also watch on the go on your phone, computer or device.
A convenient 72-hour look back feature lets you watch shows you missed or forgot to record.
How Many Profiles Can You Have on Frndly?
Frndly currently does not offer the ability to add profiles. There is just one profile per account.
Philo, a top competitor allows the ability to have multiple user profiles. Read our Philo TV review to learn more about that streaming service.
Does Frndly TV Have a Cloud DVR?
Recording shows is essential for most cord-cutters. Frndly TV includes an unlimited cloud DVR in its top two plans.
DVR recordings are kept for three months with the Classic plan. A Premium subscription saves recordings for nine months.
Furthermore, you can fast-forward and rewind content in both.
Combined with the lookback feature, the service makes it easy to catch shows you may have missed.
Compatible Devices
Frndly is available on all major devices. Compatible devices include Chromecast, Apple TV, Android TV, iOS, Amazon Fire TV, and Android operating systems.
You can also get the service on a newer LG, Samsung, Sony, or Vizio smart TV.
Parental Controls
There are no parental controls with Frndly. However, with family-focused channels, this may not be a concern for many users.
Audio and Video Quality
Frndly plans stream in either standard or high definition. The app does not support 4K content or Dolby Digital surround sound.
Simultaneous Streams
One stream can be viewed at a time in the Basic plan. The Classic plan allows viewing on two screens at once.
A Premium plan subscription allows streaming on up to four screens simultaneously.
Minimum Speed Requirements
The streaming service says its video quality adjusts based on the available internet speed connection.
It recommends the following high-speed internet connection for optimal viewing:
1.5 Mbps for one SD stream
5.0 Mbps per HD stream
The app works at lower speeds, but the quality is reduced. A minimum of ten Mbps is recommended for simultaneous streams.
Read our guide on the recommended internet speed for streaming live TV on how the platform compares to others services in terms of speed requirements.
Pros and Cons
There's a lot to like about this budget streaming service. But, Frndly is not for everyone.
Pros
Affordable – plans start at $7.99 a month
40+ channels of family-friendly live TV
All three Hallmark stations + QVC
Unlimited cloud DVR storage in top two plans
You get the full channel lineup regardless of the plan you choose
Cons
No local channels
No live sports
Basic plan does not include HD or DVR
No parental controls
It's also important to note that the ability to create multiple profiles would be a nice addition to Frndly's features.
Is Frndly TV Worth it?
Frndly TV is a good option if you only need a focused selection of channels and don't require mainstream sports. It's a fantastic alternative to premium services like Hulu Live or YouTube TV.
Pairing a subscription with an antenna for local networks can reduce your TV costs to under $15 a month.
The app is easy to use and offers good value for those looking for family-friendly content.
If you want a broader selection of channels, consider Philo TV. This subscription streaming service costs $25 monthly.
Read our Philo vs. Frndly TV comparison to learn how the two platforms differ.
For live sports, news, and a broad list of popular channels, look at Sling TV. Plans start at $40 a month.
How Do I Cancel My Frndly Subscription?
If you signed up directly through Frndly, go to the Settings tab. Then, select "Cancel Subscription."
If you registered through Roku or Amazon, go to the Subscriptions setting in those apps. Sign in, if necessary. Then, choose "Cancel Subscription."
Frndly TV Review
Channel Lineup

Price

Availability

DVR Space

Ease of Use
Frndly TV Review
Frndly TV is a low-cost live TV streaming service that lets you watch popular lifestyle programming for under $10 a month.
Pros
✔️ Super affordable
✔️ Includes popular networks like Hallmark and Lifetime
✔️ Unlimited cloud DVR available
✔️ Seven-day free trial
✔️ Top plan includes four simultaneous streams
Cons
❌ No live sports
❌ Must upgrade to get HD or unlimited DVR
❌ No local channels
Bottom Line
With plans that start at $7.99 per month, Frndly TV is an excellent choice for those who want to cut the cord on cable and are looking for family-friendly channels.
While it's not a complete cable replacement, it's a solid option when paired with an antenna.
What's most important to you when looking for a live TV streaming service?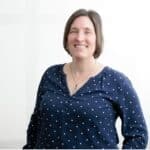 I'm Nicole Schmoll – a master's-educated professional writer, mompreneur, and co-founder of Frugal Rules.
As a freelance copywriter in Omaha, I still believe that writing is an artistic expression. Every time I strike the keys, I intend to evoke a response from my listeners. I left my full-time career as a senior copywriter for an insurance agency to start my own freelance writing business.
I love watching and writing about TV (and how to stream it!)