Losing access to local networks is a major reason people keep their expensive cable bills. Channels like ABC, CBS, FOX, and NBC air popular shows, so you may think cutting the cord means sacrificing those programs.
Fortunately, that is not the case. You can watch local TV without cable or satellite and save up to $100 monthly, if not more.
By following a few simple steps, you can save money without sacrificing your favorite shows or local news.
How Can You Stream Local Channels Without Cable?
Cable TV is no longer necessary to watch local TV channels. In fact, cord-cutters have numerous choices to watch network TV shows for less than what they're currently paying.
Here are the top options to watch local channels for less than the average satellite or cable TV bill.
1. Purchase an Over-the-Air Antenna
An over-the-air antenna is the best and most affordable way to get local TV channels without cable. If you think you can't use or install an antenna, don't believe that lie.
Antennas used to be big, clunky, and difficult to install. Luckily, that's no longer the case.
It's possible to install an indoor antenna within several minutes, and you can start watching local programming immediately.
Purchasing an antenna is a one-time expense, and you can often find one for under $50. Our favorite brand is the Mohu Leaf since it provides excellent reception for local TV stations.
We've used it for years and believe it's the best antenna for cord-cutters.
You can use our code FRUGALRULES10 to receive ten percent of the purchase of a Mohu Leaf.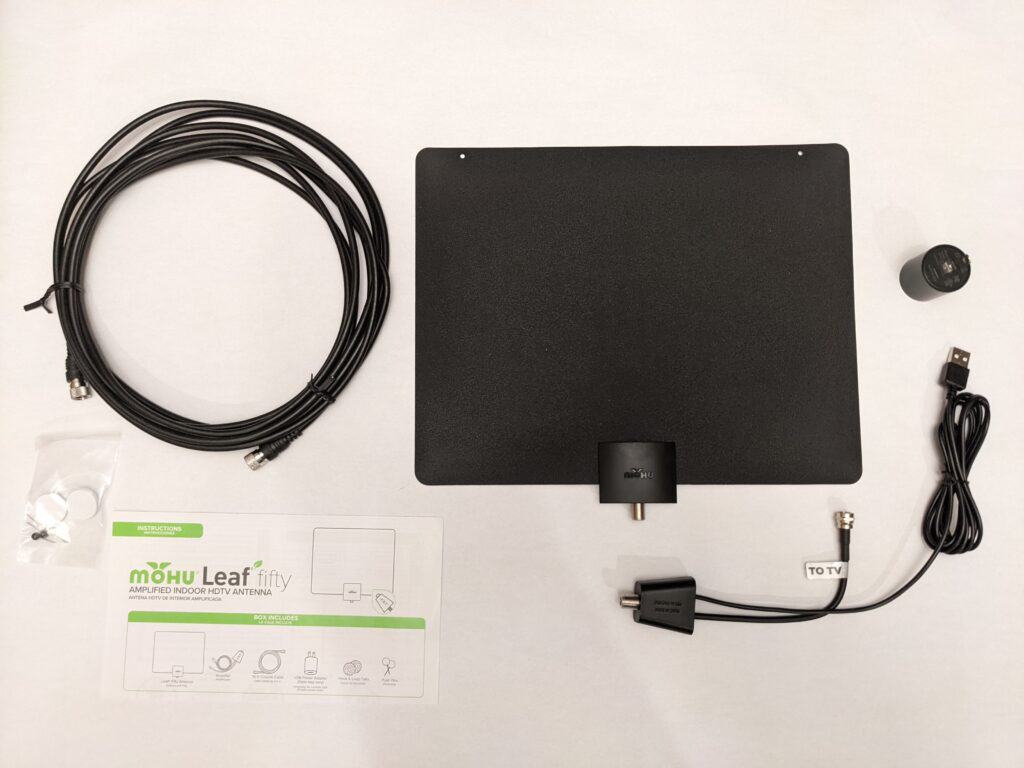 Reception quality largely depends on the locality of broadcast towers in relation to your residence. The closer you are to towers, the better quality you can expect.
How many channels you get also depends on where you live. We get roughly 40 local channels here in Omaha. If you live in a larger city, you may even be able to get free cable TV channels.
The best way to tell what channels you can get is to go to the FCC site to see how close you are to towers. Put in your ZIP code or address, and you will see which channels you can expect to receive.
For example, you can see below what the site tells us we can expect to receive in our area.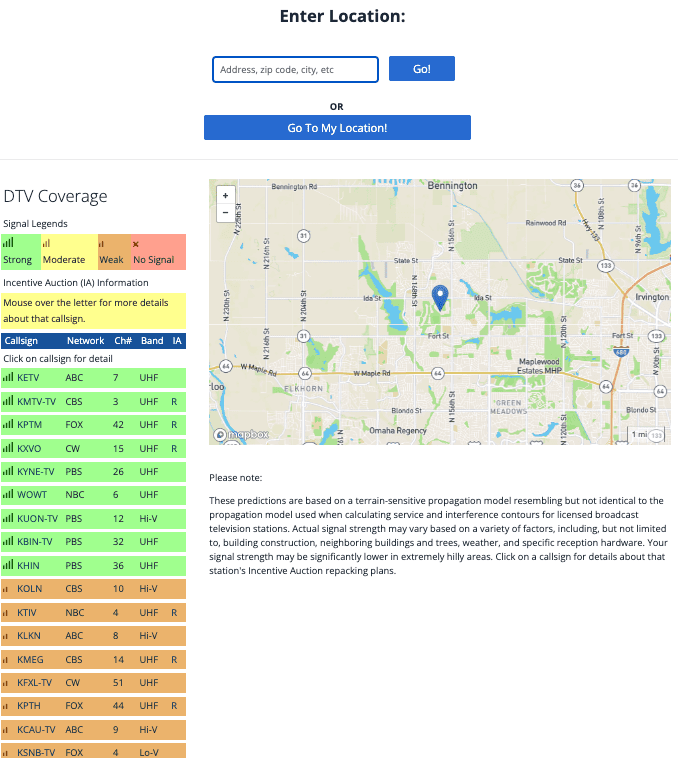 We get more than it shows, but this gives a good indication of what you can watch.
But what happens if you live in a rural area or a valley? If that's you, you may not get reliable reception with an indoor antenna.
In that case, you may need to purchase a directional antenna to place outside your home. You can find dependable antennas on Amazon if that is your situation.
Regardless of your situation, consulting the FCC site is a fantastic way to determine what you must purchase for your needs.
An additional resource is The Antenna Man on YouTube. He has a wealth of information and can be of great assistance in helping you decide which antenna is best for your situation.
2. Subscribe to a Video Streaming Service
While an antenna is one of the best tools for people who want to cut the cord on cable, not everyone likes to these devices.
If that's you, a video streaming service is a terrific alternative. The best part is if you only want access to one local broadcast affiliate, you can do that without paying for what you don't want.
There are three major streaming services to consider if you want to choose this option. These include:
If you subscribe to all three services, your total monthly cost would be slightly under $30 a month. Here are the available plans for Hulu.
**Now through September 20, 2023, get the Paramount+ Essential plan for $2.50 a month when you sign up for an annual plan. Use the code SPORTS to get the offer. That's a savings of nearly 60 percent!**
| Plan | Price/mo. | Price/yr. |
| --- | --- | --- |
| Hulu Basic (with ads) | $7.99 | $79.99 |
| Hulu Premium (no ads) | $17.99 | N/A |
You can choose to upgrade to the Disney bundle if you prefer, but it's not a requirement when you subscribe to Hulu.
Here are the available plans for Paramount+.
| Subscription Type | Monthly Cost | Annual Cost |
| --- | --- | --- |
| Limited Ads (Essential Plan) | $5.99 | $59.99 |
| Ad-Free (Premium Plan) | $11.99 | $119.99 |
Here are the available plans for Peacock.
| Subscription Type | Ads? (Y/N) | Monthly Cost | Annual Cost |
| --- | --- | --- | --- |
| Peacock Premium | Y | $5.99 | $59.99 |
| Peacock Premium Plus | N | $11.99 | $119.99 |
While the three services are affordable, there are several things to keep in mind. First, you won't receive much live TV with any of the base plans.
Peacock and Paramount+ offer some live sports action, but that's limited.
Second, most shows from the respective networks air on-demand on the applicable platform the next day.
Paramount+ and Peacock do allow subscribers to upgrade to a premium tier, which offers access to your local CBS or NBC stations, respectively.
Hulu doesn't offer access to your local ABC or FOX affiliate. You must upgrade to Hulu with Live TV, which starts at $69.99 a month, so it's not a comparable option.
All three of the streaming apps have large libraries of on-demand content and original content for you to watch.
If you only want to watch local TV online, a combination of the three may work for you.
Read our Hulu vs. Hulu Live review to learn more about Hulu.
Check out our Paramount+ review to learn more about that platform.
Read our Peacock review to learn more about that service.
3. Use a Live TV Streaming Service
If you want to cut the cord but don't want to lose access to cable channels, a live TV streaming service can be a good solution.
These cable TV alternatives replace much of what you have with your pricey bill, but at a fraction of the cost and without a contract.
However, not all live services include locals as they are expensive to offer. Apps like Sling or Vidgo offer limited access to locals.
You will want a premium service that includes locals as a part of their offering. Thankfully, most premium services have impressive channel lineups, allow for multiple simultaneous streams, and have a cloud DVR to record TV shows.
Furthermore, most offer access to premium channels at an additional cost.
Here is a preview of the top live TV streaming services to watch local TV.
It is important to note that only YouTube TV and DIRECTV STREAM currently offer access to your local PBS station.
*Related: Do you want to cut the cord on cable but don't know which streaming service to select? Take our free quiz to identify which platform will best fit your needs.
Some, but not all, live services offer a free trial to test the platform. If you want to get rid of cable TV but are new to streaming, it's best to take advantage of free trials before canceling.
This helps set your expectations and avoid unpleasant surprises when you make the switch.
Like on-demand streaming services, live platforms require high-speed internet access and a wide array of compatible devices.
Read our review of the top live TV streaming services to identify an app that will work for you.
4. Try a Free Service
If you only want to watch your local news and keep costs to a minimum, there are free services that can meet your needs.
The two best options for this are:
Amazon News is an app available through Amazon Fire devices. The app includes over 150 channels of local news content.
After launching the app, you can see the available networks and select the one closest to where you live.
NewsON is a similar service that offers access to nearly 300 local news stations nationwide.
One thing to note is that both of these services provide curated news content instead of a live feed.
Additionally, while these choices let you stream TV for free, they may not carry networks close to where you live.
Like choosing a live TV service, it's best to test these before you cancel cable TV. Otherwise, you may learn that the nearest available station is 150 miles away, making access worthless.
5. Use Network Apps
A final choice to watch local TV is to use the apps from the respective networks. Your viewing experience won't be as robust, but it might be enough for you to stream TV online.
Here are the apps for each of the local affiliates:
All of the apps work differently, but most offer a way to watch free TV, clips, and local TV on a variety of streaming devices. Some local affiliates may direct you to use their respective apps.
Be aware that some apps may request login information from your local cable company or satellite TV provider to watch anything beyond clips or highlights.
How Can I Watch PBS Without Cable?
PBS is a must-have channel for many would-be cord-cutters, but not every service carries the channel. If you want a live TV streaming service, your choices are limited to YouTube TV or DIRECTV STREAM.
Additionally, you can access some PBS shows through a variety of on-demand services, like Amazon Prime, Netflix, or PBS Passport.
Those platforms won't replace everything PBS carries. If you need PBS, it's best to choose YouTube TV or DIRECTV STREAM.
How Can I Record Local TV Stations Without Cable?
Cable TV providers love to make you think they are the only option to record popular TV shows. That is a lie.
You have several choices to record local TV when you cut the cord. If you select a live TV streaming service, most offer a cloud DVR for you to record shows, movies, and sports.
Choosing an on-demand platform like Peacock eliminates the need for a DVR. Shows are available the day after airing, and you can watch them at your leisure. No recording is necessary.
However, accessing locals through an antenna will require an over-the-air DVR to record content.
Tablo and HDHomeRun are two top choices for recording local channels. You can watch our video below to learn more.
Is Puffer TV Legit?
Puffer TV is an academic project that is run by Stanford University. The project is nonprofit, and it retransmits over-the-air networks to subscribers.
This sounds like a fantastic option, and it is a legitimate service. However, there are two significant drawbacks.
First, the platform can only service 500 users simultaneously. Second, it only carries affiliates local to their area. If you want to use it to watch your locally-owned station, you will be disappointed.
Why Are Local Channels Expensive to Carry?
There is a reason why the live TV streaming services that offer locals are more expensive. They must pay for access to your local broadcast affiliates.
The same is true of satellite and cable TV companies. Over the years, these broadcast retransmission fees have increased.
In many cases, this fee is nearly $20 a month. Regardless of the provider you choose, this surcharge is passed onto customers.
If you don't need a premium live service, using an over-the-air antenna is a far more affordable way to watch local TV.
You can pair that with several on-demand services and pay less than a subscription to a higher-priced live service. This still lets you stream movies and TV shows online and increase savings.
How Do I Get Local Channels on My Smart TV?
It is simple to get local networks on your smart TV. All you need is an over-the-air antenna to watch locally-owned stations on your smart TV.
You don't even need internet service for this choice to work. This is the best way to watch local TV for a low cost.
If you don't want to use an antenna, you can download apps like NewsON to watch local TV. Just keep in mind it may not be local to your area and will be curated content.
What Has Replaced Locast?
Locast was a nonprofit online service that allowed people to watch their local channels for a $5 monthly donation. It was available in roughly 35 major metropolitan areas throughout the U.S.
It ceased operations in September 2021 when a federal court ruled the service was violating the law.
Unfortunately, no service has replaced Locast as a way to get local channels. LocalBTV is one service that has tried, but it doesn't have the reach Locast had in its prime.
Bottom Line
Watching your favorite over-the-air network shows and sports isn't difficult. All you need is an antenna or a live TV service to watch any of those shows.
If you want to keep costs low, an antenna and a subscription to an on-demand service offer a good solution. This lets you watch local TV and get access to exclusive shows while paying a fraction of the average cable bill.
If you want to identify ways to save money on streaming services or cancel cable TV, subscribe to our YouTube channel, where we discuss all you need to know to be an effective cord-cutter.
What's most important to you when choosing a streaming service?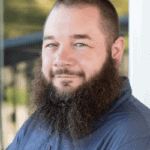 I'm John Schmoll, a former stockbroker, MBA-grad, published finance writer, and founder of Frugal Rules.
As a veteran of the financial services industry, I've worked as a mutual fund administrator, banker, and stockbroker and was Series 7 and 63-licensed, but I left all that behind in 2012 to help people learn how to manage their money.
My goal is to help you gain the knowledge you need to become financially independent with personally-tested financial tools and money-saving solutions.