How much do you pay for cable each month? Cable TV is a significant expense for many families, but streaming platforms make it possible for cord-cutters to reduce that cost.
YouTube TV is one of the leaders in the cable replacement space, and is our top-rated service in our testing of different platforms. However, it is a premium service at $72.99 per month, and it may not be the value many people want. This review sheds light on if the service is still a good replacement to cable.
What is YouTube TV?
YouTube TV is a video streaming service that lets users have a near-cable experience without a contract. It's owned by YouTube, but is a separate service.
The platform launched to a few cities in mid-2017 and went nationwide in 2019. The provider is one of the best replacements to cable because it carries numerous sports channels, local networks, and dozens of entertainment, lifestyle, and news channels.
The service also boasts the best DVR capabilities. Unlimited DVR storage is included in the base cost.
What Channels Do You Get on YouTube TV?
Aside from the cost, which channels you receive is the most important part of choosing a cable alternative. There are 100+ YouTube TV channels, which you can view below.
| channel1 | channel2 | channel3 |
| --- | --- | --- |
| ABC | FOX Business | Nickelodeon |
| ABC News | FOX News | Olympics Channel |
| ACCN ESPN | FS1 | OWN |
| Adult Swim | FS2 | Oxygen |
| AMC | FX | Paramount Network |
| Animal Planet | FXM | PBS |
| BBC | FXX | PBS Kids |
| BBC World News | Food Network | POP |
| BET | BET Her | SEC ESPN |
| Bravo | Freeform | SNY |
| BTN | NBC Golf | Smithsonian Channel |
| CBS | HGTV | StartTV |
| CBS Sports | HLN | SundanceTV |
| Cartoon Network | IFC | SyFy |
| CNBC | Investigation Discovery | TBS |
| Dabl | LAFC | TCM |
| CNN | MLB Game of the Week | TLC |
| Cheddar | MLB Network | TNT |
| CMT | MSNBC | TYT |
| Comedy Central | Motortrend | Tastemade |
| NEWSNATION | Nick Jr | Nicktoons |
| CometTV | MTV | Telemundo |
| Court TV | MyNetworkTV | Fox Soul |
| Cozi TV | NBC | The CW |
| Discovery | NBA TV | Travel Channel |
| Disney | Docurama | Tru TV |
| Disney Jr | NBC Universo | TV Land |
| Disney XD | Dove | USA |
| E! | NBC LX | Universal Kids |
| ESPN | GetTV | VH1 |
| ESPN2 | NFL Network | WE TV |
| ESPNU | Nat Geo Wild | YouTube Originals |
| ESPNews | National Geographic | Hallmark |
| FOX | Galavision | Hallmark Drama |
| Hallmark Movies & Mysteries | GSN | Law & Crime |
| LiveNOW from Fox | MTV2 | MTV Classic |
| NBC News Now | NBCSN | QVC |
| Teen Nick | UniMas | Univision |
| FOX Weather | | |
You'll notice a few things as you look at the YouTube TV channel list, including:
A full suite of sports networks, including the family of ESPN channels, Fox Sports, and the NBA and NFL networks
Local networks and major news channels
Dozens of lifestyle and entertainment networks
Read our guide on how to get local channels without cable if you want a more affordable option.
The base channel package from YouTube TV competes well with fuboTV since they both have similar offerings and price.
Add-Ons
Most streaming providers offer add-on channels to enhance your viewing experience. YouTube TV is no different.
Here are the add-ons you can couple with the YouTube TV channels:
| Channel | Cost/Mo. |
| --- | --- |
| Acorn TV | $6 |
| AMC Premiere | $5 |
| Cinemax | $9.99 |
| Curiosity Stream | $3 |
| EPIX | $6 |
| FOX Soccer Plus | $15 |
| HBO Max | $15.99 |
| NBA League Pass | $6.99 |
| Showtime | $11 |
| Shudder | $6 |
| Starz | $9 |
| Sundance Now | $7 |
| UMC | $5 |
The Sports Plus Add-on is another popular choice. It includes 14 sports networks, including Tennis Channel and NFL RedZone for $10.99 per month.
Depending on what you add to your package, it's easy to spend roughly $100 per month on the streaming provider. This is close to the average cost of cable.
You might find some of the offerings for a lower cost elsewhere, but this would not allow you to view everything within the YouTube TV web interface.
A new 4K add-on was announced on June 28, 2021 that brings 4K content to the YouTube TV interface. YouTube TV lowered the price to $9.99 a month when it announced its price increase in March 2023.
*Related: Do you want to cut the cord on cable, but not sure which streaming provider to choose? Try our free quiz to see which service will best fit your needs.*
If you choose the add-on, you also receive unlimited offline downloads for viewing on supported devices.
Dolby 5.1 sound was also a part of the announcement, but that's free to all subscribers.
What is the Monthly Charge?
YouTube TV is one of the most expensive live TV streaming services in the space space at $72.99 per month. The platform increased its price to this amount in March 2023.
The higher price provides little in value. It's important to point out you can find similar offerings that are more affordable.
While Hulu Live's features are competitive to YouTube TV and cost roughly the same amount, Sling TV is a suitable, and cheaper, alternative.
It offers Blue and Orange plans for $40 per month each or $55 combined.
Like most other streaming options, YouTube TV offers a free trial. It usually varies between seven and 14 days.
How Much is YouTube TV with Taxes and Fees?
Thankfully there are no fees, but taxes do increase the cost of YouTube TV. Taxes vary based on the telecommunications taxes in your area.
Here in Omaha, the tax adds an extra $4.01 per month on top of the base price. This brings the total to $77 per month, once the promotional discount expires.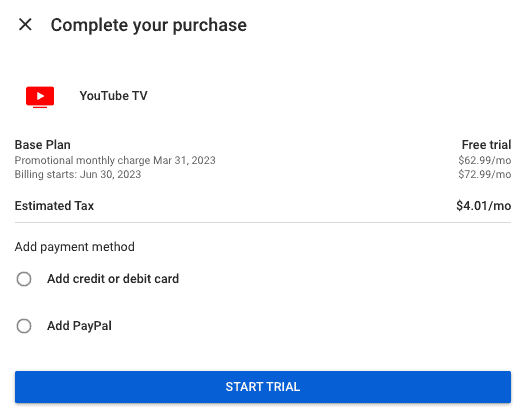 The service lets you input your zip code before signing up for service so you can learn the total cost.
Look And Feel
The YouTube TV web interface has a similar feel to the regular YouTube site. It's clean and easy to use. You primarily navigate the platform through three main tabs at the top: Library, Home, and Live.
The Library section is where you can find all your DVR recordings. It's intuitive to use and lets you sort by content type (for example sports or movies), alphabetically, and recency.
The Home section is where you go to find recommendations for content you should watch. These are based on shows you've viewed or searched for.
The Live section is where you go to find a guide of shows currently airing. YouTube TV even allows you to use the settings area to exclude channels you don't want to see.
The platform also offers a helpful search function in the upper right corner of the interface. You can search by genre or channel.
You can fine-tune your search by using narrow searches, such as "romantic comedy + 2022" to find relevant movies or shows.
Features
The cable replacement space is a competitive market. Streaming platforms augment their offerings to add features users want.
Below are a few of the features that set YouTube live TV apart from the competition.
Cloud DVR
A DVR keeps many people tied to their cable contract because they fear live live TV streaming services won't have the ability to record their favorite shows. While other companies lack this feature, YouTube TV's DVR service shines.
The cloud DVR offers unlimited storage, enabling you to keep content for up to nine months. It also offers rewind, fast forward, and pause capabilities.
Hulu Live has a similar DVR functionality and is slightly cheaper than YouTube TV.
This makes YouTube TV a perfect alternative to Hulu with Live TV if recording capabilities are important to you.
Users And Permissions
If you have a large family, you know how difficult it is to manage what everyone likes to watch.
YouTube TV recognizes that and includes six accounts per household. The service also lets you simultaneously stream on three devices. If you choose the 4K add-on, you can stream on unlimited streams.
Hulu Live comes closest to this with six and two, respectively.
Parental Controls
Many parents of younger children want to control what their children can watch. YouTube TV makes that simple to do.
Here is how you access the parental controls and settings:
Click the lock icon in the bottom corner of any page
Complete the multiplication problem or read and enter the numbers that appear
If you don't want to do the second step, you can create a custom passcode
Once you complete the steps listed above, you can block content, establish settings of what your kids can watch, turn search ability off, and more. This is somewhat standard across streaming providers.
Multiview
Mosaic mode, otherwise known as multiview is a new feature YouTube TV has made available for all subscribers. This new feature is best for a sports fan who wants to simultaneously watch multiple games.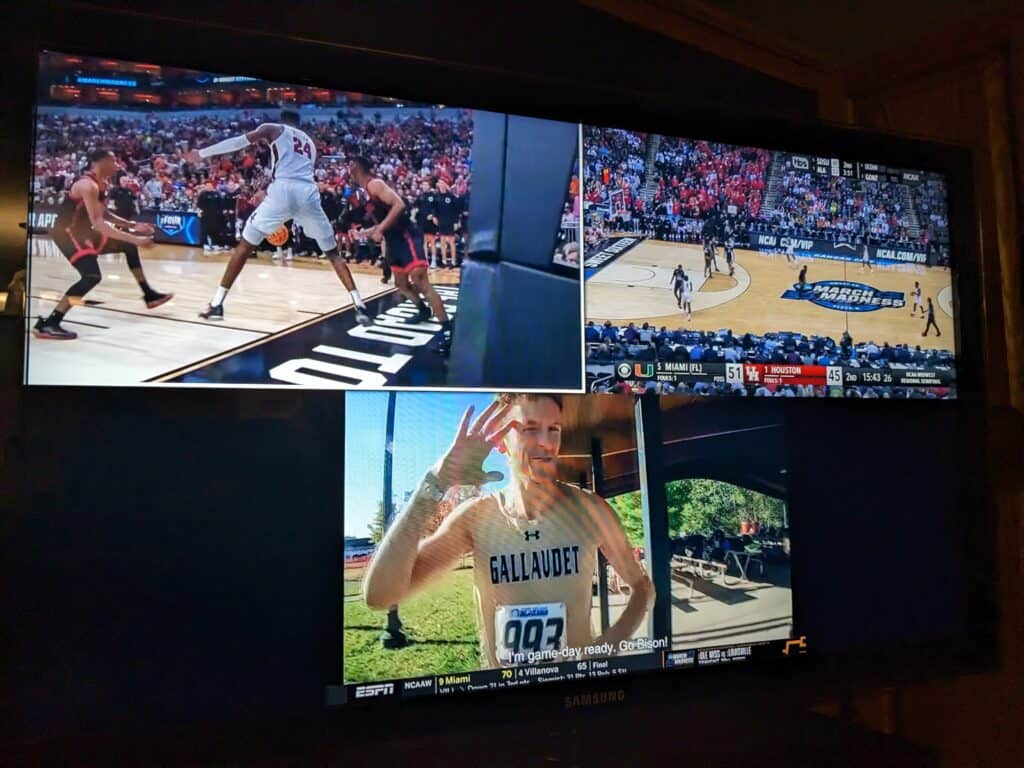 The feature rolled out just in time for March Madness 2023 and allows you to have up to four games on your screen. Clicking the up or down button on your remote lets you move to the audio for the selected game.
Multiview is currently only available on sporting events. You also are unable to currently customize which games are able to show in multiview.
We have tested the new feature and find it to be a helpful way to stay abreast of what's going on with multiple games without having to change channels.
To get to the available multiviews, click Top Picks For You on the home screen.
Supported Devices
Cable replacement services know they need to allow their service to operate on multiple devices. You can access YouTube TV from a variety of devices, including:
Amazon Fire Stick or TV
Apple TV, Google Chromecast, PlayStation 4 and 5
Roku and Xbox One
Google Chrome and Firefox web browsers
Hisense, LG, Samsung, and Vizio Smartcast Smart TVs
You can also access the YouTube TV app on your smartphone or tablet as long as it's Android L or later or Apple iOS 12 or later.
What Are the Pros and Cons of YouTube TV?
There's a lot to consider when choosing a streaming service like YouTube TV. Here are some things to think about.
Pros:
Robust cloud DVR
A full suite of sports channels, local networks, and lifestyle/entertainment channels
Intuitive interface and helpful search functions
More channels than most competitors
Can have up to six profiles
Cons:
Very expensive
Fox Regional Sports Networks is not available in all locations
There is a lot to like about YouTube TV. However, with the recent price increase, it's tough to give them a winning edge.
While the service is excellent, it's easy to wipe out most of the savings you get by cutting the cord.
If getting regional sports networks (RSNs) is important to you, DIRECTV STREAM may be a better choice. Read our DIRECTV STREAM vs. YouTube TV analysis to learn more.
Is YouTube TV a Good Deal?
There is a lot to like about the YouTube live TV streaming service. The platform gives you local channels, and dozens of popular sports, lifestyle, and entertainment networks.
The unlimited cloud DVR is a nice feature that not all services offer. However, if you add any extra features, it's easy to increase the price.
If cost is a concern, consider a more affordable cable replacement.
Top Alternatives
Given the high cost, you may want to look elsewhere for your viewing needs. Here are some suitable alternatives to YouTube TV that will save you money and let you watch your favorite shows.
| Service | Cost | Channels | Streams | DVR | Rating | Trial |
| --- | --- | --- | --- | --- | --- | --- |
| Hulu Live | $76.99+ | 85+ | 2 | Unlimited | 4.1/5 | Try |
| fuboTV | $74.99+ | 140+ | 10 | 1,000 hrs. | 4.2/5 | Try |
| DIRECTV STREAM | $74.99+ | 65+ | 20 | Unlimited | 3.7/5 | Try |
| Philo | $25 | 70+ | 3 | Unlimited | 4.3/5 | Try |
| Sling TV | $40+ | 30-50+ | 1-4 | 50 hrs. | 4.2/5 | Try |
| Vidgo | $69.99+ | 110+ | 3 | N/A | 4/5 | Try |
| YouTube TV | $72.99+ | 100+ | 3 | Unlimited | 4.2/5 | Try |
Hulu Live
Hulu with Live TV is the closest in offerings to YouTube TV. The service has nearly 90 channels for $69.99 per month.
It's roughly the same price as the live YouTube service, but with about a dozen fewer channels. However, the channels added by YouTube TV in its price increase are not terribly popular ones, so the value add is minimal.
Hulu carries local networks in most markets and has a significant portfolio of original content. This includes shows like The Handmaid's Tale, Castle Rock, and Letterkenny.
It also includes Disney+ and ESPN+ in its base package. It also includes all of the ESPN networks. This makes Hulu Live a terrific option to stream NFL games live without a contract.
Read our review of the Hulu Live channels to learn more about the platform.
Sling TV
Sling TV is run by Dish TV. Like other cable alternatives, it does not have a contract. You choose between one of two package offerings with Sling: Blue and Orange.
They both cost $40 per month individually or $55 per month combined. The difference between the offerings is the sports channels you receive.
Orange has ESPN, whereas Blue carries Fox Sports. Depending on where you live, you will receive some local networks with Sling TV.
This makes Sling an affordable service to watch college football without cable if you're a fan of the game.
In select markets, NBC and FOX are included in Sling Blue. Additionally, depending on where you live, ABC and CBS are included in either package.
Similar to Philo, you can solve this issue with a cheap digital antenna.
Read our review of the Sling TV channel packages to learn more about the platform.
If you want to see how the two live TV streaming services compare, read our YouTube TV vs. Sling TV analysis to learn more.
Philo TV
Philo is the cheapest alternative to YouTube TV. You receive 60+ channels for just $25 per month.
How can Philo offer so many channels for a low monthly price? They do not offer sports or local channels which are options other platforms pay a lot to offer.
While this limitation will hold some people back, you can replace local coverage with an affordable digital antenna if you don't watch sports.
Overall, the platform isn't quite as robust as YouTube TV. But, if you're only interested in entertainment and lifestyle channels with some news, it's an excellent value.
Read our review of the Philo channels to learn more about the platform.
fuboTV
FuboTV, like Hulu Live, is a close competitor to YouTube TV. The service offers nearly 115 channels, here in Omaha, for $74.99 a month, plus RSN fees.
The streaming service specializes in sports content, and offers numerous add-ons to niche down your content.
*Related: Read our analysis of fuboTV vs. YouTube TV to see how the two services compare.
One key feature that fuboTV offers is it airs some content in 4K. Many cable replacements do not offer that. The platform also offers a robust DVR with 1,000 hours standard.
Read our review of the fuboTV packages and pricing to learn more.
Vidgo TV
Vidgo TV is one the newer players in the live streaming service space. It offers a respectable 95 channels for $70 per month in it's base plan. User can try the service free for the first seven days.
Vidgo offers dozens of popular lifestyle and entertainment channels, plus a wealth of sports content. The streaming provider specializes in letting viewers watch content with others, including watch parties, creating live polls, and more.
The one drawback to the platform is that it doesn't currently offer a DVR, though they are working on one.
Read our Vidgo review to learn more.
YouTube TV Review
Channel Lineup

Price

DVR Space

Availability

Ease of Use
YouTube TV Review
Get live TV and unlimited DVR space for half the cost of cable, and no contract!
Pros
✔️ Unlimited DVR
✔️ Carries all local networks
✔️ Dozens of popular lifestyle and entertainment channels
✔️ Easy to use interface
✔️ Ability to have up to six profiles
Cons
❌ Expensive
❌ Limited parental controls
Bottom Line
YouTube TV is an excellent streaming platform. It has robust offerings, making it one of the closest options to fully replacing cable.
Unfortunately, it comes with a substantial price tag. While it does not have a contract, it's still $65 per month. You can try the free trial, however you should keep in mind that it will be an expensive monthly cost once the trial ends.
FuboTV is just as good for the same price, but slightly more expensive. But, if you want a cheaper alternative and don't watch sports, Philo is a third of the cost and competes quite well.
How much do you pay each month for cable? What networks are a must-have for you?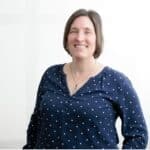 I'm Nicole Schmoll – a master's-educated professional writer, mompreneur, and co-founder of Frugal Rules.
As a freelance copywriter in Omaha, I still believe that writing is an artistic expression. Every time I strike the keys, I intend to evoke a response from my listeners. I left my full-time career as a senior copywriter for an insurance agency to start my own freelance writing business.
I love watching and writing about TV (and how to stream it!)