Hulu Live TV Channels List 2020: The Complete Guide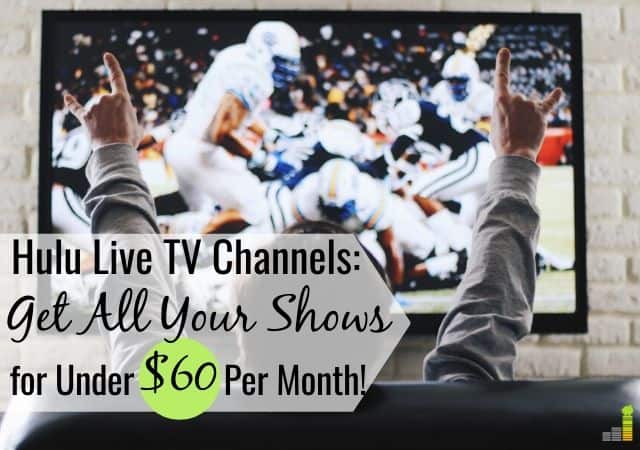 The Hulu channels list is one of the best available. It combines live programming from popular networks like ESPN and HGTV with a vast library of on-demand content.
Most importantly, the platform costs less than half the average cable bill.
How Much is hulu live tv?
It currently runs $54.99 per month for the service, and you can use the 7-day free trial to see if you like the service. Learn more about the different plans the provider offers, which devices you can stream Hulu Plus on and all the details about this streaming service in our Hulu with Live TV review.
what channels are on hulu?
| | Channel | Channel |
| --- | --- | --- |
| ABC | ESPN | NASA TV |
| ABC News Live | ESPNews | NBC |
| ACC Network | ESPNU | NBC Golf |
| A&E | ESPN College Extra | NBC SN |
| Animal Planet | ESPN Bases Loaded | National Geographic |
| Big Ten Network (BTN) | ESPN Goal Line | Nat Geo Wild |
| Boomerang | FOX | Olympic Channel |
| Bravo | FOX Business | Oxygen |
| Cartoon Network | FOX News | Pop |
| CBS | Food Network | QVC |
| CBSN | FS1 | SEC ESPN |
| CBS Sports Network | FS2 | Smithsonian Channel |
| CNBC | FX | SyFy |
| CNN | FXM | TBS |
| CNN International | FXX | TCM |
| CW | Freeform | Telemundo |
| Cheddar | HGTV | TLC |
| Cozi TV | History Channel | TNT |
| Discovery Channel | Headline News | Universal HD |
| Disney Channel | Investigation Discovery | USA |
| Disney Jr | Lifetime | Viceland |
| Disney XD | MSNBC | MotorTrend |
| E! | ESPN2 | |
Local networks are included for no added fee, which isn't typical among streaming services. This includes all live local, regional, and national channels available in your area.
A subscription avoids the need for a digital antenna (like the Mohu Leaf that we use) to get local channels.
Sports fans will love the fact that all of the ESPN channels as well as Fox Sports are included. That makes Hulu Live one of the best ways to watch sports without cable.
Other streaming services make you choose between ESPN or Fox Sports channels, or between sports and lifestyle / entertainment channels.
Hulu Live doesn't make you choose one or the other. It gives you the best and most popular live, local, sports, news and entertainment content for one reasonable monthly cost.
hulu Local Channels
As was already mentioned, a subscription includes local channels. Unlike other cable alternatives, which either don't offer local channels or charge a fee, Hulu Live comes with them.
For no extra cost you can enjoy all the live local, regional, and national channels available in your area.
hulu Add-on channels
If you want premium channels or additional channels beyond the 65+ channels included in a subscription, you can add them on for an extra cost.
Premium channel add-ons include the following popular packages:
HBO – $14.99 per month
Cinemax – $9.99 per month
SHOWTIME – $10.99 per month
STARZ – $8.99 per month
In addition to premium channels, you can supplement your Hulu channels list experience with two different packages for an extra cost:
Entertainment Package – $7.99 per month, which includes: American Heroes, CNBC World, Cooking Channel, Destination America, Discovery Family, Discovery Life, DIY Network, FYI, LMN and Science.
Español Package – $4.99 per month, which includes: CNN en Español, Discovery en Español, Discovery Familia, ESPN Deportes, History Channel en Español and Universo.
Lastly, if you're a Disney fan, they bundle Disney+ with Hulu and ESPN+, saving you 25 percent versus individually subscribing to each platform.
Read our Disney+ app review to learn how the service works.
Read our review of ESPN+ to learn how that service works.
what shows are on hulu?
Part of the reason Hulu Live is able to offer so many popular channels is because the major TV networks started the streaming giant.
This makes it easy for Hulu Plus to offer live and on-demand access to a number of the most popular shows.
Some of the most binge worthy shows include:
Atlanta, This is Us, The Handmaid's Tale, Harlots, Castle Rock
American Horror Story, It's Always Sunny in Philadelphia, Community
Parks and Recreation, Brooklyn Nine-Nine, Arrested Development
Seinfeld, Black-ish, Superstore, Vikings, Preacher, Schitt's Creek
Star Trek (the original series and the Next Generation)
From drama to comedy to sci-fi, horror and reality TV, you can watch a lot of stellar content. If you don't see your favorite show listed here, chances are good that it is included in the Hulu TV shows list.
questions viewers ask
Does Hulu Live Have A DVR?
Along with "what channels do you get with Hulu?" whether or not it comes with a DVR is one of the most asked questions we receive about the streaming provider.
Hulu Live has one of the largest streaming libraries on the market. It makes sense that you'd want a DVR to help you watch it all.
The base package includes:
50 hours of cloud DVR storage
The ability to watch content on two screens at a time
Ability to watch live TV on your favorite device (iOS, Android, Roku, Fire TV and Fire TV Stick, Apple TV, Chromecast, Xbox One, Xbox 360, Samsung Smart TVs, LG smart TVs, Nintendo Switch)
Fifty hours of free DVR storage may be enough for you, unless you are an avid sports fan and have many games you want to record throughout the year. If that's the case, you can upgrade to the enhanced cloud DVR option.
The enhanced cloud DVR add-on allows you to record up to 200 hours of content. Other plusses include:
Fast-forward through commercials
No limit on simultaneous recordings
Ability to stream your recordings anywhere, on supported devices
The extra 150 hours of recording will cost you an extra $14.99 per month. If you record a lot of content, you may find that add-on worth the cost.
How many TVs can you stream at once?
Another add-on your household may appreciate is the unlimited screens feature.
With so many Hulu Live TV channels to enjoy, your family may want to watch three or more different shows at once, all on various devices.
If that's the case, you may want to upgrade beyond the two screens at once option, which is included in the base subscription.
Adding unlimited screens will cost you $14.99 per month. That may be too expensive for you, but if your family is constantly fighting over the remote, you may find it worth the cost.
What are the available plans?
There are three plans:
Hulu: This plan contains ads, with no live TV. This is the cheapest plan, at $5.99 per month. You must wait 24 hours after air date to watch any network shows.
Hulu (no ads): This plan is an upgrade from the $5.99 per month plan, but you benefit from no ads on most shows. You must still wait 24 hours to watch network shows. This plan costs $11.99 per month.
Hulu + Live TV: This plan operates like cable, offering you everything offered in the Hulu channels list above. There is no delay on content as the live version operates just like cable, albeit with no contract.
This plan costs $54.99 per month, and the best of the packages if you want a total replacement to cable.
Regardless of the plan you choose you receive access to all of their original content. It's also possible to move between plans at your choosing.
Can I watch on two devices at the same time?
Yes and no. When you create an account you set your home location. That is the only location you can watch on a TV.
You can watch on mobile devices in different locations, but you're unable to watch on a TV in two separate locations. With a Live subscription you can watch on two devices at once, but that does not apply to on-demand content.
Summary
If you're wondering what channels are on Hulu, the platform has plenty to offer. Having tried the service ourselves many times, we can say from firsthand experience that it's the most expansive and offers the closest experience to cable on the market.
*Related: Want to cut the cord but don't know which platform to pick? Check out our Hulu or Netflix guide to see which platform is best.*
One of the best features is the amount of on-demand content you get with a subscription. Not only can you watch first run episodes of your favorite shows when they air, you can catch up on all the past episodes easily.
Finally, it's also fun and easy to discover new shows. We did that recently with DuckTales, and found a new family favorite to enjoy.
To wrap it up, here are our highlights of the streaming service:
65+ channels of live TV
Local channels included
ESPN, FS1 and many more sports channels included
CNN, HGTV, A&E, USA and more popular networks included
50 hours of cloud DVR
Stream on two screens
Works with all popular devices including Roku, Chromecast, Android, Apple TV, and Fire TV
Ability to add on HBO and other premium channels seamlessly
If you're looking for an affordable cord cutting solution but still want to be able to watch ESPN without cable and plenty of other popular content from local and major networks, give the platform a try.
As is the case with all the popular streaming services, Hulu Live offers a 7-day free trial to test drive their content experience for yourself.
What other questions do you have about the available channels? What channel(s) have you had a hard time finding access to on streaming services? Is cable worth the $110 average price tag?
The following two tabs change content below.
Nicole Schmoll is an experienced professional copywriter who writes regularly for clients in the finance, IT, healthcare, trades and retail industries. Check out samples of her work and services at
Ink Harmony
.