Paying a monthly cable bill can drain your budget. On average, Americans pay $200 a month to stay in a contract.
Fortunately, it doesn't have to be that way. Thanks to cable replacements, you can get your favorite TV shows and live sports at a fraction of the cost.
Many prospective cord-cutters look at Sling TV vs. Hulu Live to replace their content needs. This guide reveals the results of our significant testing of the two streaming apps.
Sling TV vs. Hulu Live
Although there are several similarities between the two services, the platforms have some significant differences.
Sling TV is best for someone who is on a budget. The app has several dozen popular cable networks and is one of the most affordable live TV packages in the space.
On the other hand, Hulu with Live TV, is a true cable or satellite TV alternative. It has roughly 90 live channels and is a premium TV streaming service.
In this Hulu Live vs. Sling TV analysis, we discuss which of the two alternatives to cable TV is best for you. What you watch and the features you need are key considerations when answering this question.
| Service | Price | Channels | DVR | Screens | Try |
| --- | --- | --- | --- | --- | --- |
| Hulu Live | $76.99+ | 85+ | Unlimited | 2 | Try |
| Sling Orange | $40+ | 30+ | 50 hrs. | 1 | Try |
| Sling Blue | $40+ | 40+ | 50 hrs. | 3 | Try |
| Sling O + B | $55+ | 50+ | 50 hrs. | 4 | Try |
How Much Do the Two Live TV Streaming Services Cost?
The Hulu Live monthly price is $76.99 for its base plan. Sling TV has two base plans, called Orange and Blue. Each plan costs $40 per month, or you can combine the two for $55 a month.
If simplicity is more important to you and you want something similar to cable and satellite TV providers, Hulu Live is a better choice.
With Hulu Live, you get access to the Disney bundle. This includes Disney+ and ESPN+.
Sling TV is more affordable and the closest thing to an à la carte experience as possible. Through a variety of add-ons, you can emulate a cable experience. Otherwise, you can stay with a base plan to save more money.
Both streaming TV services are easy to set up, have no hidden fees, and can be started, paused, or canceled at any time without penalty.
If you're new to the idea of canceling cable, read our guide on how to cut the cord on cable to learn where to start.
Free Trials
Neither Hulu Live nor Sling TV offers a free trial. While this is disappointing, Sling typically offers various money-saving promotions if you're new to the service.
You can often receive half off the first month of service when you join Sling. Additionally, the live TV plan offers device deals for first-time subscribers. It's not a free trial, but you can often find a way to save money.
Read our Sling TV review to learn more about that service.
Price Winner: Sling TV
Channel Lineups
Both live TV streaming services have a variety of live TV channels. Either platform works well for sports fans and entertainment or lifestyle seekers alike.
However, the two streaming services differ in how they deliver those channels. Hulu Live is close to a true cable package, with roughly 90 popular networks and no contract.
Read our guide on the Hulu Live channels to learn more.
Sling Blue has roughly 40 channels, and Orange has roughly 30. If you want everything this cable replacement offers, choose Sling Orange Plus Blue.
The price is higher with this option, but you get all the sports channels Sling offers. You can purchase the aforementioned add-ons to receive additional networks.
Ultimately, if pricing is the most important factor for you, Sling is a terrific alternative to Hulu Live.
Read our guide on the Sling TV packages to learn more.
Do You Get Local Channels With Sling and Hulu Live?
Many would-be streamers are fearful they won't be able to get local channels without cable if they cut the cord. If access to local networks is important to you, Hulu Live is a good choice.
Hulu includes all locals in its base plan, and this will include PBS in the near future.
Unfortunately, Sling TV doesn't offer local networks in many cities. They offer ABC, FOX, and NBC in select locations.
The absence of local channels is part of how Sling keeps its costs affordable since broadcast retransmission fees add an extra $20 or more per month to a bill.
An over-the-air antenna is a perfect complement to Sling TV if you want to keep your costs in check. We use the Mohu Leaf to get locals in Omaha, and it works great.
You can use the code FRUGALRULES10 to receive ten percent off the purchase of a Mohu Leaf for your home.
Regardless of which streaming app you choose, it is possible to watch local channels without cable and save money.
*Related: Do you want to cancel cable but don't know which streaming service you should choose? Take our free quiz to identify the best service for your needs.
Which Sports Channels Do Sling and Hulu Live Have?
The ability to watch live sports without cable is front of mind for many cord-cutters. Both streaming services have plenty of sports but differ in how they deliver this type of content.
Hulu Live has a larger selection of sports channels in its base plan. Here are the networks you can expect to receive from the platform.
Hulu Live Sports Networks
ACCN
Big Ten Network
CBS Sports Network
ESPN, ESPN2, ESPN News, ESPNU, ESPN College Extra
FS1, FS2
Golf Channel
NBC Sports
Olympic Channel
SEC Network
NFL Network
Sling is a bit different in how they handle sports. Here are the sports channels you receive with Sling Orange:
If you want to get ESPN without cable, the Orange plan is a good choice.
Here are the sports channels you receive with Sling Blue:
*Related: Do you want all the in-studio commentary without a contract? Read our review on how to watch NFL Network without cable to learn about the best options.
You can combine the two to receive access to all of the sports networks. If you want to watch NFL games without cable, Orange is the better choice.
However, if you want to stream college football games, Blue is worth considering.
Sling does have the ability to add other sports channels through its Sports Extra add-on. This has many of the same channels found on Hulu Live and ultimately costs less.
Unfortunately, neither platform really offers regional sports networks (RSNs). DIRECTV STREAM is the best choice to get the available RSNs in your area.
Premium Channels and Add-ons
Both services have the ability to customize your viewing experience with premium channels and other packages that can be added for an extra cost.
Hulu Live offers three channel packages that you can add to your base subscription. These include:
Entertainment Package: $6 per month, which includes: American Heroes Channel, BET Her, CNBC World, Cooking Channel, Crime + Investigation, Destination America, Discovery Family, Discovery Life, Great American Country Family, Military History Channel, NickToons, MTV2, MTV Classic, Science, and TeenNick.
Español Package: $4.99 per month, which includes: CNN en Español, Discovery en Español, Discovery Familia, ESPN Deportes, History Channel en Español, and Universo.
Sports Package: $9.99 per month, which includes: NFL Red Zone, TVG, TVG2, MAVTV, Outdoor Channel, and Sportsman Channel.
You can even watch Disney+ and ESPN+ with your Hulu Live subscription without paying extra.
Sling TV is more customizable than Hulu Live, thanks to its many extra channel packages. It offers ten different add-ons.
| Sling Tv Extra Package | Cost/Month | Channels with Orange | Channels with Blue |
| --- | --- | --- | --- |
| AMC+ | $7 | AMC+, Shudder, Sundance Now, IFC Films Unlimited | Not Offered |
| Comedy | $6 | CMT, Game Show Network, Logo, MTV, MTV2, truTV, Paramount Network, TV Land, Revolt, FETV, Laff | CMT, Game Show Network, Logo, MTV, MTV2, Paramount Network, Revolt, TV Land, FETV, Laff |
| Espanol (Spanish Channels) | $6 or $11 | Channels vary; check Sling.com for full details. | Channels vary, but can include: ESPN Deportes, Cine Latino, Azteca, History en Espanol and more. Check Sling's website for full details. |
| Heartland | $6 | AHC, Cowboy Channel, Destination America, Outdoor Channel, Pixl, RFD TV, Ride TV, Sportman Channel, World Fishing Network, Pursuit, GAC | Nat Geo Wild, World Fishing Network, Pursuit, Sportsman Channel, Outdoor Channel, GAC, AHC, Ride TV, Destination America, RFD TV, Pixl, Cowboy Channel |
| Hollywood | $6 | Cinemoi, HDNET+Movies, Reelz, SundanceTV, TCM, H&I, Start TV, Grit | FXX, H&I, FXM, Reelz, Start TV, Grit, HDNet+Movies, SundanceTV, Cinemoi, TCM |
| International | $6 | Globo, MBC, Sony, Welt, Willow, Zeecinemalu and more. | same |
| Kids | $6 | BabyTV, Boomerang, DuckTV, NickToons, Teen Nick | same |
| Lifestyle | $6 | VH1, Cooking Channel, DIY Network, FYI, Hallmark Channel, Hallmark Drama, Hallmark Movies & Mysteries, Lifetime Movies, WeTV | VH1, Oxygen, Cooking Channel, DIY Network, FYI, Hallmark Channel, Hallmark Drama, Hallmark Movies & Mysteries, Lifetime Movies, WeTV |
| Locals | Free depending on where you live. | ABC, CBS | FOX and NBC included in select markets. |
| News | $6 | BBC World News, News Nation, NewsMaxTV, HLN, Weather Nation, Euronews, SCI, News 18, RT, CGTN, Law & Crime | Fox Business, News Nation, CNBC, BBC World News, Law & Crime, NewsMaxTV, Weather Nation, SCI, Euronews, France24, News18, NDTV24x7, RT, CGTN |
| Sports | $11 | SECN, SECN+, ACCN, ACCNX, PAC12 Network, Longhorn Network, Bein, NBA TV, MLB, MLB (SZ), U, ESPNEWS, Tennis, NHL | NFL RedZone, Big Ten Network, NBA TV, FS2, MLB, NHL, Golf, Bein, PAC12 Network, Tennis, MLB (SZ), Olympic |
With the Total TV Deal, you can get their seven most popular add-ons for $21 a month with either package. If you have Sling Orange Plus Blue, it costs $27 per month. You also get an upgraded DVR.
If you want premium networks, that's possible with either streaming service. The Hulu Live TV premium channel add-ons include:
Max: $14.99 per month
Cinemax: $9.99 per month
SHOWTIME: $10.99 per month
STARZ: $8.99 per month
Sling TV's premium channel add-ons are similar but more expansive:
Comedy Dynamics: $5
Dox or CuriosityStream: $3
Epix (four channels): $5
Hallmark Movies Now: $6
Pantaya: $6
Showtime (nine channels): $10
Starz (six channels): $9
Up Faith and Family: $5
Through its many add-on channel packages, Sling TV makes it possible to cobble together the channels you want.
If you've tried the discount service and prefer a premium option, read our guide on how to cancel Sling TV to learn more.
Channel Lineup Winner: Hulu Live
On-Demand Content
Hulu is well-known for its original programming. As you can imagine, it has a larger on-demand library than Sling TV.
There are 43,000+ shows and movies to watch on-demand through Hulu Live. It also offers more original shows and movies.
Handmaid's Tale, Little Fires Everywhere, Only Murders in the Building, and The United States vs. Billie Holiday are just a few of the award-winning original series and movies on the streaming service.
Hulu is constantly adding new shows and movies that are entertaining to watch. You also get access to content from the ABC family of networks the day after shows air on live TV.
Furthermore, thanks to the Disney bundle, you receive access to the following content libraries:
Marvel
National Geographic
Pixar
Star Wars
If you love The Mandalorian, you can only get it on Hulu or Disney+. This makes it one of the better alternatives to Sling TV.
On the other hand, original content isn't as plentiful on Sling. They do have Sling Freestream, which is a no-cost streaming app.
Freestream has over 300 channels and 40,000 on-demand shows and movies. However, it's often older content and not the same quality you will find on Hulu Live.
Read our Hulu Live review to learn more about that service.
On-Demand Content Winner: Hulu Live
Which Streaming Service Has the Better Cloud DVR?
Recording TV shows and games is vital for many streamers. Hulu with Live TV is an easy winner for having a better cloud-based DVR.
A Hulu Live subscription includes unlimited DVR storage space with the ability to fast-forward through commercials. Recordings are kept for nine months and then deleted, but there is no limit to what you can record.
Sling only offers 50 hours of recording capacity in its base plan. You can upgrade to the enhanced cloud DVR Plus to receive a total of 200 hours of cloud DVR storage for an additional $5 per month.
The perk with Sling is that recordings never expire. If you pair Sling with a subscription to several video streaming services, the lower recording capacity may not bother you.
DVR Winner: Hulu Live
Interface
Both live TV streaming apps have easy-to-use menus and guides. As a result, both offer a satisfying user experience.
The feature of the streaming interface most often used is the channel guide. When comparing the two platforms, Sling TV has the edge over Hulu Live.
For the cost, we expect more out of Hulu Live. It also has several known issues with interface performance that they fail to address.
The Hulu Live guide displays content category tabs such as Recent, All, Sports, News, Movies, and Kids.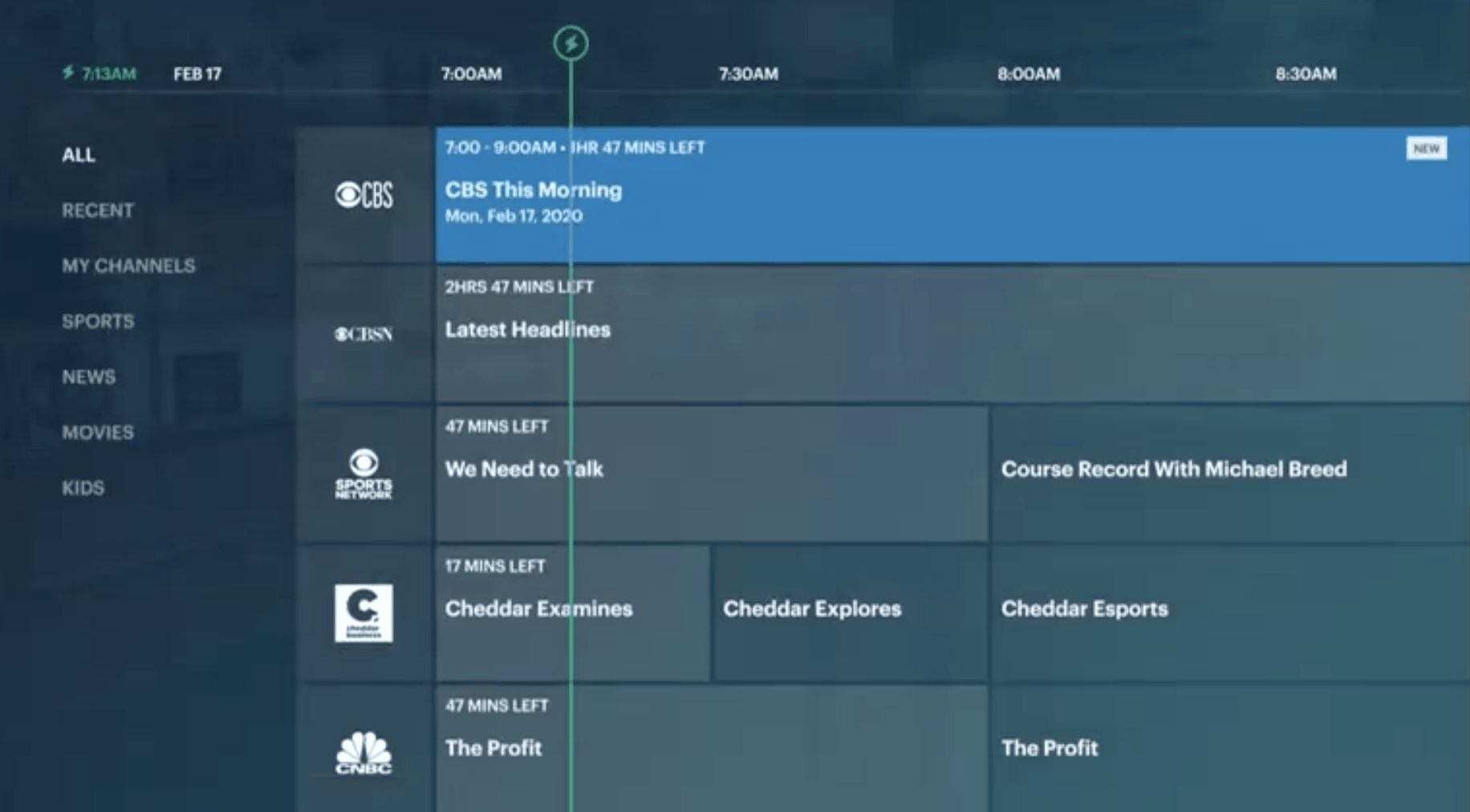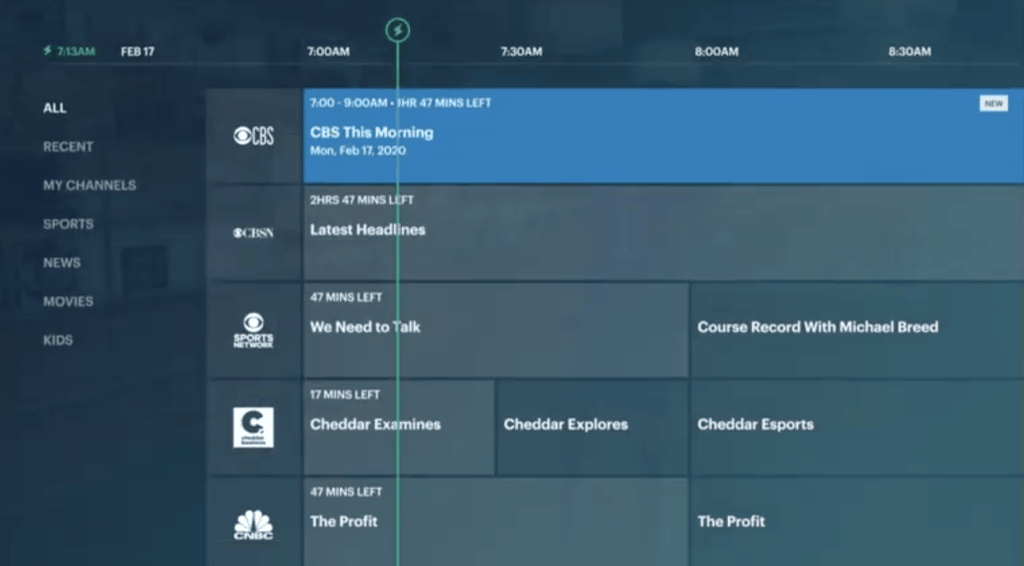 This helps filter content and makes finding something to watch simpler. There's also a search feature, which is helpful when you are trying to find a specific TV show.
When you launch the Sling platform, you'll see a simple home page with tabs for channels you've recently visited, shows that are trending live, popular TV shows, and movies. It is easy to navigate.
At the top of the interface, you'll see five main tabs. These include:
My TV
Guide
Sports
On Demand
Rentals (this allows you to rent movies for $5.99 for new releases)
The Sling TV guide is easy-to-use and has a grid-like channel layout. You can view listings and schedule DVR recordings up to a week in advance, just like Hulu Live.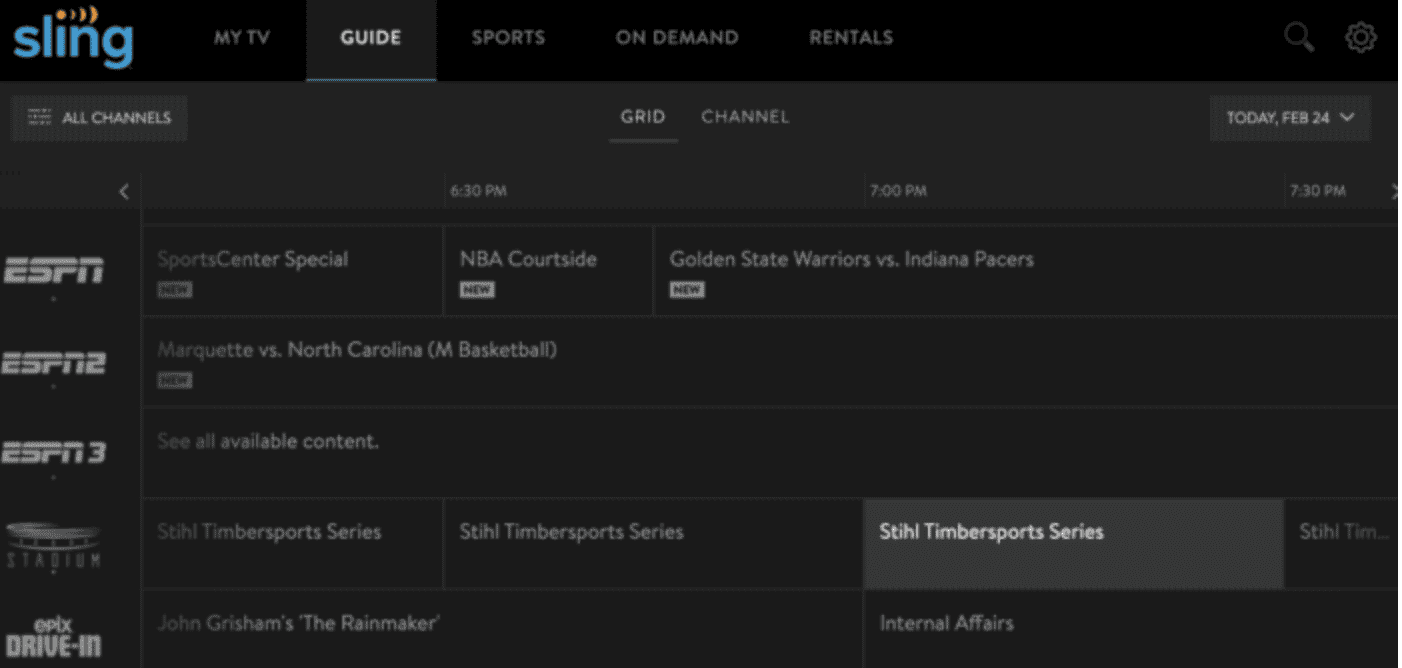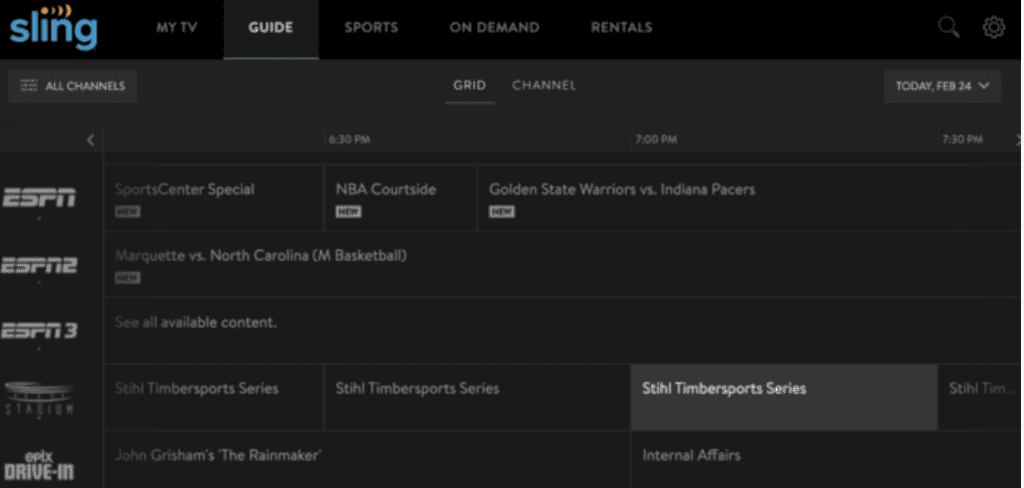 If you want to customize the TV guide, click the "All Channels" button in the upper left-hand corner to narrow it down to your favorites or view channels by category.
Due to simplicity and cost, Sling has a better user interface.
Interface Winner: Sling TV
Playback
Video and audio quality can be an important factor for some cord-cutters. You will not receive 4K quality with either service, especially Sling.
Hulu Live streams in 720p and 1080p, with some shows airing in 4K quality. That is most often found in their original shows and movies. A badge will indicate if the show is in 4K.
Sling doesn't provide much detailed information on video quality, but it matches what you'll find on other affordable live TV streaming services, which is 720p. Some content is available in 1080p, but nothing in 4K.
In terms of audio, 2.0 stereo audio is standard on both services, but you can get Dolby Digital 5.1 surround sound with compatible devices.
Playback Winner: Hulu Live
Which Devices Can You Watch Hulu Live and Sling on?
If your device has a screen, you can likely stream either service. Both platforms are available everywhere and have very similar compatible devices.
To watch either streaming service, you'll need a high-speed internet connection.
You'll also need either an LG or Samsung smart TV or a streaming device like the Amazon Fire TV, Roku, Tivo Stream 4K, Apple TV, Chromecast, Xbox, or PlayStation.
If you don't have a streaming media player, it's possible to watch on your laptop, smartphone, or other device.
Device Support Winner: Tie
Multiple Streams
Many people are interested in knowing how many screens Hulu Live and Sling TV will let you watch simultaneously.
If you want to know how many people can watch Hulu at once, the answer is a disappointing two simultaneous streams.
Fortunately, you can purchase the unlimited screens add-on. This will let you watch on as many screens as you want for $9.99 per month.
Simultaneous streams on Sling TV depend on the plan you select. If you have Orange, you get one stream. Blue allows three streams at once.
If you purchase Orange Plus Blue, you receive four simultaneous streams. However, you will still only be able to watch one Orange-specific channel at a time.
Given the cost, we expect Hulu Live to offer more than two simultaneous streams. All other premium live TV streaming services offer at least three. Given that, we give the edge to Sling.
Streams Winner: Sling TV
What Are the Respective Internet Speed Requirements?
Insufficient internet speeds can lead to a frustrating streaming experience. But, with proper speed, you can avoid pixelation and buffering.
Hulu with Live TV recommends the following internet speed requirements:
| Video Quality | Min. Speed |
| --- | --- |
| SD | 1.5 Mbps |
| HD (720p) | 3 Mbps |
| HD (1080p) | 6 Mbps |
| 4K | 16 Mbps |
Sling TV suggests the following:
| Video Quality | Min. Speed |
| --- | --- |
| SD | 3 Mbps |
| HD | 5 Mbps |
| HD (2+ TVs) | 25 Mbps |
Like all internet TV providers, the speeds listed are per stream and should be multiplied by the number of streams running at once.
Read our guide on the suggested internet speed for streaming to see how they compare to other platforms.
Internet Speed Requirement Winner: Sling TV
Does Either Hulu Live or Sling Have Parental Controls?
Parental controls can be an important consideration for parents of young children. Unfortunately, this feature isn't as common as it should be.
Hulu Live has no specific parental controls, but user profiles try to create a similar approach. You can create up to six different profiles on Hulu.
Profiles also allow you to limit searches to only return viewing choices that meet the requirements you set. However, children can get into their parent's accounts to find content.
Sling TV does allow you to set restrictions based on content rating and purchases.
They won't let you restrict access to entire channels, but you can create a PIN to lock access to bypass settings.
You can access parental controls by clicking the gear icon in the upper right-hand corner of your account, then "parental controls" on the far left of the screen.
The service also offers up to four user profiles.
Parental Controls Winner: Sling TV
Other Streaming Options
The streaming space is filled with excellent options. Other services worth considering are listed below.
| Service | Cost | Channels | Streams | DVR | Rating | Trial |
| --- | --- | --- | --- | --- | --- | --- |
| Hulu Live | $76.99+ | 85+ | 2 | Unlimited | 4.1/5 | Try |
| fuboTV | $74.99+ | 140+ | 10 | 1,000 hrs. | 4.2/5 | Try |
| DIRECTV STREAM | $74.99+ | 65+ | 20 | Unlimited | 3.7/5 | Try |
| Philo | $25 | 70+ | 3 | Unlimited | 4.3/5 | Try |
| Sling TV | $40+ | 30-50+ | 1-4 | 50 hrs. | 4.2/5 | Try |
| Vidgo | $69.99+ | 110+ | 3 | N/A | 4/5 | Try |
| YouTube TV | $72.99+ | 100+ | 3 | Unlimited | 4.2/5 | Try |
You can try any of these services to find the best option for your viewing needs. Read our guide on the top live TV streaming services to learn which one fits your needs.
Is Hulu Live TV or Sling TV Better?
There is a lot to consider when looking at Hulu vs. Sling. Both are good alternatives to cable, but the plans and pricing are distinctly different.
If you want a cable-like experience, Hulu Live could be a better choice. However, if Sling allows you to watch your favorite shows, the platform is a good budgetary solution.
For our money, Sling is the top option since it provides more savings and has several dozen popular networks. If you don't mind using an antenna, you can maximize your savings.
What's one channel you can't live without?