How to Watch History Channel without Cable
I'm a history buff, which is one of the reasons why I love History Channel. However, I'm also frugal, so I want to know how to watch History Channel without cable.
The average cable bill costs $110 per month, which is way more than anyone should have to pay for TV. With all of the affordable streaming services available today, there's just no reason to pay that much.
If you've been wondering, 'how can I watch History Channel without cable?' this post will walk you through your options for watching your favorite History Channel shows – like Pawn Stars, Ice Road Truckers, and American Pickers. (We really like that last one too. So much in fact that on a trip to Chicago once we made a detour to Mike and Frank's shop, Antique Archeology, in Le Claire, Iowa.)
How to Watch History Channel without Cable
Cable used to be the only way to watch channels like AMC, USA, Discovery Channel, and History Channel. Not anymore. Here are the best ways to watch History Channel without cable.
Hulu with Live TV
Hulu with Live TV is one of my family's favorite streaming services. It's also one of the best ways to stream History Channel live. If you're familiar with Hulu, Hulu Live includes live TV.
For $54.99 per month, you get access to your favorite History Channel shows along with:
60+ live TV channels
Cloud DVR service (lets you record live shows when they air and watch later)
Ability to stream to two devices at once
Hulu's complete library of content
The Hulu Live TV channel list is good. Plus, it has no contract and you can cancel or downgrade your service to Hulu traditional at any time with no fees or penalties. Here's a sampling of the many channels that come with Hulu Live:
ABC, CBS, FOX, NBC
A&E
CNBC, CNN
Disney, Disney Jr., DisneyXD
E!
ESPN, ESPN2, ESPNews, ESPNU, ESPN Goal Line
Food Network
HGTV
You can even bundle with the new Disney+ streaming service to enhance your content.
Can your cable contract compete with that? Read our Hulu with Live TV review to learn more.
Like many of the more popular streaming services, you can try Hulu Live free for 7-days.
Philo
Philo may be the cheapest way to watch History Channel. For only $20 per month, you can get History Channel and lots of other great content.
For years Philo has been one of the best cable TV alternatives. Its 50+ channel package costs just $20 per month and includes the following popular networks:
AMC, A&E, Animal Planet
Comedy Central, CMT
Discovery Channel, DIY
Food Network, Lifetime, MTV
HGTV
The one knock against Philo TV is that it doesn't offer access to sports channels like ESPN or FOX Sports or local channels. Still, a simple digital antenna like the Mohu Leaf, can get you local channels.
Learn more in our Philo TV review.
If you want to watch History Channel for cheap, Philo TV could be the perfect cord cutting solution for you.
Try Philo TV for free for 7 days. Unlike other services, you don't need to provide a credit card to try Philo free.
Sling TV
Sling TV is another leading streaming service. Its guide is easy to use and its streaming quality is reliable.
History Channel is available through one of its two packages – Sling TV Orange or Sling TV Blue.
If you want to watch History Channel, get Sling TV Orange for $25 per month. Other channels include:
AMC
Disney Channel
ESPN
HGTV
If you're paying anywhere near the average cable bill of $110 per month, switching to Sling TV could save you $80 per month. Plus, you'll catch all the latest episodes of Forged in Fire, Knightfall, Ancient Aliens, and Swamp People.
Check out our Sling TV review to learn more.
Like other streaming services, you can try Sling TV free for 7-days.
FuboTV
Do you love soccer? fuboTV could be the best streaming service for you.
This sports-forward streaming service made its start showing international soccer matches. Today, its broad channel lineup offers sports and much more.
*Related: Love the NFL, but want to ditch cable? Check out our guide on how to watch NFL games live without cable.*
In addition to History Channel, with fuboTV you'll see:
A&E, AMC, Bravo
Cozi, E!, Food Network
FX, FXM, FXX
HGTV
Nat Geo Wild
National Geographic
Travel Channel
Learn all about it in our fuboTV review.
fuboTV's base package, which includes History Channel, costs $54.99 per month, which puts it as the same as Hulu Live but much less than cable.
Try watching History Channel free with a fuboTV 7-day free trial.
AT&T TV Now
AT&T TV Now is another way to get History Channel without cable.
Are you paying too much for cable?
Cut the cord on your overpriced cable contract today! Save big by switching to Hulu With Live TV. Get 60+ channels, DVR, locals, ESPN, HGTV, Disney, CNN, Fox News and more for only $54.99/month.
Get your 7-day free trial now
!
We've tried AT&T TV Now and enjoyed it. You can stream History Channel online with AT&T TV Now's base plan for $65 per month. Plus, you can go back 72 hours to access History Channel programming on demand.
Want to learn more about AT&T TV Now? Read our AT&T TV Now review.
Test it out risk-free with AT&T TV Now's 7-day free trial.
Can I watch History Channel on YouTube TV?
Unfortunately for now at least, the answer is no. You cannot watch History Channel on YouTube TV.
However, there are other affordable streaming options that let you watch History Channel.
How to Stream History Channel Online
If you want to watch History Channel online live free, you're out of luck. In my quest to get the latest episodes of Curse of Oak Island, I tried to figure out how to get History Channel for free and was unsuccessful.
You need a code from a cable subscriber.
While you can stream some History Channel shows free online, you cannot access the network's full content without a subscription to a cable provider or streaming service. That goes for the History Channel app and website, too.
Some History Channel shows are available on Netflix or legacy Hulu, but it varies. Since Netflix changes its content often, your show could be there one day and gone the next.
An affordable streaming service like the ones mentioned here are the most reliable and comprehensive ways to watch History Channel without cable.
Can I Watch History Channel on Apple TV, Chromecast, Fire TV, or Roku?
If you're wondering whether you can watch History Channel on Roku without cable, or watch History Channel live stream free on Amazon Fire TV or another popular app, you'll be glad to know that episodes of History Channel shows are available through these platforms.
All you have to do is pick one of the streaming services already mentioned and then you can start watching History Channel online. Stream History Channel shows through any of the following apps or platforms:
Apple TV
Chromecast
Android TV
iOS
Xbox One
Check our review of the Amazon Fire Stick to see why we love the dongle and how it allows us to get content. You can even watch the History Channel online without cable on your computer or laptop's web browser.
Can your cable subscription do that?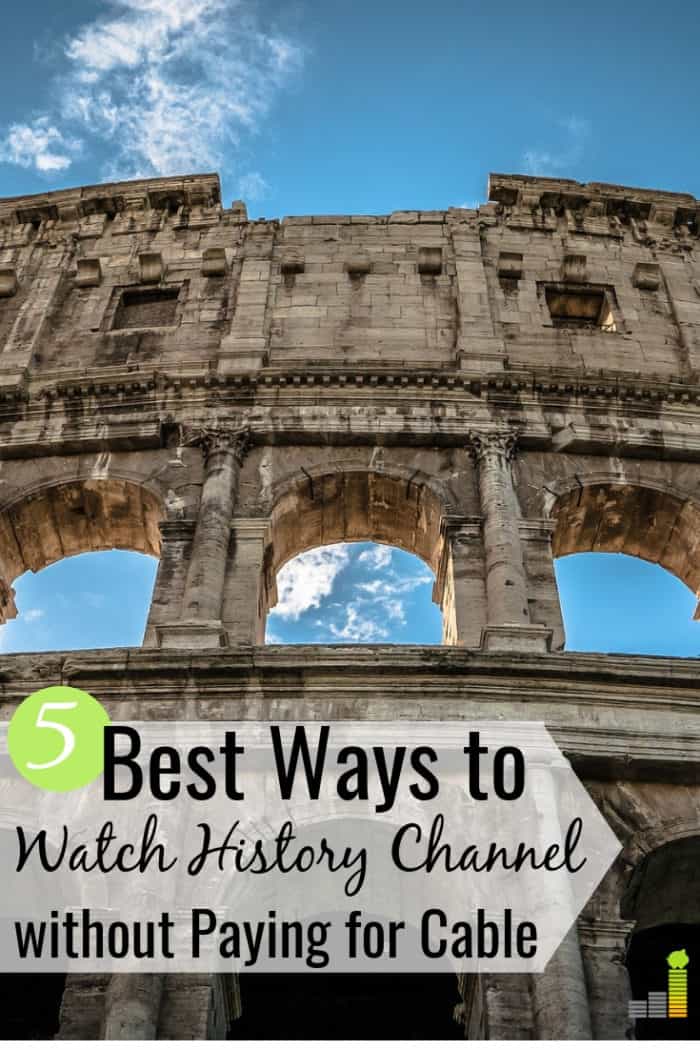 How to Get History Channel Without Cable: The Final Word
There's no reason to spend over $110 per month on a cable subscription to watch History Channel. You can watch your favorite History Channel shows without cable with any of the streaming services mentioned here.
If you aren't sure which option to choose, you can try any of the free trials above and find the best option for your needs.
If you're tired of paying too much for History Channel and other TV content you enjoy, cut the cord on your expensive cable subscription and put the $50+ you'll save each month to better use.
What other channels keep you from cutting the cord? How much money do you spend on cable/cable replacement services each month?
The following two tabs change content below.
Nicole Schmoll is an experienced professional copywriter who writes regularly for clients in the finance, IT, healthcare, trades and retail industries. Check out samples of her work and services at
Ink Harmony
.