Cord-cutting changed the TV landscape over a decade ago. No longer do you need to rely on cable to watch your favorite shows. Companies like Netflix or Hulu let you stream content to your computer or TV and save significant money each month.
What if your TV doesn't have Wi-Fi? To stream content you need a streaming stick like the Amazon Fire TV Stick or Roku. In this review we'll discuss the dongle from Amazon.
What is a Fire Stick?
The Amazon Fire Stick is a plug and play dongle device that lets you to stream shows on your TV. Through its intuitive remote, the Fire TV Stick lets you access Amazon's media store.
There you can find TV shows, music, movies, and games.
The device is a small dongle about the size of a HDMI stick. When you plug the device into your TV you can stream content in 1080p HD quality.
The streaming device works very similar to the Amazon Fire TV (you can read our Amazon Fire TV review to learn more), but it's not a set top device.
When you buy the stick you also receive the Alexa Voice Remote. For an affordable, one-time cost, you can immediately access on-demand and the best live TV streaming services.
How it Works
The Amazon Fire Stick plugs directly into the HDMI port of your smart TV.
After you install it you can stream content from Amazon, or any other service like Sling TV or fuboTV.
The streaming stick is portable. You can use it with multiple TVs in your home, or you can take it with you on vacation.
What Comes With the Fire TV Stick?
The streaming stick isn't a big device, but it does come with several things that help you start watching TV or play games.
*Related: Do you want to cut the cord, but not sure which streaming service to choose? Try our free quiz to see which streaming service will best fit your needs.*
As you can see from the picture, it comes in a small box from Amazon and contains the following items:
Fire TV Stick
Voice-activated remote
Power Adapter
Batteries
Quick start guide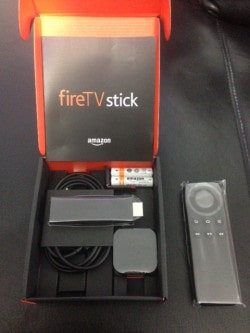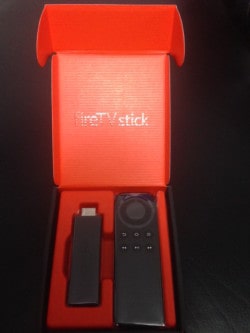 It takes under five minutes to unpack the box, plug it into your TV, and set it up. Amazon provides a short video that walks you through setting up the device.
The video is more than sufficient to assist you, even if you're a technical novice.
Once connected, you can start watching shows or movies on the platform or any other streaming platform.
The image below shows how to start using the Fire TV Stick.
As you can see, it's simple to connect and start using.
Features of the Streaming Stick
Portability is a significant factor today. Watching our favorite television shows and movies is no different. The Fire TV Stick makes that simple. Think of the device as a plug and play dongle.
You plug it into any compatible TV or device and you can immediately start watching the same content you watch at home.
You don't need a Prime membership to use the Amazon Fire Stick. However, if you do have a Prime account you can access your account content on your TV.
You also receive access to all Amazon Originals as a Prime member. You can sign up here for a free 30-day trial to Amazon Prime to see if the service is for you.
The Fire TV Stick is modestly sized with an HDMI connection and Amazon logo. Thanks to Bluetooth you don't need to directly aim the remote at the device for it to respond.
The Amazon Fire Stick has the following additional features:
1 GB of memory
8 GB of internal storage
Optional voice support through Alexa devices
Dual-band, dual-antenna Wi-Fi
Dedicated VideoCore4 GPU
Dongle that connects to your HDMI TV via USB port
Bluetooth remote
Easy to navigate interface
Requires Wi-Fi to operate
Streaming stick includes an app that turns your smartphone into a remote, including voice search capability
The ability to cast a video from mobile device apps (such as Netflix, Hulu, etc.) to your TV
The ability to send music to your Bluetooth headphones
The Amazon Prime app is the only app that is loaded on the Fire Stick, but it's convenient to add others. You can add other apps through the App store, including Netflix and Hulu.
What is the Fire TV Stick 4K Max?
The 4K Max version of the Amazon dongle is an upgraded version of the device released in late 2021. The device is slightly more expensive than the standard stick, but it adds several new features.
In addition to the new Wi-Fi 6 capabilities, the dongle includes the following upgraded features:
8 GB of storage
2 GB of memory
Dolby Atmos audio
1.8GHz CPU
750 MHz GPU
Live view picture-in-picture
In our testing of the streaming stick, it has noticeably faster speed. Movement between different streaming services was seamless and made for a more favorable viewing experience.
Amazon Fire Stick Channels List
If you want to cut the cord on cable, replacing your favorite channels is significant.
The Amazon Fire Stick channels list does not disappoint.
It's important to note that HBO Max does start at $10 per month, though they do offer a free 30-day trial.
Amazon also offers Showtime and Starz as other add-on features for $8.99 per month if you like those channels.
If you want to know more about the Amazon Fire Stick channels list, or have a question about it, contact Amazon support at 888-280-4331 or via live chat in your Amazon account.
The Fire Stick will not replace all your content needs, but it does go a long way.
The best option for a cable-like experience is to choose one of the best alternatives to cable TV – all of which you can connect to with the Fire TV Stick.
Pros and Cons
For the price, it's tough to beat the Amazon Fire Stick. However, no device is perfect. Here are some things to consider.
| Pros | Cons |
| --- | --- |
| ✅ Cost | ❌ One click ordering. |
| ✅ Easy to install and use | ❌ Alexa is under-utilized. |
| ✅ Fast platform | ❌ Voice remote doesn't allow skipping episodes or skipping backwards. |
| ✅ Lots of content | |
| ✅ Responsive remote that runs on bluetooth technology. Easy to use even when not lined up with the TV. | |
| ✅ Great wireless coverage. Router does not need to be near the TV for Fire Stick to work great. | |
| ✅ X-ray feature lets you easily find more information about your favorite shows and actors. | |
| ✅ 8 GB of storage | |
If you want an affordable way to cut the cord on cable and stream content, the Fire TV Stick is well worth the value.
The Competition
The Amazon stick isn't the only streaming device in the market. Roku is another popular streaming device for cord-cutters.
Looking at the Amazon Fire Stick vs. Roku reveals they share a lot of similarities, but some differences. The Roku stick has various iterations, like the Amazon dongle.
It also provides access to numerous channels, games, and apps. One key difference between Roku and the Fire TV stick is the former doesn't force you into their own services like Amazon does.
This may not be an issue for you, and it's not for us but is a key difference. Additionally, Roku automatically connects to your respective streaming platforms.
Amazon always requires you to input a pin code to access platforms. Read our review of the top Fire Stick alternatives to learn more.
Fire TV Stick FAQs
Here are some commonly asked questions about the Amazon Fire Stick.
What internet speed do I need to use the Fire TV Stick?
Per Amazon, you need a speed of at least 3 Megabits per second for SD content.
If you want HD content, you need at least 5 Mbps. Read our guide on the minimum internet speed requirements for various streaming services to learn more.
Do I need a Fire Stick to access streaming platforms?
That depends on your TV. Some smart televisions let you access Sling TV, Hulu, and others directly from their platform. Others require a dongle like the Fire Stick.
Check with the manufacturer of your TV to see what's needed.
Do I need multiple streaming sticks?
That depends on the needs of your family. It is plug and play so you can get by with one.
We have two, one for each TV we own. Plus, this lets us take one with us with when we travel.
Does the Fire TV Stick offer closed captions?
Yes, the Fire Stick provides closed captioning.
Can I watch YouTube on the device?
Google and Amazon had a spat in late 2017, and Google threatened to remove YouTube viewing capabilities. Thankfully, the spat was short-lived.
Here's how to watch YouTube on the Fire TV Stick:
Click the search box in the Fire TV Stick platform and type "Firefox"
Select Firefox for Fire TV
Click "Get"
This downloads the Firefox browser, which allows you to watch YouTube all you wish.
How many devices can I stream on Amazon simultaneously?
You can have as many Fire TV Sticks as you wish, but Amazon only allows you to stream content simultaneously on two devices.
Can I watch all cable channels, or pay-per-view events?
The short answer is no. There are services available that let you jailbreak a Fire TV Stick and receive unlimited content.
Many argue that is stealing content, and it's not something we've personally attempted.
Can I access everything on the Amazon Fire Stick channels list?
Each dongle comes with access to all of the same Fire TV Stick channels. A handful may be pay options (like the Max streaming service), but many of the others are free to use.
Is there a monthly fee?
There is no monthly fee for the Fire TV Stick. You pay a one-time cost to buy the dongle and nothing else.
Can you watch normal TV on the device?
Yes, you can watch normal TV with the Fire Stick. You can either access channels through a variety of streaming providers, or watch content directly from one of the loaded apps.
Can you get local channels with an Amazon Fire Stick?
No, you're unable to access local channels on the device. We use the Mohu Leaf, but there are many other good antennas on the market you can buy for an affordable one-time cost.
Here are the best antennas on Amazon – all let you access local networks.
Can you buy the Fire TV Stick at Walmart?
It is not possible to buy the Fire Stick at Walmart. They do sell Roku devices, but that's it.
Where can I buy a streaming stick near me?
If you want to know 'where can I buy a Fire Stick near me?' and frustrated that Walmart is not an option, don't fret.
You can buy the device at various retail stores, including:
Best Buy
Fred Meyer
Fry's
Gamestop
Meijer
Nebraska Furniture Mart
Shopko
Staples
Target
Of course, you can also buy the device directly on Amazon if you wish.
What are the best apps for shows and movies on Amazon?
You can customize your Fire Stick by adding apps to watch content. You don't truly need many of them as the dongle is already robust.
There are many available Fire Stick apps for shows and movies, just make sure not to stream copyrighted content as it could cause you legal problems.
Can you record shows on the device?
The Fire Stick does not have a DVR to record content. To record shows, you need the Fire TV Recast and that works with the Fire TV or Echo Show to record content.
This only records over-the-air shows from major networks, and not shows on a streaming provider. You can read our Fire TV Recast review to learn how the DVR works.
Amazon Fire TV Stick Review
Ease of Use

Price

Availability

Ads

Available Content
Summary
The Amazon Fire TV Stick is an affordable tool to help you cut the cord and access a variety of streaming services.
Pros
✔️ Tons of free content ✔️ Easy to install and use ✔️ Portable ✔️ Voice-activated remote ✔️ Affordable, one-time cost
Cons
❌ More complex menus than Roku ❌ One-click ordering ❌ Prioritizes Amazon services
Summary
There is a lot to like about the Fire TV Stick. It's compact, and easy to use. Even if you're a novice to technology it's simple to install and start using within minutes.
The amount of original content on Amazon does lack when compared to Netflix or Hulu. If you're purchasing the device solely for originals you may be disappointed regardless of Amazon's growth in the original content space.
If original content is not that important and you simply want a device that's compatible with most of the popular services, you're hard pressed to find a better product.
Cable is expensive, but the dongle and many other services can help you save tons of money without giving up what you want to watch.
What cord cutting options have you tried and come to like?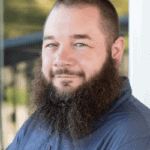 I'm John Schmoll, a former stockbroker, MBA-grad, published finance writer, and founder of Frugal Rules.
As a veteran of the financial services industry, I've worked as a mutual fund administrator, banker, and stockbroker and was Series 7 and 63-licensed, but I left all that behind in 2012 to help people learn how to manage their money.
My goal is to help you gain the knowledge you need to become financially independent with personally-tested financial tools and money-saving solutions.