Amazon Fire TV Review: A Killer Cord Cutting Solution?
I love that so many cord-cutting options are now readily available to us as consumers. The Amazon Fire TV is just another option that has made it possible to ditch the cable companies and save hundreds, if not thousands, of dollars each year. We bought an Amazon Fire TV about three years ago and wanted to do an updated review for 2019 of our experience with the set top box from Amazon.
The Fire TV isn't our first device we've bought from Amazon. We have two Amazon Fire TV Sticks and both work great.
As you'll see in our Amazon Fire TV review, it's very similar to the Fire Stick but offers several upgrades that make it worth a consideration under the right circumstance.
What Comes With the Amazon Fire TV?
The Amazon Fire TV is incredibly easy to set up and can be done within a few minutes. As you can see from the picture below, here's what comes with the device:
Fire TV
Voice remote
Power adapter
Two AAA batteries
You'll also need the following to install the Fire TV:
When you plug in and install the Fire TV, Amazon provides a short video to walk you through the installation process. The video, while helpful, really isn't needed to get the device ready to operate.
You can watch videos, play games, listen to music or more within five minutes of installing the device as it's really that simple to set-up.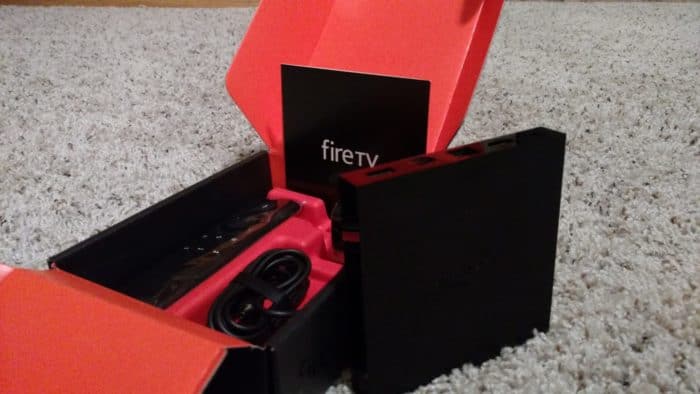 What channels can you get with the Amazon Fire TV?
Many who want to cut the cord look for one thing – 'what channels can I still get when I leave my cable company?' The Amazon Fire TV will not replace all channels, but it does provide access to a fair number of them. Some of the channels or apps will require login credentials.
**Looking for deals on Amazon devices? Check out the Amazon device deals page to see how much you can save on all their devices this holiday season.**
In many cases, the login information comes from a cable provider, though some channels will allow you in with information from your Internet Service Provider. Here are the channels you can receive with the Amazon Fire TV:
Netflix
Crackle
HBO NOW
Watch ESPN
Watch HGTV
Watch Food Network
BBC News
Disney Junior
MLB TV Premium
Showtime
A&E
YouTube
iHeart Radio
Spotify
History Channel
NBA Game Time
PBS Kids
Bloomberg TV
Huff Post Live
And, of course, Amazon Prime videos
As you can see in our Fire TV Stick channels list, the Fire TV offers the same lineup of channels.
Some of the channels will require a separate monthly cost, such as HBO Now, which costs $15 per month after the expiration of the free 30-day trial. The other thing to keep in mind is that Amazon Fire TV allows you to access other cable cutting options like:
Each service will add to your overall monthly cost, of course, but I have personally found that Sling TV, Hulu Live, and Philo all work seamlessly with the Fire TV and give us no problems.
**Additional tip: Love NFL football but don't know how to watch your favorite team without cable? Here's how to watch NFL games online for free and still catch all the action!**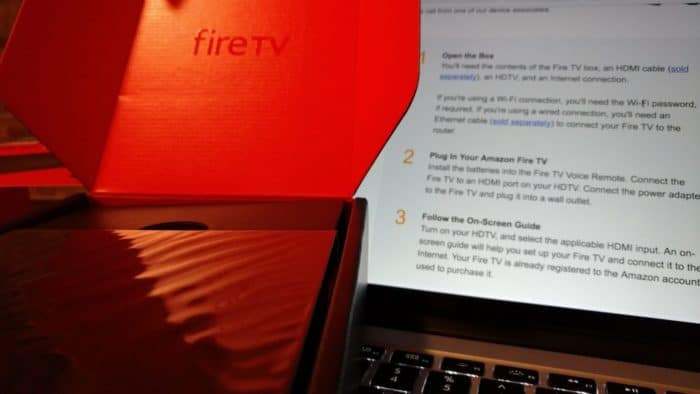 Amazon Fire TV vs Fire TV Stick
Most may not know the difference between the Amazon Fire TV and the Fire TV Stick. I didn't when we first started to look at buying the Fire TV.
In all honesty, there isn't a lot of difference between the two items on the surface. Both are based on the same platform so they operate very similarly and provide the same user experience.
Both devices offer access to Amazon's 7,000+ apps, games and Alexa skills plus access to other streaming services. They both also have a quad-core processor as well as 8 GB (16 GB for the Fire TV) of internal storage and simply require Wi-Fi connectivity to work.
However, there are some differences to keep in mind when looking to purchase one of the two Amazon devices. Some of those major differences are:
The Fire TV provides an Ethernet port; a digital output port; a USB port; and an expandable memory port for up to 200 GB of microSD storage – on top of the standard power and HDMI ports. In contrast, the Fire TV Stick offers only a standard power port and an HDMI port.
The Fire TV isn't as easy to transport as the Fire TV Stick. While still small, the Fire TV doesn't provide the same pocket portability and plug and play capability that the Fire TV Stick does.
The Fire TV is more responsive with fewer buffering issues. Not that the Fire TV Stick buffers a lot, because it doesn't, but the speed difference is somewhat noticeable when going between the two devices.
The Amazon Fire TV supports 4K Ultra HD quality pictures whereas the Fire TV Stick tops out at 1080p picture quality. If video quality is important to you, then the Fire TV will be the preferred option.
The Fire TV is big for serious gamers whereas the Fire TV Stick is a little more lightweight. I'm not a gamer, so I've honestly not tested the difference between the two. In my research, the Fire TV Stick is good for gaming but is nowhere near robust as the Fire TV.
When looking at Amazon Fire TV vs Fire TV Stick, it really comes down to what you're looking for in a device and the value you put on it. If the premium options appeal to you, it may warrant the extra cost.
Having used both personally, I do see a difference but would be happy with either device.
Amazon Fire TV – The Good
We've enjoyed using the Amazon Fire TV over the past two years. Here are some of the things we really like about the device:
The new Alexa technology. We absolutely love this feature of the Amazon Fire TV. The remote is voice activated so you can use that to navigate the system and any other request you'd use the Alexa technology for – you can ask it for the weather, location of the nearest restaurant and so much more.
You can read our Amazon Echo review for more on how it works as it brings most of that to your TV.
It's simple to use. You can set up the system in less than ten minutes and start watching videos or live TV. You can't beat that.
Fast platform. The Amazon Fire TV platform is fast and very responsive. That's great if you're impatient like me.
Slash Your Cable Bill. Try Hulu with Live TV!
Are you paying too much for cable? Save big now by switching to Hulu With Live TV! Get 60+ channels, DVR, locals, ESPN, HGTV, Disney, CNN, Fox News and more for only $54.99/month.
Get your 7-day free trial now
!
Good storage capacity. The Fire TV provides an ample 16 GB of internal storage and up to 200 GB of expandable storage. This is in addition to the Ethernet port it provides for gaming.
Easy to use remote. I wasn't certain how I'd like the voice-activated remote, but it works great and is very easy to use.
Great video quality. If you have a 4K Ultra HD quality TV, the video quality really stands out. However, it's important to get the one that matches with your TV. If your TV does not have 4K Ultra HD capability, then the Amazon Fire TV will not be worth the extra cost vs. going with the lower cost Fire TV Stick.
Amazon Fire TV – The Bad
While we love our Amazon Fire TV, there are a few things we don't like about the device. Those are:
It nearly requires having Amazon Prime. You can still have a Fire TV if you don't have Amazon Prime but you will be limited in what you can do with the device. We have Amazon Prime, so it's not an issue but you really need it to take advantage of all it can do.
One-click ordering. Since we have three young kids, we're not fans of one-click ordering. Amazon defaults the Fire TV to allow it but it is a simple fix to disable it. The other problem is our daughter has an Amazon Kids Fire Tablet and we've put restrictions on it to limit how much time she can spend on it each day.
This causes a problem as it requires us to put in our pin code twice when we want to watch something. To be fair, this happens on both our Fire TV as well as the Fire TV Stick.
amazon Fire TV faqs
We've received a lot of questions over the years about the Fire TV. I've put a few of the common questions below, along with answers.
What internet speed do I need to use the Fire TV?
Per Amazon, you need a speed of at least 3 Megabits per second to use the Fire TV for SD content. If you want HD content, then you need at least 5 Mbps. If you want 4K Ultra HD, then you need at least 15 Mbps.
Do I need a Fire TV to access streaming platforms?
That depends on the TV you currently use. Some smart televisions let you access Sling TV, Hulu, and more directly from their platform. Others require a different platform. Check with the manufacturer of your TV to see what's needed.
Does the Fire TV offer closed captions?
Yes, the Fire TV provides closed captioning.
Can I watch YouTube on Amazon Fire TV?
Google and Amazon had a spat last year, and Google threatened to remove YouTube from the Amazon platform. Thankfully, the spat was short-lived. Here's what you need to do to watch YouTube on the Amazon platform:
Click the search box in the Fire TV Stick platform and type "Firefox"
Select Firefox for Fire TV
Click "Get"
This downloads the Firefox browser, which allows you to watch YouTube all you wish.
How many devices can I stream on Amazon simultaneously?
You can have as many Fire TV as you wish, but Amazon only allows you to stream content simultaneously on two devices.
Can I watch all cable channels, or pay-per-view events on the Fire TV?
The short answer is no. There are services available that let you jailbreak the Fire TV and get unlimited content. Many will argue that is stealing content, and it's not something we've attempted to do personally.
Can I access everything on the Amazon Fire TV channels list?
Yes, each device comes with access to all of the same Fire TV channels. a handful may be pay options (like HBO Now), but many of the others are free to use.
Can I record shows on the Amazon Fire TV?
The device itself does not allow you to record content. You will need the Fire TV Recast to record shows. The Recast is relatively affordable and allows you to record over-the-air content with your Fire device.
There is no monthly cost and does not work with content you watch on a streaming service like Sling TV or Hulu Live. You can read our review of the Fire TV Recast to learn how it works.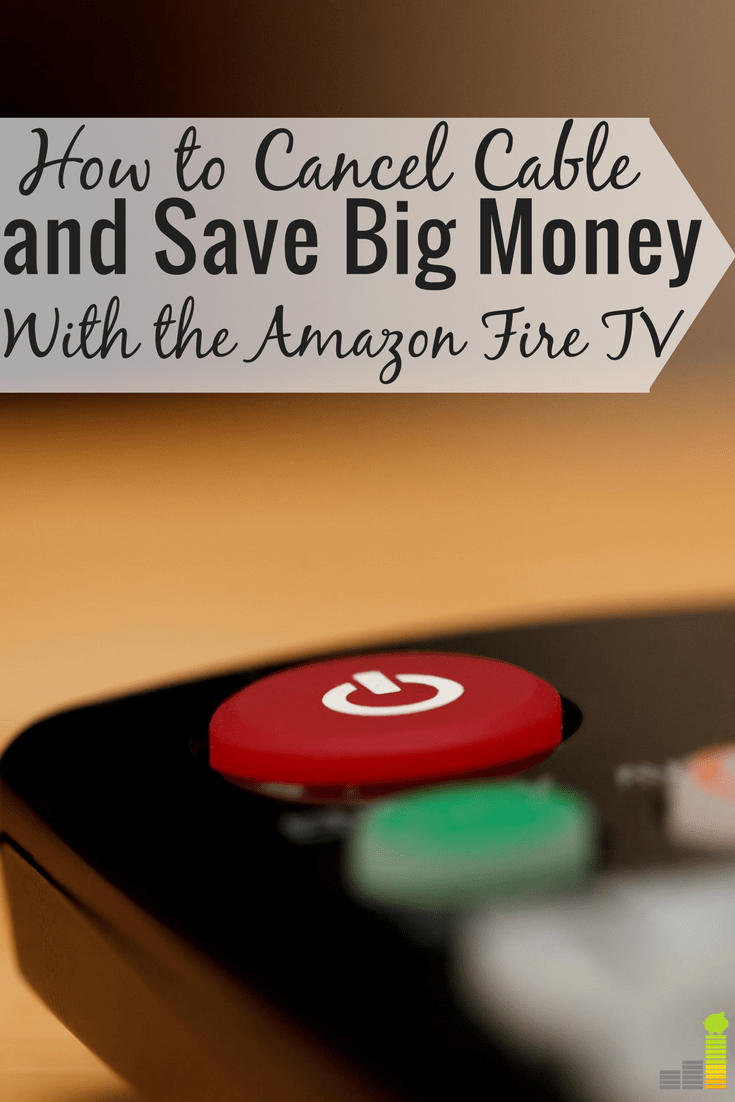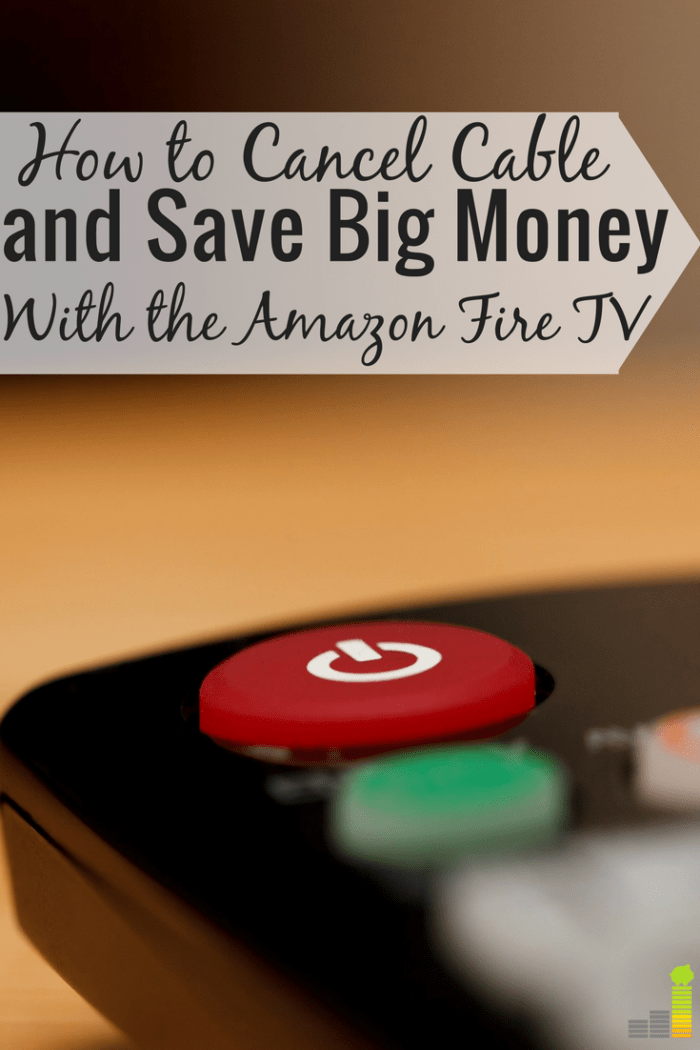 Amazon Fire TV Review: Bottom Line
Overall, we're pleased with the Amazon Fire TV. We love the additional capabilities that Alexa technology offers, not to mention the upgraded video quality.
I will also add that if you're on the fence choosing between the Amazon Fire TV and the Fire TV Stick you can't really go wrong with either choice. It comes down to how much the differences mean to you and what you're looking for in a device. We have both and love both devices for different reasons.
With that in mind, I commonly get asked about how to cut the cord and what options are available. The Amazon Fire TV is one of the best options to keep in mind, but there are many other options available. Some of those are:
Mohu Leaf 50 antenna – This is the antenna we use and allows you to watch local channels without cable. We have one on each of our TVs and they work great.
Roku Streaming Stick – Similar to the Amazon Fire TV Stick, and is another good option to consider.
Hulu. I mentioned Hulu above and it's a great option if you want to cut the cord. With prices at $5.99 or $11.99 per month, you get access to many shows the day after they air, not to mention their own original content.
While there may be some upfront costs to cutting the cord, you can recoup the cost with the resultant savings in three to four months; then you continue to keep the savings. At $80 – $100 per month, or more, it's well worth it to find an option that works for you.
What are your thoughts on the Amazon Fire TV? What streaming services have you used to try to save money on cable? Do you still have cable – why or why not?
The following two tabs change content below.
John is the founder of Frugal Rules, a dad, husband and veteran of the financial services industry whose writing has been featured in Forbes, CNBC, Yahoo Finance and more.
Passionate about helping people learn from his mistakes, John shares financial tools and tips to help you enjoy the freedom that comes from living frugally. One of his favorite tools is Personal Capital , which he used to plan for retirement and keep track of his finances in less than 15 minutes each month.
Another one of John's passions is helping people save $80 per month by axing their expensive cable subscriptions and replacing them with more affordable ones, like Hulu with Live TV.
Latest posts by John Schmoll (see all)