Does the idea of a personal, digital assistant sound intriguing? If so, the Amazon Echo is a suitable option. We've had several Echo devices in our home and found them to be helpful.
We weren't certain at first if we'd like the Echo as it enables you to have a smart home, but we've been pleasantly surprised.
We've become an Amazon home with our Fire TV Sticks, Fire TV Cube, and Ring Video Doorbell Pro just to name a few things. If you've never heard of the Echo, or are curious as to what it does, our Amazon Echo review shares what to expect from the device.
What is the Amazon Echo?
The Echo is a smart home device that connects to the Amazon universe. You can set the device wherever you wish as it has a long listening range.
In short, the Echo is a 10-inch tall smart device that you control with your voice.
We have our device in our living room as that is where we spend a lot of the day. You can even connect it to the Amazon app on your phone to control it if you wish.
What Does the Device Do?
You may wonder "what does the Amazon Echo do?" and that is a fair question. I thought I knew what it did when we bought it and have been impressed by the device.
You activate and use the Echo by calling out its name, "Alexa," (the "wake word" of the device) and asking it to perform a task.
This can be anything from asking Alexa what the weather is outside, to reading you the news and sports scores, playing podcasts, taking math quizzes, to telling you a joke – and much more.
Some of the helpful requests you can ask of Alexa are:
"Set a timer for ten minutes."
"What's the traffic like driving to work?"
"What's on my calendar today?"
"Shuffle my 'Favorites' playlist"
"Turn on NPR."
This is all done hands free. We've found the hands free, voice activated device allows for more efficiency around our house. We can be in the kitchen making dinner and use it for a variety of needs.
If you're a music lover, you'll love the Amazon Echo as it comes ready to play music from a number of different platforms, such as:
Pandora
Tunein
iHeartRadio
Spotify
AmazonMusic
We've connected the Echo with my Spotify account (unfortunately, it can only be tied to one Spotify account) and use it to play music in our main living area. You can also connect it to your bank account, depending on the bank, if that's something you desire.
What Comes With the Amazon Echo?
As you can see in the picture below, not much comes with the Amazon Echo. Here's what comes with the box: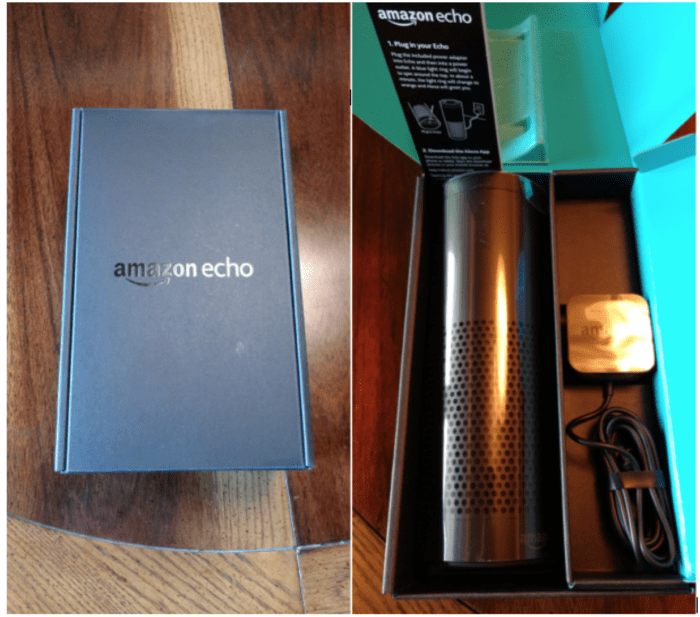 Amazon Echo
Power adapter – 21W
Quick Start Guide
They also have a voice remote for the Amazon Echo available for purchase, but we've not found it necessary to buy. You simply select a spot to place your Echo (I'd suggest somewhere out of reach of kids) and plug it in.
**Looking for deals on Amazon devices? Check out the Amazon device deals page to see how much you can save on all their devices.**
From there you set it up through downloading the free Alexa app, which is available for both Android, iOS, and Fire OS devices.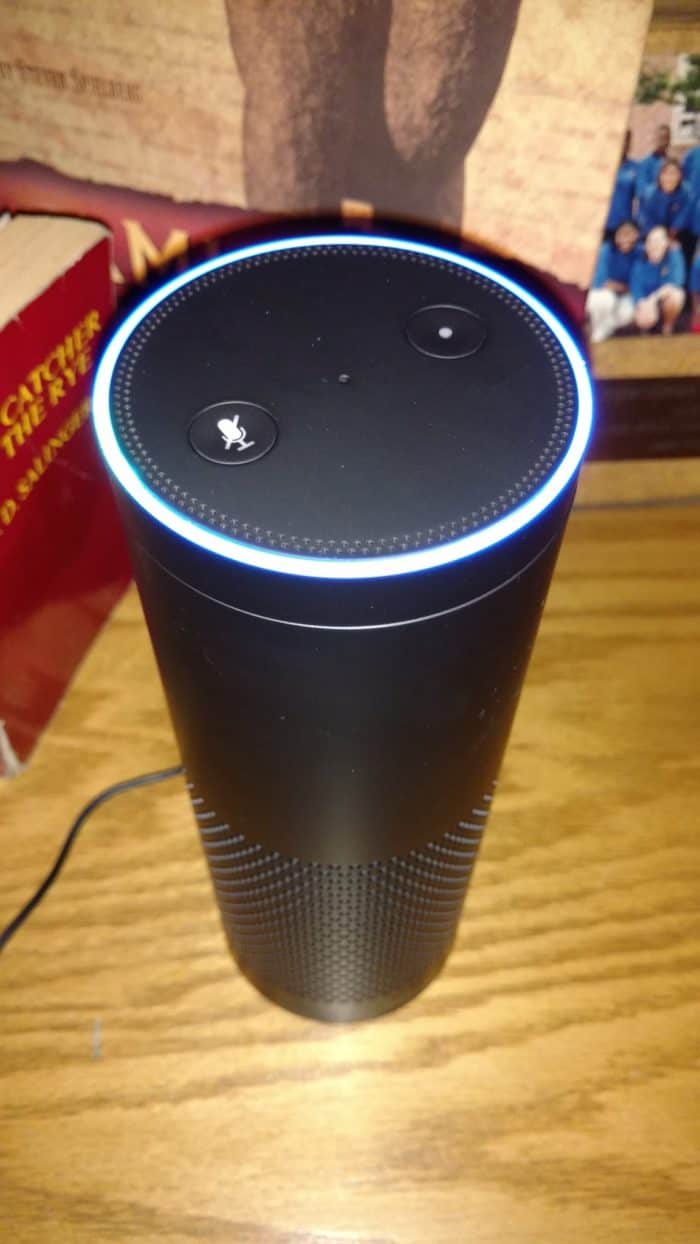 After installing the Alexa app, it took several minutes to set up the Echo and we were ready to go. The app walks you through the whole process so it's pretty simple.
The app is pretty slick to use and much of our interaction with the device has been through the app as you can customize it to your preferences.
The Amazon Echo may seem limited by reading what it does; it's not. You can fully customize your Echo through the Amazon Echo Skills. Think of skills as apps you would install on your smartphone, but for the Echo.
Amazon offers over 100,000 such skills – anything from allowing you to order a pizza to a quick workout to mindfulness exercises.
Amazon Echo Hacks
Over the course of using the device I've discovered numerous Amazon Echo hacks that help you better utilize the device. Following are some of the hacks we've discovered or read about:
Voice ordering – I discovered this hack when going through the Alexa app that voice ordering is defaulted to be on. Not wanting one of our kids to buy ten barrels of red vines, I turned this feature off.
Fire TV connection – Regardless if you have a Fire TV Stick or an Amazon Fire TV you can connect the two devices. This allows you to control your device through the Echo.
Connect it to your Google Calendar – Simply go into the app, then select "Settings", then select "Calendar" and you connect it to Google. Then, whenever you want to know what's on your calendar or know when something is scheduled, you simply ask Alexa.
Discover new restaurants – Make sure your settings in the app list your location to use this hack. You can ask Alexa, for example, "Alexa…what are the best Mexican restaurants near me?" and it interacts with Yelp to provide you the best local Mexican restaurants. You can also ask follow-up questions like hours, phone number and how far away it is.
Mute Amazon Echo – If you have young kids like us, they were instantly hooked on the device. That can be a bit on the annoying side and muting Alexa can be a welcome relief. You tap the microphone button with the cross through it and it mutes Alexa. This is particularly helpful during dinner!
Connect other family members – If you share your Amazon Prime account with a family member you can household them with the Echo by going to "Settings" then "Household." This lets them order items through it or personalize it if they like.
Know the simple commands – There a variety of simple commands that make Alexa more efficient, including: "Alexa, stop." "Alexa, cancel." "Alexa, turn it down." "Alexa, turn up the volume." "Alexa, pause." "Alexa, resume." "Alexa, what time is it?"
There are many other Amazon Echo hacks, but this will give you a good start.
The Echo Dot is smaller, with many of the same features of the standard Echo. The Echo Plus is a bit larger than the standard Echo, with premium sound offerings.
Making A Smart Home
Making your house a smart home is really the draw of the Amazon Echo. I'll admit, I'm not too keen on it on the surface but there's a big upside to using smart home technology.
The Echo integrates seamlessly into smart home technology so you can use it to do anything from turn on/off light switches to turning on/off the television.
Not all devices you use may have "smart" capability, but you can use the Alexa app to find the skills for smart home technology and compatible devices. To find that list, you select "Skills" then select "Categories" then select "Smart Home."
Amazon lists a number of manufacturers they have partnerships with to offer smart technology for the Echo. Those are:
We use the Ring Video Doorbell Pro and have it connected with our Echo. It works seamlessly with the device and was a relatively quick setup.
Amazon Echo
Ease of Use

Price

Integration Opportunities

Volume Levels

Bass Levels
Amazon Echo Review
The Amazon Echo is a helpful tool to use to create a smart home. It has a powerful bass and a fun resource to have in your house.
Pros
✔️ Excellent sound quality and powerful bass
✔️ Great smart home connectivity
✔️ Easy stereo pairing
✔️ Built-in smart home hub
✔️ Easy to set up
Cons
❌ Bulky design
❌ Alexa can be awkward to speak to
❌ Music can sound largely processed
Bottom Line
Having used the Amazon Echo for several years I can say that we enjoy the device. We love how it allows us to make things efficient like utilizing the list or Google calendar features. We also like the ability to order an item from Amazon when we notice it's time to reorder.
The device isn't perfect as we've found the bass to be a bit weak at higher volumes and the skills list is not very organized. I'd also like to see the voice ordering option to be a default "no," but that's a simple fix if you want to disable the feature.
Given that the Amazon Echo is roughly three years old I'm excited to see the new features they'll add in the future. The Amazon Echo is well worth the purchase, in my opinion, if you want to manage things more efficiently and love using Amazon like I do.
Do you have a smart home? What are some of your favorite, least favorite things of having that ability? Are you creeped out by having a voice activated device in your home?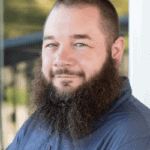 I'm John Schmoll, a former stockbroker, MBA-grad, published finance writer, and founder of Frugal Rules.
As a veteran of the financial services industry, I've worked as a mutual fund administrator, banker, and stockbroker and was Series 7 and 63-licensed, but I left all that behind in 2012 to help people learn how to manage their money.
My goal is to help you gain the knowledge you need to become financially independent with personally-tested financial tools and money-saving solutions.