Amazon Kids Fire Tablet Review: A Parent's Take
Posted on November 10, 2018 by John Schmoll in
Reviews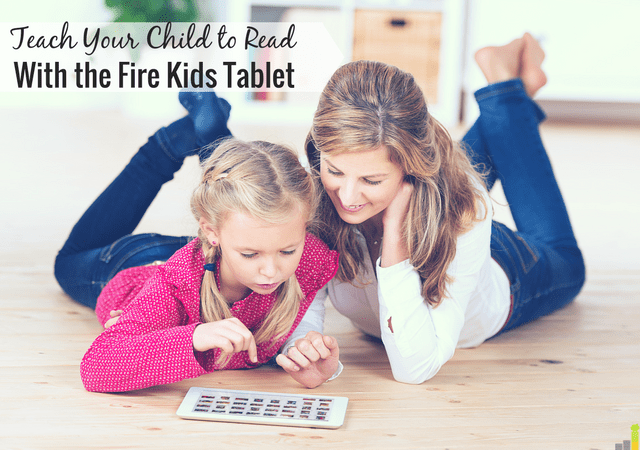 We purchased Amazon's Kids Fire Tablet last year as a gift for our now 11 year old daughter as part of a lightning deal and it has been great gift. She has used it for hours of entertainment and reading before going to bed.
We have shifted to being more of an Amazon home as we also the Fire TV stick and Amazon Echo devices, plus a handful of others.
We've had the device for almost two years now and have learned how to tailor the new Fire Kids tablet to our daughter's interests (and ours). This Amazon Kids Fire Tablet review covers our experience with the device and if it's worth the cost.
What Makes the Kids Fire Tablet Special?
To say that life is busy in our home is an understatement. Our business and three young children keep our lives full and usually flying by at a pretty fast clip. Our kids (aged 11, 9 and 6) have grown up with tablet technology and we've found both the Amazon Kids Fire Tablet and before that pricier iPads, useful in helping them develop reading, spelling, vocabulary and other language art skills.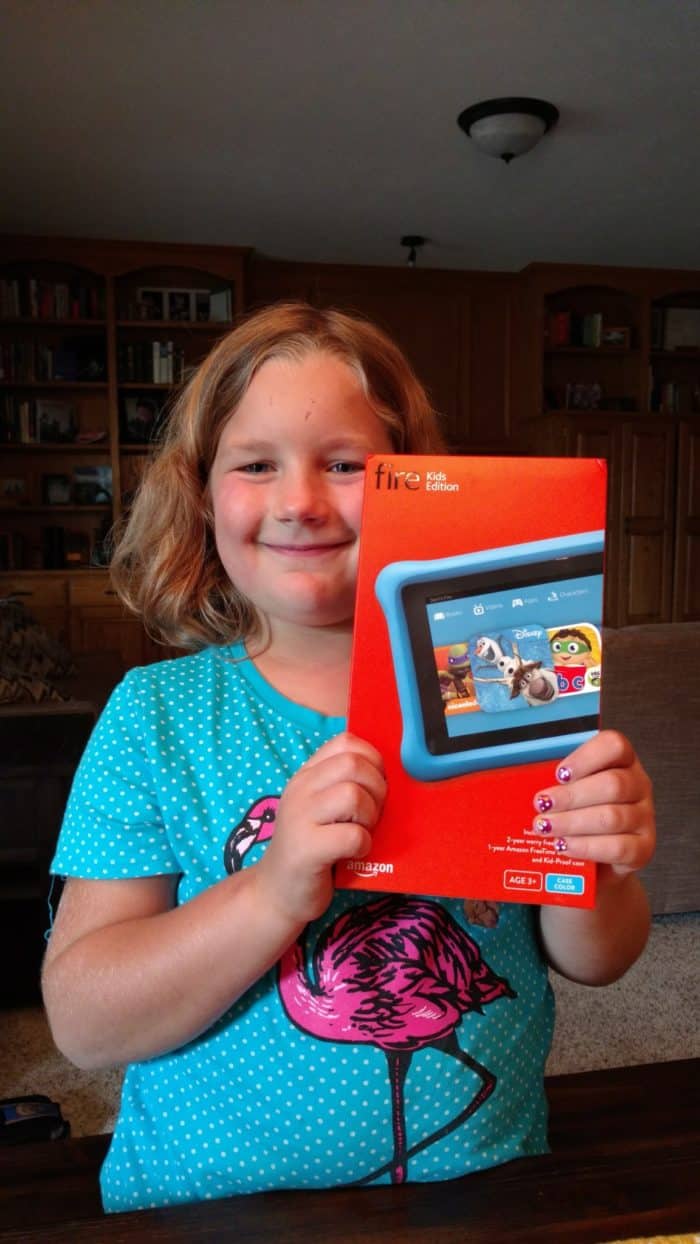 What Mrs. Frugal Rules and I have noticed about the Fire Kids edition that we appreciate the most is the included subscription to Amazon's FreeTime Unlimited service.
I mentioned earlier that we've had iPad devices in our home for some time now; one of the most constantly frustrating things about them (other than their constant dinging noises that ripple throughout the house whenever they're on) is that whenever our kids want to add a new app, they have to wade through the many that cost money to find ones that don't, which invariably then have in-app purchases that just end up frustrating the kids since we won't allow any in-app purchases.
What makes Amazon's Kindle Fire for Kids unique is the FreeTime Unlimited subscription it comes with. While this is something you can add on to any Kindle Fire tablet, ours came with it free for one year. As Amazon notes, its benefits include:
20,000+ kid-friendly books, educational apps, games, movies and TV shows
Age-appropriate content from Disney, Nickelodeon, Nick Jr., Disney Jr., Sesame Street, PBS Kids and more
Ability to watch content on Fire Tablets, Kindle Readers and Fire TV
Lots of parental controls (more on that later)
No ads or in-app purchases!
I bolded that last one because it's so important to us. This way, our daughter (and her baby brothers who like to 'play' over her shoulder with her) can enjoy anything on the tablet without having to ask us if it costs money.
**Looking for deals on Amazon devices? Check out the Amazon device deals page to see how much you can save on all their devices this holiday season.
More importantly, once they start reading a book or using a Fire Kids tablet app, they get to enjoy ALL the levels and characters; not just the first two that free versions of paid apps give you access to. This leads to a more enjoyable experience for both us and our daughter.
What Comes with the Fire Kids Edition?
As I mentioned in the open, we purchased the Fire Kids Tablet on a lightning deal for $79.99. This was a savings of $40 off the price at the time and included all of the following, which Amazon says is already a $109 savings:
Fire Kids Edition Tablet, 8" Display with Wi-Fi, and front and rear cameras
32 GB expandable up to 400 GB, internal digital storage capacity
Kid-Proof Case
2-Year Worry-Free Replacement Guarantee
1-year subscription to Amazon FreeTime Unlimited
Micro-USB power adapter
A few other product specs to note is that this Fire Tablet weighs 14.3 ounces and measures at 9.6" x 6.1" x 1.0". It fully charges in under 6 hours and boasts a 10-hour battery life; comes with a quad-core 1.3 GHz and 1.5 GB of RAM and has a USB 2.0 (micro-B connector) that can connect to a PC or Mac or charge with the included power adapter.
Also, it has a microSD slot for external storage and a 3.5 mm stereo jack and integrated speaker.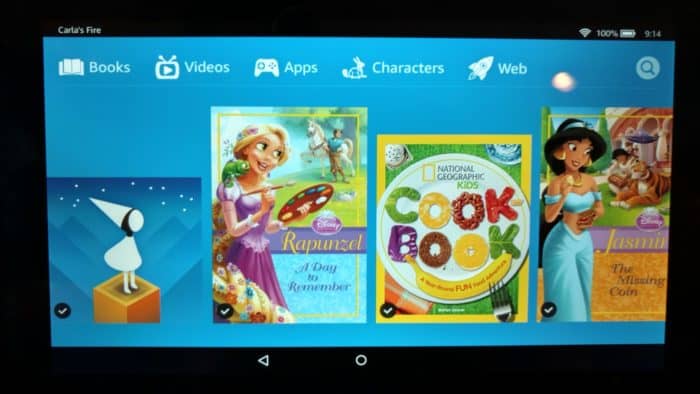 There's really not anything else you need to add to the Fire Kids Tablet; if you want more storage or want to be able to use it for longer than seven hours without recharging, a micro SD card would expand the storage capacity and a portable battery charger would take care of the rest.
Honestly, the Kids Fire package comes with everything you need.
Customizing the Fire Tablet for Your Child
Amazon says the Fire Tablet with its FreeTime content is built for kids and it really is. In FreeTime, the background color of the device turns blue, letting parents know what their child is viewing is age-appropriate and safe.
Kids can only see titles that have been chosen for them. Younger kids can search before they know how to type with character images.
While in FreeTime, kids can't access social media or the Internet and cannot make in-app purchases. Robust parental controls let you design the experience you want your child to have.
For our daughter, we mainly want her to use the tablet to read so we set the Time Limit controls to require her to read at least one hour before she can play games or watch videos, both of which we set with 30 minute daily time limits.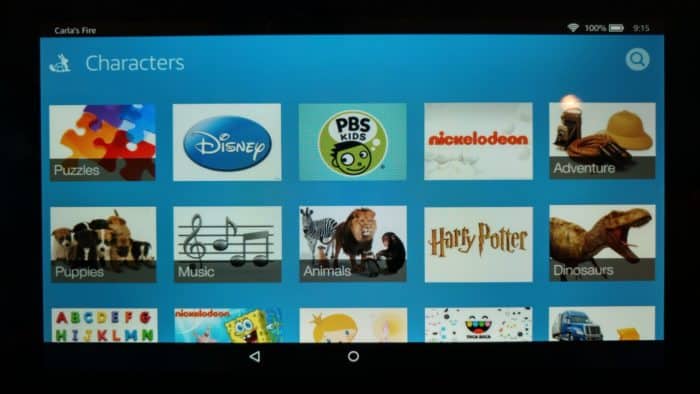 We gave her unlimited reading time but set the Fire Tablet to turn on at 7 a.m. and off at 8 p.m. each day. Just the other night she was reading on her Kindle, and came downstairs (at 8:03 p.m.) saying it had shut off.
It was a nice verification that this feature was working properly and we explained that was to let her know it was time to stop reading and go to bed (we've had one too many raccoon eye mornings from her staying up too late reading to know that, at least right now, we need to help her learn when it's time to shut the light (or screen) off and go to bed).
The Kids Fire Tablet with FreeTime uses smart filters to ensure your child sees age-appropriate content. We chose the age 3 – 9 category so our daughter and her brothers wouldn't see teen or baby content. Beyond that, you can filter further to refine the experience for your child's individual needs and preferences.
Something to Watch Out For
One thing to mention is that despite the parental controls and time limits, at least in the beginning, you may have to refine the experience a little further, especially for very smart and curious kids.
Our daughter innocently figured out the first day using the tablet that she could switch to our profile and access paid content. She purchased a few books that we were able to get refunded.
Your child may not be so enterprising, but it was a cue to us that she had learned our profile password and that we needed to change it to prevent this from happening again.
Thankfully, Amazon emails you whenever content is purchased or added to the tablet so we were able to see right away what she was doing. We were also able to use it as a teaching opportunity for the need to always ask us before buying anything online.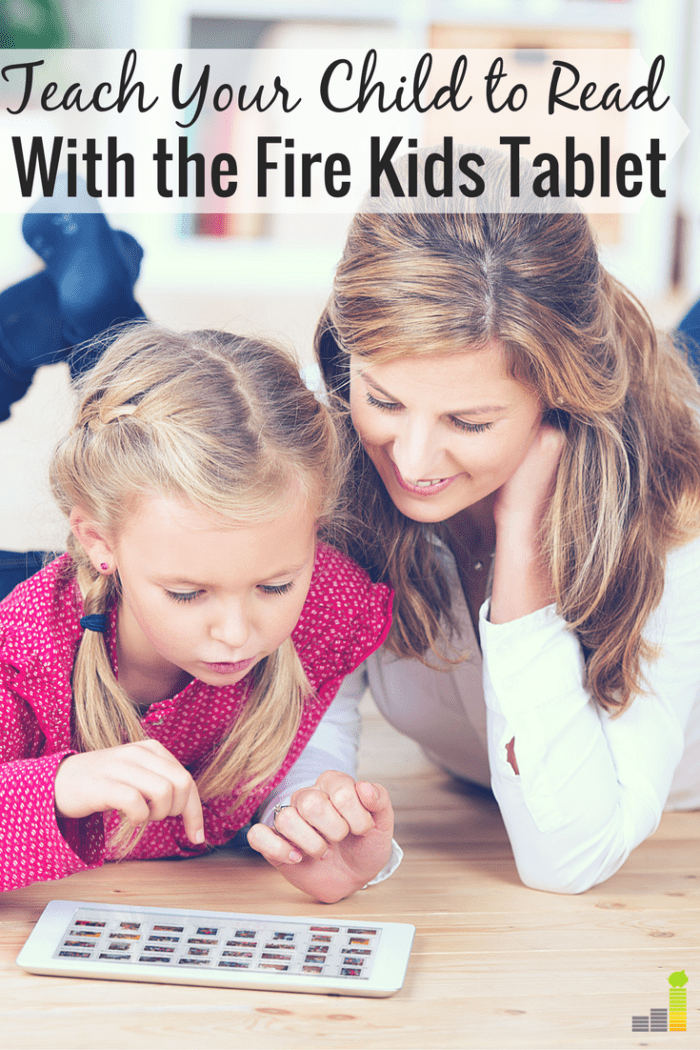 Amazon Kindle Fire for Kids: Final Take
Sometimes, 'package deals' aren't really deals but in this case, it seems like the Kids Fire Tablet is. If we were to purchase the components right now on Amazon, here's how it would shake out:
Fire Tablet, 8" – $69.99
Kid-Proof Case – $24.99
FreeTime Unlimited Subscription for 1 year – $35.88 (reflects a cost of $2.99 per month for one child, for Prime members)
2-Year Worry-Free Replacement Guarantee – $17.99
Total Cost = $148.85
Total Savings = $68.86
Basically, we got the Fire Tablet plus everything else for only $10 more. While your costs on the subscription could be higher if you aren't a Prime member or if you want to make it available for more than one child, it's still a pretty good deal, especially if this is the only subscription you are going to get for your kids.
We also subscribe to Netflix, not just for the content it offers for kids, but for its original programming and other content that we enjoy as well.
When paired with our Mohu digital antenna and HBO Now subscription, these three subscriptions deliver all the content our family needs at a fraction of the cost of cable or satellite TV.
So, when the cost is considered along with the value we receive, our family feels the Kids Fire Tablet is a good deal.
While you have to make sure you set a passcode and parental controls so that your child can't accidentally or intentionally buy paid content under your profile, Amazon makes it easy for kids and parents alike to enjoy a robust tablet at a fraction of the cost of higher priced Apple iPads.
What's your take on the Amazon Fire Tablet for Kids? Would you buy one for your child? Do you think tablets can be useful for learning and development or do they encourage kids to be too plugged in? Is your house an Amazon or Apple (or neither) house?
Save
The following two tabs change content below.
John is the founder of Frugal Rules, a dad, husband and veteran of the financial services industry whose writing has been featured in Forbes, CNBC, Yahoo Finance and more.
Passionate about helping people learn from his mistakes, John shares financial tools and tips to help you enjoy the freedom that comes from living frugally. One of his favorite tools is Personal Capital , which he used to plan for retirement and keep track of his finances in less than 15 minutes each month.
Another one of John's passions is helping people save $80 per month by axing their expensive cable subscriptions and replacing them with more affordable ones, like Hulu with Live TV.
Latest posts by John Schmoll (see all)