Netflix vs Hulu: Which Service is Better?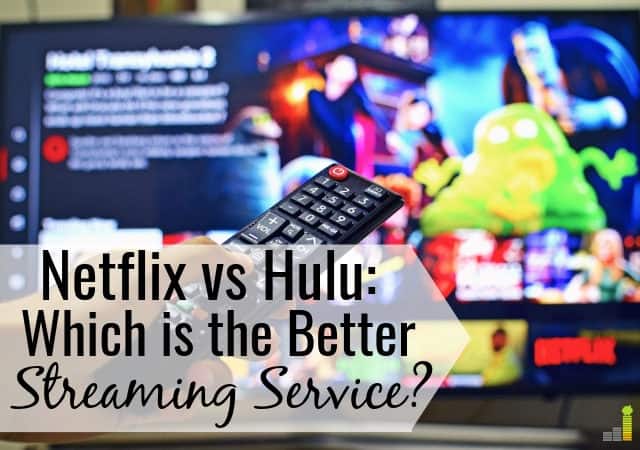 We cut the cord on cable over four years ago. We were paying $105 per month for DirecTV and knew it was far too expensive. When we canceled DirecTV, we looked at Netflix vs Hulu to determine which service to use to replace our content needs. Four years later, we're saving over $80 per month and get all the shows we want – thanks in large part to these streaming services.
You may think it's impossible to cut the cord. I used to believe the same thing. I would lose football, my wife would miss HGTV, and we'd be without the shows we like to watch, or so I thought.
Thanks to streaming providers, we can watch our favorite content and save loads of cash in the process. If we can do it, you can too.
If you want to cut the cord on cable or satellite and think you'll miss all your shows, this guide on Hulu vs Netflix shows which is better to replace your content needs.
Netflix vs Hulu: Which is Better?
Many people know about both streaming providers, but may not be able to answer the question "What is the difference between Netflix and Hulu?" Both platforms have been around for years, and both have millions of customers.
Each service also has its own original content and a full library of movies to watch.
While Netflix and Hulu share a lot of similarities, they are also quite different. This side-by-side comparison of Netflix vs Hulu details their differences so you can determine which service is best for your needs.
For an overview of where we're going in the post, here's a Hulu vs Neflix chart that breaks down the areas we will cover in the post:
| Hulu vs. Netflix | Winner | Hulu | Netflix |
| --- | --- | --- | --- |
| Plans & Pricing | Hulu | $5.99, few commercials | $9.99, Basic |
| | | $11.99, no commercials | $12.99, Standard |
| | | $54.99, Hulu Live | $15.99, Premium |
| Original Content | Netflix | More current TV shows | More original content |
| Guide | Hulu | Easy to navigate | Busy home screen |
| Movies | Neflix | Fewer choices | More movies |
| Device Support | TIE | Compatible | Compatible |
As you can see, each service has multiple plans and pricing options and shines in different areas.
Differences Between Hulu and Netflix
This guide will help you determine the differences between Netflix and Hulu by covering five different areas:
Plans and pricing
Original content
Device support
Interface
Movie selection
These areas cover a wide range of what to consider when comparing Hulu vs Netflix for your cable replacement needs.
Plans
Hulu Basic
Hulu Basic offers two plans, one with limited commercials and one with no commercials. To be fair, the no commercials plan is a bit of a misnomer as a small handful of shows contain limited commercials.
This is limited to six to ten shows, all of which are relatively popular.
The pricing for the legacy Hulu plans are below:
$5.99 per month for the limited commercials plan
$11.99 per month for the no commercial plan
The $5.99 plan is a new offering by Hulu. It was previously $7.99 per month, and the new price is a great value.
The only difference between the two legacy Hulu plans are the commercials. Both provide access to Hulu's original content like The Handmaid's Tale and Casual, movies, and most TV shows – 24 hours after they run on air.
Hulu with Live TV
The second major plan offered by Hulu is Hulu with Live TV, formerly known as Hulu Plus. Hulu Live gives you all of the content listed as a part of Hulu Basic, but it also works as a cable replacement.
Below are just a few of the benefits of signing up for Hulu with Live TV:
60+ cable channels for $54.99 per month
DVR, with 50 hours of storage – you can upgrade to 200 hours for an additional $14.99 per month
Access to local channels in most markets – here's how to watch local TV without cable if you choose another provider
Streaming on two devices at once
If simultaneous viewing on multiple devices is important to you, read our guide on how many people can be on Hulu at once to learn more.
If you want to cut the cord on cable, Hulu with Live TV is one of the best cable TV alternatives. Below are just a handful of the channels Hulu Live offers:
ESPN family of networks
HGTV
FX
TBS
CNN
Fox News
Regardless of the plan you choose, you can stream on two devices simultaneously. You can check out our Hulu with Live TV review to see the full channel lineup.
Much of their content is available in either HD or Ultra HD, though some of their on demand offerings are available only in SD.
Hulu also allows you to add the below paid channels:
Cinemax – $9.99 per month, same as the standalone service
HBO – $14.99 per month, same as the standalone service but offers the first six months for only $4.99
Showtime – $8.99 per month, $2 cheaper per month than the standalone service
Although Hulu has fewer subscribers compared to Netflix (20 million vs. 50 million) it has a lot to offer for the price.
You can try Hulu with a free 7-day trial to see how you like the service.
Netflix
Netflix first began as a DVD by mail service. They have all but killed that offering today, but they do have three main service plans you can choose from for your entertainment needs.
Basic
Netflix Basic is as advertised. It's the bargain basement plan, priced at $8.99 per month. This gets you access to all of its original content like Stranger Things and Orange is the New Black, its full library of movies, and unlimited access to all of the shows on Netflix.
Some things to keep in mind with the basic Netflix plan are that it's not available in HD and you can only stream on one device at a time. If you want a bare bones plan, this is the plan for you.
Standard
The Standard plan builds on the Basic plan, with a price of $12.99 per month. This provides access to the same network of shows, as you get the same library of content regardless of the plan you choose.
Save $30 on Your Cable Bill With Trim
Trim is a little app that makes a big difference in your bank account. You just connect it to your bank account so it can find memberships and subscriptions that you don't use and negotiate lower rates for you.
Trim works with Comcast, Time Warner and more. Make saving easy with Trim!
The benefit of the Standard plan is that it's available in HD and you can stream on two devices at once. This is perfect for a small family looking for flexibility in their viewing needs.
Premium
Netflix's Premium plan is a step up from standard and costs $15.99 per month. What does the Premium plan offer that the Standard doesn't? Two key benefits:
Ultra HD is available
You can stream on up to four devices at once
The Premium plan is perfect for a larger family that wants to stream on a variety of devices at once and wants the best available quality. Regardless of which plan you choose, Netflix offers a 30-day free trial to try out their service.
Here are the best Netflix alternatives to consider if you want other content options.
Winner: The winner of Netflix vs Hulu price and plan goes to Hulu. Two things make them stand out – a $5.99 per month option and live content.
Netflix offers a great price, but Hulu beats them on price and plan. Hulu with Live TV only sweetens the deal.
Original Content
Hulu
Original content is the name of the game for many streaming providers. Some platforms specialize in solely live programming, while others specialize in airing content from other producers.
Original content, on the other hand, is where some providers separate themselves. Hulu has significantly stepped up its original content game, in both shows and movies.
Reports indicate Hulu spent $3 billion in 2018 on original programming alone.
**Related: not certain which option you should choose? Read our Hulu vs. Hulu Plus guide to see which choice fits your needs.**
While Netflix spends considerably more on its original content, Hulu is no slouch when it comes to critically acclaimed original content. Below are some of the most popular Hulu original shows:
The Handmaid's Tale
Casual
Castle Rock
The Mindy Project
Harlots
The Path
We've really enjoyed the original content we've watched on Hulu thus far and think it's only going to improve with time.
Netflix
Aside from the DVD service they started with, Netflix is widely known for its original content. They pump out dozens of original series or movies each month, with reports indicating up to 700 shows in 2018 alone.
Netflix is the granddaddy of the binge watch culture. They typically drop most original shows in their entire 10 or 13 episode format, ready to watch in their entirety.
That format changed television the way Amazon changed shopping.
While each original show isn't gold, Netflix does have many critically acclaimed original shows. Below is just a handful of their top original content:
Orange is the New Black
The Crown
Stranger Things
House of Cards
Arrested Development
Regardless of your preferred genre, you're almost certain to find quality original content on Netflix.
Winner: The winner on original content between Hulu and Netflix goes to Netflix. Aside from shows like The Handmaid's Tale, Hulu original content vs Netflix just doesn't compare.
That's not to imply that the original content on Hulu is bad, because it's not. They're investing more in original content, but it's the focus of Netflix making it the clear winner.
However, if you bundle Hulu with Disney+ and ESPN+ the original content battle is a bit closer.
Device Support
Rather than covering both platforms individually with regards to device support, we'll cover them as one section. Both Netflix and Hulu operate on a ridiculous amount of platforms.
Below are just a few of the devices you can use to watch Hulu and Netflix:
Roku family of devices
Apple TV
Chromecast
Android smartphones
Selected LG, Samsung, Sony, and Vizio TVs
iOS platforms
PlayStation and Xbox devices
You would be hard pressed to find a device that won't allow you to watch either one or both platforms.
Winner: Device support is a tie between the two providers. You can access either through a wide array of products, making both available to almost anyone.
Interface
Hulu
It can be difficult to compare interface between two platforms, especially when there are a number of differences. Hulu differentiates itself by having a bit of a different interface on their desktop version vs. what's found while watching on a TV.
Both are relatively simple to navigate, with options being a bit easier to use on the desktop version.
The interface of the Hulu platform is relatively clean and simple to navigate. They have less content than Netflix, so this does make it easier for them to accomplish.
Hulu divides shows and movies simply by category so you can quickly find what you want to watch.
They also do a good job at advertising their new shows, or ones you've recently watched.
One feature of the Hulu interface we really like is that they advertise new episodes of shows you like right on the home page. You don't have to go search for it, you just click on it when it's ready to watch.
The one complaint we have about the Hulu interface is the awkwardness of learning how to navigate it after upgrading to Hulu Live. If you've gotten used to Hulu legacy, it can take a few tries to figure out how to access the live TV and DVR options.
The login is the same, as is the home screen, but there are a few extra clicks required to find the live TV guide and DVR settings.
That aside, we quickly acclimated and have found the Hulu interface relatively simple to use.
Netflix
Carrying forward from the section on original content, Netflix has a lot of it. While it would make sense for Netflix to put its original content front and center in its interface, that's not really the case.
Regardless of whether you access Netflix from a desktop or a TV, they tend to overwhelm you with a lot of content. This is an understandable downfall of having so much original content, but the interface is simply too busy to easily navigate.
Netflix recently updated their interface, which is good, but it still does not take away from the busy features of it. Worse yet, they don't put all their new content on the home page of the interface.
This means you need to search for it manually to find it.
The one bright spot of the Netflix interface is that they play trailers when you leave your TV idle on a particular show.
Winner: It's hard to say, but the interface for Hulu wins vs Netflix. Overall, the Hulu interface is cleaner and simpler to use. Netflix needs to take some of the money they're using for original content and invest it in a cleaner, easier to use interface.
Movie Selection
Hulu
Hulu was a bit late to the game for movies. Being owned by many of the major networks, it's understandable that they would focus on television shows.
However, Hulu has stepped up their game significantly with movie titles putting them on par with Netflix. Not only have they produced their own original movies, such as Joshy and The Beatles: Eight Days A Week, they also have plenty of non-original movies available.
Non-original movies on Hulu range from older classics, like Carrie and Taxi Driver, to newer popular movies like Fences and Arrival.
Netflix
Netflix began as a DVD by mail service for movies; a virtual Blockbuster back when that chain ruled the home entertainment market. Today, Netflix's DVD by mail service is more of a fringe offering, but they still maintain a healthy selection of movies.
*Related: Want a free option for cable? Check out our Pluto TV review to learn how to watch free cable shows.*
Netflix has produced its share of original movies, at just over 100 films. Many of the films have received little fanfare, with most of them considered no better than a straight to DVD movie.
Netflix does have a larger film library than Hulu, but many of them are more niche in nature. A common complaint with Netflix is that they cycle out a lot of popular movies each month.
You might be able to watch a movie you want this month, but it's possible you wouldn't the following month.
Netflix does boast a large cache of Disney and Pixar movies. Unfortunately, Netflix will be losing first-run Disney and Pixar movies starting with those released in 2019.
With the new Disney+ service, the media giant is keeping most of it's movie content. Read out our Disney Plus app review to learn how it works.
Winner: This is likely the closest of the five categories of the Hulu vs Netflix battle, but Netflix wins by a close margin. However, since Netflix lost the rights to first-run Disney films in 2019 it's a tie at best, or a slight nod to Hulu.
If you're still on the fence, read our Netflix vs, Disney+ guide to learn how the platforms differ.
Hulu vs Netflix: Which is Better?
Comparing the differences between Netflix and Hulu, it's clear where they differ. Hulu is focusing on three main areas:
Live content through Hulu Live
Original content
Streaming shows 24 hours after they appear on air
Netflix is focusing on two main areas:
Comparing Hulu Plus vs Netflix, the winner by a slight margin is Hulu. Technically, out of the five categories, each service won twice, along with a tie.
However, one of the Netflix wins will soon be switching to Hulu when Netflix loses first-run Disney movies. In fact, the new Disney+ platform is an upgrade option at Hulu beginning in November 2019.
This further strengthens the slight victory over Netflix.
Netflix offers a great price, with their lowest plan being $8.99 per month. Hulu beats that with their $5.99 per month plan. That gets you access to all their original content plus many current TV shows 24 hours after they run on air.
Hulu also offers a live TV option for just $54.99 a month.
Regardless of which streaming service you choose, you will have great value, plus great savings vs. traditional cable.
For our money, Hulu is the winner.
You can try the Hulu 7-day free trial to see how it works for you.
Other Top Alternatives to Cable
A side-by-side comparison of Hulu vs Netflix would be incomplete without briefly discussing the other best TV streaming services. Below are a few additional alternatives to cable to consider.
Sling TV
Sling TV is one of the older streaming service providers. The Sling platform is run by Dish Network and comes in at a reasonable $25 per month.
Sling TV offers two base plans – Sling Orange and Sling Blue, both coming in at $25 per month. Each plan offers a bit of a different of a package of channels but you can expect to find some of the below channels in at least one of the plans:
ESPN
Fox Sports
HGTV
History Channel
AMC
CNN
Fox News
Sling TV also offers add-on packages that let you customize your experience even more. Most of these packages cost an additional $5 per month.
Check out our Sling TV review for a more in-depth review of the service.
Philo
Philo is a newer player in the streaming space and specializes in lower cost packages. The Philo TV service first started out on college campuses, but is now available across the country.
Philo is one of the cheaper cable TV alternatives, with its one package costing $20 per month. The package includes over 50 channels.
The channel plan include the following:
HGTV
History Channel
Comedy Central
Lifetime
Nickelodeon
TLC
As you'll notice, there are no sports channels on Philo. That is how they keep their costs down. If you want primarily lifestyle channels, Philo is a good option.
Check out our Philo review for a more in-depth review of the platform.
FuboTV
FuboTV first got its start as a streaming service exclusively for soccer fans. The fuboTV platform has significantly expanded its offering since launching in 2015. You can expect to find the following channels on fuboTV:
HGTV
History Channel
Fox News
MSNBC
Hallmark Channel
Fox Sports 1 & 2
NFL Channel
FuboTV costs $54.99 per month for 100+ channels. While a bit on the pricy side, it's still less than half the cost of traditional cable.
Check out our fuboTV review for a more in-depth review of the service.
Amazon Prime Video
Finally, we want to take a look at Hulu vs Netflix vs Amazon Prime. Hulu and Netflix are the major players in the original content space, with Amazon becoming more competitive.
Amazon Prime Video offers two subscription plans:
$8.99 per month
$12.99 per month
The first plan is their basic plan that gets you access to most of their content, movies, and television shows.
The more expensive plan provides you full access to Amazon Prime, plus free two-day shipping on purchases along with unlimited reading and music streaming.
If you're considering the more expensive plan, keep in mind that you save money by going with the annual rate of $119 per year – or $59 if you're a student. You can try a free 30-day trial of Amazon Prime if the price tag is too steep to try without testing the service.
Amazon Prime Video does offer original content, albeit not quite yet at the level of Netflix or Hulu. Among the critically-acclaimed original shows you can view are:
Bosch
Sneaky Pete
The Man in the High Castle
The Marvelous Mrs. Maisel
Amazon is more hit and miss with its movie selections, but if you're thinking about becoming an Amazon Prime member anyways, this is a streaming service worthy of consideration.
You can use the Fire TV Stick to access all Amazon content. Check out the list of Amazon Fire TV Stick channels to see the other content you can get through the platform.
Hulu or Netflix: Bottom Line
Many people look at Netflix vs Hulu when they want to cut the cord. Both provide solid options for the cord cutter looking to save money and get good content.
Hulu wins a head to head competition, but you can't go wrong with either service – it all depends on your needs.
What streaming service do you use for your content needs? What do you look for in a streaming provider? How much do you spend per month on cable or streaming providers?
The following two tabs change content below.
John is the founder of Frugal Rules, a dad, husband and veteran of the financial services industry whose writing has been featured in Forbes, CNBC, Yahoo Finance and more.
Passionate about helping people learn from his mistakes, John shares financial tools and tips to help you enjoy the freedom that comes from living frugally. One of his favorite tools is Personal Capital , which he used to plan for retirement and keep track of his finances in less than 15 minutes each month.
Another one of John's passions is helping people save $80 per month by axing their expensive cable subscriptions and replacing them with more affordable ones, like Hulu with Live TV.
Latest posts by John Schmoll (see all)