11 Best Netflix Alternatives to Start Streaming Content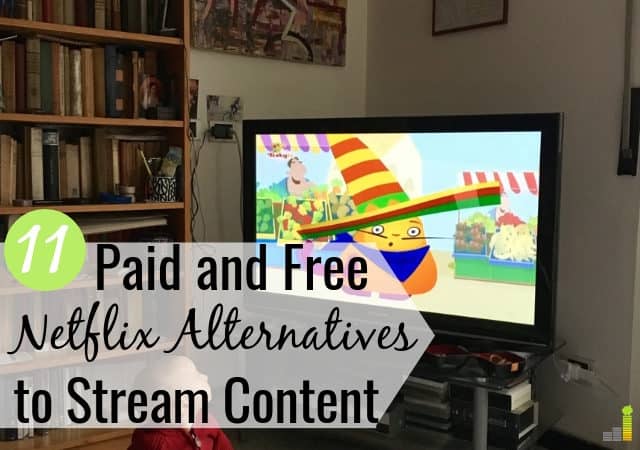 I started using Netflix when it only offered DVDs. When it first began producing original content, the shows seemed like a joke. However, Netflix has significantly improved since those days. While it's still the leader in streaming original content, many of the best Netflix alternatives are also worth watching.
Some of the best alternatives to Netflix carry a cost, but others are free. If you're bored with Netflix and want to explore other streaming services, these options are worth considering.
Paid Netflix Alternatives
If you enjoy binge-watching TV shows or discovering new movies on streaming services, you're going to have to pay for it.
While some streaming content is free, the best Netflix alternatives carry a cost. Just like Netflix.
The good news is that many of the best alternatives to Netflix are still fairly cheap.
Hulu
From Seinfeld to The Handmaid's Tale, many of the most binge-worthy shows on TV right now are streaming on Hulu.
Hulu's entry-level plan costs $5.99, which is the same as Netflix, and makes it one of the best alternatives to Netflix.
What it Costs
Hulu has two plans – one with limited commercials and one without. The pricing for Hulu plans are below:
$5.99 per month for the limited commercials plan
$11.99 per month for the no commercials plan
With the new price on the lowest tier it makes Hulu cheaper than Netflix. Given Hulu's large content library, that's a steal.
The only difference between Hulu's two entry-level options are commercials, with the cheaper plan having them. However, both offer access to original content, movies, and TV series – most only 24 hours after they air live.
What You Get
Hulu's low cost and massive content library make it one of the best Netflix alternatives.
Hulu is co-owned by the major networks including Disney, Comcast, and Time Warner. A Hulu subscription lets you watch shows from ABC, NBC, CBS, and Fox, as well as a variety of other cable networks for only $5.99 per month.
TV shows aren't the only thing you enjoy with Hulu. You can watch a lot of movies as well. We've had Hulu for years and love it. This Netflix alternative offers content that our kids and we enjoy watching.
Channels Included
Hulu's lengthy channel list sets it apart from Netflix. Channels on Hulu include:
Discovery Channel
TLC
Investigation Discovery
Motor Trend
Animal Planet
HGTV
Food Network
Travel Channel
You won't get to watch every show on every channel and you won't get every episode of all your favorite shows. For that, you'd need Hulu with Live TV, which runs $44.99 per month.
**Related: not certain which option you should choose? Read our Hulu vs. Hulu Plus guide to see which choice fits your needs.**
However, if you're looking for a cheap Netflix alternative, Hulu is absolutely worth a look. Learn more about Hulu in our Netflix vs. Hulu review.
Try Hulu free for 7 days and see if you like it better than Netflix.
Amazon Prime
Amazon is one of the few providers that offers both content and a device to stream it. That makes Amazon Prime one of the most unique Netflix alternatives.
While you don't need an Amazon Fire TV stick to stream Prime video content, it's one of the better streaming devices out there and provides easy access to content from a variety of channels.
Thankfully, its wide selection of TV shows and movies also make it one of the best alternatives to Netflix.
What it Costs
After realizing that people might want just its content and not the shipping benefits of a Prime membership, Amazon split its Prime options into video-only and full.
A Prime Video subscription costs $8.99 per month while a full Prime membership costs $10.99 per month.
For only $2 more per month, you receive free two-day shipping on all Prime-eligible products and even free same-day delivery within certain ZIP codes. If you shop a lot on Amazon, it's probably worth it to get the full Prime membership and consider the content an added bonus.
What You Get
If shopping on Amazon isn't your thing and you're only interested in a Prime Video subscription, you'll enjoy the following types of content:
Original content: Like Netflix, Amazon is spending a lot of money on original content. New shows like Jack Ryan, The Romanoffs, Man in the High Castle and Homecoming as well as award-winning shows like The Marvelous Mrs. Maisel and Transparent are all included with a Prime Video subscription and are only available on Amazon.
Movies: On top of original content, Amazon adds movies to its Prime Video library all the time. From classics like All the Presidents Men and Groundhog Day to newer releases like Wonder and XXX: Return of Xander Cage, there's sure to be something good to watch with Amazon Prime Video.
TV shows: You'll find TV shows from a variety of networks on Amazon Prime. Grimm, Chuck and Dr. Who are just a few of the shows available.
Kids: Let's be honest. If you have kids, you'll want to know whether or not Prime's content will hold your kids' attention. There's plenty of movies and TV shows kids will enjoy, including Cat in the Hat, Puss n' Boots, Spongebob Squarepants and Daniel Tiger's Neighborhood.
Channels Included
Some of the channels included with a Prime Video membership:
HBO
Starz
Cinemax
Hallmark Movies Now
Showtime
CBS All Access
Boomerang
Prime Video offers tons of great content for a low monthly cost. And when you use Prime through the Fire TV or Fire TV stick, you get easy access to additional Amazon Fire TV stick channels like HBO Now, Crackle, ESPN, HGTV and Food Network.
Like many of the most popular streaming services, Amazon lets you explore its content free with a 30-day free Prime trial.
Sling TV
Sling TV is not just a great Netflix alternative, it's low cost and live TV make it one of the best alternatives to cable available.
We've tried Sling TV a few times and found it easy to use.
What it Costs
Sling TV costs $25 per month. For that price, you get AMC, CNN, ESPN, Food Network and up to either 30 or 40 total channels.
Technically, Sling has three plans:
Orange – 30 channels for $25 per month
Blue – 40 channels for $25 per month
Orange + Blue – 60+ channels for $40 per month
What You Get
If you're looking to replace Netflix, the Orange or Blue plans are your best bet. The main difference between the two is that Orange includes ESPN while Blue offers Fox Sports channels instead.
You will get some on-demand content, but unlike Netflix, Sling TV includes live TV. If one of the reasons you're shopping for a Netflix alternative is that you want live TV, Sling TV is a great option.
Channels Included
Sling Orange and Blue packages vary slightly in the channels they include. Here's a breakdown:
Sling Orange – 30 channels including:
ESPN, ESPN 2, ESPN 3
AMC
CNN
Disney
Travel Channel
USA
FX
Nick Jr.
Sling Blue – 40 channels including:
Fox Sports 1 and Fox Sports 2
NBC Sports
HGTV
A&E
TNT
TBS
Cartoon Network
History Channel
If you enjoy watching sports on TV, this could be a solid alternative to Netflix for you.
Learn more about this popular streaming service in our Sling TV review.
Sling TV is similar to other sites like Netflix with free trials. You can try Sling TV risk-free with a 7-day free trial.
Starz on Demand
Everyone seems to be making their own content these days, and that includes Starz. The cable network now offers a standalone service like Showtime and HBO called Starz On Demand.
What it Costs
This Netflix alternative typically costs $8.99 per month, which is comparable to Netflix. However, they're currently running a deal to get the service for $5 per month for the first three months. This prices applies after their 7-day free trial.
What You Get
You'll enjoy tons of movies with Starz On Demand. You can watch through their app or download shows to your computer or mobile device.
Starz On Demand offers a pretty extensive movie list along with some original shows. You also get access to all its current and past original programming.
Shows air live at the same time in the app as they do on cable TV, so you won't have to wait to watch episodes of your favorite Starz shows.
Channels Included
With Starz On Demand, you get all content that airs on Starz. This includes movies and original shows like:
America to Me
American Gods
Boss
Counterpart
Outlander
The White Queen
You can watch Starz easily on your computer, mobile device or through a streaming platform like Amazon Fire TV or Roku.
CBS All Access
If you like to watch CBS shows, CBS All Access could be an ideal Netflix alternative for you.
It offers more than 8,500 episodes of CBS shows on demand for a low cost. Plus, you can watch live TV with CBS All Access.
What it Costs
CBS All Access starts at $5.99 per month.
What You Get
This alternative to Netflix has two plans – one with commercials and one without.
*Related: Looking for the perfect cable replacement? Check out our Sling TV channels list to learn how the platform replaces much of cable at a fraction of the cost.*
The basic plan, which includes commercials, costs $5.99 per month. The no-commercial plan runs $9.99 per month.
Both plans offer access to live CBS shows and 8,500+ on-demand episodes. The only difference is the commercials.
Channels Included
CBS All Access only includes shows on CBS. If you're looking for content from other networks, consider one of the other top Netflix alternatives, such as Hulu.
Fandor
If you like foreign films, documentaries and indie flicks then you will love Fandor.
This Netflix alternative caters to fans of films that are hard to find elsewhere.
What it Costs
Fandor costs $10 per month. If you pay for a year in advance, the cost works out to just $7.99 per month.
What You Get
Fandor is full of curated content. Staff members handpick films they think Fandor members will appreciate.
Channels Included
There aren't any channels on Fandor. Rather, hard-to-find films that don't run on networks or even Netflix have a home on Fandor.
Mubi
If you're an independent film buff, Mubi may be one of the best Netflix alternatives for you. From classics to award-winners, Mubi offers great indie content.
How it Works
Every day, Mubi adds a new film to its site and thirty days later, they remove it.
Save $30 on Your Cable Bill With Trim
Trim is a little app that makes a big difference in your bank account. You just connect it to your bank account so it can find memberships and subscriptions that you don't use and negotiate lower rates for you.
Trim works with Comcast, Time Warner and more. Make saving easy with Trim! 
Watching content is easy. You just visit Mubi.com on your computer or tablet and pick a movie to watch. Mubi also has an app you can use to watch its content on your smartphone.
What it Costs
A Mubi membership costs $8.99 per month.
What You Get
You get access to 30 indie films a month. Every month, one film drops off and one new one is added.
Mubi offers a 7-day free trial to check out their service before committing.
Free Alternatives to Netflix
People say you can't get anything good for free but these free Netflix alternatives prove you can find free entertainment.
Maybe you're tired of paying for stuff you don't watch or you're just trying to cut back a bit. Either way, some of the best alternatives to Netflix don't cost a dime.
Crackle
Before Seinfeld came to Hulu, I loved watching episodes on Crackle for free.
Think of Crackle as free Netflix. In fact, it's one of the best YouTube alternatives to watch movies online. It offers TV shows and movies but doesn't charge to watch any of them.
How it Works
Crackle is owned by Sony, which means they have access to Sony's movie and TV content library. All you have to do to start watching on Crackle is visit Crackle.com and register.
There's also a Crackle app in the Google Play and Apple store.
What You Get
You get access to a variety of movies, TV shows and even indie flicks on Crackle. You may not find every show you love, but you're bound to find something.
The best part about this Netflix alternative is that unlike Netflix, Crackle is completely free.
Tubi TV
Tubi keeps its content free by running ads. It offers 40,000+ movie titles from companies like Lionsgate, MGM, and Paramount Pictures.
How it Works
You can hop on Tubi.com and start watching for free. Or you can access it through Apple TV, Amazon Fire TV, Roku, or a smart TV.
If you create a free account and register, you get a few added perks like being able to pick up movies where you left off.
What You Get
Tubi gives you access to 40,000 free movies from a variety of studios. From animae to action, there's plenty of titles for you to binge.
Pluto TV
Pluto TV may well be one of the best free alternatives to Netflix available.
Although it relies on ads to keep your content free, it offers a good variety of content curated from over 100 channels.
How it Works
Unlike many of the Netflix alternatives mentioned here, Pluto TV does not offer on-demand content. Everything is live or streaming, so there's no way to access what you want when you want it.
Instead, you select a channel like you would on TV.
To start watching, just find Pluto TV on your smartphone, streaming device or smart TV.
What You Get
Pluto TV broadcasts content from over 100 channels. You'll find news, sports, movies, TV shows and cartoons on Pluto TV.
Channels Included
There are more than 100 channels on Pluto TV, including:
CBS News
Frontdoor
Food TV
NBC / MSNBC
After School Cartoons
Bloomberg TV
Horror 24/7
Pro Wrestling Channel
CNET
World Poker Tour
There are no fees, no subscriptions and no credit cards required. This is one Netflix alternative that really is completely free. Check out our Pluto TV review to learn how the service works.
YouTube
You probably visit YouTube often for how-to videos, music videos and toy reviews, but did you know YouTube has full-length movies too?
How it Works
Type the title of the movie plus the words "full movie" that you want to watch into the search field on YouTube. If it's there, you'll enjoy it for free.
Just go to YouTube on your computer or device or open the app on your tablet, smartphone or smart TV.
Browse all of YouTube's movies by typing "free full movies" into its search bar. If you love Youtube, check out our guide on the best Youtube alternatives to watch free content.
What You Get
You won't everything you want to watch on YouTube for free. If that was the case, YouTube wouldn't be offering its own streaming service. But if you're looking for a free alternative to Netflix, this could do the trick.
How Much Does Netflix Cost Per Month?
After reading how much the top Netflix alternatives cost, you might be wondering how Netflix compares. Here's a breakdown of Netflix plans and what they cost.
Netflix Basic – $8.99 per month. Includes access to entire content library in standard definition.
Netflix Standard – $12.99 per month. Includes access to entire content library in HD. Stream content on two devices at once.
Netflix Premium – $15.99 per month. Includes entire content library access. You also get Ultra HD streaming and the ability to stream on up to four devices at once.
Whether you want a bare bones plan or one with all the bells and whistles, all Netflix plans are reasonably priced.
How to Watch Netflix for Free
A Netflix free trial is the best way to watch Netflix for free.
Netflix offers a generous trial period; they let you try Netflix free for 30 days. That gives you a whole month to decide whether or not you like the service.
You have to give Netflix a credit card number to get the free trial, but it's still one of the best ways to watch Netflix for free.
Cancel before the free trial expires and you won't be charged a penny.
Wait it Out for a Netflix Offer
If you're looking for ways to extend free Netflix, wait a month or two before signing up again. Netflix may email you another free trial offer.
Call Netflix
It might sound too simple to work, but you'd be surprised at what deals you can get just by asking.
Call Netflix customer service at 1-866-579-7172 and ask if they will extend your free trial. Tell them you'd like to evaluate the content longer before subscribing.
Look for Netflix Deals Online
Coupon websites offer deals on just about everything, including Netflix. Search for Netflix deals on some of the following:
RetailMeNot
Giving Assistant
This list just scratches the surface of the Netflix deals available.
Best Netflix Alternatives: The Final Take
While Netflix is the most well-known streaming service, that doesn't mean it's the best.
If you prefer live TV, try Hulu or Sling TV. For access to lots of movies and original content, consider Amazon Prime Video.
If your tastes tend toward independent or harder-to-find films, try Mubi, Pluto TV or Tubi.
There are many alternatives to Netflix out there that offer a wide selection of TV shows and movies. Many of them are the same or cheaper!
What are some other Netflix alternatives you've tried to get content? How much do you spend on cable each month? How many services do you use to get your television content?
The following two tabs change content below.
Nicole Schmoll is an experienced professional copywriter who writes regularly for clients in the finance, IT, healthcare, trades and retail industries. Check out samples of her work and services at
Ink Harmony
.