How did you feel the last time you paid your cable bill? If you're making the average payment of $200 a month, you likely felt frustrated and disgusted. A terrific solution is to stream TV for free with an app like Tubi.
This completely free service lets you watch TV shows and movies at no cost and is a legitimate choice to slash your entertainment budget. Our Tubi TV review shares insights from our testing of the platform to help you decide if it's a good option for your home.
What is Tubi TV?
The Tubi app is a video streaming service that lets cord-cutters watch free movies and TV series. Think of it as an alternative to Netflix without the cost.
It has no monthly subscription fee. Instead, Tubi makes money via the commercials it runs during television shows and movies.
The company has an extensive library of content. You can expect to find over 40,000 movies and shows, as well as over 200 live channels. It even boasts over 64 million users as of February 2023.
You won't entirely replace cable TV with the service, but it is an excellent option to lower your entertainment costs.
How Can You Watch Tubi?
Tubi TV is accessible in a variety of ways. It's available via a web browser, so you can watch it on a computer or device. Tubi also has apps that work on your smart TV or streaming device.
You can create a free account on Tubi, but it's not required to watch content on the platform. This differs from other free streaming apps that require you to create an account to stream movies and TV shows online.
What Can You Watch on Tubi?
Tubi is one of the best free ad-supported streaming services on the market. It has a large library of content with a great mix of popular TV shows and movies.
Fox owns Tubi, so you can expect to see lots of Fox-related content on the platform. The service also has partnerships with production companies like Disney, A&E Networks, MGM, Warner Brothers, Paramount, and more.
While there is a lot of content available, expect to find many older TV shows and movies on Tubi. Additionally, the platform regularly swaps out shows and movies.
Here is what you can expect to find on the free TV streaming site.
Acclaimed TV Series
Tubi is an excellent choice to watch on-demand from some of your favorite networks, including reality TV. Here are some of the popular TV shows currently available on Tubi:
Alf
Bewitched
Degrassi
Duck Dynasty
Fear Factor
Mr. Bean
This Old House
True Tori
This is only a small sampling of Tubi's free TV shows. They regularly cycle through their content library like other free streaming services.
Popular Movies
Not only can you watch TV online using Tubi, but there are also many movies you can stream for free. Here are some of the top currently available movies on the Tubi app:
Ace Ventura
ATL
Bruce Almighty
Kill Bill
Mortal Kombat
Shaft
Space Jam
Taken
Tom & Jerry The Movie
The Fifth Element
The Goonies
If you want to watch movies for free, Tubi TV is a fantastic option for current and many older films.
Original Content
If you love original programming, Tubi is a growing player in the field. Keep in mind that the content is ad-supported, so it's not what you're going to find on the Max streaming service or Netflix.
However, the Fox Corporation is investing lots of money in its original content. There are over 100 original series and movies at the time of publication.
Tubi even has original documentaries. Plus, you will notice actors like Bruce Willis, Jeff Fahey, and Michael Jai White in some of the films, so it's not all B-list actors.
Tubi For Kids
Not all free TV streaming services offer a wealth of children's content. For example, Pluto TV is one of the best free streaming sites, but it falls short for kid's content.
Fortunately, Tubi has a dedicated page for content for children. It breaks down content by age and genre.
The platform also has loads of family-friendly content that is appropriate. This includes popular series like Ninjago, The Smurfs, Scooby Doo, Super Mario, and lots more.
Tubi even has an anime section if your children enjoy that genre.
If you want to avoid a paid platform like Disney+, Tubi for kids is a good alternative.
*Related: Do you want to cut the cord on cable and need a true replacement for your favorite shows? Take our free quiz to identify which platform is best for your needs.
Live TV
Like with Pluto TV, you can watch live TV for free on Tubi. Some of the content is curated, but much of it includes live TV networks.
The two biggest components are live sports and news. You won't get CNN or Fox News, but those are well-known news networks.
Here are a few of the top news channels on Tubi:
ABC News Live
Bloomberg
Cheddar
Fox Weather
Live Now from Fox
NBC News Now
Today All Day
USA Today
If you want local news, purchasing an over-the-air antenna is your best option. We use the Mohu Leaf line of products and love them.
Use the code FRUGALRULES10 to receive ten percent off your purchase of a Mohu.
You won't be able to watch ESPN without cable on Tubi, but the platform has a good selection of sports channels. Here are a few of the top selections:
beIN Sports Extra
Fox Sports Extra
Fubo Sports
MLB Network – re-airs of popular games
NFL Network – re-airs of popular games
PAC-12 Insider
Stadium
Women's Sports Network
As with local news, you won't get the big game on Tubi. However, for no-cost TV, it's hard to complain. You will either need an over-the-air antenna or one of the top live TV streaming services to get more.
How Much Does Tubi Cost Per Month?
There is no charge to use the Tubi TV app. You can stream for free or create an account to utilize the platform.
Establishing an account is free, and no credit card is required. Creating an account does unlock extra features, like making a favorites watch list and the ability to resume watching content where you previously stopped.
Tubi's parental control features are also only available if you create an account.
The lack of cost makes Tubi one of the best free TV streaming sites.
User Experience
Overall, Tubi has a positive user experience. We tested the service on a computer, mobile device, and multiple TV sets.
Once you launch the interface, it has a recognizable layout. Across the top you will see four categories on the left, including Browse, Tubi Kids, Live TV, and Espanol.
Moving further to the right, you will see a search option, followed by the ability to register for an account and sign in.
Beneath that, you will see a recommended movie. These recommendations are on a slider, so this will change every few seconds.
The main categories are intuitive and guide you directly to what you want. For example, a search for Sylvester Stallone instantly brings up the 11 films they have on Tubi that include him.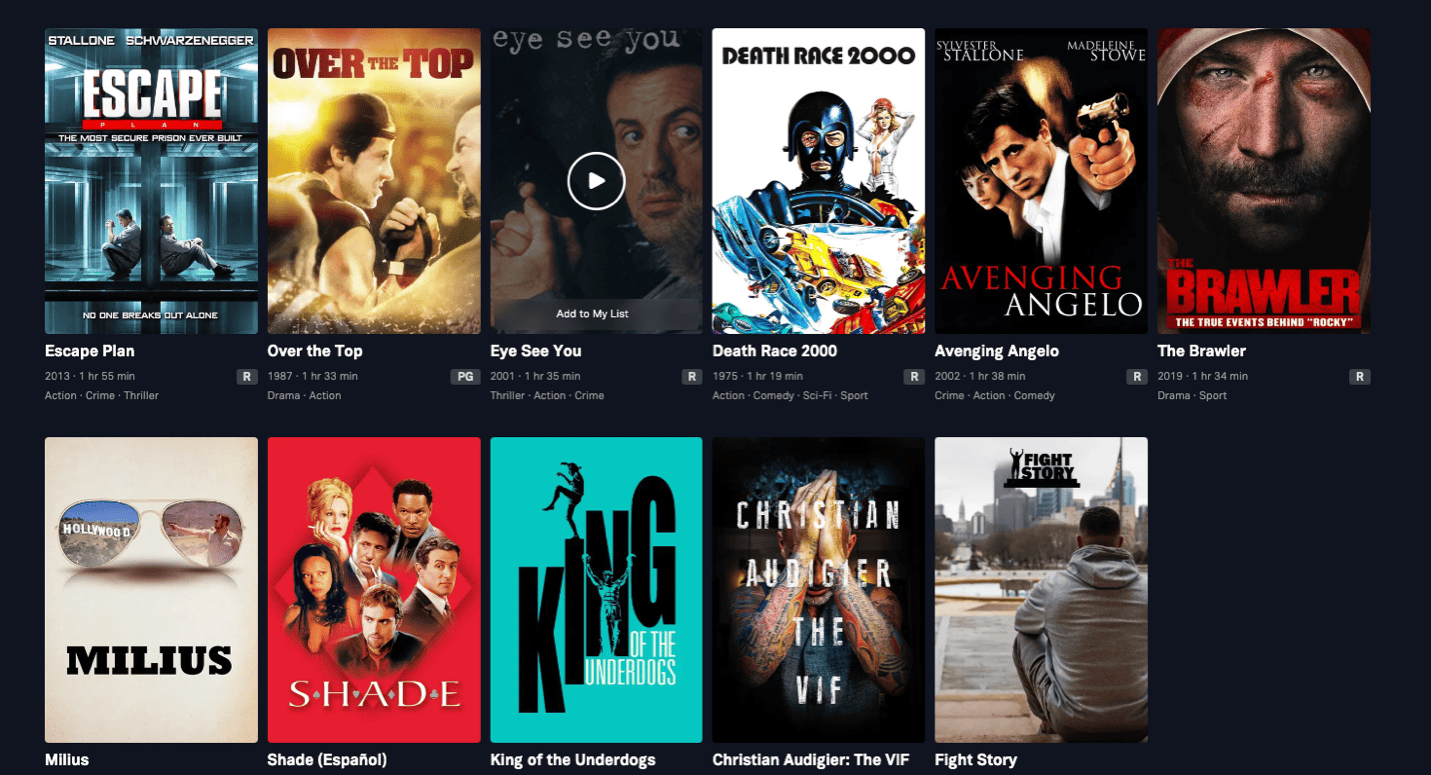 The live guide is similar to a cable-like grid guide you will find at the best streaming services.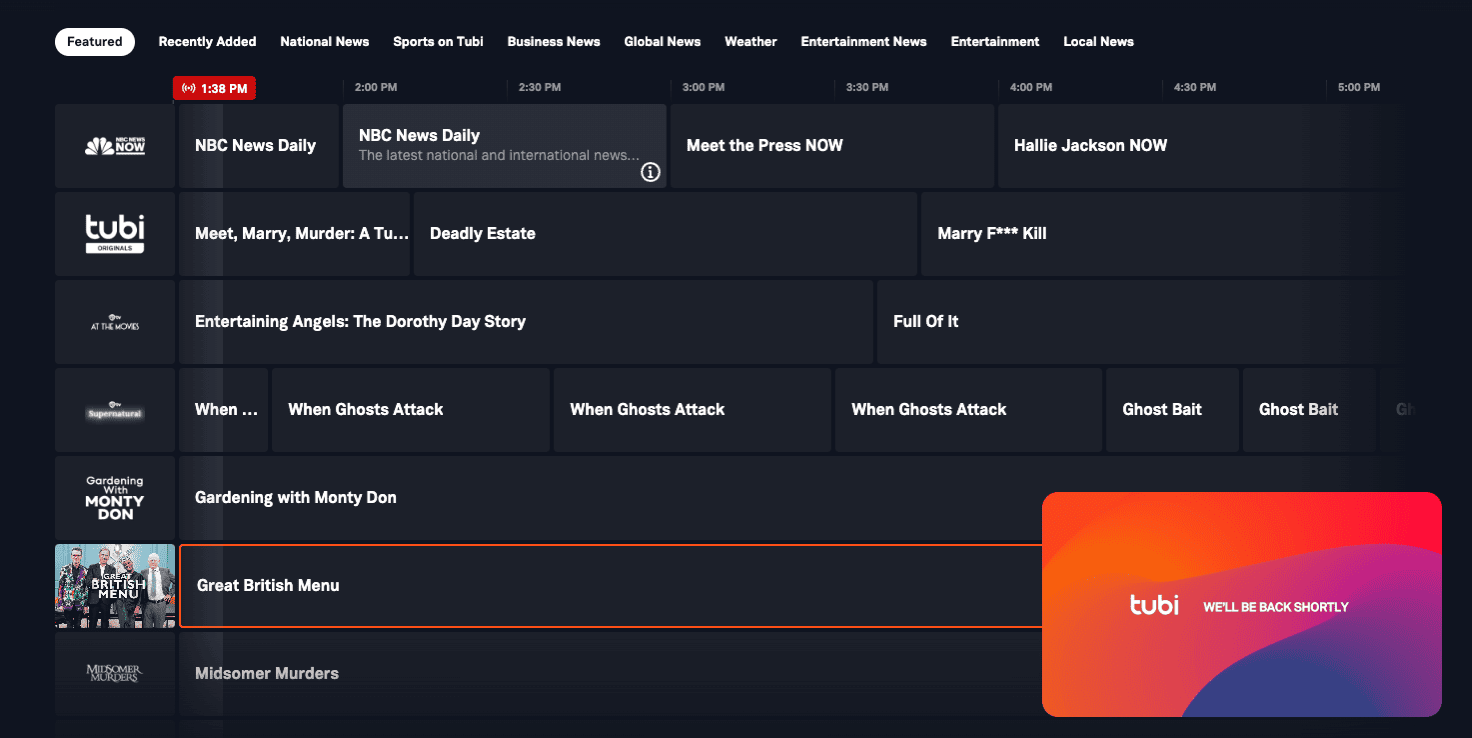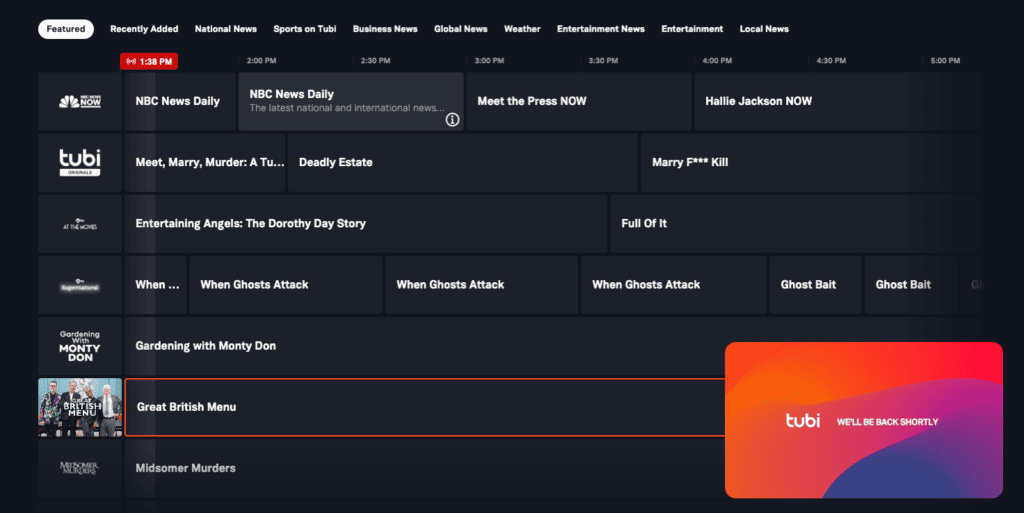 Across the top, you will find a way to narrow down the available 200+ live TV channels. Fom left to right, these include Featured, Recently Added, National News, Sports on Tubi, Business News, Global News, Weather, Entertainment News, Entertainment, and Local News.
Just select a channel or show, and it brings up the selected option. When you are on Tubi's web interface, it will play your current selection in the bottom right-hand corner of the screen.
Video quality is a standard 720p on Tubi, with some selections at 540p. Audio quality is a standard 2.0, and no Dolby Digital 5.1 or higher is available. You get to stream for free, so the platform doesn't include many premium settings.
Features
Features are an important piece of the puzzle when you choose an on-demand streaming service to watch shows and movies. Although it's free to use, there are some features worth noting.
What Are the Supported Devices?
Compatible devices can be a deciding factor when selecting a streaming platform. Tubi works on many streaming media players and smart TVs.
Here is a sampling of hardware that works with Tubi:
Amazon Fire TV devices
Android mobile devices
Android TV
Apple phones and devices
Apple TV
Chromecast
Comcast Xfinity X1
Google Nest Hub
HiSense TVs
LG smart TVs
Nvidia Shield
Roku devices
Samsung smart TVs
Sony smart TVs
Tivo
Vizio smart TVs
Web browsers
Xbox devices
Essentially, if the device has a screen, you can use it to watch Tubi.
How Many Simultaneous Streams Does Tubi Offer?
Simultaneous streams are unimportant for Tubi. Anyone can watch TV shows and movies on the app, even if they don't have an account.
We tested the app on three screens at once without issue. If you have a large family and all want to simultaneously stream different things on Tubi, you should not have a problem.
Parental Controls
Creating parental controls is important if you have young children and want to prevent them from viewing inappropriate content.
You can establish controls on Tubi, but this will require an account. To create parental restrictions, go to the Account Settings page on the website.
Select the Parental Controls tab, then choose from the given restriction levels. The app will prompt you to enter your password to finalize the feature.
Remember that you don't need an account to use Tubi. It's best to monitor your child's viewing habits to ensure they're not evading your parental controls by simply opening a new window and watching what they want.
Closed Captions
Setting up closed captions is painless to do within Tubi's web interface or app. They are available on most of the platform's content.
You will need an account to access them. Go to the Account Settings tab, then select the ability to turn on closed captions.
From there, you can customize the font size and background.
Recommended Internet Speeds
The Tubi TV app doesn't offer premium video quality, so speed requirements are minimal.
A speed of at least 1 Mbps is recommended to stream content. If you want optimal performance, they suggest a speed of at least 4 Mbps.
Read our guide on internet speed for streaming to see how this compares to other platforms.
How Bad Are the Ads on Tubi?
Unfortunately, an ad-free experience is not possible on Tubi. All free TV streaming services have commercials, but you're also paying nothing to watch the content.
In our testing for this Tubi review, we were fine with the commercial experience. We watched seven different films and shows in our evaluation of the platform.
In a two-hour-long movie, we didn't see a commercial until 30 minutes into the film. After that, ads seemed to occur roughly every 15 minutes.
However, in a TV show, the first ad happened within the first ten minutes. While we couldn't ascertain when an ad would run, there wasn't much difference between Tubi and what we would see on a paid streaming service.
The one complaint we had is some ads were repetitive. We even saw the same ones in multiple commercial breaks.
Additionally, there's no way to see how long the ad break will last, just a "wheel" with the text "ad." When it reaches the end of the wheel, your show or movie resumes.
What Are the Pros and Cons of Tubi?
There is a lot to consider when looking at a streaming service, regardless if it's free or paid. Here are some things to remember when looking at Tubi.
Pros:
Free to use
Large library of content
App and website are intuitive
Advanced features available with an account
200+ channels of live streaming content
Content from major production companies
Cons:
Streaming quality is no higher than 720p
No way to tell when ads will occur
Some TV shows and movies are older
Overall, Tubi is one of the best ways to get free cable TV and keep your entertainment costs low.
How Does Tubi Compare to Other Free Streaming Services?
If you want to cut the cord on cable TV or satellite, free streaming apps can be good resources. They let you watch movies and TV shows for free. You might even get some live TV.
Tubi is one of the top free services to use. It has tens of thousands of shows and movies. The platform also has over 200 free live TV channels.
It's not the standard of quality you might find on Amazon Prime Video or Max, but it has a lot to offer. Here is how Tubi compares to similar platforms.
| Service | Account Req. (Y/N)? | Channels | Best For | Try |
| --- | --- | --- | --- | --- |
| Pluto TV | N | 200+ | Live TV | Try |
| Tubi | N | 200+ | Mainstream movies | Try |
| Roku Channel | Y | 300+ | Local news | Try |
| FreeVee | N | 75+ | Prime members | Try |
| Sling Freestream | N | 300+ | Live TV | Try |
| Crackle | N | 50+ | Classic movies | Try |
| DistroTV | N | 250+ | International movies | Try |
| Samsung TV Plus | N | 500+ | Samsung users | Try |
| Vudu | Y | 10,000+ movies | Movie rentals | Try |
| Hoopla Digital | Y | Local library content | British films | Try |
| Xumo | N | 200+ | Sports | Try |
| Redbox Live | N | 150+ | Original content | Try |
Read our guide on the best free streaming services to learn more.
Tubi Review
Channel Lineup

Commercials

Availability

Content Options

Ease of Use
Tubi Review
Tubi TV is a completely free ad-supported streaming service that lets you watch hours of content and has loads of popular TV shows and movies.
Pros
✔️ Totally free
✔️ Includes live TV
✔️ Wide variety of content
✔️ Parental control features
✔️ Easy-to-use platform
Cons
❌ Must have an account to use advanced features
❌ No ad-free option
❌ Streaming is limited to 720p
Is Tubi Any Good?
For what it offers, Tubi TV is an excellent platform to help slash your cable bill. It has over 40,000 episodes from television series and movies, as well as hundreds of live TV networks.
The service won't replace everything you watch, but it has quality content at no cost. You do need to deal with commercials, but for quality free TV, it's a terrific way to save money.
What's your favorite free TV streaming service?