FuboTV Channels 2020: Get Sports without Cable!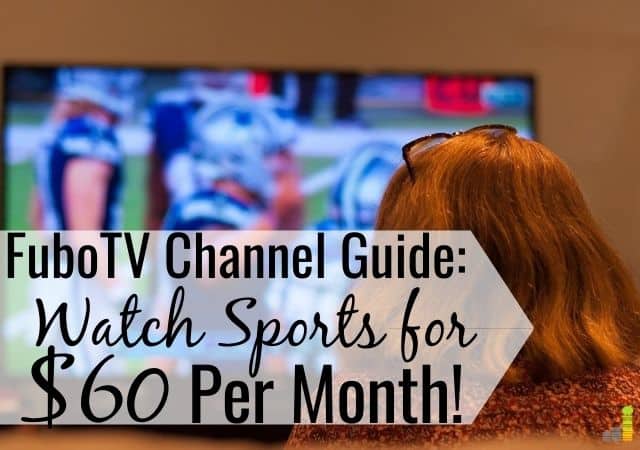 The other week our family drove down to watch our favorite college football team play their spring game. When we got home, I scanned the fuboTV channels and scheduled our team's games to record.
One of the best streaming services for sports fans is fuboTV. For all the details, check out our fuboTV review.
FuboTV Cost
Like other popular services, you can stream fuboTV in various packages. You can also sign up for add-ons to get the games you want most.
FuboTV Family – for $59.99 per month, you get 96+ live channels. No hidden fees. No contract. Cancel any time free of charge.
FuboTV Ultra – for $84.99 per month, you get 165+ channels.
FuboTV Channels List
Within the sporting world, fuboTV may offer the broadest selection of sports channels. You can watch everything from cycling and soccer to football and more.
| Channel Name | Channel2 | Channel3 |
| --- | --- | --- |
| A&E | Fuse | NFL Network |
| ABC | ABC News | ACCN |
| Disney | Disney Jr | DXD |
| ESPN | ESPN2 | ESPN3 |
| ESPNews | ESPN U | ESPN Deportes |
| FX | FXM | FXX |
| Freeform | National Geographic | Nat Geo Wild |
| Nat Geo Mundo | MLB Network | MLB Strike Zone |
| NHL | SEC ESPN | Baby TV |
| AMC | FYI | Nick Jr |
| Animal Planet | Galavision | Nickelodeon |
| BBC America | GetTV | Olympic Channel |
| BeIN Sports (multiple) | Golf Channel | SportsNET NY |
| BET | Hallmark | SyFy |
| Bravo | Hallmark Drama | Telefe |
| BTN (multiple) | Hallmark Movies & Mysteries | Telemundo |
| CBS Sports Network | HGTV | The CW |
| CBSN | History Channel | The Weather Channel |
| Cheddar Business | IFC | TLC |
| CMT | Investigation Discovery | Tr3s |
| CNBC | Lifetime | Travel Channel |
| CNBC World | MotorTrend | TUDN |
| Comedy Central | MSG | TUDNxtra |
| Comet | MSG+ | TV Land |
| Cozi | MSNBC | TVG |
| Discovery | MyNetworkTV | Universal Kids |
| E! | National Geographic | Universo |
| Eleven Sports | NBC | Univision |
| Food Network | NBC Sports | USA Network |
| FOX | NBC Sports Northwest | VH1 |
| FOX Business | NBC Sports Philadelphia | Viceland |
| FOX Deportes | NBC Sports Philadelphia+ | WE TV |
| FOX News | NBC Sports Washington | NBC Sports Washington+ |
| FS1 | FS2 | NESN |
One channel you won't find on fuboTV is ESPN. If you're looking for ways to stream ESPN without cable you'll have to try SlingTV or Hulu Live.
FuboTV Ultra
As mentioned earlier, fuboTV Extra provides an extra 60+ channels on top of the base package. For a total of $84.99 per month, you get everything in the base package plus the following channels.
| Channels | channels2 | Channels3 |
| --- | --- | --- |
| American Heroes | Ginx eSports TV | Nicktoons |
| BBC World News | Great American Country | Teenick |
| BET Her | INSP | PeopleTV |
| BET Jams | Law & Crime | Revolt |
| BET Soul | Logo | SCI |
| Cooking Channel | MTV Classic | Sony |
| CNBC World | MTV Live | Stadium |
| Destination America | MTV 2 | Stadium 1 |
| Discovery Family | MTV U | Stadium 2 |
| Discovery Life | NBA TV | Stadium 3 |
| DIY | Newsy | Tennis Channel |
| Fuse | NHL Network | ZonaFutbol |
| Game Show Network | NickMusic | |
FuboTV Channel Guide: Add-ons
FuboTV offers lots of optional add-ons to customize your content. The costs listed below are added on to your base package.
Adventure Plus – for $4.99 per month more, you receive five channels that include: MAV TV, Outdoor Channel, Outside TV, Sportsman Channel, and the World Fishing Network.
AMC Premiere – for $4.99 per month you get access to this channel.
FuboTV Cycling – for $11.99 extra per month, you get six channels that include: Fubo Cycling, Fox Soccer Plus, GOLTV (English and Spanish versions), TyC sports, and FuboTV Soccer.
FuboTV Latino – for $17.99 per month you'll enjoy 15 Spanish language channels.
FuboTV Português – for $19.99 per month, you receive five Português language channels.
FX Plus – for $4.99 per month you get access to this channel.
International Sports Plus – for an extra $5.99 per month, you get the following five channels: Fox Soccer Plus, GOLTV (English and Spanish), TyC Sports, and FuboTV Soccer.
Latino Plus – for an extra $7.99 per month, you'll get 11 channels: Baby TV HD, CNN en Espanol, El Gourmet, FOX Deportes, Fox Life, GOLTV Spanish, Mas Chic, NatGeo Mundo, Nuestra Table, Sony, and TyC Sports.
NBA League Pass – for an extra $28.99 per month, enjoy access to 30 channels featuring all the NBA action you can handle.
Português Plus – for an extra $14.99 per month, enjoy three channels: GOLTV Spanish, BTV, and RTP Internacional.
RAI Italia – for $7.99 per month you get access to this channel.
Showtime – for $10.99 per month, add on all nine Showtime channels.
Sports Plus – for $8.99 per month extra, you get 23 channels that include: Fight Network, FOX College Sports (Atlantic, Central and Pacific channels), Game, GOLTV (English and Spanish), NFL RedZone, Pac12 Network (Arizona, Bay Area, Los Angeles, Mountain, Oregon and Washington), Sports Illustrated TV, Stadium 1, 2 and 3, Tennis Channel, TyC Sports, SI TV, Universo, and VSiN.
Use the channel guide feature on its website to cross-check channel packages and get the right mix of content for the best price.
*Related: Love the NFL, but want to ditch cable? Check out our guide on the best options to watch NFL games live without cable.*
On the site, select either fuboTV or fuboTV Ultra and scroll to see a list of available add-ons with base channels removed.
FuboTV Local Channels
People ask us all the time, 'can I get local channels on fuboTV?' The answer is, yes. Exactly which local channels you get depends on where you live.
You could get CBS, Fox, and NBC. You won't get ABC. If you want local channels, the best way to get them is with a digital antenna. We bought a Mohu Leaf digital antenna on Amazon and love it.
A reasonable one-time cost gets us all the major local networks for free.
Does FuboTV Have A DVR?
If you're considering cutting the cord but don't want to give up your DVR, don't worry. This streaming comes with a cloud-based DVR. The best part? It's absolutely free.
Other streaming services charge an extra $5 or more per month for a DVR. FuboTV lets you record up to 30 hours of content for free.
You can also upgrade to the Advanced DVR for $10 per month. That will get you up to 500 hours of recording capacity.
If you want to record a lot of games, the Advanced DVR option might help you make the most of your subscription. Thanks to the DVR and receiving CBS in most locations, this makes it one of the better choices to stream March Madness without cable.
FuboTV Channel List: Final Take
If you're looking for an affordable way to watch sports without cable, fuboTV is a reasonable option. At $59.99 per month, fuboTV is a little more expensive than other streaming services, yet offers more diversity.
*Related: Want to cut the cord but don't know which platform to pick? Check out our Netflix vs. Hulu guide to see which platform is best.*
Its inclusion of entertainment and news content make it a great choice for families too. The included DVR is a nice bonus. This service plays nice with all the major streaming platforms, making it an excellent all-around replacement for cable.
If you love sports and want to save money, this provider is worth a look. Try it free for 7 days and see if it's right for you.
How much do you pay for cable contact? What's your top tip to get sports without paying for cable? What do you look for in a streaming provider?
The following two tabs change content below.
Nicole Schmoll is an experienced professional copywriter who writes regularly for clients in the finance, IT, healthcare, trades and retail industries. Check out samples of her work and services at
Ink Harmony
.