The other day I was talking with a friend about what shows we enjoy watching on TV. From Walking Dead to Fixer Upper to Vikings, we caught up on all our favorite characters.
Then she told me what she was paying for cable – close to $150 per month. When I told her all her favorite shows were available on Philo TV for $25 per month, she was stunned.
If you enjoy watching TV but don't like paying $150 or more per month for it, you should take a look at the Philo TV channels list, which includes the most popular networks in lifestyle and entertainment.
The main thing you'll miss is sports channels. Thankfully, there are other ways to watch ESPN without cable. If you mostly enjoy watching shows on networks like AMC, HGTV, Hallmark and more, you'll love Philo TV.
You will also miss news channels like CNN or Fox News, If those are important to you, a service like Sling TV is best.
But first, let's briefly cover what you get for $25 per month.
What Does Philo Cost?
Philo TV is one of the best deals available for cord cutters. It offers over 60 cable channels for just $25 per month.
That's it! You can even try the platform free for seven days. No credit card is required.
You can read all about the streaming service in our review of Philo TV.
What Channels Are Available on Philo?
There is a lot to like about the Philo TV channels list. It's a great choice for people who want an affordable service that offers a variety of lifestyle and entertainment offerings.
Here are the networks available on the live TV streaming service.
| | channel2 | channel3 |
| --- | --- | --- |
| A&E | Magnolia | MTV Classic |
| AMC | Food Network | MTV Live |
| American Heroes Channel | FYI | MTV2 |
| Animal Planet | Game Show Network | Nick Jr |
| AspireTV | getTV | Nickelodeon |
| AXS TV | GAC Family | Nick Toons |
| BBC America | Hallmark Channel | OWN |
| BBC World News | Hallmark Drama | Paramount Network |
| BET | Hallmark Movies & Mysteries | PeopleTV |
| BET Her | HGTV | Revolt |
| Cheddar | History Channel | SCI |
| Crime-Investigation | IFC | Sundance TV |
| Cleo TV | Investigation Discovery | Tastemade |
| CMT | INSP | TeenNick |
| Comedy Central | Law and Crime | TLC |
| Cooking Channel | Lifetime | Travel Channel |
| Destination America | Lifetime Movies | TV Land |
| Discovery | Logo | TV One |
| Discovery Family | MotorTrend | UpTV |
| Discovery Life | MTV | VH1 |
| AccuWeather | Newsey | Vice |
| We | GAC Living | |
| DECADES | Start TV | MeTV |
| Heroes & Icons | Story Television | FETV |
| Pop TV | Smithsonian Channel | |
As you can see, the provider make it easy to watch all your favorite shows.
Hallmark channels, which can be hard to find on other cable alternatives, are all included for just $25 per month.
If you want access to live sporting events on ESPN or FOX Sports, try Sling TV. It lets you watch ESPN for just $40 a month. Read our analysis of Philo vs. Sling TV to see how they compare.
If sports matter to you or someone in your family, there are other options, like fuboTV that offer a cable-like experience.
One thing that you might notice missing from Philo TV is premium movie channels. Unfortunately, HBO, Showtime, Cinemax, Starz and the like are not included in the channel offerings.
However, they do offer the Movies and More add-on. It costs $3 per month and it includes the following channels:
Sony Movies
Reelz
HDNet
MGM HD
CINEMOI
The streaming service also includes Bloomberg, Cheddar, Crackle, and Revry as free add-ons to further augment your viewing options.
We've tested Philo extensively and found its streaming quality to be reliable. Its guide makes it easy to find what you want to watch fast.
Does Philo Have Local Channels?
Unfortunately, the Philo channels list does not include local stations. Streaming services must pay more to offer local networks and the cost gets passed onto customers.
One way Philo is able to keep costs down is by not carrying local TV. An over-the-air antenna is the best way to get your local broadcast affiliates.
We have used the Mohu Leaf for years and it works fantastic for us. You can use the code FRUGALRULES10 to receive ten percent of the purchase of one for your home.
Most antennas are relatively inexpensive and just require a one-time cost and let you watch local channels without cable.
Read our review of the YouTube TV channel list if you want a more robust platform that offers local channels.
Supported Devices
Philo is supported by a large number of devices. Here are the streaming devices that are compatible with the service:
Amazon Fire devices
Android TV 5.0 or higher
Apple TV, fourth generation or later
Chromecast second generation or later
Mac or PC, using supported browsers
Roku, all current models
Samsung Smart TVs
If you're using a device not on the list, Philo says you can contact them to ask them to support it.
Does Philo Include a DVR?
A DVR is must-have for many streamers. Like many cable replacements, Philo TV offers a DVR.
Whatever content you're watching on all Philo channels, you can record it on the included, unlimited DVR service. Philo's "saved shows" function lets you record any show and watch it whenever you like.
Whatever you save will be stored for up to 30 days.
Philo TV also includes on-demand options. There is over 2,000 hours of on-demand content.
Plus, all Philo channels can be rewound without saving for up to 72 hours. If you forget to record a show you want to watch and it's been less than 72 hours since it aired, all you have to do is find it in the guide, rewind and press play.
Another handy feature that Philo offers to make its content more convenient is the ability to login to network websites and watch shows there.
Let's say there's an episode of The Curse of Oak Island you missed, but it's available on Discovery.com. Just login in with your Philo account and watch the show. It's that simple.
In this regard, the streaming service has a leg up on the competition. Philo channels can be enjoyed live, on-demand or through individual network websites.
How Does Philo Compare Against the Competition?
It can be overwhelming to choose the right live TV streaming service for you. Here is how Philo compares against other cable replacements.
| Streaming Service | # of Channels | Cost / Month | DVR? | Local Channels? | Sign Up |
| --- | --- | --- | --- | --- | --- |
| Hulu Live | 80+ | $69.99+ | Yes | Yes | Try |
| Sling TV | 30 | $40 | Yes | FOX/NBC in select markets | Try |
| Philo TV | 60+ | $25 | Yes | No | Try |
| FuboTV | 140+ | $74.99+ | Yes | Yes | Try |
If you're looking for a lower-cost alternative, Frndly is a good alternative to Philo. Read our Philo vs. Frndly TV analysis to learn more.
Bottom Line
The Philo TV platform really is one of the best cheap cable alternatives available. The channel lineup includes all of the most popular non-sports networks.
Its guide is easy to use and all the popular platforms support the service. Whether you use Roku, Amazon Fire Stick, a web browser, smart TV, or your phone, you will find it easy to watch your favorite shows.
If you're looking for a cheap cable alternative that still lets you watch your favorite shows, Philo is an excellent option.
What are you paying for cable?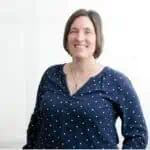 I'm Nicole Schmoll – a master's-educated professional writer, mompreneur, and co-founder of Frugal Rules.
As a freelance copywriter in Omaha, I still believe that writing is an artistic expression. Every time I strike the keys, I intend to evoke a response from my listeners. I left my full-time career as a senior copywriter for an insurance agency to start my own freelance writing business.
I love watching and writing about TV (and how to stream it!)