Philo TV Channels List 2020: Full Channel Lineup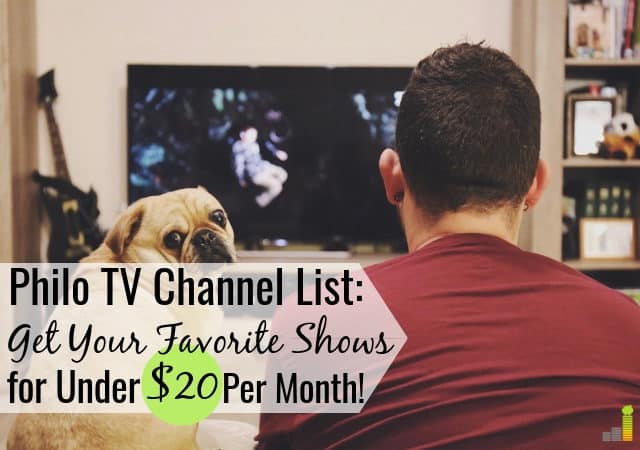 The other day I was talking with a friend about what shows we enjoy watching on TV. From Walking Dead to Fixer Upper to Vikings, we caught up on all our favorite characters. Then she told me what she was paying for cable – close to $120 per month. When I told her all her favorite shows were available on Philo TV for less than $20 per month, she was stunned.
If you are like my friend, and enjoy watching TV but don't like paying $100 or more per month for it, you should take a look at the Philo TV channels list, which includes the most popular networks in lifestyle and entertainment.
The only thing you'll miss is sports. Thankfully, there are other ways to watch ESPN without cable. If you mostly enjoy watching shows on networks like AMC, HGTV, Hallmark and more, you'll love Philo TV.
But first, let's briefly cover what you get for $16 per month.
Philo Channels Cost
Philo TV is one of the absolute best deals out there for cord cutters. It offers two plans:
Base Package – 44 channels for $16 per month
Extra Channels – 57 channels for $20 per month
That's it! You can even try Philo TV free for seven days with just your phone number. No credit card is required.
Read all about this streaming service in our Philo TV review.
Philo TV Channels List
With the cost for Philo TV out of the way, let's move on to the Philo TV channels list.
A&E
AMC
Animal Planet
AXS TV
BBC America
BBC World News
BET
Cheddar Business
Cheddar News
CMT
Comedy Central
Discovery
DIY
Food Network
Game Show Network
Hallmark Channel
Hallmark Drama
Hallmark Movies & Mysteries
HGTV
IFC
ID Investigation Discovery
Lifetime
Lifetime Movies
MotorTrend
MTV
MTV2
MTV Classic
Nick
Own
Paramount Network
PeopleTV
SCI
SundanceTV
NickJR
TeenNick
History
TLC
Tastemade
Travel Network
TV Land
VH1
Viceland
WE tv
As you can see, Philo channels make it easy to watch all your favorite shows.
Hallmark channels, which can be hard to find on cable alternatives, are all included for just $16 per month.
If you want access to live sporting events on ESPN or FOX Sports, try Sling TV. It lets you watch ESPN for just $25 a month.
If sports matter to you or someone in your family, there are other options, like Hulu Live. Philo is not an option to watch live sports without cable.
If you're looking for an inexpensive way to watch mostly network TV like ABC, CBS, FOX, and NBC, buy a digital antenna on Amazon and get a subscription to Hulu.
*Related: Love the NFL, but want to ditch cable? Check out our guide on the best options to watch NFL games live without cable.*
It's a small one-time cost for the antenna and only $5.99 per month for Hulu to watch most of your favorite shows.
Philo Channel Lineup: Add-ons
Philo TV offers 13 additional channels to their base 44 for only $4 more per month, making it one of the better alternatives to Sling TV and the like. For a total of just $20 per month you can enjoy these additional channels.
American Heroes Channel
Aspire
BET Her
Cooking Channel
Destination America
Discovery Family
Discovery Life
Law and Crime Trial Network
Logo
MTV Live
Nicktoons
Revolt
UPtv
One thing that you might notice missing from Philo TV is premium movie channels. Unfortunately, HBO, Showtime, Cinemax, Starz and the like are not included in Philo channels.
Still, if you enjoy movies, you could couple your Philo subscription with Netflix, Amazon Prime, or HBO Now separately. The total cost would still be significantly less than a cable subscription.
Does Philo TV offer local channels?
Unfortunately, the Philo channels list does not include local stations. As mentioned earlier, you can buy a digital antenna on Amazon, and enjoy local channels for no monthly cost.
All you'll pay is the cost of the antenna. Most antennas are relatively inexpensive and just require a one-time cost.
If how to watch local channels without cable has been a question on your mind, a digital antenna is the answer. Don't let fear of losing locals shackle you to an overpriced cable contract.
Does Philo TV have a DVR?
Yes.
Like many streaming services, Philo TV offers DVR service.
Whatever content you're watching on all Philo channels, you can record it on the included, unlimited DVR service. Philo's "saved shows" function lets you record any show and watch it whenever you like.
Whatever you save will be stored for up to 30 days.
Philo TV channels also include on-demand options. There is over 2,000 hours of on-demand content.
Plus, all Philo channels can be rewound without saving for up to 72 hours. If you forget to record a show you want to watch and it's been less than 72 hours since it aired, all you have to do is find it in the guide, rewind and press play.
Save $30 on Your Cable Bill With Trim
Trim is a little app that makes a big difference in your bank account. You just connect it to your bank account so it can find memberships and subscriptions that you don't use and negotiate lower rates for you.
Trim works with Comcast, Time Warner and more. Make saving easy with Trim! 
Another handy feature that Philo offers to make its content more convenient is the ability to login to network websites and watch shows there.
Let's say there's an episode of The Curse of Oak Island you missed, but it's available on Discovery.com. Just login in with your Philo account and watch the show. It's that simple.
In this regard, Philo has a leg up on the competition. Philo channels can be enjoyed live, on-demand or through individual network websites.
Curious About the Competition?
Here's how Philo stacks up against other popular streaming services in the most important categories.
| Streaming Service | # of Channels | Cost / Month | DVR? | Local Channels? | 7-Day Free Trial |
| --- | --- | --- | --- | --- | --- |
| Hulu Live | 60+ | $54.99 | Yes | Yes | Try Free |
| Sling TV | 30 | $25 | Yes - $5/mo | NBC & Fox in select markets | Try Free |
| Philo TV | 45+ | $16 | Yes | No | Try Free |
| FuboTV | 100+ | $59.99 | Yes | No | Try Free |
Philo TV Channels List: Final Take
The Philo TV platform really is one of the best cheap cable alternatives available. Philo channels include all of the most popular non-sports networks. Its guide is easy to use and all the popular platforms support Philo.
Whether you use Roku, Amazon Fire Stick, a web browser, smart TV, or your phone, you will find it easy to watch Philo channels.
We've tried Philo and found its streaming quality to be reliable. Its guide makes it easy to find what you want to watch fast.
*Related: Want to cut the cord but don't know which platform to pick? Check out our Netflix vs. Hulu guide to see which platform is best.*
The bottom line is this: if you're looking for a cheap cable alternative that still lets you watch your favorite shows, Philo is an excellent option.
While Philo channels don't include locals or ESPN, there are other, reasonable ways to get that content. Don't waste another month in an overpriced cable contract.
Try Philo TV free for seven days today. All you'll need to sign up is your credit card.
What questions do you have about Philo TV channels? Have you tried Philo TV? What are you paying for cable?
The following two tabs change content below.
Nicole Schmoll is an experienced professional copywriter who writes regularly for clients in the finance, IT, healthcare, trades and retail industries. Check out samples of her work and services at
Ink Harmony
.