If you want to lower your TV costs, cheap internet-based live TV streaming services are a great way to do it.
Services like Sling TV and Philo TV are affordable alternatives to cable TV. But, before you cut the cord, there are some important things you need to know about the two services.
What is the Difference Between Sling TV and Philo?
There are some key differences between Philo vs. Sling TV when it comes to plans and pricing
It's also critical to understand the variations between add-on channel packages, cloud DVRs, compatible devices, and simultaneous streams.
Having a full grasp of how these two services differ can help you pick the best cable replacement option to watch your favorite shows.
While both live TV streaming services are cable and satellite TV alternatives, their available channels and monthly prices differ.
| Service | Price | Channels | DVR | Screens |
| --- | --- | --- | --- | --- |
| Sling TV | $40 - $55 | 32 - 51 | 50 | 1 - 3 |
| Philo | $25 | 64 | Unlimited | 3 |
Importantly, you can't watch local channels through Philo. However, Sling TV offers NBC and FOX in certain markets.
Ultimately, both offer affordable live TV packages.
How Much Do Sling and Philo Cost?
While some streaming services cost $65 or more per month, Philo and Sling TV cost significantly less.
Philo Cost
At $25 a month, Philo is the cheapest way to watch more than 60 popular cable networks offered by cable and satellite TV providers.
Sling TV Cost
Whereas Philo has just one channel package, Sling TV has two. Sling Orange and Sling Blue each cost $40 per month and include different available channels.
Purchasing Sling Orange plus Blue costs $55 a month and includes the full list of channels available on Sling TV.
Based purely on price, Philo gets the win.
However, as you'll see in the channels section, if you're looking for a way to watch live sports without cable, only Sling TV offers them and is a better value for the price.
Price winner: Philo
Free Trial
One of the things cord-cutters appreciate the most about video streaming services is the free trials they offer.
Sling TV currently offers a three-day free trial, but doesn't always offer one. Read our guide how to cancel Sling TV if the service isn't for you.
Philo offers a free seven-day trial for its streaming service.
You can access the Philo free trial with just an email or phone number.
Free Trial Winner: Philo
What is the Channel Lineup with Each?
When you compare the Sling TV vs. Philo channel lineup, some important differences emerge.
For instance, Philo does not carry local channels. Sling TV offers access to NBC and FOX with Sling Blue in certain markets.
As a result, sports fans or those who want to watch local channels without cable may find Sling TV to be a better choice.
Philo Channel Lineup
Available channels are often the most important issue for people looking to cut the cord and switch to a streaming service.
Philo offers a good variety of lifestyle and entertainment channels. They also offer great content for kids.
| | channel2 | channel3 |
| --- | --- | --- |
| A&E | Magnolia | MTV Classic |
| AMC | Food Network | MTV Live |
| American Heroes Channel | FYI | MTV2 |
| Animal Planet | Game Show Network | Nick Jr |
| AspireTV | getTV | Nickelodeon |
| AXS TV | GAC Family | Nick Toons |
| BBC America | Hallmark Channel | OWN |
| BBC World News | Hallmark Drama | Paramount Network |
| BET | Hallmark Movies & Mysteries | PeopleTV |
| BET Her | HGTV | Revolt |
| Cheddar | History Channel | SCI |
| Crime-Investigation | IFC | Sundance TV |
| Cleo TV | Investigation Discovery | Tastemade |
| CMT | INSP | TeenNick |
| Comedy Central | Law and Crime | TLC |
| Cooking Channel | Lifetime | Travel Channel |
| Destination America | Lifetime Movies | TV Land |
| Discovery | Logo | TV One |
| Discovery Family | MotorTrend | UpTV |
| Discovery Life | MTV | VH1 |
| AccuWeather | Newsey | Vice |
| We | GAC Living | |
| DECADES | Start TV | MeTV |
| Heroes & Icons | Story Television | FETV |
| Pop TV | Smithsonian Channel | |
Popular networks usually only available through a cable package, including A&E, AMC, BET, Hallmark, and HGTV, are all available on Philo.
In total, Philo carries 73 channels. This is a solid lineup, but it doesn't include sports or locals.
If you want an even more slimmed down service, Frndly TV is a good choice. The platform has a similar channel lineup, albeit about 40 networks with plans starting at $7.99 a month.
Read our Frndly TV review to learn more. Alternatively, you can read our Frndly TV vs. Philo analysis to see how they compare as they serve a similar type of streamer.
Sling TV Channel Lineup
Sling Orange includes about 30 channels, Sling Blue offers approximately 45, and Sling Orange plus Blue gives you about 50.
| channels | channels2 | channels3 |
| --- | --- | --- |
| A&E | ESPN2 | MSNBC |
| AMC | ESPN3 | National Geographic |
| AXS TV | Fuse | NBC (select markets) |
| BBC America | Food Network | |
| BET | Freeform | |
| Bloomberg Television | FOX (select markets) | NFL Network |
| Bravo | FOX News | |
| Cartoon Network | FS1 | Nick Jr. |
| Comet | FX | SyFy |
| Cheddar Big News | History Channel | Stadium |
| CNN | HGTV | Travel Channel |
| Comedy Central | HLN | TNT |
| Disney Channel | Investigation Discovery | TruTV |
| Discovery Channel | IFC | TLC |
| Epix Drive-In | Local Now | TBS |
| E! | Lifetime | USA |
| ESPN | MotorTrend | Viceland |
Think of the colors as being better for different interests. Sling TV says Blue is best for news and entertainment, and Orange is best for sports and families.
However, Sling Blue also offers sports channels. Notably, Blue offers FS1, while Orange offers the ESPN channels along with popular networks like AMC, CNN, HGTV, and TNT.
Sling Blue offers about 15 more channels than Orange, including all three major TV news networks (CNN, Fox News, and MSNBC).
Channels on Blue but not Orange include BET, Bravo, Fox News, FS1, FX, FXX, HLN, MSNBC, NBCSN, NFL Network, Nick Jr., SYFY channel, truTV, and USA.
There are only two channels on Orange that aren't on Blue, including Disney Channel and Freeform.
Since it can be confusing, Sling created an Optimizer tool that you can use to find the best way to get your must-have channels.
Overall, we give the nod to Sling since it has news and sports channels as well as local networks in select cities.
Channel Lineup Winner: Sling TV
Do Sling TV and Philo Carry Local Networks?
No. Neither Sling TV nor Philo will give you all your local networks. Sling Orange doesn't offer locals, and Sling Blue only offers FOX and NBC in select cities.
But, that shouldn't discourage you from signing up for them.
An over-the-air antenna is a great way to get all your locals without cable. For one upfront cost of about $50, you will get all your local networks free, for life.
Another option is to pair a subscription to either Philo or Sling TV with a subscription to Paramount+.
A premium plan subscription lets you watch your local CBS station plus about 18 other live channels.
Sling TV Blue offers NBC and FOX in select markets. Here is where you can watch FOX on Sling:
| City | Station |
| --- | --- |
| New York | WNYW |
| Philadelphia | WTXF |
| Chicago | WFLD |
| Detroit | WJBK |
| Atlanta | WAGA |
| Washington, DC | WTTG |
| Houston | KRIV |
| Orlando/Daytona/Melbourne | WOFL |
| Tampa/St. Petersburg | WTVT |
| Gainesville | WOGX |
| Milwaukee | WITI |
| Minneapolis/St. Paul | KMSP |
| Dallas/Ft. Worth | KDFW |
| Austin | KTBC |
| Phoenix | KSAZ |
| Seattle | KCPQ |
| Los Angeles | KTTV |
| San Francisco/Oakland/San Jose | KTVU |
Here is where you can watch NBC on Sling:
| City | Station |
| --- | --- |
| New York | WNBC |
| Philadelphia | WCAU |
| Chicago | WMAQ |
| Boston | WBTS |
| Washington, DC | WRC-TV |
| Miami/Ft. Lauderdale | WTVJ |
| Hartford/New Haven | WVIT |
| Dallas/Ft. Worth | KXAS |
| Los Angeles | KNBC |
| San Francisco/Oakland/San Jose | KNTV |
| San Diego | KNSD |
Unless you live in one of the mentioned cities, you will need an over-the-air antenna to watch your local networks.
Local Channels Winner: Sling TV
Premium Channels and Add-ons
Both live TV streaming services offer premium channels and other channel add-ons. However, Sling TV offers more.
| Sling TV Extra Package | Cost/Month | Channels with Orange | Channels with Blue |
| --- | --- | --- | --- |
| AMC+ | $7 | AMC+, Shudder, Sundance Now, IFC Films Unlimited | Not Offered |
| Comedy | $6 | CMT, GSN, Logo, MTV, MTV2, truTV, Paramount Network, TV Land, Revolt, FETV,Laff | CMT, GSN, Logo, MTV, MTV2, Paramount Network, Revolt, TV Land, FETV, Laff |
| Espanol (Spanish Channels) | $6 or $11 | Various | Various |
| Heartland | $6 | AHC, Cowboy, DA, Outdoor, Pixl, RFD TV, Ride TV, Sportsman, WFN, Pursuit, GAC | NGW, AHC, Cowboy, DA, Outdoor, Pixl, RFD TV, Ride TV, Sportsman, WFN, Pursuit, GAC |
| Hollywood | $6 | Reelz, H&I, Start TV, Grit, HDNet Movies, SundanceTV, Cinemoi, TCM | FXX, FXM, H&I, Reelz, Start TV, Grit, HDNet Movies, SundanceTV, Cinemoi, TCM |
| International | $6 | Globo, MBC, Sony, Welt, Willow, Zeecinemalu and more. | Same |
| Kids | $6 | BabyTV, Boomerang, DuckTV, NickToons, Teen Nick | Same |
| Lifestyle | $6 | VH1, Cooking, FYI, Hallmark(3), Lifetime Movies, Magnolia, WeTV | VH1, OXY, Cooking, DIY, FYI, Hallmark(3), Lifetime Movies, WeTV |
| Locals | Free depending on where you live. | ABC, CBS | FOX, NBC in select mkts. |
| News | $6 | BBC World News, WGN, NewsMaxTV, HLN, Weather Nation, Euronews, SCI, News18, RT, CGTN, Law & Crime | FBN, NewsNation, CNBC, BBC World News, Law & Crime, NewsMaxTV, Weather Nation, SCI, Euronews, France24, News18, NDTV24X7, RT, CGTN |
| Sports | $11 | SECN, SECN+, ACCN, ACCNX, PAC12 Network, Longhorn Network, Bein, NBA TV, MLB, MLB (SZ), U, ESPNEWS, Tennis, NHL | NFL RedZone, Big Ten Network, NBA TV, FS2, MLB, NHL, Golf, Bein, PAC12 Network, Tennis, MLB (SZ), Olympic |
Learn more about all available add-ons in our Sling TV review.
Philo offers a movie add-on with Cinemoi, HDNET movies, MGM HD, Reelz, and Sony movies for $3 a month. It also offers a three-channel EPIX package for $6 a month and a three-channel STARZ package for $9 per month.
Learn more about Philo and its add-ons in our Philo TV review.
Still, with Sling's numerous add-ons, it's the closest thing to a la carte streaming out there.
The ability to mix and match to get your must-have channels gives Sling TV the edge over Philo.
Add-Ons Winner: Sling TV
Who Has the Better Cloud DVR Philo or Sling TV?
A cloud DVR is critical to anyone who wants to cut the cord. The Philo cloud DVR offers unlimited recording space. You can keep recordings for up to a year.
You may also fast-forward through commercials.
Better yet, you can replay anything that has aired on Philo in the past 72 hours.
Sling TV's DVR is nowhere near as appealing. All plans include 50 hours of recording capacity.
If that is not enough, you can upgrade to 200 hours for an extra $5 a month.
Additionally, both services offer on-demand content.
Cloud DVR Winner: Philo
What are the Supported Devices?
Both the Sling TV and Philo streaming media players are supported on a wide variety of devices.
You can stream either on:
Amazon Fire devices
Android devices
Apple TV
Chromecast with Google TV
iOS devices
LG Smart TVs
Oculus
Portal from Facebook
Samsung Smart TVs
Tivo Stream 4K
Xbox One
Web broswers
Basically, if it has a screen, you can use it to watch either service.
Supported Devices Winner: Tie
How Many Simultaneous Streams Do the Services Offer?
Philo lets you stream on up to three devices simultaneously. So, you can watch Philo on up to three TVs or a combination of three TVs, tablets, smartphones, and computers at once.
Sling TV is more confusing. Blue allows three screens at once, while Orange allows one.
Sling Orange plus Blue allows you to watch on four screens at once, but only one of those screens can be from Orange.
So, an Orange plus Blue subscription will still only let you watch ESPN on one screen at a time.
Due to its simplicity, we give the nod to Philo.
Simultaneous Streams Winner: Philo
Which Service Offers 4K Capability?
Unfortunately, neither Sling TV nor Philo support 4K content. This is something we hope they add.
For now, if 4K content is important to you, check out fuboTV. This streaming service currently has the best selection of 4K content.
What are Philo and Sling TV's Internet Speed Requirements?
Philo says its video quality adjusts based on your internet speed. It recommends at least three Mbps to stream in standard definition (SD) video.
Seven Mbps is recommended for one HD video, and an internet speed of 13 Mbps for reliable HD streaming, including multiple streams at once.
For viewing content on a single screen or computer that is larger than a device or smartphone, Sling TV recommends five Mbps.
Sling TV suggests a minimum of 25 Mbps for reliable streaming on multiple screens at once.
Read our review of the minimum internet speed for streaming TV to learn more.
Other Features: Parental Controls, User Profiles, and Dolby
Parental controls are a helpful way to filter content by age level and keep inappropriate content away from children.
Sling TV offers parental controls. Philo does not.
The ability to create multiple accounts or profiles is also an attractive feature many cord-cutters seek.
Philo lets you create up to ten user profiles, which is great.
Unfortunately, Sling TV does not allow separate user profiles. So, there is no way to filter channel favorites based on multiple users' viewing preferences.
Audiophiles will appreciate the fact that Sling TV supports Dolby Digital 5.1 surround sound.
Unfortunately, Philo only supports standard, 2.0 stereo sound quality.
What's Better: Sling or Philo?
After spending hours researching, using, and comparing Philo vs. Sling TV, we believe the answer comes down to what you want to watch.
Are sports a must-have for you? If so, Sling TV is better.
If you don't watch sports and prefer a good mix of entertainment, kids, and lifestyle content, Philo is your best bet.
The available channels and unlimited DVR make Philo an incredible deal, especially when you pair it with an antenna for your local channels.
But, if you need sports, Sling TV is the most affordable option.
If you want more channels, all your sports and news, and your locals, a higher-priced service like YouTube TV is going to be best.
*Not sure which streaming service is best for you? Take our free quiz now and get a personalized recommendation in 30 seconds!
Because it offers the ability to watch sports without cable and local networks in some cities, we give the edge to Sling TV.
Overall Winner: Sling TV
Sling TV vs. Philo: Bottom Line
Philo is the lowest-cost live TV streaming option with the highest number of lifestyle and entertainment cable networks. We love the price.
But, its lack of sports and local channels put it a bit below Sling TV for most people.
Since Sling TV offers a wide mix of sports, news, and entertainment for an affordable price, we think it outshines Philo.
Additionally, its flexibility is appealing. Sling TV is the closest thing to a la carte streaming available.
What do you look for in a cable replacement?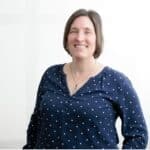 I'm Nicole Schmoll – a master's-educated professional writer, mompreneur, and co-founder of Frugal Rules.
As a freelance copywriter in Omaha, I still believe that writing is an artistic expression. Every time I strike the keys, I intend to evoke a response from my listeners. I left my full-time career as a senior copywriter for an insurance agency to start my own freelance writing business.
I love watching and writing about TV (and how to stream it!)