How to Cancel DirecTV and Save Big Money
Posted on November 28, 2017 by John Schmoll in
Lifestyle
We made the decision to cancel DirecTV in November 2015. To be honest, I never thought I'd see the day I'd get rid of cable. Also, isn't getting out of a DirecTV contract difficult?
To be honest it's something I wish we would've done years ago. I justified the expense because we could "afford it." I also thought there was no way I could have access to the sports or programming I wanted without having cable. After seeing the price of our DirecTV bill go up for far too long, I finally decided enough was enough and leave DirecTV.
In fact, we even paid an early cancellation fee to DirecTV just so we could rid ourselves of the shackle monthly bill. Our monthly bill came in at a robust $96.64 per month (we had the lowest level package as well as HBO).
Add to that the $8.43 we were paying for Netflix and in total, we were spending $105.07 per month to have television content. I'll outline later how much the early cancelation fee DirecTV charges, how much we paid to get rid of DirecTV as well as what we're spending now to get content through our Mohu Leaf and Amazon Fire Stick.
If you want to know how to cancel DirecTV here is what you need to know.
How to Cancel DirecTV
I've read countless articles about how to cancel DirecTV and heard some real horror stories. Our experience wasn't quite that bad, though they definitely don't make it easy for you to get rid of your contract. They don't even make it easy to get the information on how to cancel your contract.
My first step was to chat in on their site to find out how much it would cost us to break out of the DirecTV contract. The representative would not provide me any information – only to say it could cost up to $20 per month of the remaining contract but they couldn't say definitively what was needed.
Thus, we had to call in to cancel the DirecTV contract. That's where the fun began. You must meander through their endless maze until you reach a live DirecTV customer service representative. I explained what I wanted to do and the rep, of course, tried to get me to change my mind.
She offered some sort of "unadvertised package" that promised to save us a whopping $15 or $20 for six months. She then offered Showtime and/or NFL Sunday Ticket for free. I politely declined and said again that I wanted to cancel our DirecTV contract.
Supercharge Your Savings Today!
Start earning more on your savings right now with 
CIT Bank
. They pay 1.85% interest on your money market balance, which is 15 times the national average, and charge no fees, which helps you save more money faster.
Enjoy quick and easy access to your money, which is FDIC insured up to $250K. Start saving today with as little as $100!
She said she couldn't help me and had to send me to their retention department. I got to go through the same explanation and hear the same empty promises before being transferred to one final rep, who was a doozy.
He claimed we couldn't get TV service (which we knew wasn't true since I had connected our Mohu Leaf the day before and was watching live network TV while on the phone with him), that we were passing up a great value and that we'd be back in short order.
Wrong on all fronts. Once the final rep realized I was serious, his demeanor instantly changed.
No longer upbeat and somewhat arrogant, he explained we'd receive a box in the mail to send back our receiver and remote. We were supposed to get the box within a few business days, or so he claimed.
The receiver and remote must be sent back within 21 days or they will charge you for both items. I don't know how much that charge is, but suffice it to say, I didn't intend to pay it. So, I waited for the box to arrive.
After about 10 days we hadn't received the box and had to call back in to request another box. We received the second box 2-3 days later and mailed off the items the next day. DirecTV does not require the actual satellite dish to be sent back. We've removed it from the house and found a way to dispose of it correctly.
To recap, here's how to cancel DirecTV:
Call them, resist their slimy retention tactics, and say you want to cut the cord
Wait for the box to arrive
Mail back the receiver and remote within 21 days
You will want to track the package and call in to make sure they receive it in time so as to not be charged.
how much is the DirecTV Early Cancellation Fee?
For some reason DirecTV doesn't like to divulge the amount of the early cancellation fee. Well, I know exactly why they don't want to make it public – because people would realize they'd save significant money in the long run by canceling their contract.
After speaking with a rep, they made clear the early cancellation fee is always $20 per month, on a pro-rated basis, for each month remaining on your DirecTV contract. They also charge a $15 deactivation fee, which is a joke.
We had a little over six months remaining on our contract and ended up having to pay $142.70 to cancel our DirecTV contract.
We now pay $23.42 per month for what we watch, a savings of $81.65 per month, so we recouped this cost in a little under two months.
One thing to note, you'll want to watch your final bill to make sure it's correct – and know the exact day you called in to cancel your DirecTV contract. Their billing is less than clear, so it literally pays to know when you called in to cancel.
I had to call in to go over the final bill and the rep from the billing department tried three separate times to get us to come back by offering all sorts of rebates and special packages. You'd think they weren't listening to me plainly say I had no plan of coming back. 😉
How We Get our Content Now
We've been free from DirecTV for two years now and know one thing – we're never going back. I once said we weren't going to cut the cord but we can be wrong from time to time – can't we? 😉
Like DirecTV, but don't like the contract? You can get many of the same channels with Hulu with Live TV. Hulu Live offers 60+ channels for $39.99, and no contract.
Get the free 7-day trial to see if Hulu with Live TV is a good replacement for your needs.
If you're holding back from canceling cable let me tell you one thing – there are many options to get content for a lot less than what you are currently paying.
Trust me, you won't miss your high priced monthly budgetary dead weight bill. If I can cut the cord, you can too. Here is how to cut the cord, and what we've done to replace DirecTV:
We've kept Netflix, as it's a lifesaver for those with little kids. That is $10.54 per month.
We signed up for HBO Now, which is $14.99 per month – Winter is Coming after all….
We bought a Mohu Leaf 50 with an Amazon gift card (It retails for around $60) to get the local channels. Truth be told, we're so close to the TV antennas that we probably don't need it anyway. There are many other digital TV antennas you can select from, here's a list of the top ones on Amazon. A digital antenna is the best way to watch local TV without cable and is relatively inexpensive.
We've used Hulu off an on for the past year. It's a great way to get network shows and they have some good exclusive content. Hulu offers plans at $7.99 and $11.99 per month and are a good value.
We've had an Amazon Fire TV Stick for a little over two years (here's our Amazon Fire Stick review) and are Amazon Prime members (we love the free two-day shipping and Subscribe and Save benefits) so we get access to all of their content. The Fire Stick is $39 to buy, but as we bought it months before canceling DirecTV I won't include it in the cost. If you don't want to depend on Amazon for content, the Roku Stick is very similar to the Fire Stick and for near the same cost.
Another option is the Amazon Fire TV set-top box. The Amazon Fire TV has a lot more capabilities than the Fire Stick, with the capability to use it for a home theater setup, 4k streaming and connects to Alexa so you can access a wealth of information like local movie times, news, play music and so much more. (Here's our Amazon Fire TV review if you're looking for a set-top box option.)
The above allows us to replace a major chunk of the content we lost after canceling DirecTV and saves us a little over $80 in the process. That extra money will go right towards the extra we pay towards our mortgage each month.
We did try a free trial of Sling TV (you can read our review of Sling TV here) to see if we liked it, but didn't, so shed that as we couldn't justify the $25 per month charge. Anything else we miss out on we can get online for the most part so we're not missing anything.
If you feel you'd miss out on having a DVR, the TiVo Roamio is one option to consider to still be able to record your favorite shows without a nasty monthly fee found with most other standalone DVR options.
My one concern about canceling DirecTV was missing out on sports – specifically college football. That was an unfounded fear. We're able to get access to ESPN3 through our ISP and college football season is over. Thankfully, many of the streaming providers let you watch ESPN without cable so it's really not that the issue I feared it would be.
**Additional tip: Love NFL football but don't know how to watch your favorite team without cable? Here's how to watch NFL games without cable and still catch all the action!**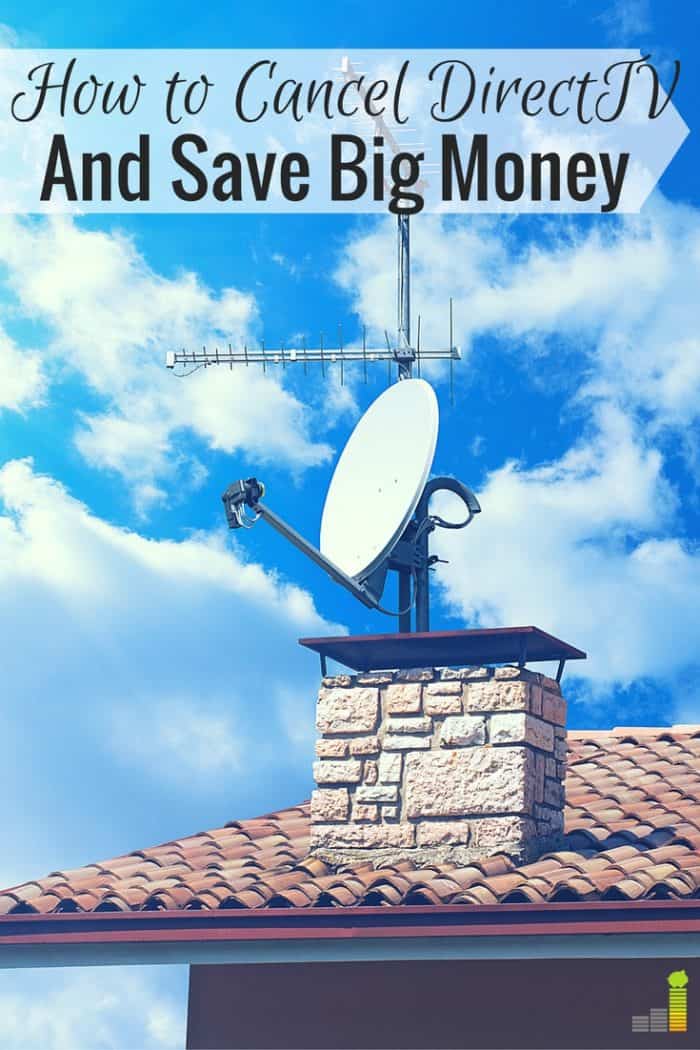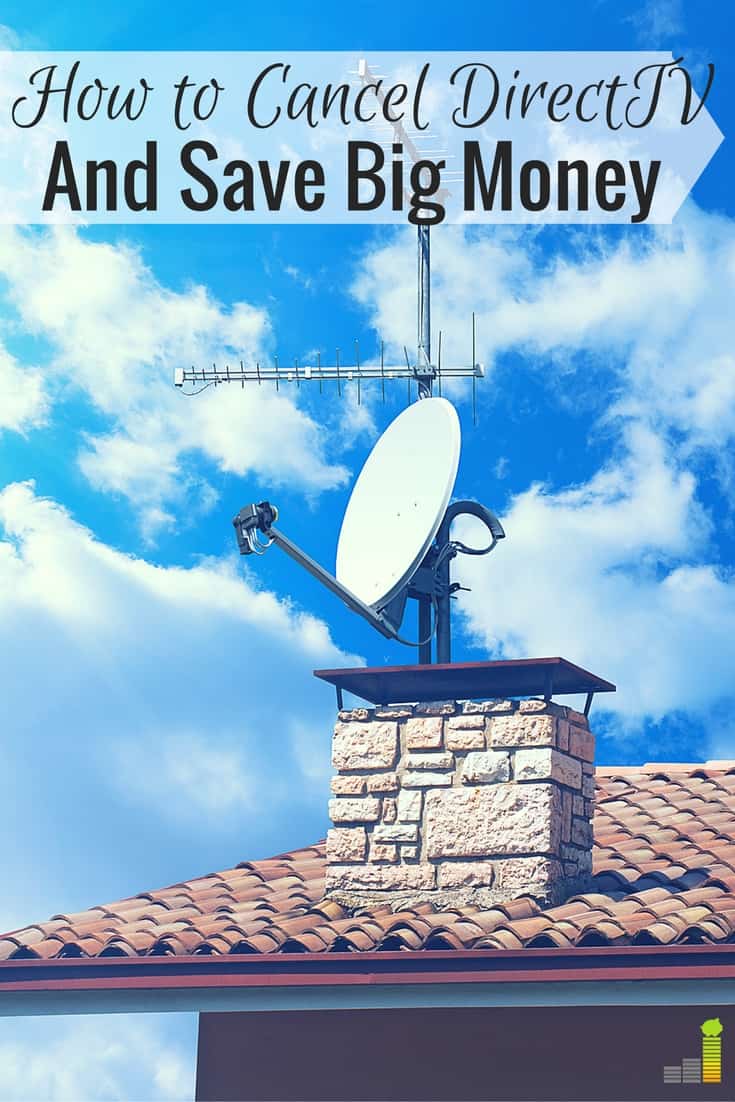 It's Time to Kill the Slowly Dying Beast
Cutting the cord has been popular for a number of years, however 83 percent of homes in America still pay for some sort of cable television plan, according to the International Business Times. When you see people like me who were paying the average of $100 per month to have cable you wonder why it's still that way.
I think much of it goes back to the payment mentality so many give in to. They view finances in a short-term light and don't see the long-term ramifications. By canceling our DirecTV contract, for example, we'll save nearly $1,000 this year alone and almost $5,000 over the course of five years.
That's money we can throw at our mortgage, invest in the stock market or save in our vacation fund – all things that hold far greater value to us.
That's also not to mention the other benefits of cutting the cord – from increased productivity to less sitting around and the countless other things to do besides watching TV. In short, if you can save significant money, increase your productivity and be free of a contract, why wouldn't you want to consider cancelling DirecTV, Dish, cable or whatever high priced entertainment plan you're currently enduring?
Have you tried to cancel a DirecTV, or other cable provider contract in the past and run into problems? If you've cut the cord, what's been the biggest non-financial benefit to date? If you have cable, what's keeping you from cutting the cord?
Save
The following two tabs change content below.
John is the founder of Frugal Rules, a dad, husband and veteran of the financial services industry whose writing has been featured in Forbes, CNBC, Yahoo Finance and more.
Passionate about helping people learn from his mistakes, John shares financial tools and tips to help you enjoy the freedom that comes from living frugally. One of his favorite tools is Personal Capital , which he used to plan for retirement and keep track of his finances in less than 15 minutes each month.
Another one of John's passions is helping people save $80 per month by axing their expensive cable subscriptions and replacing them with more affordable ones, like Hulu with Live TV.
Latest posts by John Schmoll (see all)