How to Cancel DirecTV and Save Big Money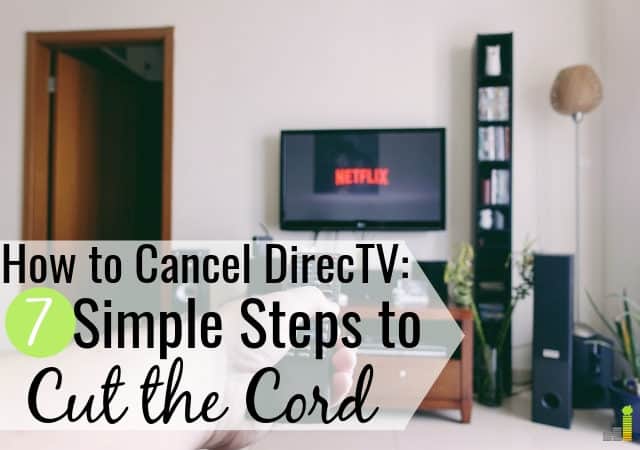 We made the decision to cut the cord on cable in November 2015. Being tied to a contract, we had no idea how to cancel DirecTV. We didn't know the cost to cancel DirecTV, or if getting out of a DirecTV contract was possible.
We never thought we could live without cable or satellite TV. But we saw friends who cut the cord and reaped big savings. Plus, they were still able to watch nearly all the shows they wanted.
Cutting the cord is something I wish we we'd done more than five years ago. I justified the expense because we could "afford it." I also thought there was no way I could watch sports (here's how to watch ESPN without cable if you have the same fear) or programming I wanted without having cable.
However, after seeing the price of our bill increase for far too long, we finally decided enough was enough and made the choice to leave DirecTV.
We did learn that we had to pay the DirecTV early cancellation fee as we were breaking our contract. It was worth it so we could rid ourselves of the shackle monthly bill. Our monthly bill came in at a robust $96.64 per month (we had the lowest level package as well as HBO).
Add to that the $8.43 we were paying for Netflix and in total, we were spending $105.07 per month to have television content. It was too much.
Below, I'll outline how much the DirecTV early cancellation fee is, the full cost to cancel DirecTV, as well as what we're spending now to watch our favorite shows.
If you want to know how to get rid of DirecTV, here is exactly what you need to do.
How to Cancel DirecTV
I've read countless articles about canceling DirecTV and heard some real horror stories. Our experience wasn't quite that bad, though they definitely don't make it easy for you to get rid of your contract.
They don't even make it easy to get the information on how to get out of your DirecTV contract.
With that in mind, here are the steps you need to take to cancel DirecTV:
1. Call customer service
You can't cancel DirecTV online. Instead, you must call their customer service department to get out of your contract. The DirecTV customer service number is 800-531-5000.
When the call connects, input your account information so you can get routed to a customer service representative.
You can reach a customer service representative anytime between 8:00 a.m. and 1:00 a.m. EST, 7 days a week. It's best to call during the week, and not on the weekends or a Monday.
2. Say you want to cancel your service
You will receive several prompts when you call DirecTV customer service. Indicate you want to cancel your contract. Their prompts change on a regular basis, so keep that in mind when you call.
At the very least, you can say "cancel my service" when given a verbal prompt.
3. Request to speak with the retention department
It's highly likely the first live person you'll speak with is a standard customer service representative. They will ask for the nature of your call.
Slash Your Cable Bill. Try Hulu with Live TV!
Are you paying too much for cable? Save big now by switching to Hulu With Live TV! Get 60+ channels, DVR, locals, ESPN, HGTV, Disney, CNN, Fox News and more for only $54.99/month.
Get your 7-day free trial now
!
Simply say you want to cancel your DirecTV contract and ask for the retention department. The customer service representative has no power to do anything with your needs. The retention department must help you get out of your contract.
4. Explain why you want to get out of your DirecTV contract
After a brief hold, you will be put in contact with the retention department. Explain that you want to cancel your DirecTV contract and end your service.
Prepare yourself for significant push back from the retention representative. They will be nice, at first. They will likely offer some kind of unadvertised package to get you to stay. Unfortunately, the pricing on it still increases after a brief period.
In fact, the representative may even lie to you, as ours did to us. He claimed we couldn't get TV service (which we knew wasn't true since I had connected our Mohu Leaf antenna the day before and was watching live network TV while on the phone with him), that we were passing up a great value and that we'd soon be back.
I explained I was watching TV through our antenna and still wanted to cancel our contract. Once the retention representative realized I was serious, his attitude instantly changed from upbeat and somewhat arrogant to brash and rude.
He explained we would receive a box in the mail to send back our receiver and remote. We were supposed to get the box within a few business days. We also discussed the DirecTV early cancellation fee, which I'll cover later in the post.
5. Send back the receiver and remote
Once you receive the box to mail in your receiver and remote, it must be returned within 21 days. If DirecTV does not receive the box within that time frame, they will charge you for both items.
I don't know how much that charge is, but I didn't intend to pay it. So I waited for the box to arrive.
Remember how our retention representative told us we'd receive our box in a few business days? In our case, after ten days we still hadn't received the box and had to call back to request another box.
We received the second box two to three days later and mailed off the items the next day. DirecTV provides a packing slip so you don't have to worry about paying to ship the box back to them.
One thing to note – DirecTV does not require the actual satellite dish to be sent back. We removed our satellite from our house and found a way to dispose of it correctly.
Just make sure to track the package so you know when to call back to confirm nothing else is needed.
6. Call to confirm the box has been received
When you see DirecTV received your box, call to confirm nothing else is needed. You want to verify that your contract is up and that you're free of them once you pay the final bill.
7. Pay your final bill
The last thing to do to cancel DirecTV is to pay your final bill. Their billing is less than clear – especially when trying to break your contract. You want to watch your final bill to make sure it's correct.
You want to know the exact day you called to cancel your DirecTV contract.
It literally pays to know when you called to cancel as the rates are based on that date.
Be aware that they will try to win you back. When I called to go over the final bill, the rep from the billing department tried three separate times to get us to come back by offering various rebates and special packages.
I guess the fact we just sent all of our equipment back didn't register with them we were done with their service.
How Much is the Early Cancellation Fee?
Now that you know how to get rid of DirecTV, let's talk about the early cancellation fee.
They do not like to divulge the amount of the fee. After going through the process to get out of our DirecTV contract, I know exactly why they don't want to make it public – because people would realize they'd save significant money in the long run by canceling their contract.
After speaking with the retention representative, they made clear the DirecTV early cancellation fee is always $20 per month, on a pro-rated basis, for each month remaining on your DirecTV contract.
They also charge a $15 deactivation fee.
We had a little over six months remaining on our contract and ended up having to pay $142.70 to cancel our DirecTV contract. Thanks to our instant monthly savings, we recouped this cost in a little under two months.
We now pay $33.05 per month for what we watch, a savings of $72.02 per month, so we recouped this cost in a little under two months.
How to Get Out of the Cancellation Fee
Many people want to know if you can get out of the DirecTV early cancellation fee. We did not try to as we knew we had to pay something and were not comfortable with lying. It was our decision to renew the contract, so we accepted paying the fee.
I do know some people have been successful at getting DirecTV to waive the early cancellation fee. A few popular reasons are moving out of the country or joining the Peace Corps.
However, be careful with using the first one since some countries have DirecTV access.
If you have a family member who had DirecTV service and they've passed away, DirecTV will waive the early cancellation fee.
One other possibility, depending on how long you've had service, is if they announce a rate increase. They typically do this at the end of the year, in November or December.
In that case it may be possible to cancel DirecTV without penalty.
*Related: Want to save more on internet service? Check out our guide on how to get free internet service at home to save big bucks!*
In certain circumstances you may be able to avoid paying the DirecTV early cancellation fee and cancel your contract immediately. Just be aware this doesn't work in all cases.
How to Cancel AT&T TV Now
We've discussed in detail how to cancel DirecTV. There are a number of steps, but can be done with a little patience and commitment to start saving money.
It's not easy to cancel DirecTV, but they do make it relatively simple to cancel AT&T TV Now (formerly DirecTV Now) – their streaming, no-contract option. You can't cancel DirecTV online, but you can cancel AT&T TV Now online.
Here's how to do it:
1. Go to the AT&T TV Now website
Sign into your account. Please note, this must be done within their website and not the AT&T TV Now mobile app.
2. Select the profile icon
The profile icon is in the upper right hand of the screen. Hover over the person-shaped icon to engage a drop-down menu.
3. Click user account
You want to select "User Account" from the drop-down menu to go to your account
4. Click manage my plan
Once you're in your account, select "Manage My Plan". This will take you to a selection of account-related links.
5. Click cancel plan
Select the "Cancel Plan" link, which will open up a page with reasons for cancellation.
6. Choose a reason for cancellation
They may ask you for a more specific explanation, depending on the reason you pick. If you run into this, simply type your reason for canceling.
7. Click cancel now
After you select or type in your reason, click on the "Cancel Now" button. This cancels your plan within 24 hours. The best part is you don't have to speak with anyone to cancel AT&T TV Now.
How We Get our Content Now
We've been free from DirecTV for five years now and know one thing – we're never going back. We've saved nearly $5,000 in those five years, and we still get the content we want.
Here's what we currently use to get our television content:
Netflix = $16.87 per month
HBO Now = $16.18 per month
In total we spend $33.05 per month vs. $105.07 per month when we had DirecTV. That savings now goes into our savings account to save for other needs.
I you're thinking that you can't live without cable or satellite TV. If I can live without cable or satellite, I know you can as well.
There are simply too many options for those who want to cut the cord on cable and save at least $50 per month, if not more.
Here are some suitable replacements if you want to cancel DirecTV or any other cable plan:
Hulu with Live TV – Hulu Live is a no-contract streaming provider that replaces a lot of your content. Hulu Live costs $54.99 per month for 60+ channels, and carries many of the most popular networks. They even offer a free 7-day trial to test out the service. Check out our Hulu with Live TV review for a full breakdown of the service.
Amazon Fire Stick and Fire TV – Both of these devices from Amazon get you access to their full library of content. They also allow you to access many apps and streaming services to increase your ability to consume content. Check out the Amazon Fire TV Stick channels list to see what both devices offer for content needs .
Mohu Leaf – We bought a Mohu Leaf 50 to get local channels. You need one per TV, and are a one-time cost. There are many other digital TV antennas you can select from (here's a list of the top ones on Amazon). A digital antenna is the best way to watch local TV without cable and is relatively inexpensive.
The above allows us to replace a major chunk of the content we lost after canceling DirecTV, and saves us a little over $70 per month in the process.
You may want to try a no-contract streaming provider to replace your content needs. Many of them offer free trials to test out the service, so take advantage of those to find the best one for you.
You can review our list of the best alternatives to cable TV to replace your DirecTV or cable contract for additional platforms.
If you're like me and love sports, have no fear. You can watch all the sports you want, even without DirecTV or cable. The below posts cover football, and all other major sports:
As you can see, there are plenty of options available if you want to cancel DirecTV or cable and save money.
Bottom Line
Cutting the cord has been popular for a number of years. However, 83 percent of homes in America still pay for some sort of cable television plan, according to the International Business Times.
When you see people who pay the average of $110 per month to have cable, you wonder why it's still that way.
Much of it goes back to the payment mentality so many give in to. They view finances in a short-term light and don't see the long-term ramifications.
Simply by canceling our DirecTV contract, for example, we've saved close to $5,000. That's a lot of money just from cancelling one service!
Your savings may be different, but the fact remains there is significant savings. You can use those savings to do any of the following:
Pay off debt
Build an emergency fund
Invest in the stock market
Save for a house or car
Save to go on vacation
Each of those things hold far greater long-term value than paying $110+ per month to DirecTV or any cable or satellite provider for that matter.
There's also the other benefits of cutting the cord – from increased productivity to less sitting around and the countless other things to do besides watching TV.
In short, if you can save significant money, increase your productivity, and be free of a contract, why wouldn't you want to consider cancelling DirecTV, Dish, cable or whatever high priced entertainment plan you're currently enduring?
Have you tried to cancel DirecTV, or other cable provider contract in the past and run into problems? If you've cut the cord, what's been the biggest non-financial benefit to date? If you have cable, what's keeping you from cutting the cord?
Save
The following two tabs change content below.
John is the founder of Frugal Rules, a dad, husband and veteran of the financial services industry whose writing has been featured in Forbes, CNBC, Yahoo Finance and more.
Passionate about helping people learn from his mistakes, John shares financial tools and tips to help you enjoy the freedom that comes from living frugally. One of his favorite tools is Personal Capital , which he used to plan for retirement and keep track of his finances in less than 15 minutes each month.
Another one of John's passions is helping people save $80 per month by axing their expensive cable subscriptions and replacing them with more affordable ones, like Hulu with Live TV.
Latest posts by John Schmoll (see all)