DirecTV Now Review: A Cord-Cutting Alternative?
Posted on February 12, 2018 by John Schmoll in
Reviews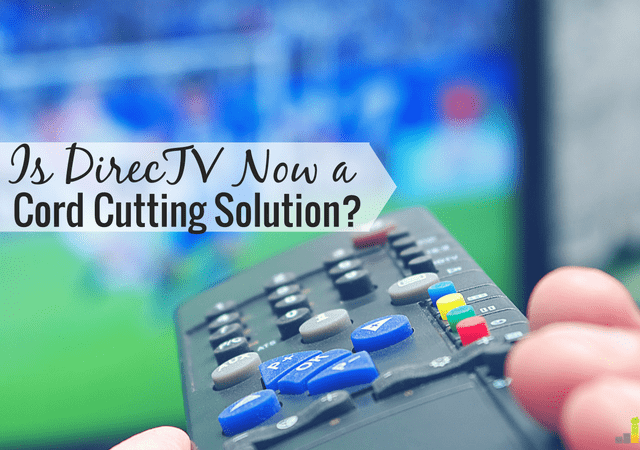 DirecTV launched their answer streaming content – DirecTV Now about a year ago. I've tested the platform numerous times to do a DirecTV Now review for readers looking for solutions to cut the cord and save money on their cable bill.
With the growing number of cord-cutters, it makes sense for DirecTV to launch this service, especially given that Dish was first to market with Sling TV. The DirecTV Now platform isn't perfect, by any means, but it's good to see another player in the cord cutting space.
Following is what to keep in mind if you're considering signing up for DirecTV Now.
How Much Does DirecTV Now Cost?
Since we canceled DirecTV over two years ago, we've loved the extra $90 in our budget each month. We've tried a number of cord cutting options but have said "No" to most, if not all, of the options we've tried as it's just not worth the cost. The first thing we look at when considering a new option is cost and if we'll receive value from it.
DirecTV Now offers four different pricing plans. Those plans start at $35 per month and go up to $70. I will add that DirecTV Now does offer a free seven-day trial, which is what we did before they start charging you for service. In all honesty, the charge, while without a contract, is too expensive for my blood.

Yes, you don't have to deal with the contract, and that does provide some value, but we don't watch enough television to justify $35 per month. If you watch enough TV and would get value out of the channel lineup, DirecTV Now could certainly provide value for you.
How Can I Stream DirecTV Now?
One nice thing about DirecTV Now is you don't need to have them install some nasty satellite dish or box. You simply sign up through the DirecTV Now site or through your smart TV. All you need to enjoy DirecTV Now is an Internet connection and a device to access the platform.
You can stream DirecTV Now through the following devices:
I will also add that you can stream DirecTV Now on two devices at the same time.
Slash Your Cable Bill. Try Hulu with Live TV!
Are you paying too much for cable? Save big now by switching to Hulu With Live TV! Get 60+ channels, DVR, locals, ESPN, HGTV, Disney, CNN, Fox News and more for only $39.99/month.
Get your 7-day free trial now
!
I tested the platform on Google Chrome, Safari and our Fire TV and Stick and all worked just fine. I was able to watch two programs at once, and when I started a third viewing option, I was instantly kicked out of one of the other viewing platforms.
DirecTV Now Channel lineup
One of the most important features of a streaming service is going to be its channel lineup and how much you must pay to receive those channels. Nearly as important is how much it costs to upgrade the service.
As you can see from the picture below, DirecTV Now offers a decent range of channels. I particularly like that you can get channels like ESPN and CNN in the base package, plus some other popular channels.
When comparing that against Sling TV, I think the edge goes to Sling TV thanks to cost and ability to customize.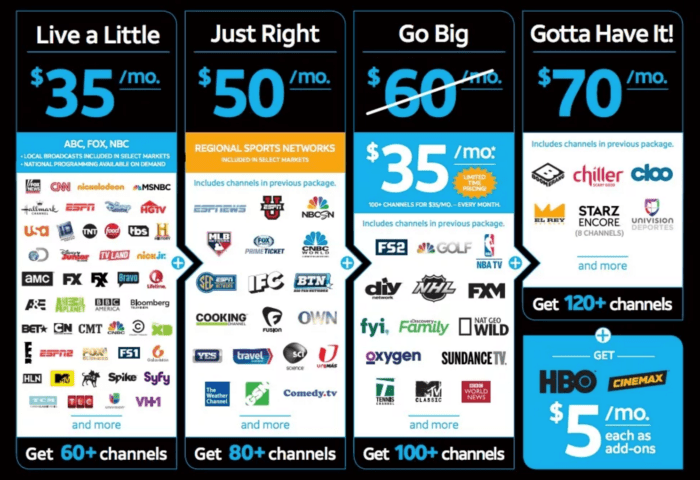 Another nice feature with the DirecTV Now channel guide is you can add access to HBO or Cinemax for $5 per month. You can also get either Showtime or Starz for $8 per month.
We pay $15 for the standalone HBO Now service, so there is value with the premium offerings.
DirecTV Now – The Good
There are a number of things I really like about DirecTV Now; here are some of them:
The channels load relatively fast. Whenever you change a channel on DirecTV Now it takes about 1-2 seconds to change. Compared to Sling TV that is pretty fast; I didn't feel like I was waiting for channels to change.
They have a simple to use guide. This is another feature somewhat lacking in Sling TV that DirecTV Now improves upon. As you can see in the picture below, they list out the channels. If you want to watch something, you simply click on it. If you want to see what's on later, you click the arrow buttons in the upper right-hand corner of the screen. You can also find out what's on one specific channel by simply clicking its icon on the far left of the screen.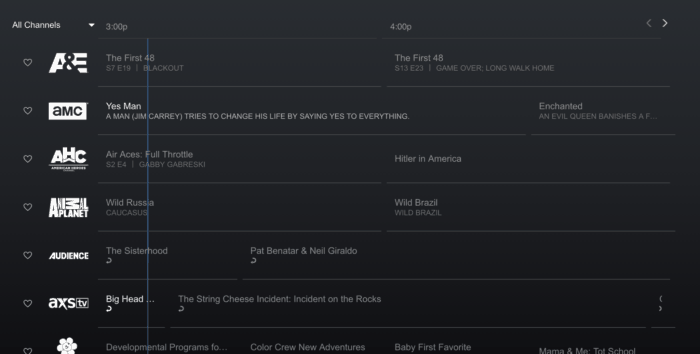 You can create your own guide. If you look at the above picture, you'll see a heart symbol to the left of each channel. If you click on that symbol, it goes to a "Favorites" guide you can use instead of scrolling through 60, 80 or 100+ channels. This is great, I loved it, if there's only a handful of channels you like to watch.
There's no contract. This is a huge plus in favor of DirecTV Now as you can cancel at any time.
New cloud-based DVR. DirecTV Now recently added a beta version of a cloud-based DVR. We've not had a chance to test it out, but the DVR is available for Android, Apple TV, Amazon Fire TV (second generation), Chromecast, and Safari and Chrome web browsers.
You can watch and search at the same time. If you like to scroll through channels, you don't need to get out of what you're watching to find something else. The guide simply overlays what you're currently watching so you can still watch and listen to the program.
The platform is smart. When you turn off the DirecTV Now platform, it saves the channel you were watching. So, when you turn the platform back on it goes right back to that channel. Sling, on the other hand, starts you back at the beginning.
Searching is relatively simple. DirecTV Now currently offers several dozen on demand movies you can watch. They're categorized, sort of Netflix-style, making it relatively simple to find a movie.
DirecTV Now – The Bad
I'll be honest, there are a number of things I really like about the DirecTV Now platform but there are also a several things not to like – such as:
The cost. The average cable bill is over $103 per month. As ridiculous as that is (and it really is), you want to be careful what cord-cutting options you choose as they can quickly add up. At $35 per month right out of the gate, DirecTV Now is no different. That's not too bad, but if you throw in any other services like Netflix or Hulu that only adds to the cost – getting you close to the average cable bill and defeating the purpose of cutting the cord. If you go with the highest cost service, you're only saving $30 per month at best and put yourself back in the same situation. This really isn't specific to DirecTV Now as the other major streaming platforms offer similar pricey upgrades.
You likely still can't watch local channels live. A lot of services fall short on this and DirecTV Now is no different. The only way you can watch local TV without cable is if they're run directly by the network. However, if they're run by an affiliate, and a lot are, you're out of luck – as was I here in Omaha. In that case, you have to wait a day to watch your shows, just like on Hulu. If that's important to you, do yourself a favor and spend $10 per month on Hulu and save your money. You can also buy a Mohu Leaf antenna to get locals, which is what we use.
The platform doesn't let you know when the next episode is on. This is specifically for a series. While the guide is really helpful, they don't let you know when the next episode is on – so you must know or you'll be out of luck.
Limited pause, rewind and fast-forward options. I was able to pause a number of different live channels, but could not rewind. I tried the same on a number of movies and could do some pausing, rewinding or fast-forwarding but it was very limited. They do warn you that it's limited when watching something on demand.
No access to NFL Sunday Ticket or Red Zone. I'm imagining they may add this in the future, but I assume it's going to come at a cost. If access to either of those options is important to you, you'll again be out of luck with DirecTV now.
**Additional tip: Love NFL football but don't know how to watch your favorite team without cable? Here's how to watch NFL without cable and still catch all the action!**
You won't be able to access football on local channels. This could be another biggie for many people. Thanks to the local channels restrictions, it's very likely you won't be able to watch football and other sports on local channels. You'll see this with other major players, so it's not really specific to DirecTV Now.
DirecTV Now Promotions
DirecTV Now offers a number of different promotions to get new users. They offered us a Amazon Fire TV Stick for prepaying for one month or an Apple TV if prepaying for three months.
While tempting, it's my opinion you'll end up saving money in the long run by simply buying those items outright if they're of interest to you of course.
You can also get a free 7-day trial of DirecTV Now to start out – so you can see if you like the platform or not.
DirecTV Now vs Sling TV
Sling TV is one of the other major players in the streaming space; in fact, it was one of the first. In light of that, it's important to compare DirecTV Now vs Sling TV if you're looking to cut the cord.
Here are some of the key things to compare when looking at Sling TV vs DirecTV Now:
Cost is pretty much equal when you take the add-ons at Sling TV into consideration.
Both offer limited access to local channels, with Sling TV offering it in a bit more locations.
Sling TV offers one device streaming with basic packages, or three at the higher tiers; DirecTV Now offers two with all packages.
Sling TV offers parental controls; DirecTV Now does not.
Both Sling TV and DirecTV Now have no contract requirements and can be canceled at any time.
Sling TV has had buffering issues in the past, but has improved a lot over the past year – here's our Sling TV review for a full breakdown of their service. DirecTV Now, on the other hand, has good from good at the beginning to having more buffering issues.
Taking a look at DirecTV Now vs Sling TV, Sling TV wins the comparison in my opinion. Another great option to consider is Hulu with Live TV. Hulu Live offers 60+ channels for just $39.99 per month, with no contract.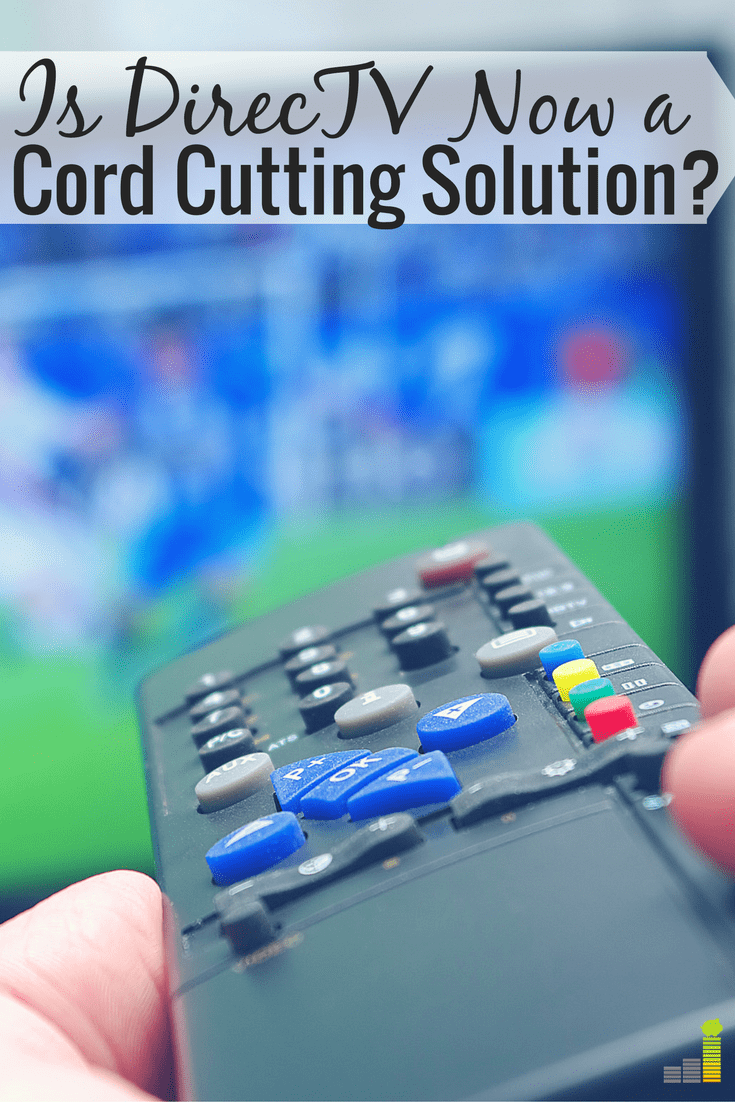 DirecTV Now Review – My Take
I love seeing another player in the streaming space as that gives us additional options to ridiculous, high-priced cable contracts. While still in its infancy, I believe we'll continue to see growth in the space that will force new products and a better overall service.
I love a lot of what DirecTV Now has going for it but we ultimately decided not to keep it as we couldn't justify the cost. Yes, $35 is relatively cheap for the channels they provide, but you won't get local channels as a part of that cost. In all fairness, you will find that drawback with numerous other cord cutting options.
With that in mind, what good options are out there, besides DirecTV Now, for someone who wants to cut the cord and save money? Here are a few of the top options we've used to cut the cord, plus a few extras:
Hulu – $7.99 per month, or $11.99 if you don't want commercials
Amazon Fire TV Stick – $39.99 one-time cost which gets you access to content on Amazon plus a wide variety of different free apps.
Amazon Fire TV – $69.99 one-time cost, this is the same basic thing as the Fire TV Stick but is a small, set-top box with additional features.
Mohu Leaf 50 antenna– varies in price, but is currently $69.95 and works great to get all your local channels. There are many other digital antennas you can use, here's a list of the best ones on Amazon.
Tivo Roamio – varies in price, but is around $350 and is one of the top rated stand alone DVR options in the market. While the price may seem a bit high, the Roamio doesn't have the nasty monthly fee most other DVR options carry. Per Amazon, this only works to record channels you get through a digital antenna. If you like to record shows on network channels, this can be an option to consider.
Roku Streaming Stick – varies in price, but is currently $48 and works much like the Amazon Fire TV Stick.
There are many other options available to help you save money on cutting the cord; these are just some of the few we own or have tried. As you can see, you can get much of what you want for a lower monthly cost, or a relatively small one-time cost that still allows you to shed that high monthly cost of contract cable or satellite TV.
What are your thoughts on DirecTV Now? What streaming services have you tried to save money? Do you still have cable, why or why not?
The following two tabs change content below.
John is the founder of Frugal Rules, a dad, husband and veteran of the financial services industry whose writing has been featured in Forbes, CNBC, Yahoo Finance and more.
Passionate about helping people learn from his mistakes, John shares financial tools and tips to help you enjoy the freedom that comes from living frugally. One of his favorite tools is Personal Capital , which he used to plan for retirement and keep track of his finances in less than 15 minutes each month.
Another one of John's passions is helping people save $80 per month by axing their expensive cable subscriptions and replacing them with more affordable ones, like Hulu with Live TV.
Latest posts by John Schmoll (see all)