Figuring out how to watch your favorite NFL team play isn't always easy. The league likes to spread its wings when broadcasting games, which can lead to frustration for many football fans. If your favorite team isn't in your market, it makes the situation much worse.
The new NFL+ streaming service attempts to remedy this situation. With the app, it's possible to watch full-game replays, audio replays, and loads of on-demand content.
But is the platform worth it? We've tested the app to see how it performs and if it's a good option for NFL fans.
What is NFL+?
NFL+ is a streaming service that allows football fans to watch games. The app is a rebrand of the former NFL Game Pass and lets users watch some live games as well as loads of on-demand content.
It is a good way to watch football, but it's important to note that you can only stream live NFL games via mobile devices.
The games you can watch via supported devices are limited to ones available in your local TV market. You also can watch primetime nationally televised games for both the regular season and playoffs.
You even receive access to ad-free, full-game replays. However, that's only available with the Premium plan.
How Much Does NFL+ Cost?
The NFL streaming service is an affordable $6.99 or $14.99 per month, depending on which plan you choose.
Here are the pricing details for each plan.
| Plan | Price | Annual Price | Full-game replays (Y/N)? | Plan Details |
| --- | --- | --- | --- | --- |
| NFL+ | $6.99/mo. | $49.99 | N | Learn More |
| NFL+ Premium | $14.99/mo. | $99.99 | Y | Learn More |
At the time of publication, the NFL is offering a deal of $39.99 per year for the base plan or $79.99 for the Premium plan.
Like other video streaming services, there is no contract for the app. They also offer a seven-day free trial so that you can test the service.
What Can You Watch With NFL+?
The NFL+ streaming service is an excellent option for avid football fans. It's not for the casual fan who is happy watching games on their CBS or FOX local broadcast affiliates.
Read our guide on how to get the CBS live stream if you merely want local games.
Here is what you can watch on the platform if you have the base plan.
Live out-of-market preseason games: You can stream preseason games via your mobile device or smart TV. For example, if you are a Dallas Cowboys fan who lives in Maine, you can watch their preseason games.
Live local and primetime regular and postseason games: You're able to stream all local games via the NFL Plus app. It's also possible to watch Sunday Night Football, Monday Night Football, and Thursday Night Football on the platform.
Remember, you can only watch live games on your mobile device. If you have an over-the-air antenna, you're already able to watch games on your local TV channels. This means that you may not need the service.
Live game audio: Are you often not able to watch games? You can listen to live game audio for every game of the season.
This can be particularly helpful for frequent travelers or people who want to listen to out-of-market Sunday games.
NFL library programming: A subscription to the app lets you watch NFL Network live on your mobile device.
You also receive access to the NFL on-demand library of content ad-free. This includes shows like Hard Knocks, A Football Life, and more.
If you get the NFL Network through your live TV streaming service, you already get most, if not all, of the content.
NFL+ vs. NFL+ Premium
NFL+ Premium could be a better option if the base plan isn't sufficient for your needs. The Premium plan includes everything in the base plan, plus the following:
Full-game replays: The major drawback of the base plan is that you can only stream live games via your mobile device. In addition, you'll just receive the games that are available in your local TV market.
An NFL+ Premium subscription allows you to watch out-of-market NFL games. The catch is that you can only do this after the game is over. They're often available within minutes of completion.
However, they make up for that by allowing you to watch the games on a TV. Better yet, they're ad-free.
If you want to watch NFL games and don't need them to be live, then this can be a great choice.
Coaches films: If you're a true student of the game, a Premium subscription gets you commercial-free access to Coaches Films.
Like the full-game replays, these are available via mobile devices and smart TVs.
Which of the two plans you choose comes down to if you want to watch live NFL games. If you don't, Premium is best. But, if you do and are fine with only local games, the base plan will work.
NFL RedZone: Don't need an entire game, but only want to see touchdowns? NFL RedZone lets you see every touchdown for every Sunday afternoon game. Once a team reaches the 20 yard line, you can see the action.
This is a new offering to NFL+ Premium for the 2023-24 season. You can stream NFL RedZone on NFL+ via device or TV.
User Experience
The user interface for NFL+ isn't very robust. It looks more like a website than a sports streaming service.
Additionally, many pages were slow in our testing of the platform.
You can access the app through the standard NFL app. On a phone, you'll see a top menu with three sections, including Home, Shows, and NFL+.
On a TV, you'll see a top menu with four sections. These include Home, Games, Teams, and NFL+.
One nice thing about the app is that it doesn't show you scores as a default. This is helpful if you're not able to see live game coverage and are watching a game after completion.
In the upper right corner, you will find a profile icon. This is where you go to update your account and notification settings.
The options are more robust in the app on a device. There are fewer settings that can be changed on a TV.
The latter is important to note. In our testing, the app sent many notifications, more so than other apps. If you don't want constant alerts, make sure to change your preferences.
The Shows (phone) / NFL+ (TV) section is where you can select on-demand content to stream. This isn't an NFL live stream. Instead, it is shows to watch.
If you want to see replays of games, you need to click the Games tab. This brings up games for the current season. You can also go back as far as the 2009 season to watch old games.
The Explore tab lets you search for other content available on the app. Unfortunately, the app doesn't offer a search option. This is a significant drawback.
On mobile, you access the NFL+ section within the NFL app just like you do with the TV-based version. It is accessible on the bottom toolbar.
The mobile version looks like the web version, but it does display a bit better on the smaller screen size.
To select a game, click on the thumbnail. Then, you'll be directed to choose the full replay or the condensed version.
What is the Video Quality of NFL+?
Video quality is paramount when you stream NFL games. The NFL says you can stream games at 1080p.
However, what they don't disclose is that the video quality depends entirely on the original broadcast. So, your experience varies on the resolution and frame rate of the airing.
Additionally, the app doesn't let you see what the resolution of the game is when you select it. If you're a videophile, this may lead to frustration.
Numerous streaming services support 1080p, such as Hulu Live or fuboTV. FuboTV will even be airing some games in 4K quality.
We didn't experience any lagging or pixelation in our testing, but our internet connection is stable and pretty fast. Your experience may vary.
The app does have typical playback options, such as ten-second fast-forward and rewind. It also offers the ability to select closed captions.
You can even have five simultaneous streams when watching content on the app.
*Related: Are you unsure which live TV streaming service is best for you? Take our free quiz to identify which platform you should select.
What are the Supported Devices for NFL+?
The NFL+ app is compatible with a large number of streaming devices. You can access it on streaming media players such as:
It's also available on most smart TVs. Essentially, if the device has a screen, you can access the app.
Can I Use NFL+ on My TV?
The ability to stream NFL+ on your TV depends on several factors.
You cannot watch NFL games live on your TV. This functionality is only available on a device, outside of out-of-market preseason games. You are able to watch the NFL Network live on your TV.
If you want to watch full-game replays or stream NFL pre-season games, you can do so on your TV.
It's also not possible to screencast your phone to your TV. The NFL has stated they don't support that feature.
If you want to watch games live on your TV, it's best to use an over-the-air antenna or a cable alternative that lets you stream ESPN and your local networks.
Is NFL+ the Same as NFL Game Pass?
Game Pass is not the same as NFL+. The NFL previously offered some of the content found in its new app for free in Game Pass.
While Game Pass is still available, it's only offered outside the United States.
Unfortunately, customers have complained that the platform has declined since being rolled into the new NFL+ app. Many features were removed, leading to a more frustrating user experience.
If you were a Game Pass subscriber, you were automatically rolled into NFL+ Premium at rebranding.
Furthermore, the Yahoo Sports app is no longer airing games.
NFL+ vs. NFL Sunday Ticket
NFL Sunday Ticket is the best way to watch NFL games without cable. It is currently only available through DIRECTV and costs roughly $300.
But, it's not the same as NFL+. It only allows you to watch out-of-market games on Sundays.
This means that you don't get access to primetime, in-market, preseason, or postseason games. All of those are available in the NFL+ app.
Worse, you're unable to cancel once the season starts. NFL+ lets you cancel whenever you wish.
Which one you should choose comes down to your needs and how closely you watch games.
Read our NFL+ vs. Sunday Ticket analysis to learn more.
Pros and Cons
There is a lot to consider when trying new streaming services. Here's what to keep in mind when looking at the NFL+ app.
Pros:
Inexpensive way to watch out-of-market games
Live audio for all games
Receive access to all games, including out-of-market preseason games
Picture-in-picture functionality on mobile devices
Full and condensed replays of all games
Generous number of simultaneous streams
Access to NFL RedZone for Premium subscribers
Cons:
You can't watch live games on TVs
Must subscribe to Premium for game replays
Can't screencast live games
Overall, there's a lot to like about the app. If you need to watch NFL games without a TV provider, the platform is worth trying to see if it works for you.
Who Should Sign Up for NFL+?
If you like to watch NFL games online, you may wonder if the new app is right for you. Here's who should consider using the app.
Frequent Travelers
NFL fans who travel frequently know how difficult it is to watch games. It's easy to forget to record the game or not have time to watch it when it airs.
The NFL+ app makes it simple for travelers not to miss their local team. With the Premium version, you can watch condensed replays or watch games on your phone while you are out of town.
Avid NFL Fans
There is a lot of content available on the app. In fact, you receive access to games dating back to 2009.
The app also has tons of on-demand content and NFL Network shows. If you like watching Coaches Films, the Premium version includes that.
You can take advantage of the free trial in the app to see which plan is best for you.
Out-of-Market Fans
Nothing is more frustrating for fans who like to watch the NFL than missing their favorite team. As a Dallas Cowboys fan, I'm lucky because many games air where I live.
You may not be as fortunate. If your team is halfway across the country, NFL+ could be a good choice. Just remember to avoid score updates before watching any replays.
Who Shouldn't Sign Up for NFL+?
No streaming service is a perfect fit for everyone. Here's who may want to avoid the app.
People Who Use Over-the-Air Antennas
An over-the-air antenna is a terrific tool to use when you cut the cord on cable TV. It gives you access to all of your local networks.
If you're fine watching the regular season games aired on CBS, FOX, and NBC, you likely don't need the app. It will only bring an added cost that you could use on a different streaming platform.
Casual Fans
The NFL+ app is meant for avid fans of the game. It's not for people who occasionally watch the NFL online.
While the app has some great features and shows, if you're happy with seeing games in passing, then it's not for you.
NFL+ Review
Available Content

Price

Availability

Access to Games

Ease of Use
NFL+ Review
If you're an avid football fan, and don't want the cost of NFL Sunday Ticket, NFL+ could be a helpful alternative to watch your favorite team.
Pros
✔️ Great way to watch out-of-market games
✔️ Significantly cheaper than NFL Sunday Ticket
✔️ Access to all out-of-market preseason games
✔️ Commercial-free on-demand content
✔️ Live audio for every game
Cons
❌ Unable to stream live games on your TV
❌ Clunky interface
❌ Must have premium version for replays
Is NFL+ Worth it?
Losing live sports is what keeps many people from ditching cable TV. Professional football is the most popular sport in America, but you don't need a contract to watch it.
The NFL is seeking to capitalize on that fact by allowing users to watch any game they want. If your schedule doesn't allow you to watch all games, then the app could be a good option for you.
However, if you're satisfied with what you get on your antenna or live TV streaming service, the NFL+ app is likely not the best option for you.
What do you find most frustrating when trying to watch football games?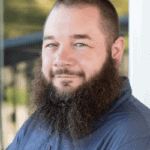 I'm John Schmoll, a former stockbroker, MBA-grad, published finance writer, and founder of Frugal Rules.
As a veteran of the financial services industry, I've worked as a mutual fund administrator, banker, and stockbroker and was Series 7 and 63-licensed, but I left all that behind in 2012 to help people learn how to manage their money.
My goal is to help you gain the knowledge you need to become financially independent with personally-tested financial tools and money-saving solutions.